Hello and Welcome to the Sophie's Universe CAL 2015.
If you are new to this journey: Welcome! I hope that you will enjoy making this blanket with us. May you learn lots of new stitches and make many, many good friends along the way!
Sophie's Universe CAL 2015
The CAL started on the 18th of January 2015 and ran for 20 weeks. This pattern has proven to be extremely popular, with over 7000 projects on Ravelry. Seven years later, the majority of my online engagement with fellow crocheters still centers around Sophie.
Followed by thousands of people, ranging from complete beginners to experienced crocheters, Sophie's Universe is a crash course in crochet and a wonderful adventure! Above all, my goal with this pattern has always been to show people that every stitch is 'just a stitch' and to help them learn the skills that will allow them to approach any complex pattern with confidence.
Two warnings, though:
Pets LOVE Sophie, so prepare to be ambushed!
Partners and spouses are not immune to her either, often helping to choose colours or checking up on progress (and very occasionally starting one too – like my husband).
Even though the crochet-along has finished, the instructions will remain available on this website (for free) indefinitely. Sophie's Universe is now also available as a 216-page step-by-step crochet book.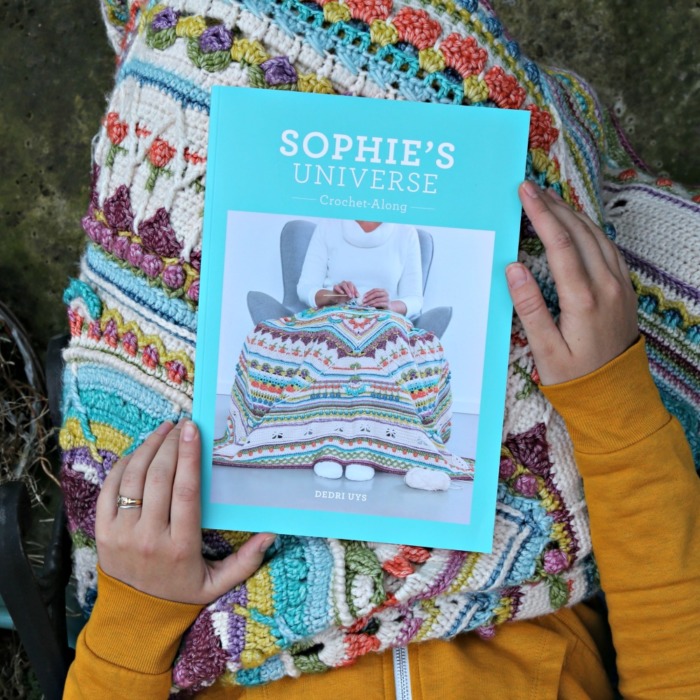 Index
Resources
Translations
Difficulty
Gauge
Size and Materials (Includes Available Colour Packs)
Sophie's Universe Timeline (With links to all the relevant tutorials)
Helpful Templates
Important Tips
Blocking
Examples of Sophie
Sophie-related Patterns
More Colourways
Resources
Translations
Difficulty
Intermediate. Although this is an Advanced pattern, it has been written specifically for adventurous beginners.
Gauge
The best way to check your gauge is to work up Part 1 of Sophie's Universe.
Large
Medium
Small

At the end of Part 1:

18 cm (7″)
14 cm (5.5″)
10 cm (4″)
The measurements you get at the end of Part 1 (in other words, at the end of Round 8) will be roughly a tenth of the predicted final size of your blanket.
Size and Materials
The pattern was designed for worsted weight yarn and a 5.5 mm crochet hook (US I/9 UK 5), which will give you a finished size of 1.8 meters squared. That's just shy of 6 feet, for those of you who live on the other side of the pond. You are not, however, limited to worsted-weight yarn.
I will be using Scheepjes for the CAL and I will be making 3 blankets, each in a different yarn weight (and therefore a different size). You can find more details about that below.

Please note that the table below does not include the yarn needed for the Optional Squares and Border. You will find the yardages for that under Helpful Templates below.
Large
Medium
Small

Finished Size:

1.8 m x 1.8 m (6′ x 6′)
1.4 m x 1.4 m (4'7 x 4'7)
1 m x 1 m (3'3 x 3'3)

Yarn Weight:

Worsted Weight (#4)
Double knit (#3)
4 Ply (#2)

Hook Size*:

5 mm hook (US H/8 UK 6)
5.5 mm hook (US I/9 UK 5)

3.5 mm hook (US E/4 UK 9)
4 mm hook (US G/6 UK 8)

2.5 mm hook (UK 12) or 2.75 mm hook (US C/2)
3 mm hook (UK 11) OR 3.25 (US D/3 UK 10)

Yardage:

3900 meters (4265 yards)
3400 meters (3720 yards)
2500 meters (2730 yards)

I am using:

Scheepjeswol Stonewashed XL
Scheepjeswol Softfun
Scheepjeswol Cotton 8

Colours:

23 x Moon Stone (841)
2 x Canary (2518)
1 x Canary (714)
3 x Amazonite (853)
2 x Light Rose (2513)
1 x Light Pink (718)
3 x Green Agate (855)
3 x Rose (2514)
2 x Fuchsia (720)
3 x Blue Apatite (845)
2 x Bordeaux (2492)
1 x Pink (719)
6 x Canada Jade (846)
3 x Cyclamen (2534)
2 x Moors (726)
3 x Lemon Quartz (852)
3 x Olive (2531)
2 x Light Green (642)
3 x Deep Amethyst (851)
1 x Dark Turquoise (2511)
1 x Turquoise (712)
3 x Garnet (850)
6 x Light Blue (2432)
5 x Light Turquoise (622)
3 x Corundum Ruby (848)
2 x Pink (2480)
1 x Violet (529)
3 x Coral (856)
2 x Heath (2493)
1 x Heath (721)
2 x Violet (2519)
1 x Light Purple (651)
* There are 2 hook sizes listed for each size. Please see Important Tips before you start.
Official Colour Packs for Sophie's Universe CAL 2015
Colour Packs for Sophie's Universe are available from my Wool Warehouse Shop. Please note that these packs contain enough yarn to complete Sophie's Universe (without the optional squares and border) if your tension matches mine. If you are a 'loose crocheter', please see the Helpful Templates below to figure out how much more yarn you will need.
Sophie's Universe Timeline
Please do not copy, reproduce, or distribute this pattern in part or as a whole. This pattern belongs to me and I retain all rights to it. Copyright is protected by Scheepjes. Please see my Terms of Use if you would like to read more.
Helpful Templates
Colours Per Round (Official)
Here you will find the colours and yardages used per round for each of the 3 sizes (small, medium, and large).
Colours Per Round Template (Blank)
If you want to use your own colours, you can use the spreadsheet below to keep a tally of your colours and usage per round. If you do, you will notice that there are some values (in orange) already entered on the template. This is just example text and should be replaced with your own values.
Colours Per Round Template (Printable)
Brandi Kasper-Theisen designed this one-sheet template to help you keep a tangible record of which colour you used per round.
Optional Squares and Border Template
Here you will find the (additional) colours and yardages used per round for the optional squares and border.
Colouring Templates
You can download blank colouring-in templates from the 5-year Anniversary Make-along Page HERE.
Important Tips
Some people have had problems with the centres of their blankets 'bulging'. To avoid this, I suggest starting with the smaller of the 2 hooks listed for each size and then changing to the larger of the 2 hooks after you have completed the initial Mandala (Parts 1 – 3).
If you are making the large version with worsted weight yarn and a 5.5 mm hook, for example, start with a 5 mm hook and complete the initial Mandala (Parts 1 – 3) with that hook. Then, at the start of Part 4, change to the recommended hook size (in this example that would be a 5.5 mm hook).
This is especially important if you are a complete beginner as your tension will improve as the blanket grows.
I also suggest blocking Sophie at the end of Part 7 (see Blocking below). If your centre has started bulging again, go up another hook size at the start of Part 8, but please keep in mind that doing this will affect the amount of yarn you end up using.
When making Sophie, you will realize that some rounds bulge and some rounds buckle. This will be corrected in later rounds (apart from the above-mentioned instance at the end of Part 7) and is part of the intricate shaping of the pattern.
It is extremely important that you do not go down a hook size to compensate for this (at all, ever)!
Blocking
From Part 7 of Sophie's Universe onward, I suggest blocking your work. Annie's has some good advice for Blocking Afghans and Other Large Pieces. Quite a few people think that you cannot block acrylic yarn. You can, in fact, block acrylic yarn quite successfully!
If you are going to use foam squares to block on, consider buying these Interlocking Foam Exercise Mats. They are similar to these Knitter's Pride Lace Blocking Mats
but cheaper. You will also need some of these Clover Fork Blocking Pins
(although regular non-rust pins will work as well).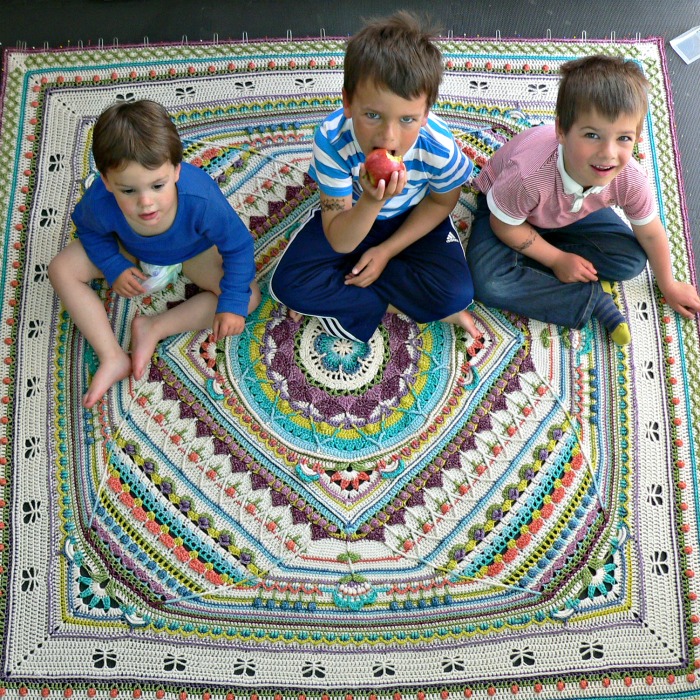 Examples of Sophie
If you would like to see some inspirational versions/colourways, you can find them here:
Ravelry – you can see some awesome examples (along with colours and yarn used) HERE on Ravelry.
Instagram – you can find all the images tagged with #sophiesuniversecal2015 HERE on Instagram.
Sophie-related Patterns
More Colourways
Ubuntu Colourway
Metropolis Colourway
Bamboo Soft Colourway

This blog post contains affiliate links. I only link to products I personally use or would use.  All opinions are my own.