I am so very pleased to announce that the Sophie's Universe book is now available for sale! I am overwhelmed by the number of positive comments and messages we have received since I shared a sneak peek of the book last week.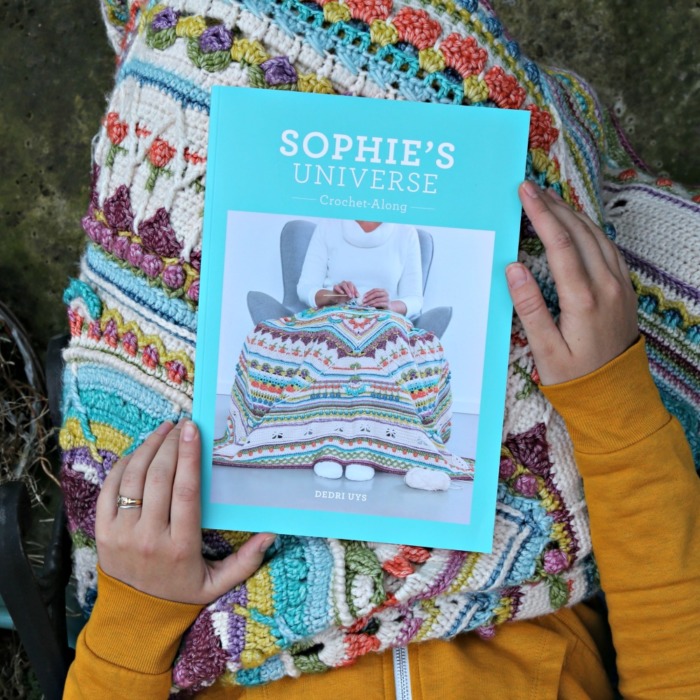 For those of you who don't know what Sophie's Universe is, I will give you a quick summary. Sophie's Universe is a continuous square blanket with lots of surface detail. The pattern was released as a 20-part CAL (crochet-along) in 2015, sponsored by Scheepjes and hosted in the Official CCC Social Group by my good friend Kimberly Slifer (who's granddaughter this blanket is named after).
Although advanced, the pattern is written specifically for adventurous beginners. It contains lots of step-by-step photos and hints, and Esther Dijkstra from It's All in a Nutshell has done video tutorials for each part. The CAL has also been translated into many languages with the help of my wonderful volunteers.
Scheepjes and I started working on a paperback version of the pattern just over a year ago. The result is this comprehensive 216-page A4 book. It is stitch-bound, and this, combined with the weight of it, means that it lies flat when open. I have a thing about nice paper, and my second favourite thing about the book is the fact that it is printed on really nice paper. I keep running my hands over the pages with a goofy grin on my face.
My favourite thing about the book is the way it looks! Hans Mossel took the beautiful cover photograph and Sabine Burkunk was in charge of styling for the cover. Jane Toft did an amazing job with the layout. It is everything I didn't know I wanted until I saw it. Not only did she use gorgeous colours for the background and cover, but she also created a sense of space and elegance with the design, choosing the featured photos with care and consideration. I love the fact that my mom and her Sophie are featured on the back cover, and that my boys pop up now and again.
Photo Tasks
During the CAL, we asked people to share photos of their Sophies as 'photo tasks'. There is something extra special about seeing the habitat/loves/interests/landmarks that reveal a little bit about the hooker behind the project.
Shared Photos on Instagram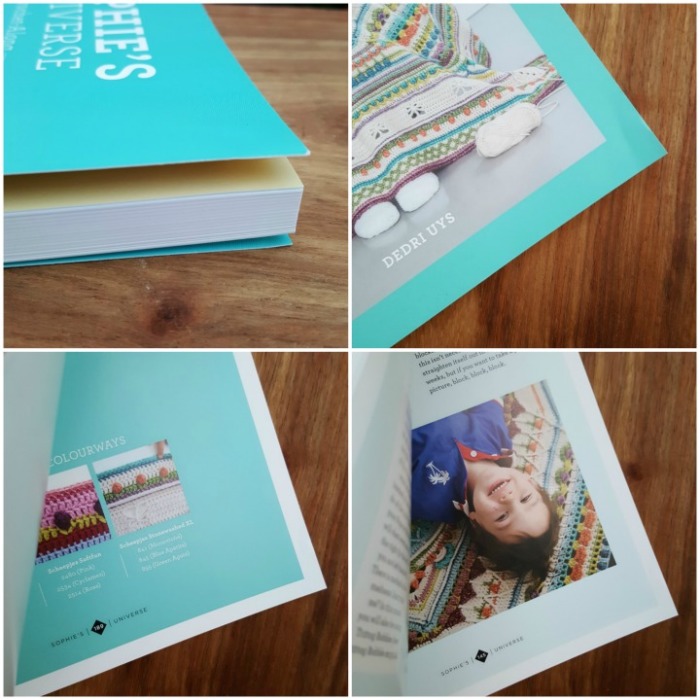 Where Can I Buy the Sophie's Universe Book?
Signed Copies
You can find me at the Waltham Abbey Wool Show on Sunday (15 January 2017), where I will be opening the show, judging the Funky Neck Wear Competiton, and selling and signing books. I know that many of you are not in the UK and are therefore unable to attend the show or get a signed copy, so the Lookatwhatimade family paid a visit to the Wool Warehouse premises on Saturday, where I signed and numbered the first 120 copies to be sold through their website (link below).
Retailers
Price: £16.95/€19.95
Yarn Packs for Sophie's Universe
For the CAL, I made Sophie in three different weights of Sheepjes yarn to obtain three different sizes (small, medium, and large). The book contains information for all three sizes. If you want to have a look at the materials list and size information before buying the book, you can find all the information HERE.
I have since started another Sophie in Colour Crafter. It follows the same bright colourway as the Small Sophie but works up to the same size as the Medium Sophie. The Colour Crafter is a great alternative for those people who want to try the pattern with a less expensive yarn. This colourway is not included in the book, but you can find the details HERE.
Yarn Packs are available in my Wool Warehouse Shop HERE.
Resources
I would like to thank Scheepjes and Jane Toft for helping me to create this book, and I would like to thank you for supporting and encouraging me along the way. If you buy the book and share photos, please use hashtag #sophiesuniversebook so that we can find them.

This blog post contains affiliate links. I only link to products I personally use or would use.  All opinions are my own.