When Kate Towerzey and Diana Bensted asked me if I would open the Waltham Abbey Wool Show in January, I immediately said yes! I couldn't quite believe that they had asked me, and kept thinking that they would say: "Actually, we've made a mistake. We are going to ask someone else."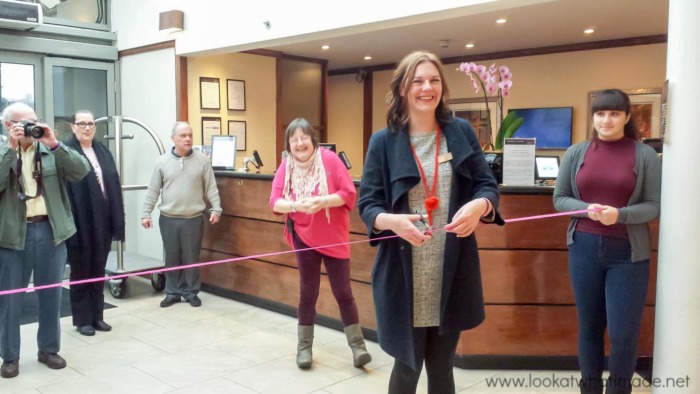 I attended my first yarn show a year and a half ago. Even though I already had a book to my name (Amamani Puzzle Balls), and two successful CALs (Block a Week 2014 and Sophie's Universe) under the belt, I had been living in my own secluded yarn-bubble. In real life, I had met very few crocheters and no designers. Attending Fiber East opened the door to a whole new world! I squished and gushed and giggled; smiled shyly as my friend Lynnette introduced me to a host of famous yarny-people (most notably Janie Crow and Daisy from Devon Sun Yarns, both of whom have become very dear to me).
The buzz made me feel giddy and I realized that I wanted to be part of this real-life community, that I wanted (needed) to attend more events to feed my soul. And so Lynnette took me along to more shows. We attended Unravel 2016 (where I got to meet Amanda Perkins and see all her beautiful blankets), the Knitting and Stitching Show, and Yarndale 2016. I even ventured to Yarnporium on my own (well, not completely on my own… my 7-year old came along). There I got to meet Stephen West and catch up with my friend Sarah from Crafts from the Cwtch.
The more shows I attended, the more I wanted to be 'on the other side'. I wanted to have an actual presence, but an appalling lack of self-confidence kept me from doing anything more than just talking about it.
When Kate and Diana approached me, it was a little bit (lot) surreal. Not only did they want me to open the show, but they also offered me a table where I could sell and sign books. This was perfect, as the Sophie's Universe book had just been released and the show seemed like the perfect place to 'launch' it.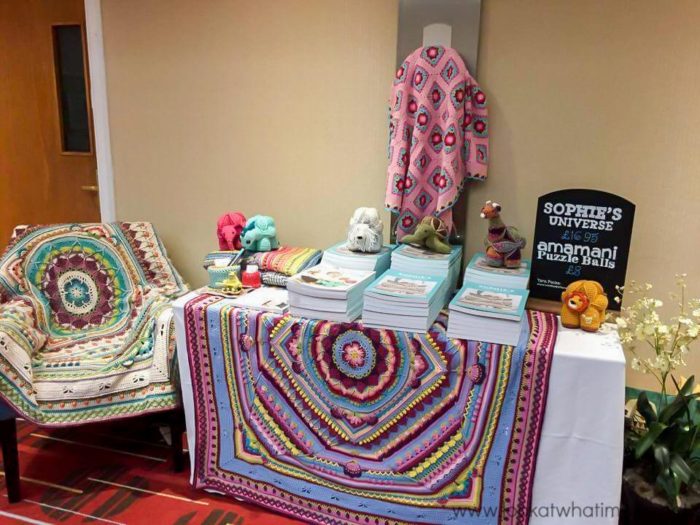 Once the table was set up (with a lot of help from my two friends Lynnette and Sonja), it was time to cut the ribbon. Cue a lot of nervous giggling and smiling for cameras, ending with a hands-thrown-up-in-the-air "Yay!"…
… followed by photos with the Waltham Abbey mayor Helen Kane.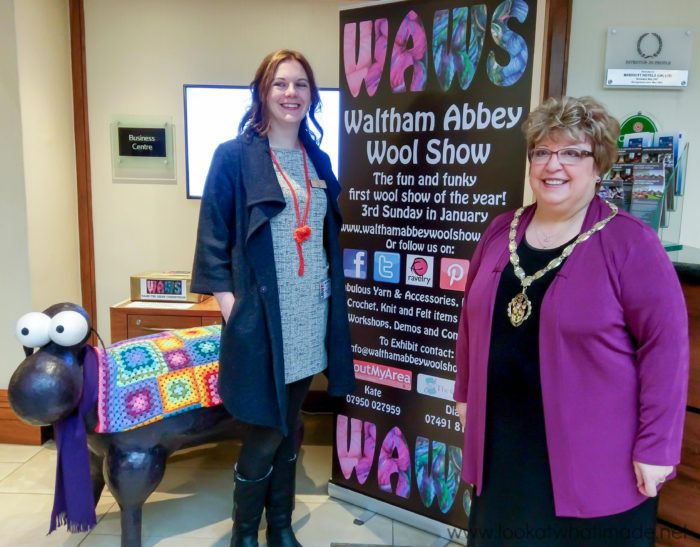 My favourite part of being at an event, class, or yarn retreat is seeing what other people have made. It doesn't have to be one of my patterns, it doesn't even have to be crochet. I just love watching people's faces when they share a 'look at what I made' moment. It is the very reason I started blogging in the first place.
So judging the Funky Neckwear competition should have been right up my alley, shouldn't it? All those look-at-what-I-made moments! But it was actually quite hard!! All the entrants had gone to so much trouble to create unique and funky neckwear. I wanted everyone to win (and everyone did, in my eyes)…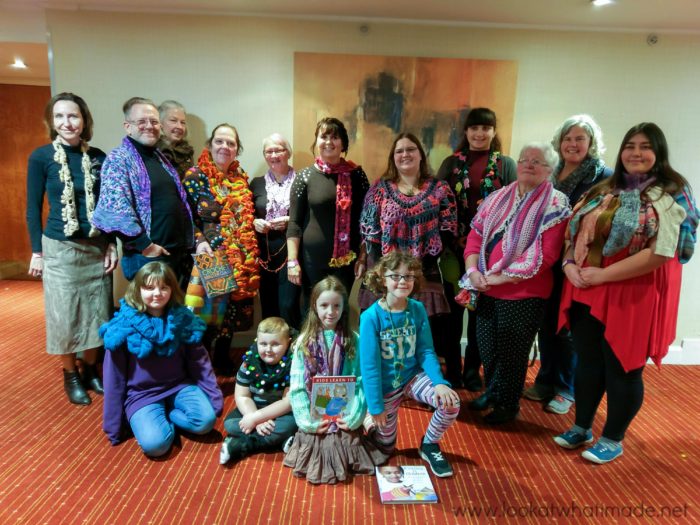 …but we had to choose official winners and here they are:
General
1st – Gillian Tofts
2nd – Christine Burgess
3rd – Maya Korouei
Children
Amelia Elder & Eilidh Dobbie
First Male Entrant
Antony Heaven
I cannot tell you how much I enjoyed attending the Waltham Abbey Wool Show. The show was intimate and animated, offering a wonderful array of vendors. What struck me most about the day was how friendly the exhibitors and the organizers were, and the sense of camaraderie and joy that emanated from all the attendees. At the risk of sounding corny, I will say that attending the show felt like "coming home".
It was such a privilege to catch up with people like Janie Crow, Louise from Spin City, and Allison and Rachel from Yarn in the City. I am realizing, more and more, that there is no substitute for a solid supportive community.
I would like to thank Lynnette and Sonja (who created Sophie's Alternate Universe) for helping me, both on the day and with all the organizing that went into getting ready for it. I'd also like to thank my friend Kay and her daughter Bex who came along for 'emotional support'. I couldn't ask for better friends. Lastly, I would like to thank Kate and Diana (and all the people who came to say hi) for making me feel like a crochet princess for a day!
This post is quite me-heavy, so I would like to shift the balance a little bit by asking you some questions:
Have you ever attended a yarn show? Where was it and what did you like most about it?
Have you found your community and is it online or 'physical' (for want of a better word)?

This blog post contains affiliate links. I only link to products I personally use or would use.  All opinions are my own.