Although the Block a Week CAL 2014 has now ended, the patterns and tutorials are still available and will remain so.  You can find all the information and links below.  Four of the squares have now become paid-for patterns (indicated in the list below), but the rest remain free.
Feel free to join and share at any time.  We have now created a Ravelry Thread for this CAL, should you wish to join.
xxx Dedri
This year I am going to be joining in a mystery afghan crochet-along (Block a Week CAL 2014) and I will be sharing the process here on Lookatwhatimade.
I've always wanted to make an afghan…not a baby blanket or a chunky blanket, but a proper honest-to-goodness afghan.  Unfortunately, I am one of those people who find the task too daunting.  So when the lovely Kimberly Slifer announced that the Official CCC Social Group on Facebook were going to have a CAL, I was over the moon.
This will be the year that I tackle my first afghan…one lovely block at a time.  And I would love it if you would join me!  So let me tell you a little bit more about the Block a Week CAL and the people who are making it happen.
---
Update 2020
Paid Patterns
Julie Yeager has kindly put together a Block a Week 2014 e-book that contains all three of her paid patterns used in the CAL.  You can find that HERE on Ravelry.
Joyce Lewis – You can buy the Crocodile Flower Square pattern HERE on Ravelry.
Photo Tutorials
I have removed the photo tutorial for Block 6:  Blooming Lace.  Significant revisions to the pattern have rendered the original photo tutorial obsolete.  The pattern is straight-forward, though, so you'll be fine x
---
Block a Week CAL 2014
Index
Clicking on these links will take you to the relevant section, although I suggest reading everything before you start.
Information
Like I have already mentioned, this Block a Week CAL is for those of us (present company included) that feel like we will never be able to make an afghan.
By breaking it up into individual squares and doing only one square a week, the project becomes infinitely less frightening.  Add to that the fact that you have a whole community of people behind you, doing the same thing and happy to help you out should you need it, and VOILA!  "I could never" turns into "I can't wait for the next one!"
And the cherry on the cake?  Each block is a surprise!
This Crochet-along is hosted by the Official CCC Social Group on Facebook (you will have to be logged in to your Facebook account to access the link).  The woman in charge is called Kimberly Slifer and she is amazingly helpful and friendly.  Please feel free to join the Official CCC Social Group so that you can access and utilize the support and encouragement of all the lovely ladies on there.  You can also join the Block a Week CAL Flickr Group so that you can see what other people have done (be inspired) and share what you have done (give inspiration).
I hope that you will take up the challenge and join along with the Block a Week CAL.
Designers
The squares in this CAL have been NOT been designed by me.  They have been designed by a host of wonderful designers, a list of which you can find below.  These have kindly given me permission to do photo tutorials for (most of) the squares.  These photo tutorials should NOT replace the written patterns.  They are only meant to be helpful aides in your journey to make this afghan.  You can find the links to each pattern at the start of each tutorial, under the heading 'Pattern'.
Letitia Sherriff
Melinda Miller
Donna Mason-Svara
Julie Yeager
Melissa Green
Aurora Suominen
Ivory Herman
Chris Simon
Julee Reeves
Penny Davidson
April Moreland
Margaret MacInnis
Carola Wijma
Joyce Lewis
Shan Sevcik
Virginia Burrow
Carolyn Christmas
Betty Byers
Size
Using the hook and yarn specified in each pattern, the blocks/squares will measure 12″ x 12″.  Obviously this is dependant on your particular gauge.  I crochet quite tightly, but my sister-in-law, for example, crochets VERY loosely.
Using a 4 mm crochet hook (US G/6  UK 8) for all the squares, and double knit yarn (light worsted weight/#3), my finished squares have come out between 7.5″ to 8.5″.
If you are using the same hook and yarn for each square (as I have done), your squares won't all come out the same size.  I have supplied a list of Optional Additional Rounds to help you get all the squares to the same size and final-round stitch count (more or less).
Materials
For the purposes of these tutorials, I am using:
I started out using the Original Attic24 Colour Pack, which you can find HERE in her Wool Warehouse Shop.  Midway through I decided that I didn't want to use all the colours, so I had to buy a few more skeins.  You can find a list of the colours and yardages HERE.
List of Squares
If you would like to include Sophie's Garden in your afghan (as Betty has done with her blanket), you can find the instructions for that HERE.  Sophie's Garden is the size of 4 afghan squares, so if you choose to use it, it will replace 4 of your squares.
You can find the details for each block by clicking on the relevant image below.
Bonus Blocks
You can find the details for each block by clicking on the relevant image below.
Additional Rounds
You can find a list of the Optional Additional Rounds HERE (as discussed under 'Size' above).
Blocking Your Squares
Once you have made your squares, you will need to block them so that they are nice and neat (and the same size).  You can read about my DIY Blocking Station HERE.  The post includes links to other blocking methods.
Joining Your Squares
When are your squares are made and blocked, you will need to join them.  You can find all the information for joining crochet squares in the 5-part series below.
Adding a Border
When you have made, blocked, and joined your squares, you will need to add a border to finish your blanket off.  My friend Betty Byers has designed a beautiful border especially for this CAL.  You can find that HERE.
You do not HAVE to use this border, though.  I have gone for a very simple border myself.  Edie Eckman's book 'Around the Corner Crochet Borders' is an excellent resource.
The Blue And White Version
Over the years, I have gotten MANY questions about 'The Blue and White Version', so I thought I would dedicate a little space to it.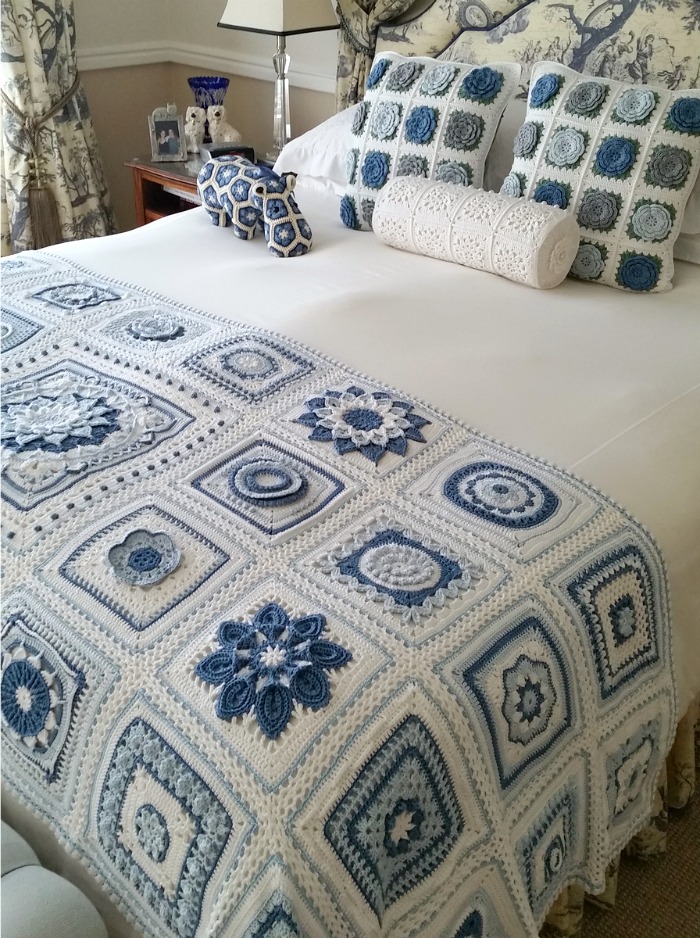 This gorgeous version was made by Sharon Blignaut and features the Enchanted Garden Square (paid), which is a marriage of Joyce Lewis' Crocodile Flower Square (paid pattern) and Sophie's Garden (free).  You can find more information on Sharon's Ravelry Project Page HERE.
Related Posts

This blog post contains affiliate links. I only link to products I personally use or would use.  All opinions are my own.