It's Week 6 of the Official CCC Social Group CAL (crochet-along) and this week's block is Blooming Lace by the talented Melinda Miller from MoCrochet. This is the fourth Melinda Miller block. I think Kimberly Slifer, who coordinates the CAL, just might have a favourite.
If you are not familiar with the Block a Week CAL, but would like to join in, you can find all the relevant information HERE.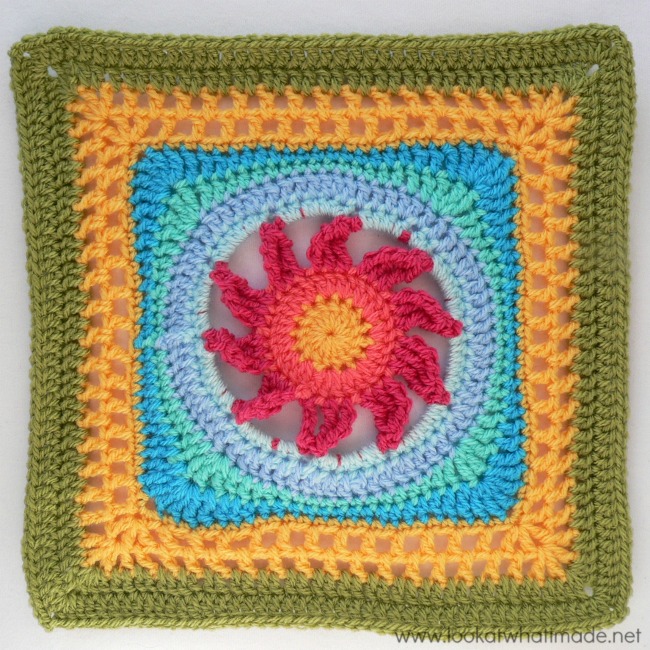 The Blooming Lace Crochet Square is classed as intermediate, but just like all the other Melinda Miller squares we have used so far, it is very simple.
---
Update 2020:  This pattern was significantly revised in 2018, rendering the original photo tutorial obsolete.  I have, therefore, removed the original photo tutorial from this page to avoid confusion.
---
Blooming Lace Crochet Square
Pattern
Suggested Materials
Size
Using the hook and yarn specified, your square should be a nice even 12″ when you are done.
Using a 4 mm crochet hook (US G/6  UK 8) and double knit yarn, as I have done, your finished square will be about 8.5″ big.
My Yarn and Colour Choices
Please note that the colours per round below refer to my square, made with the original pattern.
I am using Stylecraft Special DK.
Saffron (Rounds 1, 8, 9 and 10)
Shrimp (Round 2)
Pomegranate (Round 3)
Sherbet (Round 4)
Cloud Blue (Round 5)
Aspen (Round 6)
Turquoise (Round 7)
Meadow (Rounds 11 and 12)
Notes
At the end of Round 10, you will have 36 sts per side.  The pattern provides an optional Round 11 (in a choice of sc, hdc, and dc).
If you choose to add Round 11 in dc, you will have 40 sts per side at the end of the round.
Join the Block a Week CAL
If you would like to be part of the Block a week CAL on Facebook, please join the Official CCC Social Group (you must be logged into Facebook to do so) so that you can access and utilize the support and encouragement of all the lovely ladies on there.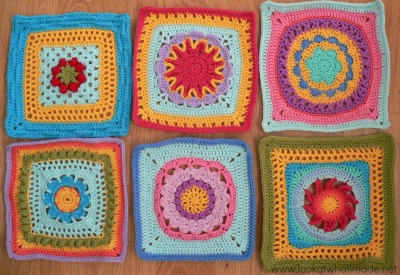 You can also join the Block a Week CAL Flickr Group so that you can inspire others and be inspired yourself.
For those of you who do not like Facebook, you can always follow along with me here.  I will be posting the blocks every week.
More Blogs Following the CAL
San from Loopsan – using Stylecraft in sophisticated Parchment, Denim, Mocha and Meadow
Lou Mander from Tea, Crochet and Me – using Stylecraft in White, Mocha and Raspberry

This blog post contains affiliate links. I only link to products I personally use or would use.  All opinions are my own.