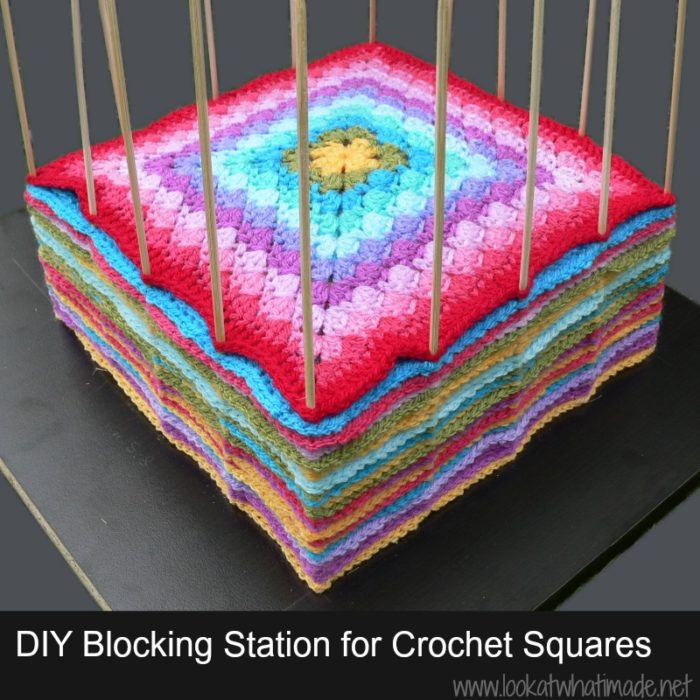 To help me block the squares from the Block a Week CAL 2014, I have made myself a DIY Blocking Station. It is perfect for people who hate pinning crochet blocks down (or are too lazy to block them as they make them – like me). It works really well for squares that are the same size and just need a bit of encouragement and TLC. You will see, lower down, that this method does not work well when you are trying to stretch a square far beyond it's actual size.
Before I go into the details of how to make a blocking station for your crochet squares, I should probably answer the question of what blocking is, for those of you who have never done it. And I am going to answer it by referring you to this excellent tutorial by Tamara Kelly from Moogly. She walks you through why you should block and HOW to wet block. She's also got some excellent links to steam blocking and "killing" squares (which is not recommended for afghan blocks). So read that post first and then head back here to find out how you can mass-block with a blocking station.
If you are going to use foam squares to block on, consider buying these Interlocking Foam Exercise Mats. They are similar to these Knitter's Pride Lace Blocking Mats
, but cheaper. You will also need some of these Clover Fork Blocking Pins
.
DIY Blocking Station for Crochet Squares
Things you will need
Wooden plank, at least 1/2″ thick (1.25 cm) and at least an inch bigger than the size of the squares you want to block
8 – 16 3 mm double pointed metal knitting needles (2 mm/4 mm will work as well) OR wooden kebab sticks
Black & Decker Drill
A drill bit that is slightly bigger than your needles/sticks
Duct tape (just a scrap)
Pencil
Ruler
Optional: Paraffin wax if using wooden kebab sticks
Instructions
I started off with a piece of wood I "borrowed" from our Ikea Expedit shelving unit. You can use any wooden plank as long as it is at least half an inch thick (preferably more). Make sure that the plank is at least an inch bigger than the biggest square you want to block.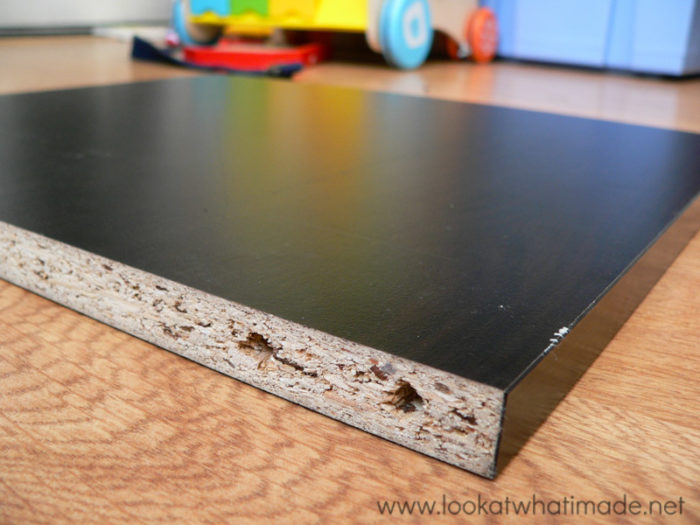 My squares are all 8.5″, so I drew an 8.5″ square in the center of my plank and divided each side into quarters (see the little marks below). Please note that this is not the measurement of your square "at rest", but rather the measurement you are aiming for (within reason). If you are unsure, stretch one of your squares out a bit, until you feel it looks like you want it to look, and measure it then.
If you want to be able to block different sizes, for instance 12″, 10″, and 8″, you can mark a grid of 1″ squares instead, using a ruler and a pencil, and drill holes accordingly (sort of like a giant peg board). You can then change the size of your blocking station by moving the "pegs".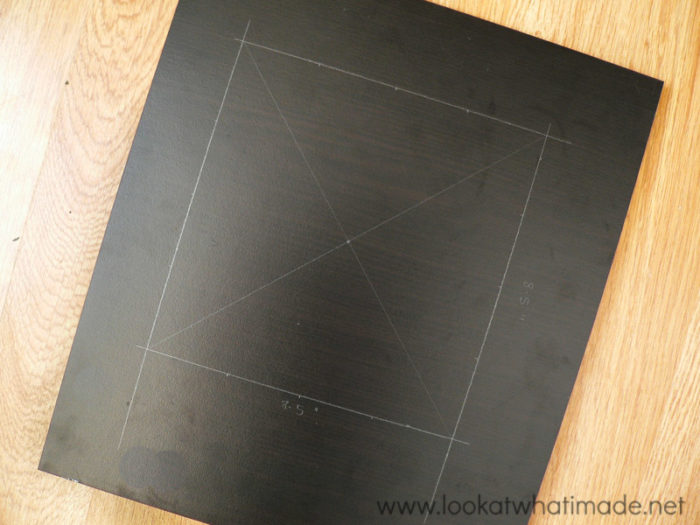 Fit your drill with a drill bit that is ever so slightly bigger than the kebab stick/ knitting needles you will be using as pegs.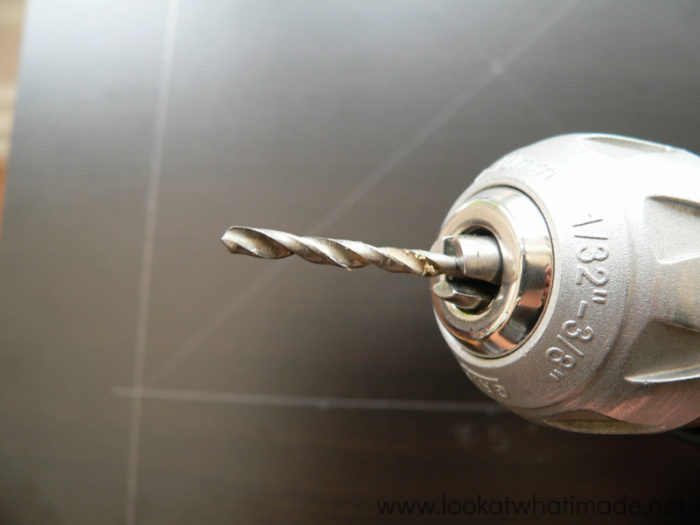 Drill a pilot hole for each hole you wish to make.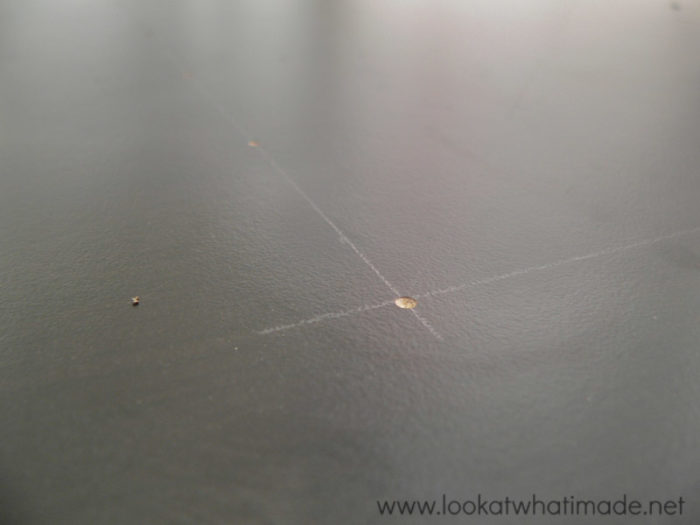 I drilled 16 holes because I only needed one square size, but if you have marked a grid, you will obviously need to drill a whole bunch of pilot holes.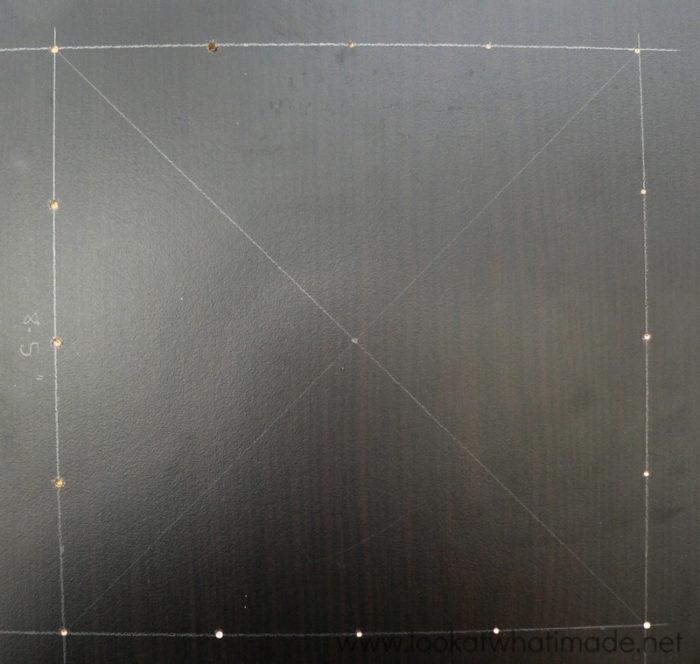 Here's a handy little tip when drilling. Hold your drill bit against the side of the plank you are going to use so that you can measure the "depth" at which you want to stop drilling. Don't drill all the way through, because your "pegs" will fall straight through. Once you know how deep you want to drill your holes, take a piece of duct tape and tape it around your drill bit at that level so that you will know when you have drilled deep enough.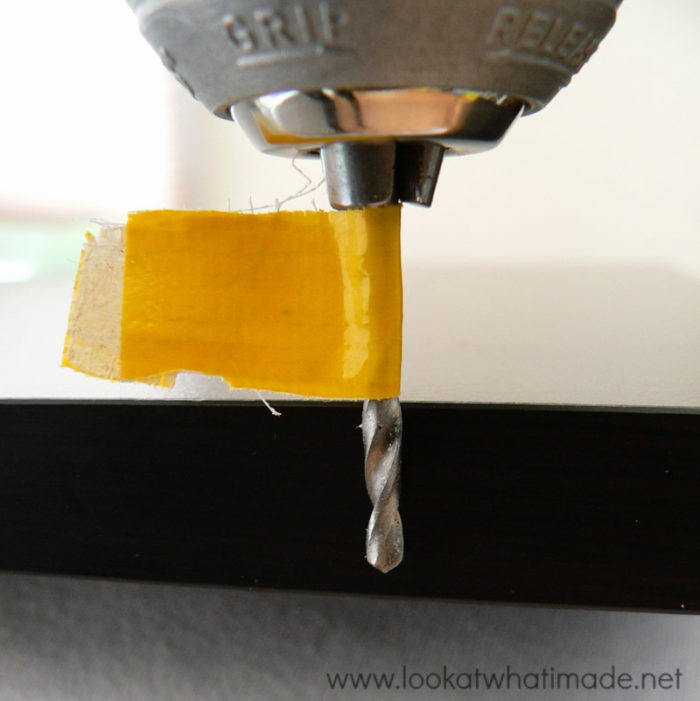 Drill your holes, stopping when the duct tape touches the wood.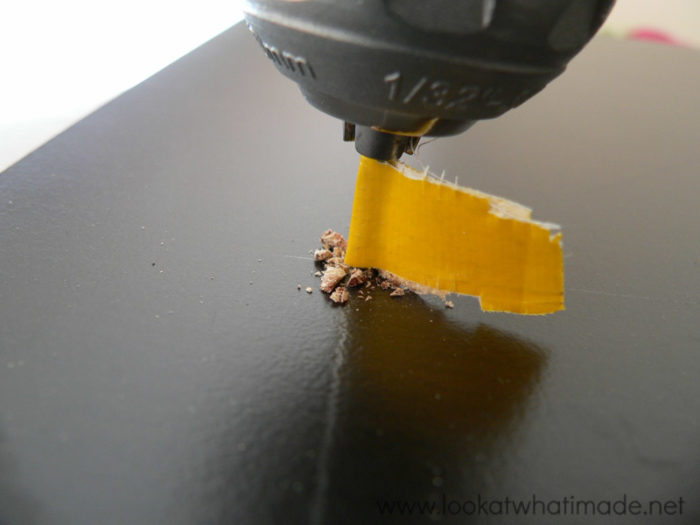 Once you have drilled your holes, fetch your pegs of choice. I used kebab sticks because I didn't have a ready stash of 3 mm double pointed knitting needles and the charity shop (for the first time in forever) didn't have any either.
I strongly suggest that you buy a bunch of knitting needles from a second hand shop if you can. The kebab sticks make tiny splinters, which makes sliding the squares onto them extremely awkward. One way to get around this is to dip the kebab sticks in melted paraffin wax before you use them. The paraffin wax will coat the kebab sticks and thus prevent splintering.
But that is not the only hurdle, unfortunately. Wooden kebab sticks are not wonderfully sturdy. They tend to buckle, which can be a problem if you are trying to "hardcore block" a square. The odds are that the kebab sticks will bend more than the square will stretch, if that makes sense. I have a photo of it lower down.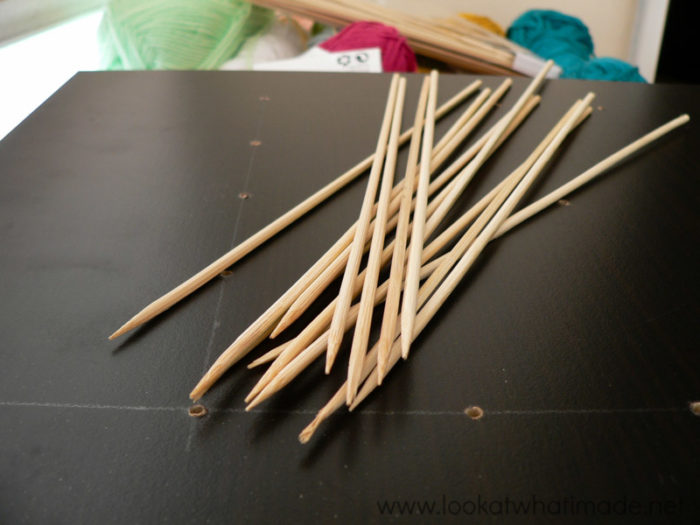 Once you've got your pegs, stick them into the holes so that the sharp end is pointing up. If you are using double pointed knitting needles this won't be a problem as both sides are pointy.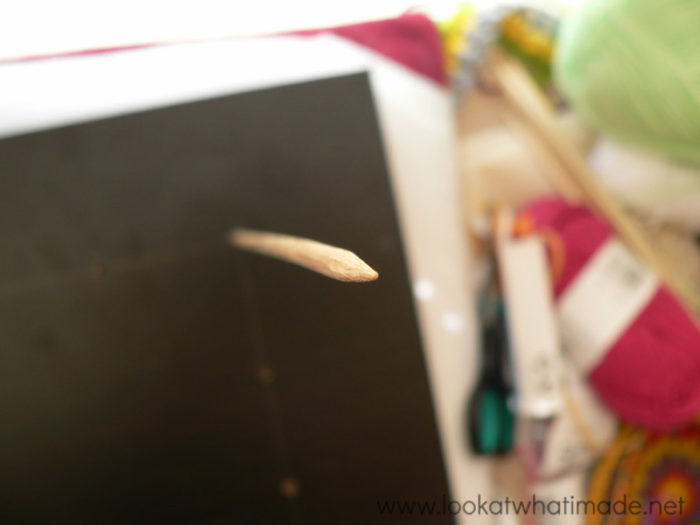 Doesn't this look like a tiny crochet square jail?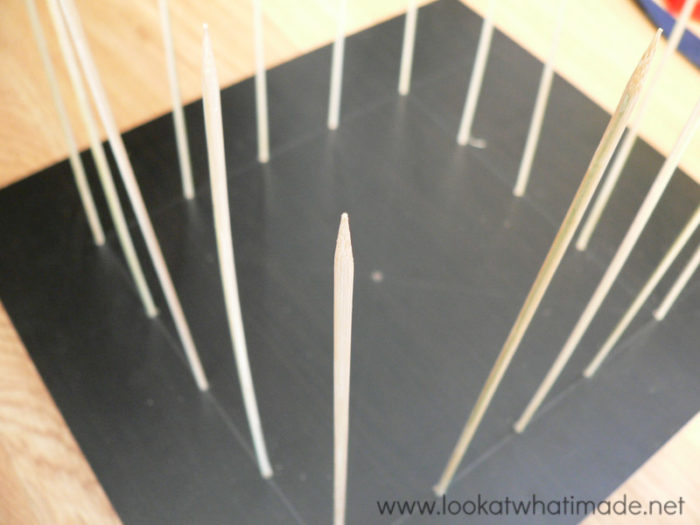 Make sure that your square is good and wet as per Tamara's tutorial. Then slide it onto the pegs. Make sure that the pegs go into the spaces between stitches, not into the actual stitches.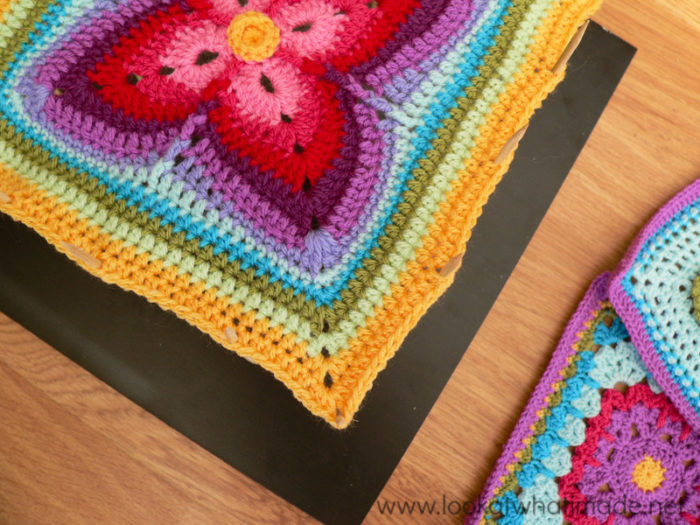 Slide your square all the way down to the bottom so that you can add the next square. Isn't this Firenze Square by Julie Yeager amazing?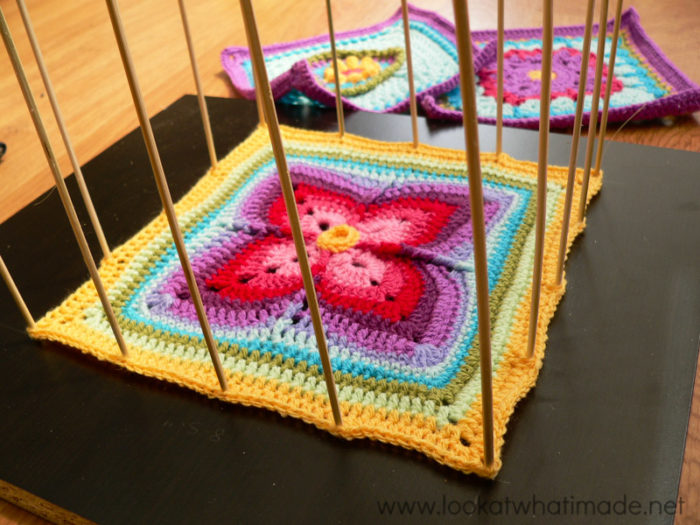 Look at that luscious pile waiting to be blocked…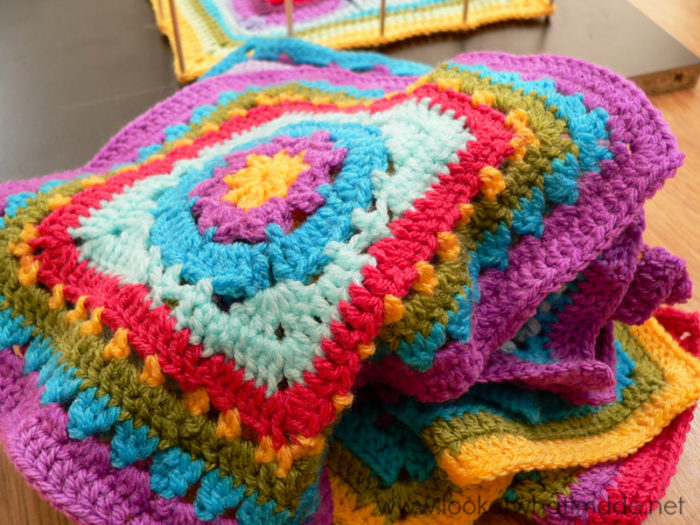 Keep adding squares to your stack until you have added all your squares. This is Donna Mason-Svara's Lemony Lime Citrus Square.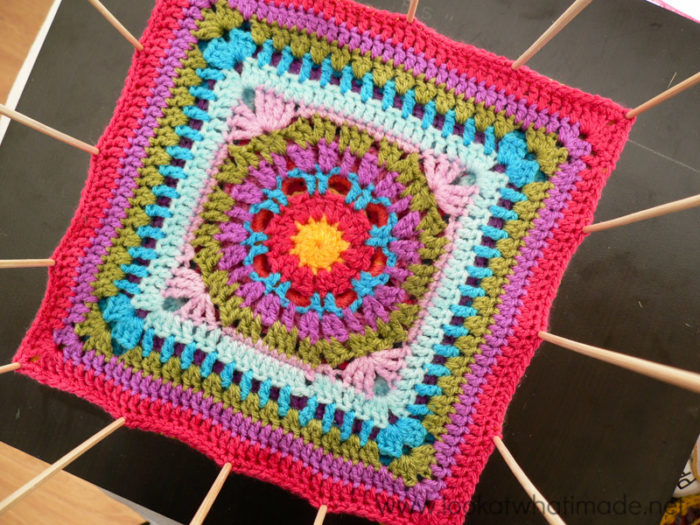 Isn't that pretty?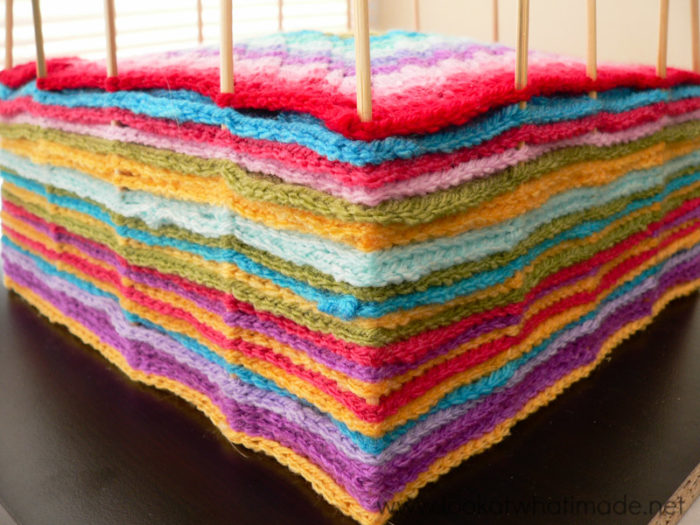 And of course this tutorial wouldn't be complete without a little boy lurking…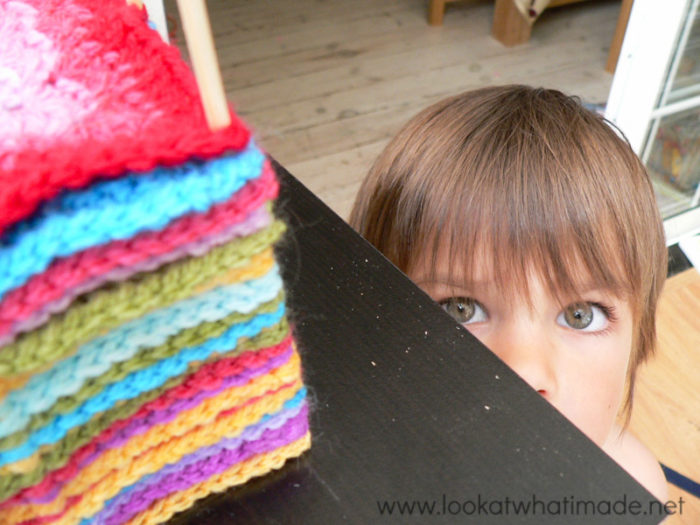 Now remember what I said about this method not being suitable for squares that need hardcore blocking? And the bit about the kebab sticks bending rather than the square stretching? Well Harlequin Shells (designed by the talented Carolyn Christmas from Pink Mambo) is a prime example. This square needs to be severely blocked.
Can you see that the kebab sticks are no longer in a straight line? That's why double pointed knitting needles work better. You can also see that the sides of the square pull in between the pegs. I ended up blocking this square with lots and lots of pins on a foam block instead. And now it, too, has straight sides and crisp corners :)
Once all the squares have been added to your blocking station, put them somewhere warm and preferably windy. As the top squares dry, take them off the stack to allow the squares below them to dry.
When you have finished blocking, pull out the pegs and store everything until you need to use it again.
This is NOT the kind of thing you leave lying around assembled, especially not if you have children lurking. Lots of pointy ends? That's just asking for trouble.
I hope you have enjoyed this tutorial and that you have found it useful. I would love to hear what your favourite blocking method is!

This blog post contains affiliate links. I only link to products I personally use or would use.  All opinions are my own.