As you already know (or maybe not), I am doing the photo tutorials for the Block a Week CAL 2014 hosted by the Official CCC Social Group on Facebook. We are reaching the end of our year-long journey and I have had so much fun! Not only will I have my first ever grown-up afghan at the end of this year, but I have also learned so much and made so many good friends.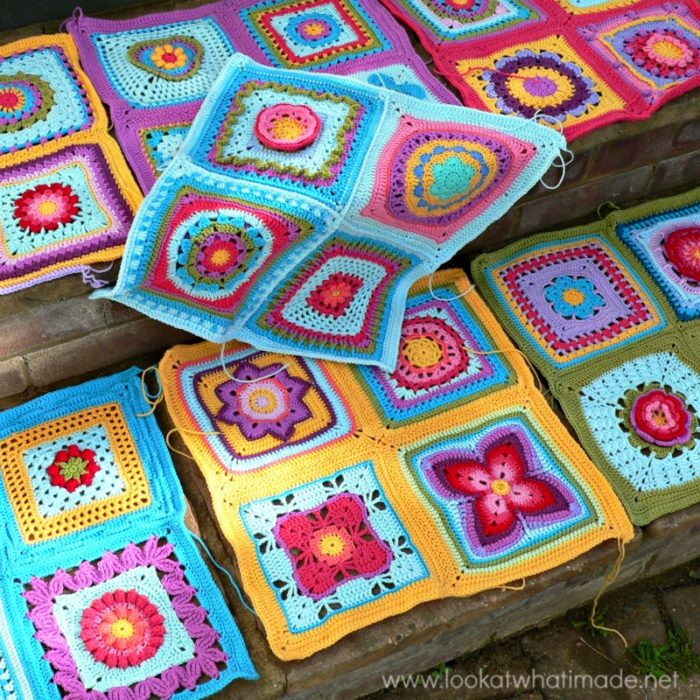 I am in the process of doing the tutorials for the joining methods I will be using. While you wait for me to get my act together, I thought you might like to see what I have been sharing on Facebook over the past couple of weeks.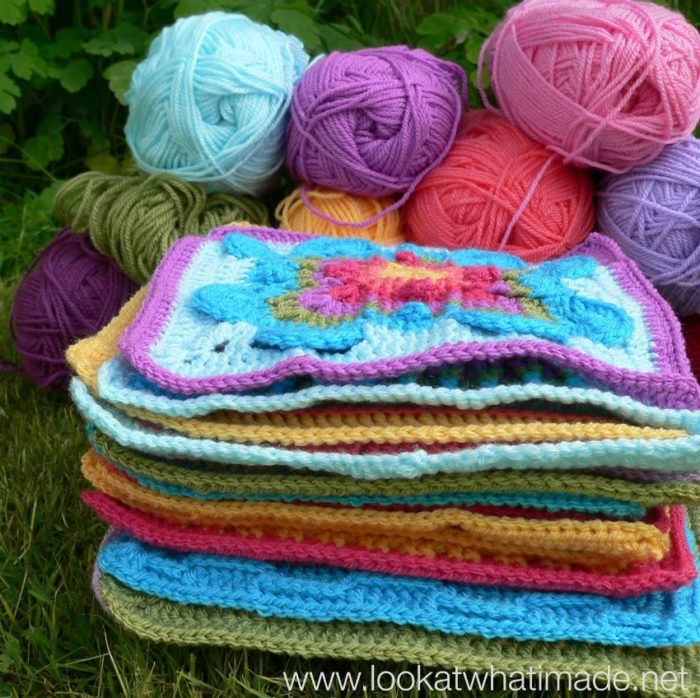 When I started following the Block a Week CAL 2014, I really didn't know what I was doing and I definitely hadn't decided on a proper colour scheme. I just bought the Stylecraft "Lucy Pack" and started crocheting.
The more squares I made, the more apparent it became to me that I did not want to use all of the colours. After the first 14 or so squares, I settled on Saffron, Meadow, Magenta, Pomegranate, Lipstick, Fondant, Turquoise, and Sherbet as my main colours.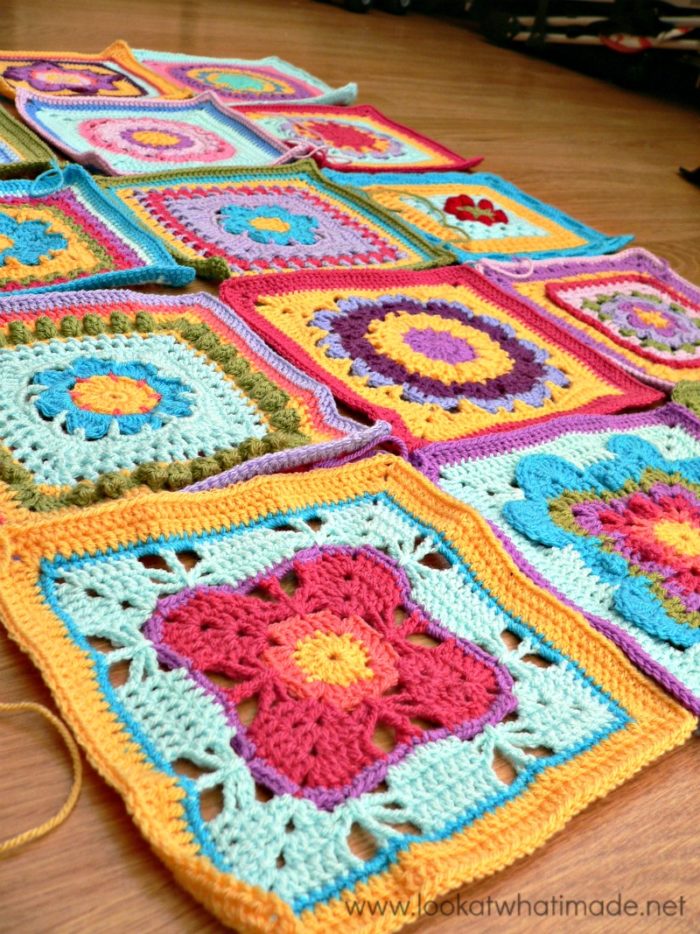 Even so, I found all the colours overwhelming and although I am crazy about colour, I just didn't like the look and feel of this layout as much as I'd hoped I would.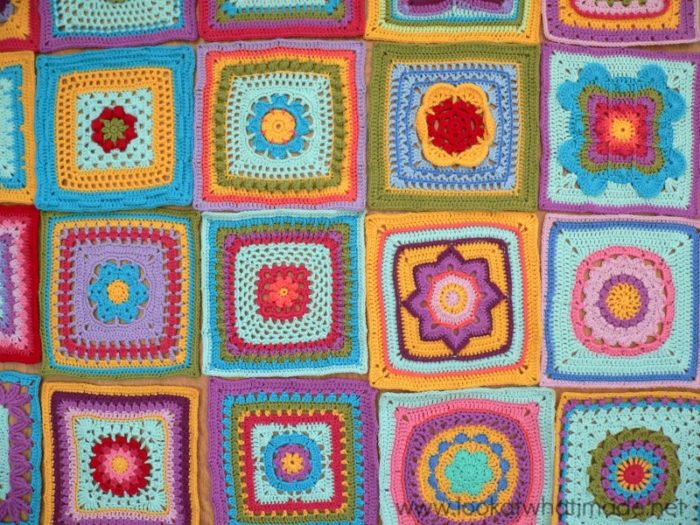 So I started thinking of a way to tone it down a bit without actually doing anything to the squares. My solution was to join the squares to each other in 4's, matching squares with the same outside round colour.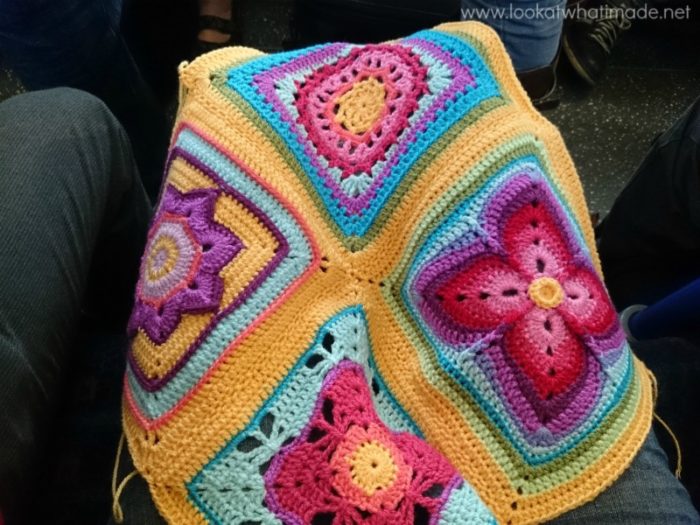 I wasn't quite sure that it would work… But I kept on joining, working one Round of dc's around each 4-square (in the same colour as the last rounds).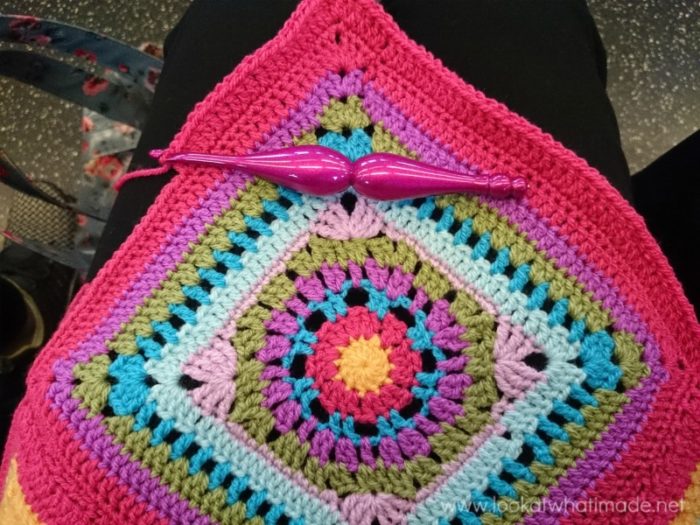 And now I have 7 giant 4-squares. The rest will have to wait for the last of the CAL blocks. You can now find all 12 Foursquares HERE.
I have to say that I think I am going to like how this turns out. I was scared that adding more colour would make it more wacky. Instead I think that the 4-squares break up the colours and make the squares feel more harmonious. But that could just be me.
What do you think?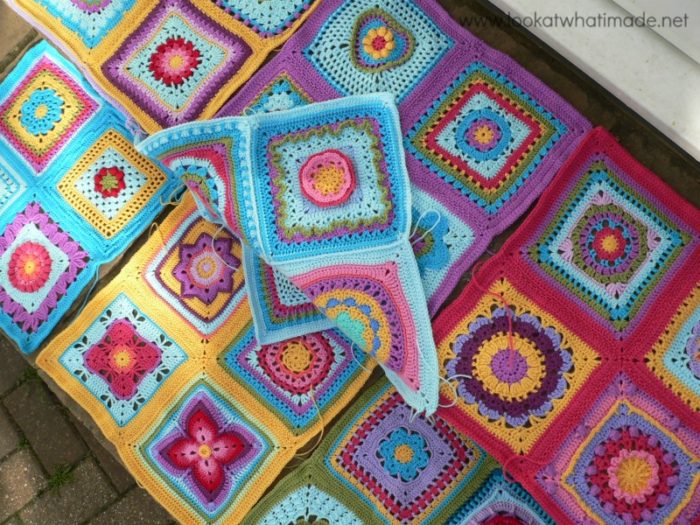 The photo tutorials for each square (from Week 5 onwards) have been done with the kind permission of the designers. You can find all the information for the Block a Week CAL 2014 HERE.

This blog post contains affiliate links. I only link to products I personally use or would use.  All opinions are my own.