It's Week 4 of the Block a Week CAL 2014 and this week's block is Basket of Berries by the talented Melinda Miller from MoCrochet.  Some of you might have noticed that Popcorn Parade (Week 2) was also one of her blocks.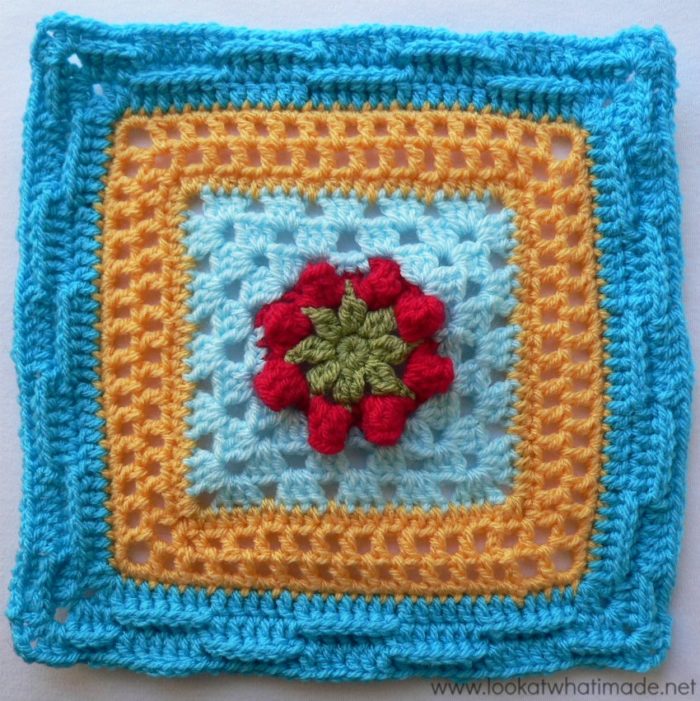 Update:  This square does not have a photo tutorial because we had not decided to do photo tutorials when we did this square, and so hadn't obtained permission to do so.  If you would like to start with some of the squares that do have photo tutorials, I suggest starting from Week 5 onwards.
If you are not familiar with the Block a Week CAL, but would like to join in, you can find all the relevant information, in THIS POST, where you will also find a thumbnail list of all the squares in the CAL.
The Basket of Berries Crochet Square is classed as intermediate, but just like popcorn parade it is extremely simple.  There are three speciality stitches:  the Reverse Popcorn, a Cluster and Back Post Double Crochet.
Basket of Berries
Pattern
You can find the pattern version I used HERE on Melinda's Website.  The pattern currently available as a Ravelry download differs slightly from the one on Melinda's Website.  It only has 2 granny square rounds instead of 3.  If you prefer that version, you can find it HERE  on Ravelry.  Thank you to Michelle Gahagan for pointing this out.
Suggested Materials
Size
Using the hook and yarn specified, your square should be a nice even 12″ when you are done.  Using a 4 mm crochet hook (US G/6  UK 8) and double knit yarn, as I have done, your finished square will be about 8.5″ big.
My Yarn and Colour Choices
I am using Stylecraft Special DK.

Meadow (Rounds 1-2)
Lipstick (Round 3)
Sherbet (Rounds 4-6)
Saffron (Rounds 7-10)
Corrections
The corrections below are purely editorial.
Round 4:  This is just a hint.  In Round 4 you will be working into the hdc's and some of the ch-2 spaces from Round 3.  Melinda specifically tells you which ch-2 spaces to work into, so unless specifically told to work into a relevant ch-2 space, SKIP IT.
Round 7:  At the end of the Round 7 it tells you to join to the beginning dc.  This should be the beginning hdc.
Round 8:  In round 8 Melinda refers to the dc's from Round 7, but Round 7 only contains hdc's.  So wherever she says skip 1 dc it should be skip 1 hdc.  Like my mom always says: a good understanding needs half a word.  So most of you will realize what she means and carry on.  But just in case you are one of the few who will go hunting for the non-existent dc's in Round 7, you have been warned.
This is the Basket of Berries square at the end of Round 2.  I started with a magic ring instead of the ch-2, 8 x sc specified.  In fact, I started with a triple-layer magic ring to make extra sure that my center doesn't come undone.

At the end of Round 3 you end up with a strawberry top.  I am not ashamed to admit that I cheated in this round.  I used the lazy popcorn stitch instead of the reverse popcorn stitch.  I am sure Melinda can tell the difference, but I couldn't.  I will be doing a tutorial for the lazy popcorn stitch sometime this week.
Note to self:  don't EVER use red yarn for things that need photographing!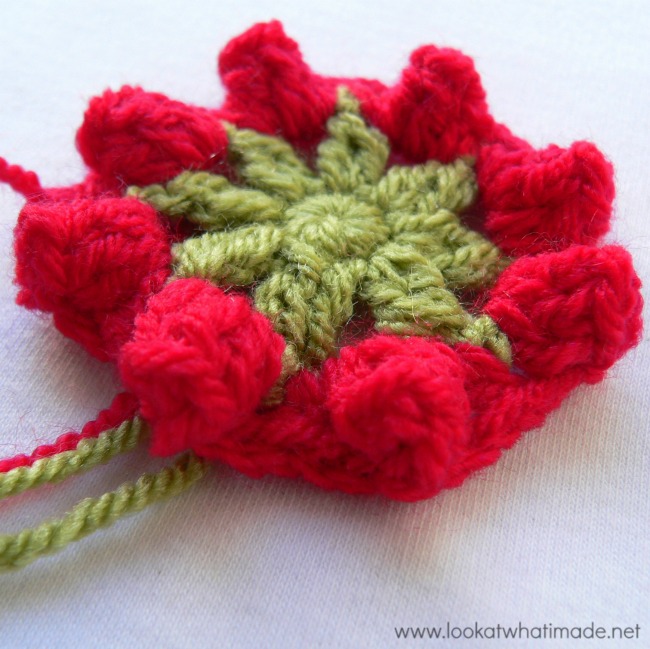 At the end of Round 6 I had a lovely little granny square.  If I close my eyes I can just imagine a blanket made entirely from little grannies like this…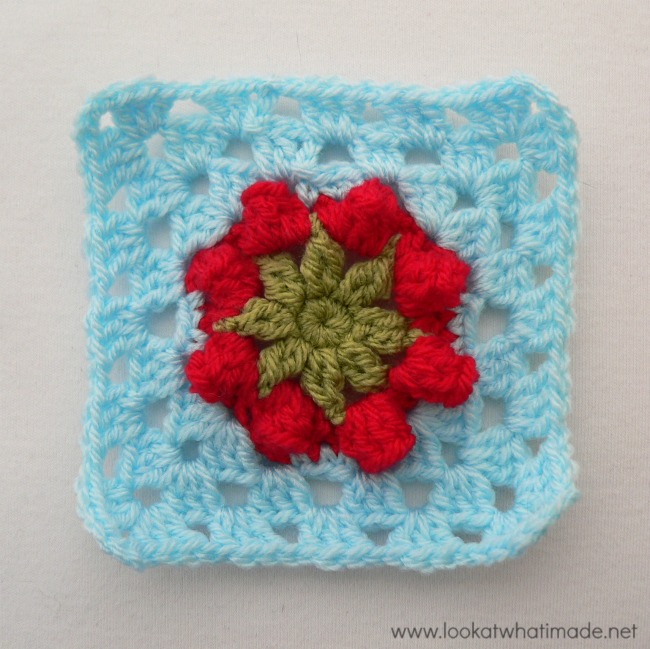 …however…at the end of Round 7, this is what you end up with.  And after finishing Round 7 I realized that a blanket made entirely out of grannies like this would be even better.  Joanold on Ravelry clearly had the same idea, because that is exactly what she has done.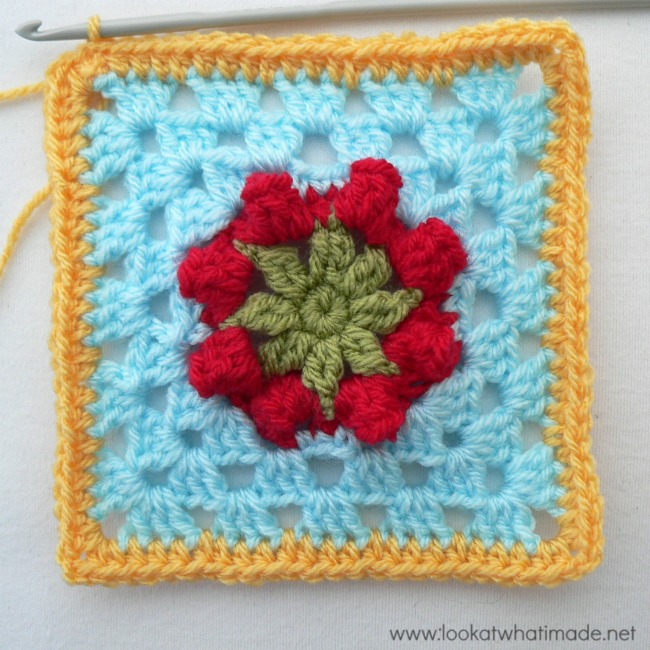 At the end of Round 10 your square will curve up slightly, just like when we were making Popcorn Parade…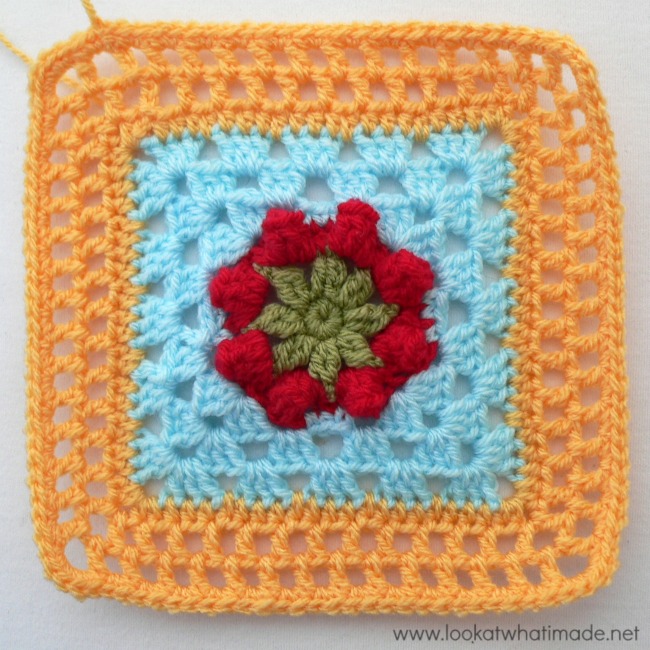 …but as soon as you start working Round 11 it will straighten right out.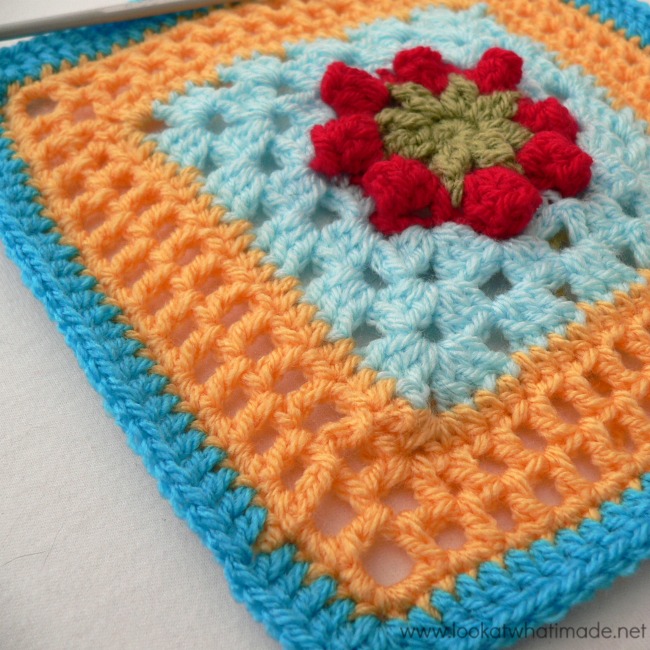 And here is the finished square, joined by the previous three.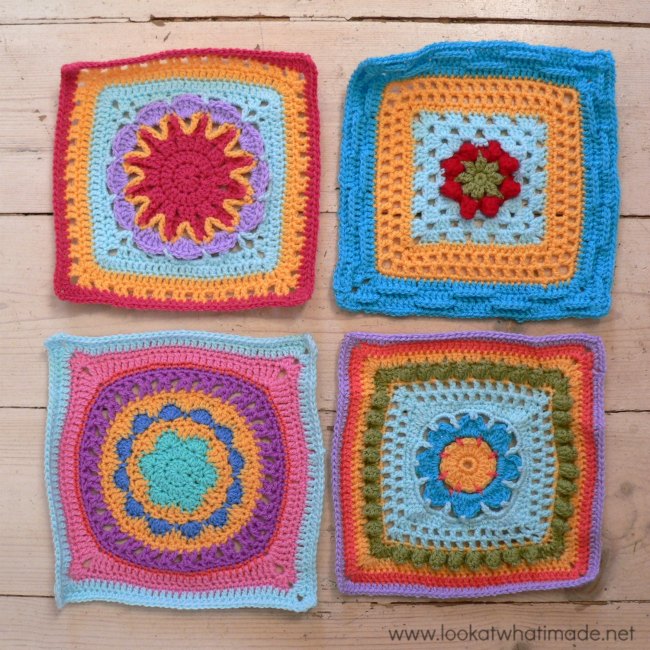 Ready to tackle the next crochet square?  You can find it HERE.
Remember to subscribe to my Weekly Newsletter if you would like to be kept in the loop. You can also like my Facebook page or follow me on Bloglovin, Google+, Pinterest, Twitter, or Instagram.
Happy Hooking!