It's week 2 of the Block a Week CAL 2014 and this week's block is Popcorn Parade by Melinda Miller from MoCrochet.  If you don't know anything about the CAL, please take a moment to read all the information HERE.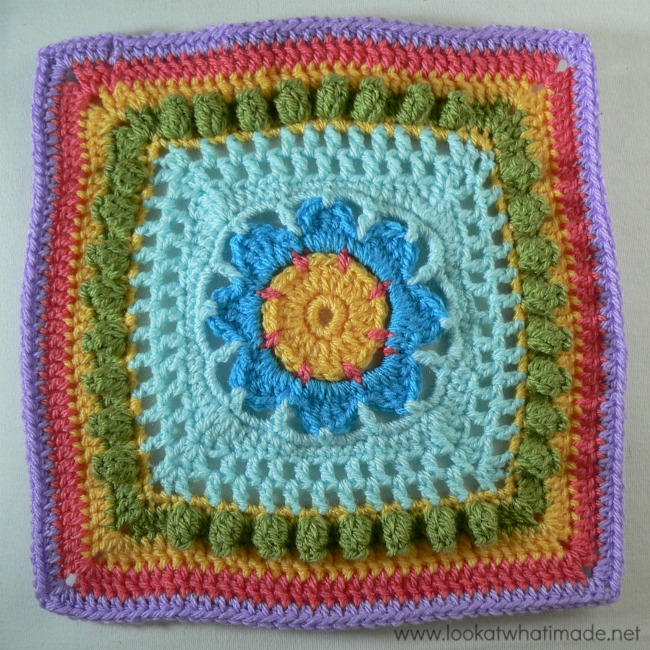 Update:  This square does not have a photo tutorial because we had not decided to do photo tutorials when we did this square, and so hadn't obtained permission to do so.  If you would like to start with some of the squares that do have photo tutorials, I suggest starting from Week 5 onwards.
My final photo isn't that great because…
Even though Christiaan was working today and that would (and did) mean a solo trip to church with the three full-of-beans masters, I braced myself and went.  By the time we got back, had lunch, threw some tantrums and just generally faffed around, the light was beginning to fade.  I entered into a race with the sun…which, unfortunately, I lost.  And I was so close too.  The sun literally set as I made the last stitch.
This square is fairly easy to make.  The only "speciality" stitch is the popcorn stitch (which I hate making but LOVE the look of).  Lou Mander from Tea, Crochet and Me has done a quick photo-tutorial for the popcorn stitch and you can find that HERE.
I did have to read some of the instructions a whole bunch of times, but that is only because there are repeats inside repeats and my brain seizes the minute there's a repeat inside a repeat.
Below is the central flower of the square, formed by the first 4 rounds.  I love it.  It makes me happy when I look at it :)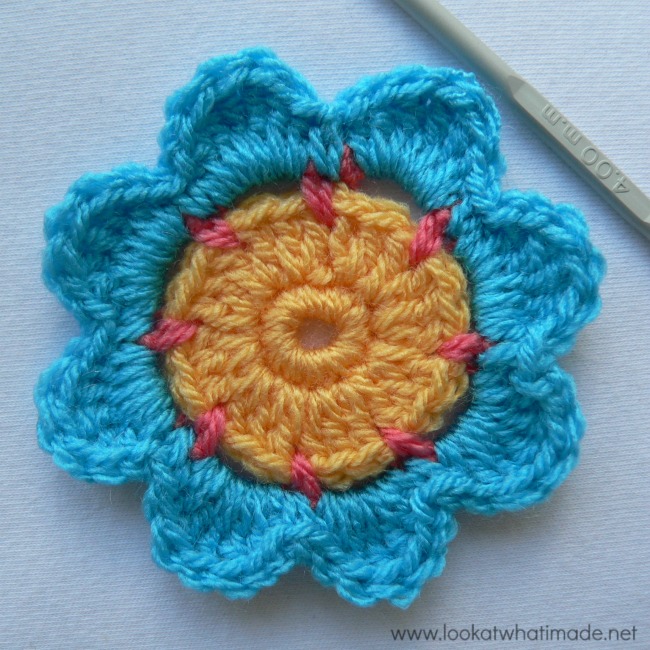 Right.  Let's get to the nitty gritty.
Popcorn Parade Crochet Square
Pattern
Materials
Specific Colours
Saffron (Rounds 1, 2, 10 and 12*)
Shrimp (Rounds 3 and 13*)
Turquoise (Round 4)
Sherbet (Rounds 5-9)
Meadow (Round 11)
Wisteria (Round 14*)
*Please Note:  I changed the last 3 rounds to suit my needs for the afghan.  The colours I ended up using were:  Pomegranate (Round 12), Magenta (Round 13), and Clematis (Round 14).
Size
Using the hook and yarn specified, your square should be a nice even 12″ when you are done.  Using a 4 mm crochet hook (US G/6  UK 8) and Double knit yarn, your finished square will be about 8.5″ big.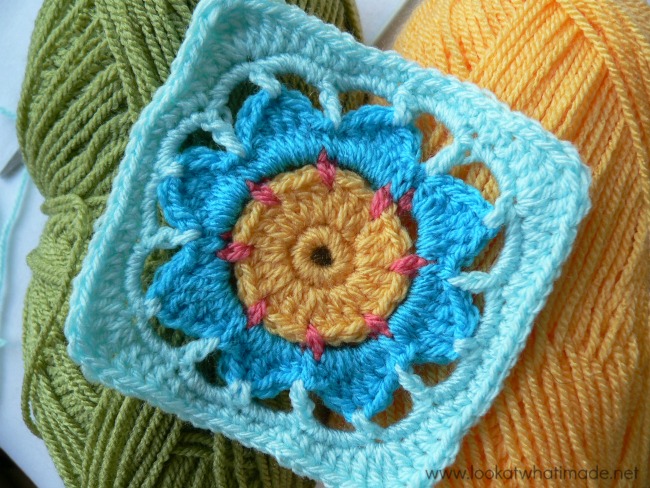 Helpful Links
If you have trouble with your stitch counts, see this tutorial on corners and the elusive "hidden" stitch to make sure that you are not missing the first stitch right after making a corner.
If you need a little bit of help with the popcorn stitch, see this tutorial by Tea, Crochet and Me.  It is very clear and to the point!
Some More Notes
At the end of Round 9 the square will curve up slightly.  This is nothing to worry about!  As soon as you work Round 10 it straightens out again.  I don't even think my square will need blocking.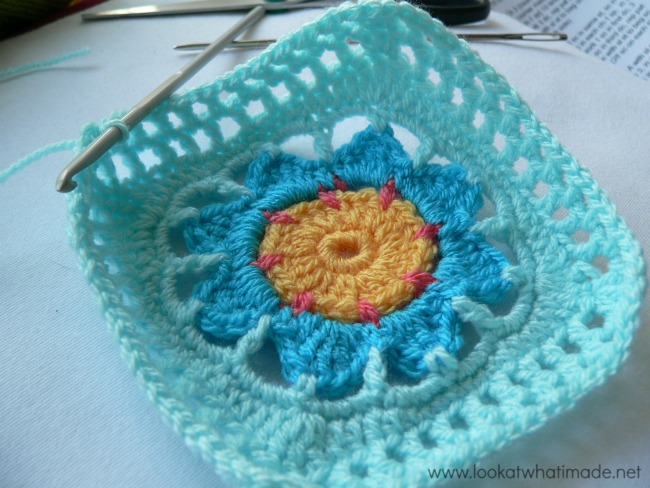 The popcorn round gave me a bit of grief, but luckily I only had to frog one side.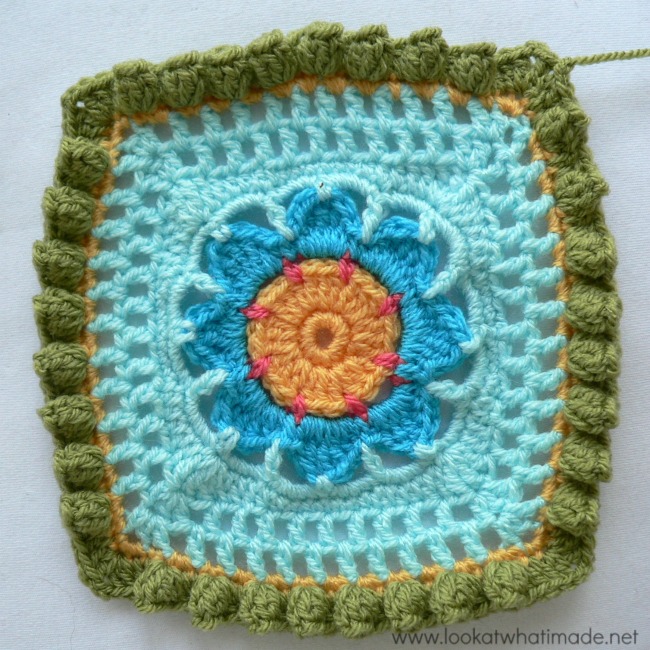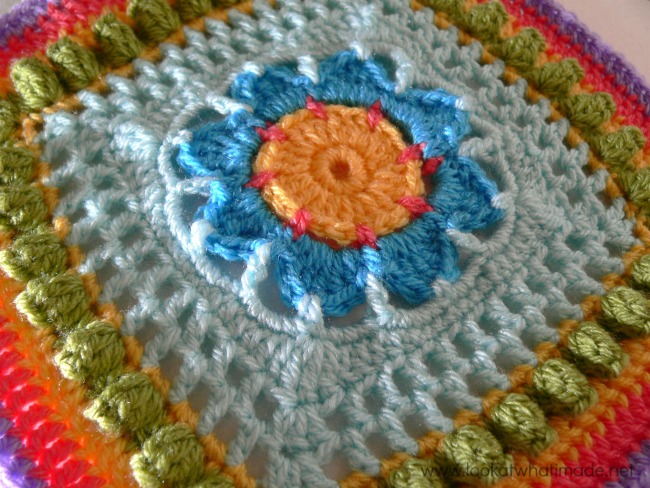 Remember to subscribe to my Weekly Newsletter if you would like to be kept in the loop. You can also like my Facebook page or follow me on Bloglovin, Google+, Pinterest, Twitter, or Instagram.
Happy Hooking!