When I first started crocheting I had no idea that there was a "hidden" stitch right after crocheting into a corner.  Now that I understand what stitches look like and how they work I am mortified by this faux pas, and yet it never occurred to me that other people might be having the same problem.  If you are one of those people who keep missing the first stitch after crocheting a corner (and trust me, you might not even realize that you are), this tutorial is for you.  It is just going to be a quicky, so prepare to be amazed at my speed!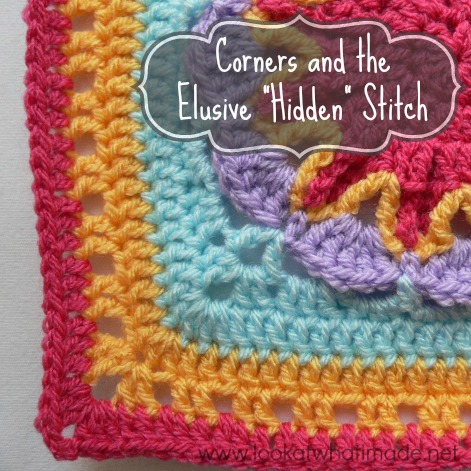 You can now find the Danish Translation for this tutorial HERE, courtesy of Tina Poulsen.
Corners and the Elusive Hidden Stitch
When making crochet squares in the round your corners will be formed by working a few stitches into the corner stitch of the previous round.
Examples:  
(Sc, ch-1, sc)
(2 dc, ch-1, 2 dc)
5 tr
You get the picture.  A bunch of stitches all worked into one stitch.
Now comes the tricky part.  When you've made more than one stitch into that corner stitch, the first stitch of the next "side" of your square can sometimes be hidden, especially if you don't know what that first stitch should look like.  If you miss this hidden stitch, your stitch counts will be out every single time, no matter how many times you frog and re-do.
To help you avoid missing that first "hidden" stitch, let's look at the anatomy of the stitches first.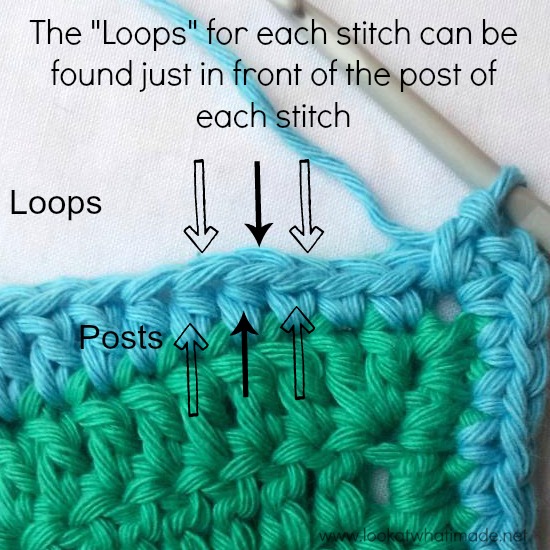 From the photo above you can see that the loops for each stitch can be found just in front of the post of that stitch (when the right side of the work is facing you*).  If you are right-handed, this will be to the right of the post.  If you are left-handed, this will be to the left of the post. 
*If the wrong side of the work is facing you, this direction will be reversed.  See Stitch Anatomy HERE.
So when you have finished working your corner (sc, ch-1, sc in the example below), the loops of your first stitch might be slightly hidden by the corner stitches.  In the photo below I have kindly pulled the corner stitches to one side so that you can see the first stitch better.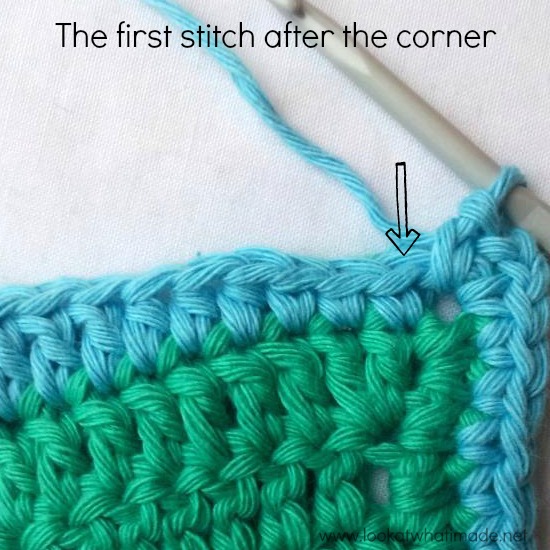 Now you try it.  In the photo below, can you tell which loops belong to the first stitch?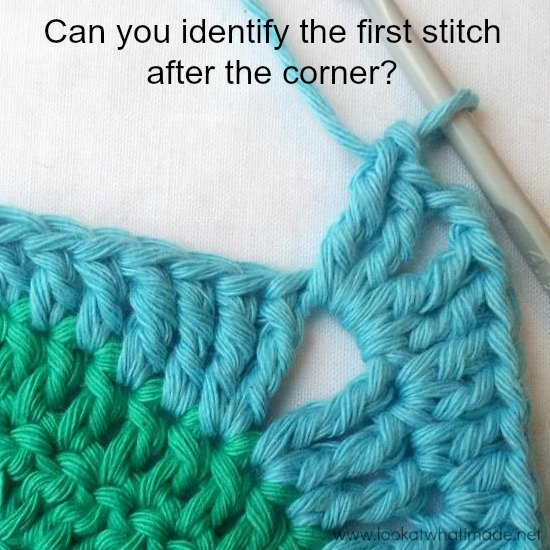 Look at the next photo.  Were you right?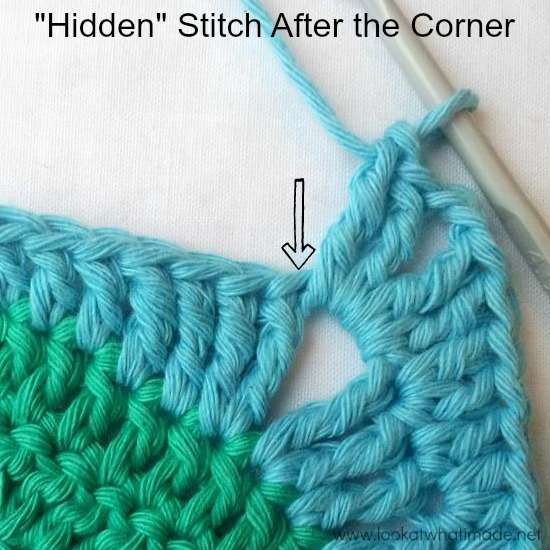 Don't worry too much if you were wrong.  At least you have tried and are now aware of the fact that the loops for the first stitch are usually hidden below the corner stitches.
So when you make your next afghan square, don't just hook it, LOOK it.  Pay attention to what the designer is asking you to do and try to figure out why.  Look if you can see recurring themes between patterns.  Pry your stitches apart and really look at what you are making.  This is how we learn and TRUST ME, you will love crochet so much better if you understand it rather than just do it.
If you are a complete beginner, my friend Rhondda has an excellent stitch-guide on her blog.  It is done as a photo, so you can save it to your desktop and use it often!  It illustrates what each of the basic stitches should look like, what their abbreviations and chart symbols are and how many turning chains are needed for each stitch.

This blog post contains affiliate links. I only link to products I personally use or would use.  All opinions are my own.