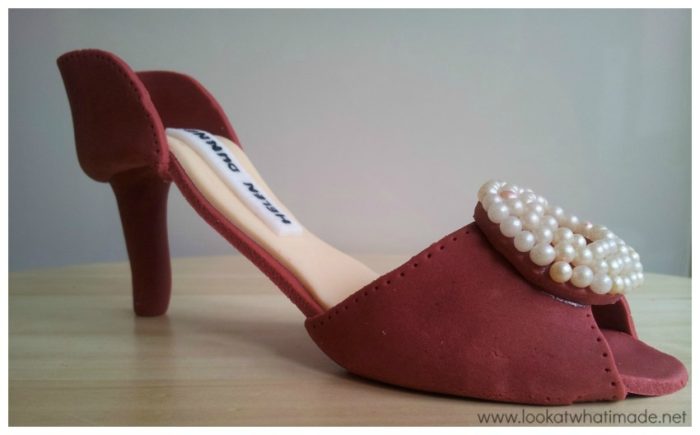 Sooo…I'm taking a time-out from crochet tutorials and patterns to share these gumpaste high heel shoes I made (quite) a while ago.
They aren't perfect by any stretch of the imagination, but I loved making them and I wish I had a whole cupboard full of gumpaste high heel shoes!
You know how they say girls are either "bag" girls or "shoe" girls? Well I am totally a shoe girl, despite the fact that I haven't bought more than 3 pairs of pretty shoes since Pieter was born. But I digress.
I made this gumpaste high heel as a cake topper for my friend Liz' sister's birthday cake. Liz' sister is Helen Dunne (hence the label on the shoe), author of Trixie Trader, Light as a Feather and "It's Not You, It's Me".
I made the shoe using the template and instructions I found on CAKE STORIES by Rose Sen. She has some excellent links to video tutorials for making gum paste shoes, both with AND without a high heel kit.
The only hint I will add to her instructions is this: Sponges make excellent supports for a drying gumpaste shoe!!
I just wasn't getting the right shape using wadded-up glad-wrap and as I was frantically rummaging through my cupboard I stumbled upon my stockpile of 3M sponges. I cut one into a triangular wedge to support the foot and heel of the shoe. I cut another one into a rounded pointy shape to support the toe.
Not only do the sponges keep their shape, but they also allow air to circulate, meaning a reduced drying time. Yep. Like my friend Mike always says: "Up there for thinking!"

I did the stitching with a toothpick. Yes! Because somebody still hasn't gotten around to buying a stitching tool.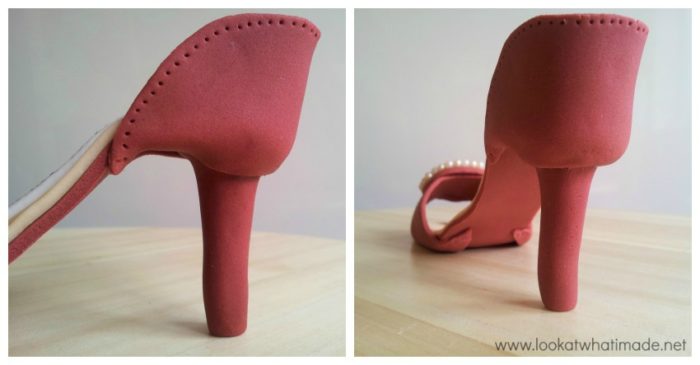 For the pearl accent I used edible gumpaste pearls. I didn't make these myself (laziness and time-constraints), but they are extremely easy to make. This tutorial by Earlene's Cakes is a brilliant step-by-step tutorial for making your own gumpaste pearls.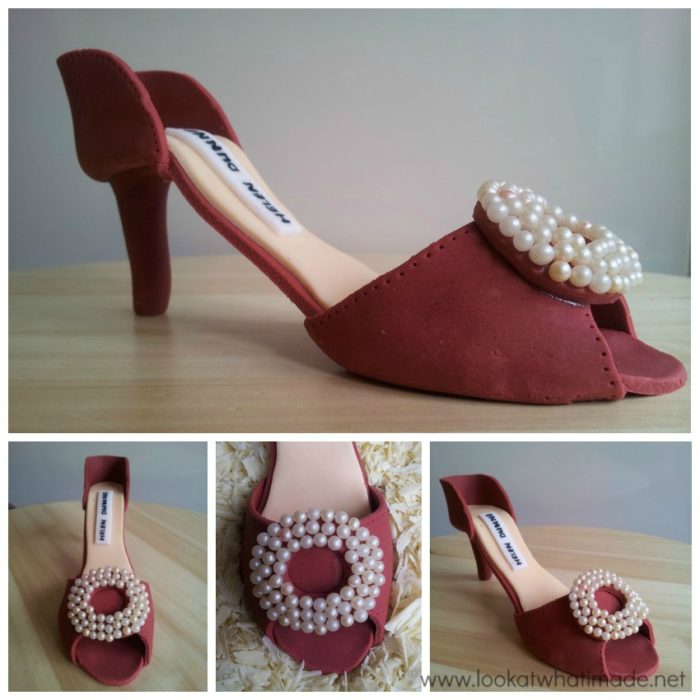 Remember to subscribe to my newsletter if you would like to be kept in the loop. You can also like my Facebook page or follow me on Bloglovin or Google+.
Happy Gumpasting!