Oooh!!!  I am so excited!  Sophie's Universe is 5 years old and we are having a 5 Year Anniversary MAL (Make-along) to celebrate!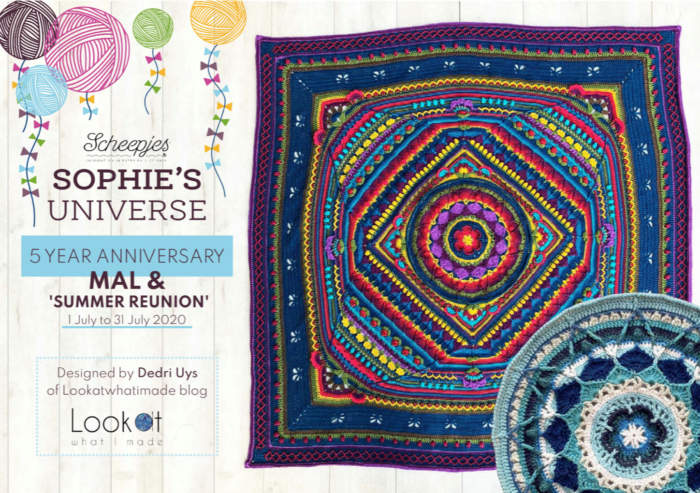 I don't quite know where to start.  I want to say all the things at once!  'All the things' would take a very long time to say, though, so I will try to keep it short and sweet.
For those of you who have no idea what Sophie's Universe is, I will give you a quick history.  Sophie is a large continuous square blanket with a lot of surface texture.  The pattern was originally released in 2015 as a 20-week mystery crochet-along.
Although it is an intricate pattern, it was written specifically for adventurous beginners, with step-by-step photo tutorials and wonderful video tutorials by Esther Dijkstra from It's All in a Nutshell.
The brilliant thing about it being a mystery CAL was that, by the time people realised how complex the pattern was, they had already mastered all the skills they needed to complete it.  This meant that when new people saw it and said 'Oh, I could never do that!', enough people had already found out that they COULD do it.  This created a magical community of crafters who delighted in encouraging others to 'just give it a go, you'd be surprised!'  This community, the continued enthusiasm and encouragement and interest…  it never ceases to amaze me.
So, to celebrate five years, thousands of Sophies, good friends made, and glorious adventures, Scheepjes and I are hosting a month-long make-along/celebration.  The MAL will run from the 1st of July to the 31st.  This is not enough time to make an entire Sophie (although I know some people who have!).  It is, however, enough time for us to support you well into the journey, with special attention being paid to Parts 1 – 8.
By the time you complete the first four parts (Sophie's Garden), you will have learned almost all the skills you will need to complete the blanket.  In Part 5, it changes shape, so a bit of hand-holding won't go amiss.  By Part 8, you will have completed the Roses (my favourite part!!!) and the Central Flowers on the short sides.  The rest will be a breeze!  And if you have any questions after that, there is a huge community of Sophie-makers ready and eager to help you.
To each of you who has made a Sophie and shared a part of your story and journey with us: "Thank you!"
To each of you who started Sophie and then put her away because it wasn't the right time:  "This is the perfect chance to dust her off!"
To each of you who has been hesitant to try this pattern because you were worried about your skill level, and those of you who are only just finding out about it:  "Come join us for a beautiful and rewarding adventure!"
Welcome to the Party!!!!
Sophie's Universe 5 Yearn Anniversary MAL
Index
Resources
Sophie's Universe CAL 2015 Information: The pattern for Sophie's Universe is available as a free 20-week crochet-along HERE.  It contains step-by-step photos and helpful hints.  It is supported by detailed videos from the talented Esther Dijkstra (the links for which can be found at the start of each part).
Book: Sophie's Universe is also available as a 216-page step-by-step book, which you can buy HERE in my Wool Warehouse Shop.  You will find a list of alternative retailers HERE.
Facebook: The MAL will be hosted by Scheepjes in the Scheepjes CAL groups on Facebook.  Please join us there!
Hashtags: If you share photos, please use #sophie5yo and #ScheepjesMal so that we can find your projects and have a gleeful look.
Sophie Anniversary MAL Timeline
Sophie's Universe Kits
If you don't want to think about colours, you can find kits for the original colourways in my Wool Warehouse Shop.
In honour of Sophie's fifth birthday, I have had three new colourways worked up.  I'll share the details for those below.
You can find the colours per round information HERE.
Current world situation being what it is, we will not be selling kits for these colourways at present, but you can buy the yarn* from the following retailers: 
*Some of the colours are out of stock, but they will be back in a few days.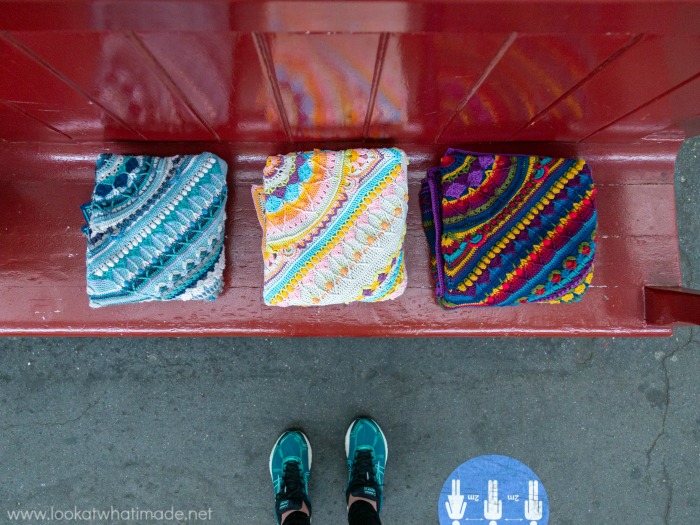 Simy's Colourway
Made by Anna Moore
The colours for this version were put together by Simy from Simy's Studio.  She has such a good eye for colour!  This blanket reminds me of peacock feathers.  It is so soft and has a really nice weight for its size.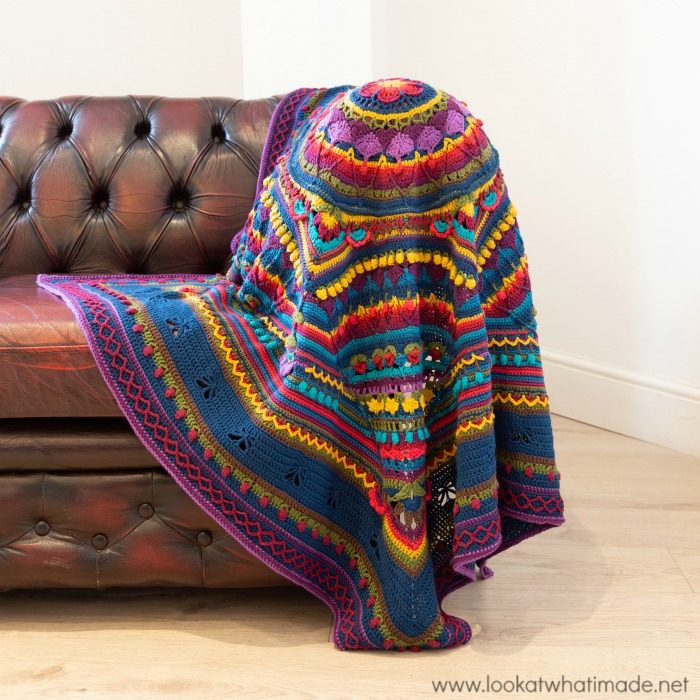 Size
112cm/44"
Materials
3mm hook for Parts 1 – 3
3.25mm hook for Parts 4 -7
3.5mm hook for Parts 8 -18
Scheepjes Bamboo Soft (50% Cotton/50% Bamboo), 50g/150m/164yds
Golden Nugget (260) – 2 balls
Hot Berry (262) – 1 ball
Deep Cherry (251) – 2 balls
Majestic Red (259) – 2 balls
Decadent Plum (250) – 3 balls
Grand Oak (256) – 3 balls
Smooth Coca (257) – 2 balls
Blue Opal (253) – 8 balls
Jade Lapis (258) – 1 ball
Royal Purple (252) – 2 balls
Celestial Blue (255) – 2 balls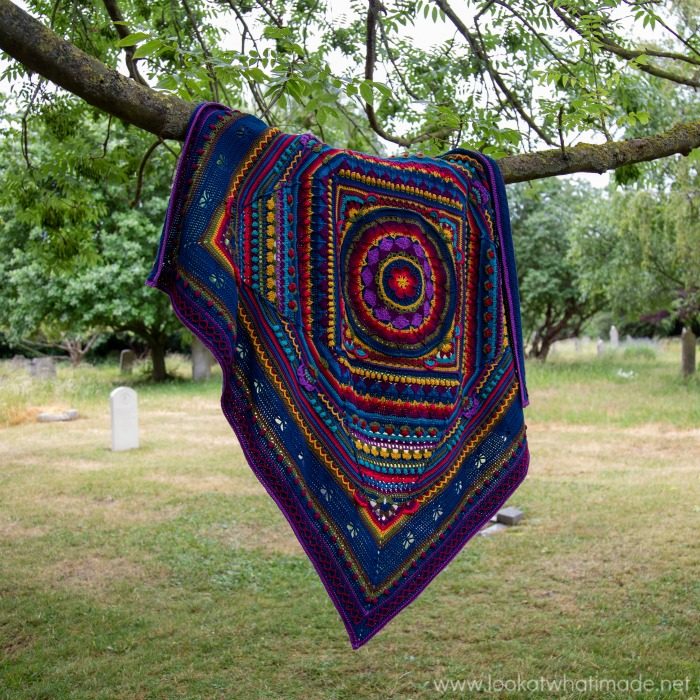 Lillabjorn's Colourway
Made by Anthony John
I am a huge fan of Tatiana's work, so when I started thinking about colourways, I immediately thought of asking her to choose the colours for one of the versions.  I love the colours she chose and wish you could see the tiny flecks of colour that run through the Metropolis when it catches the light.  This is the smallest of all the Sophies, but it makes my wool-loving heart so happy!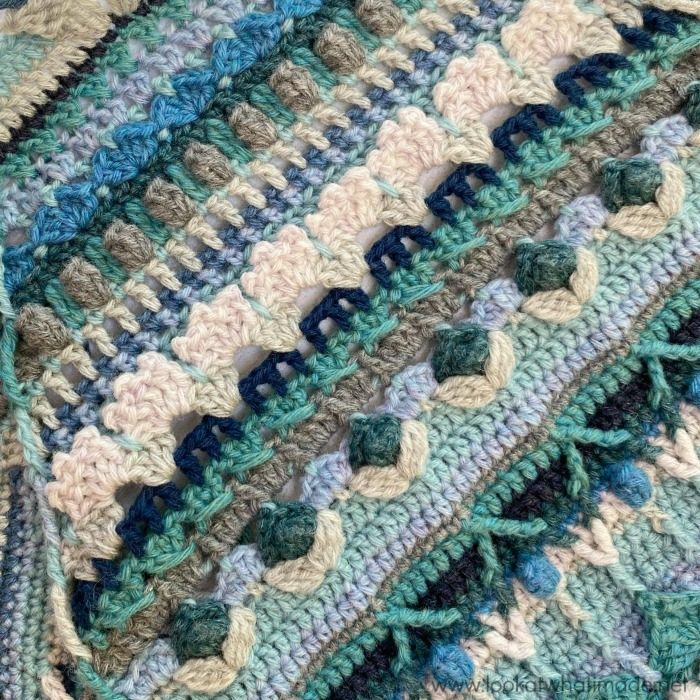 Size
95cm/37.5"
Materials
2.5mm hook for Parts 1 – 3
2.75mm hook for Parts 4 -7
3mm hook for Parts 8 -18
Scheepjes Metropolis (75% Merino Extra Fine/25% Nylon), 50g/200m/219yds
Cota (024) – 2 balls
Madrid (009) – 1 ball
Cairo (070) – 2 balls
Multan (017) – 1 ball
Suwan (018) – 2 balls
Nice (025) – 2 balls
Beirut (008) – 1 ball
Marseille (019) – 5 balls
Munich (079) – 1 ball
Philidelphia (007) – 1 ball
Ulsan (015) – 1 ball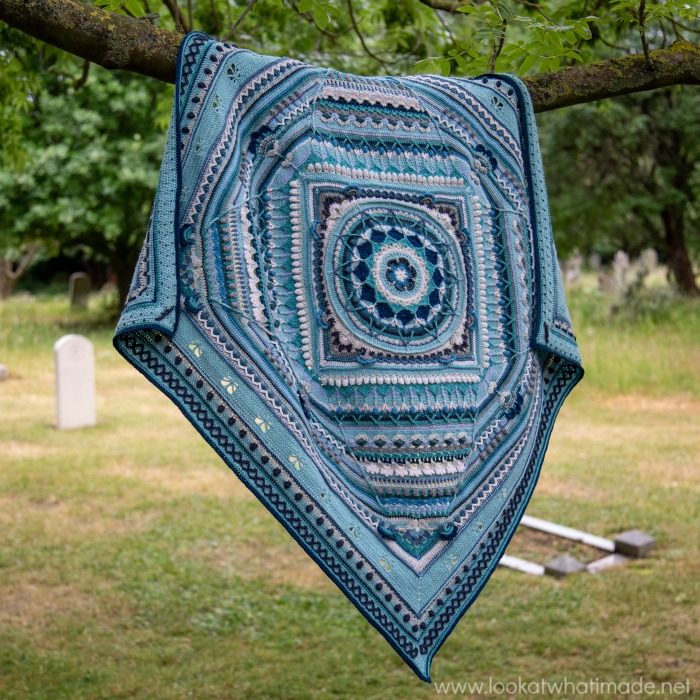 Ubuntu Sophie
Made by Mandy Beacham
Ever since the Ubuntu CAL, I have wanted to see what Sophie would look like in the Small Ubuntu Colourway.  I met Mandy at one of my Yarn Retreats, and she offered to work one up.  I am so pleased with how it turned out!
It was a bit of a mission figuring out colour placement so that it would work with the kit, but we did it with the help of the small original Sophie spreadsheet and the beautiful colouring pages I will be telling you about in a minute.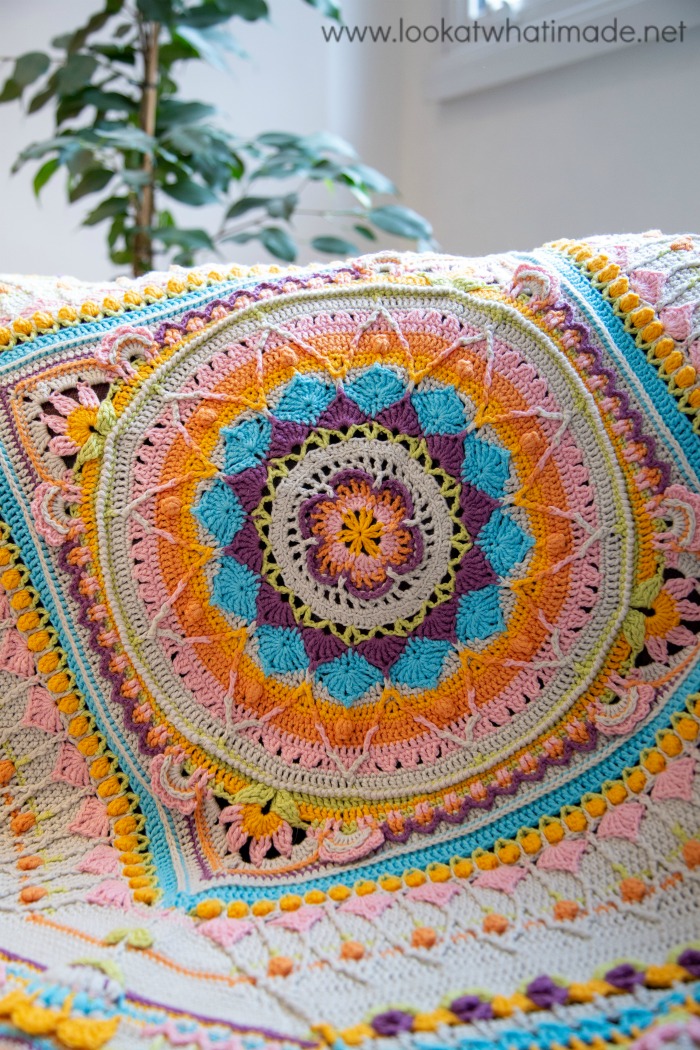 Size
102cm/40.2"
Materials
2.75mm hook for Parts 1 – 3
3mm hook for Parts 4 -7
3.25mm hook for Parts 8 -18
* You can use the medium or large kits as well.  For the medium kit, you will need to use the gauge/hook combination for the Bamboo Soft version.  For the large Ubuntu Kit, you will need to use the gauge/hook combination of the original Stonewashed XL version.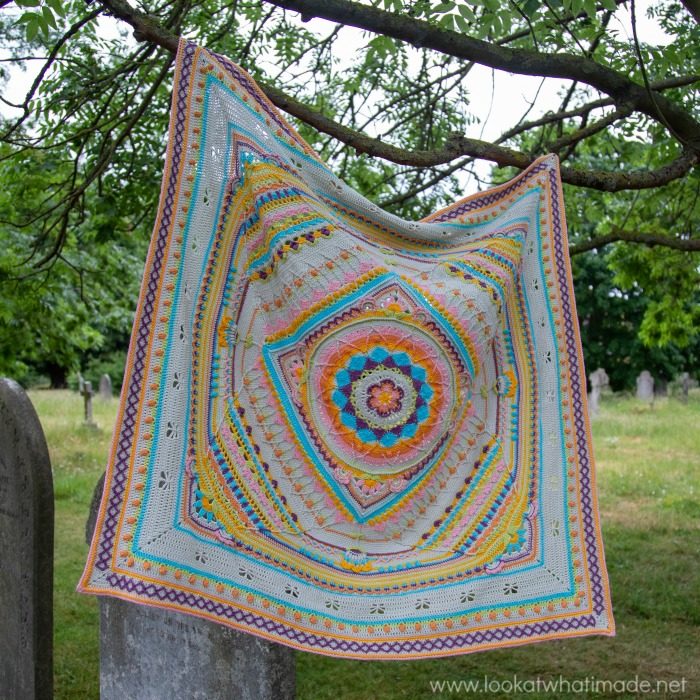 Choosing Your Own Colours
I know that one of the most daunting things about starting a big project is often having to choose your own colours.  We would like to encourage you to shake off that fear and let your imagination soar.  I have seen so very many Sophies, and I can tell you from experience that this pattern is very forgiving when it comes to colours.  It looks great in a single colour, and it looks great in one hundred colours.  Hmmm, I'm cocking my head now, trying to think if I have actually seen one where each round was a different colour?  I'm sure I must have done!
Anyway…
I would like to give you some suggestions and hints about choosing colours.
In the first instance, Ravelry is a fantastic place to find inspiration.  There are over 7000 Sophie's Universe Projects to date, and scrolling through the projects is a great way to help consolidate your likes and dislikes as far as colours and placement go.
Single Colour
The easiest option (and quite an elegant one) is to use just one colour.  Using a single colour makes the details stand out in a completely different way.  If you choose to go down this route, you can find more information in our Single-Colour Post.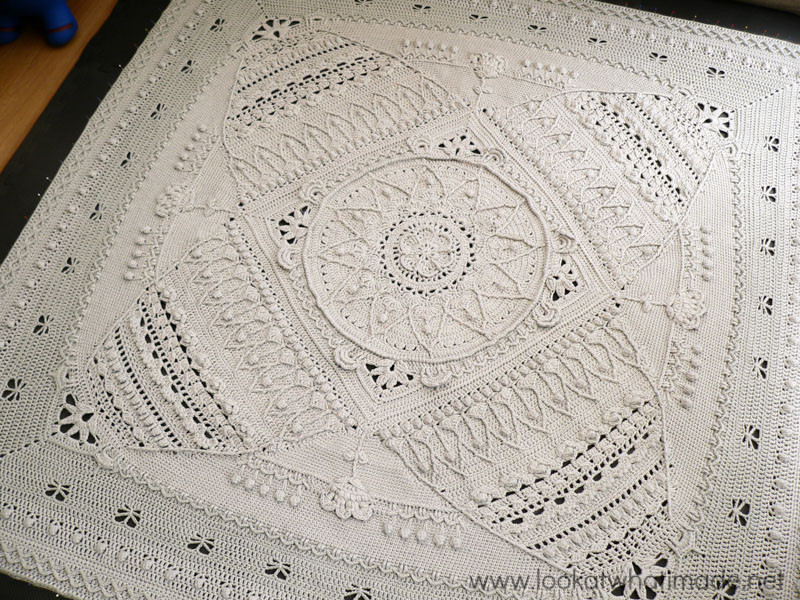 Colour-change Yarn
Another easy (but more colourful) option is to use a colour-change Yarn like Scheepjes Whirl.  This option means that you only have to choose the cakes that make your heart sing the most and trust the yarn to do its magic.  You can read about my friend Jenny's Whirl Sophie HERE.
If you are feeling a bit more adventurous, you can mix and match Whirls and Whirlettes.  Simy's Studio has a detailed post about Whirl/Whirlette Combinations.
You can also have a look at Sophie's Dream for some Whirl/Sophie inspiration.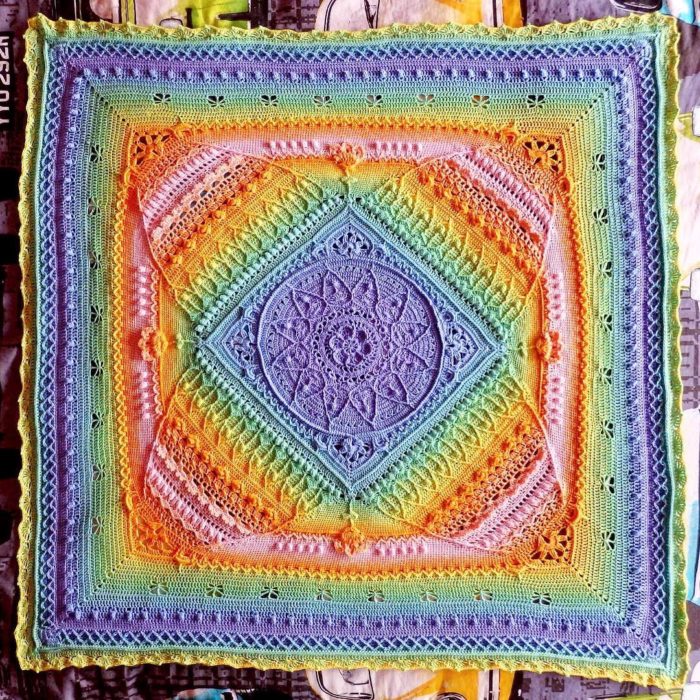 Putting Colours Together
If you want to put your own colours together, there are plenty of helpful colour tutorials.  If you Google 'How to Pick Colours' or something to that effect, you will get loads of results full of scientific reasons for why the colours work.  So I am not going to go into that.  My suggestions will be much more whimsical.
1 Photos
I suggest turning to your photo album (real or digital) and having a look through it.  Which photos make your heart sing?
When I was choosing the colours for my Memory Lane Blanket, that is exactly what I did.  I realised that I had a lot of photos that featured dusky pastels.  It is not a palette I ever would have associated with myself, but when I saw the photos, I realised that I DID love the colours.  Quite a lot, in fact.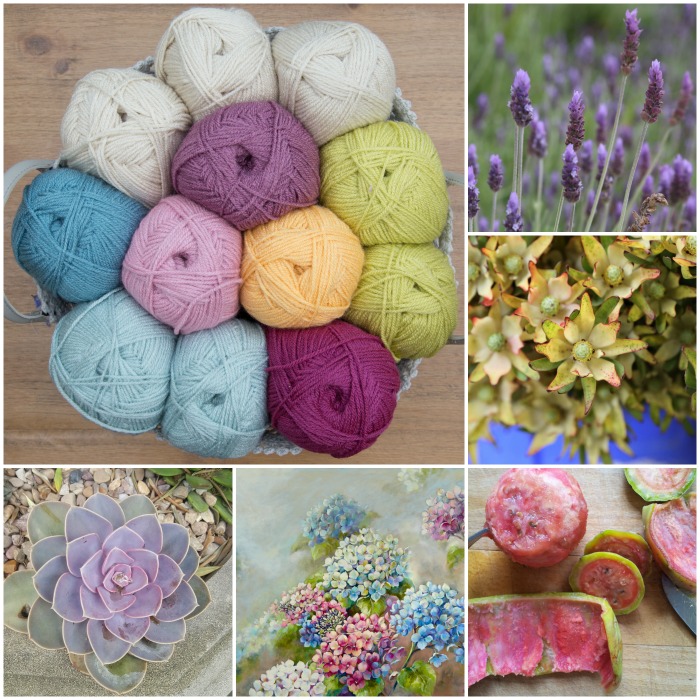 2 Wardrobe
You would be surprised how many people show me one of their projects only for me to exclaim:  "It matches your clothes!"
So throw open your wardrobe and look at your favourite outfits.  Which colours do you wear most often and, more importantly, which accessories do you like to wear with them?  And when do you get the most compliments?  You may find that you are partial to light teals with a pop of mustard or coral, or that you like all the colours of the rainbow (and then some).
3 People
Think of a person and then think of the colours you associate with them.  This works particularly well if you are making the blanket as a gift, where their preference will be more important than your preference.
That is what I did when I wrote the post about Playing with Scheepjes Sweet Treat and Colour Combinations.  If you like any of the colour combinations in that post, the shade numbers correspond to those of Catona, Cotton 8, Colour Crafter, and Chunky Monkey, so it is a good way to see which combinations you like or dislike across that whole range.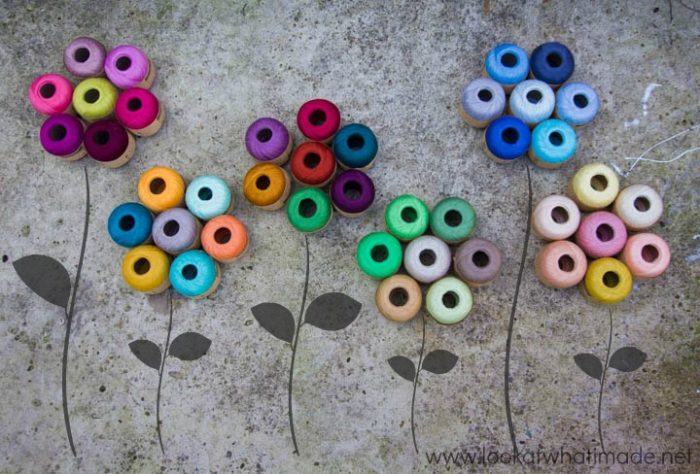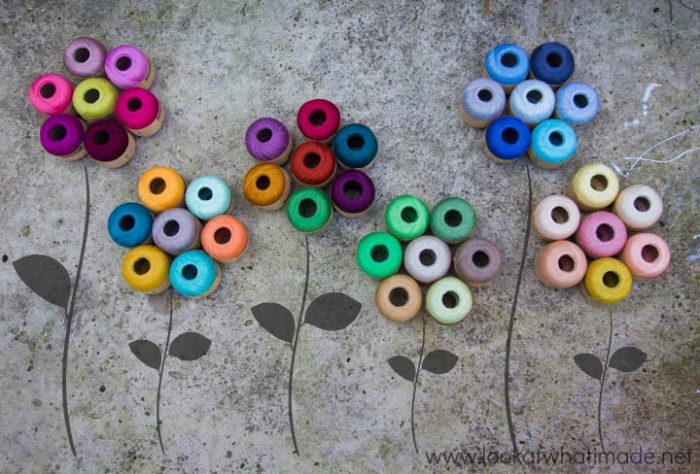 Figuring Out Which Colours to Use for Which Rounds
The easiest way to do this is to substitute your colours for specific colours in the pattern and then follow the colour placement as suggested.  That is what we did with both the Metropolis and Bamboo Soft versions.  We married each of our colours to one of the original Cotton 8 colours and then followed the order for that version.
Alternatively (and this is where the fun comes in), you can use the gorgeous colouring pages below to plan where you want your colours to go.  That is what I did when I was deciding where to place the colours for the Ubuntu Sophie.
The easiest way to go about this is to colour in the leaves and the flowers first and then fill in all the other detail.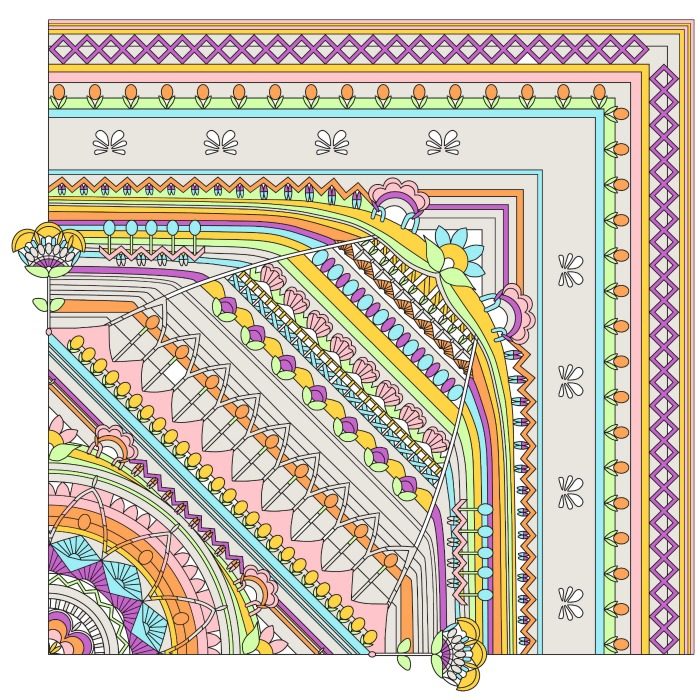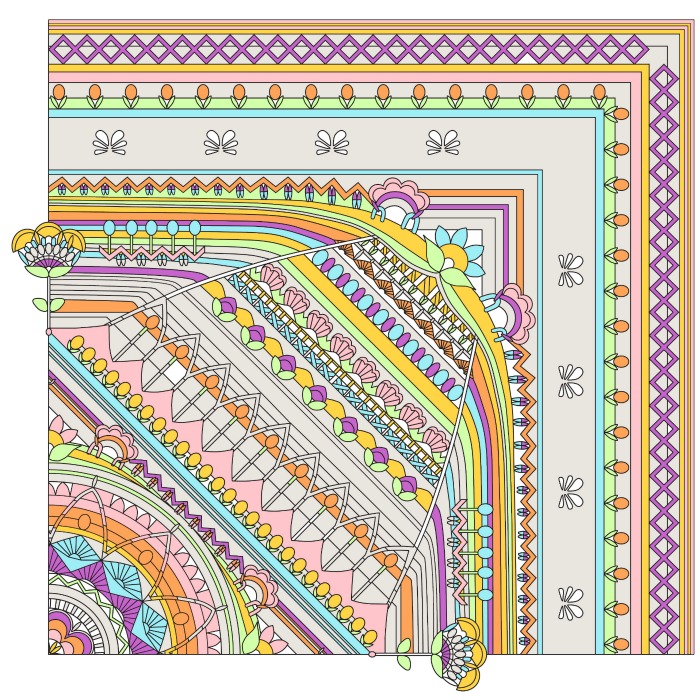 Sophie's Universe Colouring Pages
The very talented Claire Norden has designed these gorgeous colouring templates for Sophie's universe.  They are a brilliant tool to help you choose which colours to put in which round.
You can click on the images to enlarge and save them.
More Helpful Templates
In the Information Post for Sophie's Universe, you will find spreadsheets that detail how much yarn I used for each of the original Sophies.  You can save these templates and enter your own information, or you can use the blank template provided.
Photo Tasks
When we originally ran the Sophie's Universe Crochet-along, there were 6 photo tasks scattered throughout the CAL.  It was so much fun seeing people interact in this way and I often scroll through the hashtags looking at all the gorgeous photos and learning more about the people behind them.
I want to offer you the same interactive experience, so I will be sharing one new photo task a week (to be completed whenever you feel like it).  Above all, I want this to be a fun experience, so if you do not want to join in, that's perfectly fine!
Please note that these photo tasks are not 'officially' part of the MAL.  I kindly request that we keep these photo tasks out of the Facebook groups as the groups are dedicated to supporting the technical aspects of the CAL.
If you don't have Instagram, please feel free to use the Contact Me button at the top of this page so that we can open a dialogue and exchange photos via email.
Current Photo Tasks:
Makers/Testers
I would like to thank the following people for making up the new samples and testing yarn usage:
Anna Moore
Anthony John
Mandy Beacham
I hope that you will join us for this MAL, and that you will make many new and life-long friends along the way.

This blog post contains affiliate links. I only link to products I personally use or would use.  All opinions are my own.