Good morning and welcome to Week 2 of the Sophie's Five Year Anniversary Make-along!  I have had the most delightful Sophie-filled week.  Thank you so much for sharing your photos and stories!  It is so heartwarming seeing your then and now photos.  This week we are focussing on Part 4 of Sophie's Universe, which completes the central square also known as Sophie's Garden.  I am also going to chat about friendships formed through crochet because I believe it is an incredibly large part of what makes it so rewarding.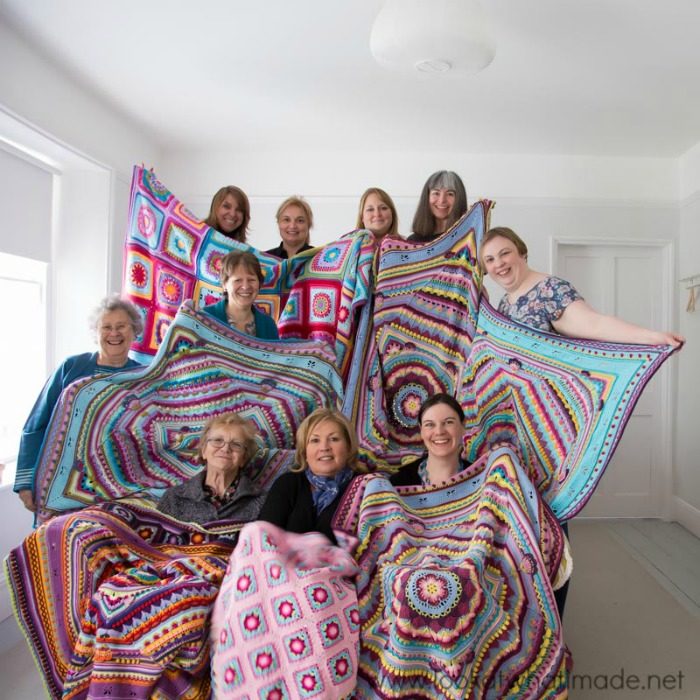 The most important thing that my crochet journey has given me is the privilege of being part of people's lives. The photo above is one of many that have captured this feeling over the years.  It shows a group of people (strangers to me once upon a time) who have become dear and treasured friends. They have shared their joys and sadness with me, and they have allowed me to share mine with them.  When I look at this photo, I see love. I see women who have touched the lives of others in ways that they cannot even begin to fathom. I see courage and wisdom.
Over the last five years, I have collected MANY stories and memories that have shaped my life and the lives of others, and will domino-shape the life of my boys/friends/acquaintances and theirs.  Never underestimate the role you play in this life. You have NO IDEA what ripple-effect the simplest act of yours (the sharing of your story, a sincere smile, a moment of unguarded vulnerability, reaching out past your comfort zone, JUST listening) will have.
I feel so incredibly blessed to carry all these stories around with me. Not just the ones from this photo, but ALL the stories you have chosen to share with me.  I have cried for many strangers and acquaintances and friends. It is a price, I have found, that I will gladly pay.
I hope that you have experienced the same sense of community and friendship through your craft, and that you will continue to make MANY good friends along the way.
Sophie's Universe MAL Week 2
Last week, we chatted about the first 3 parts of Sophie's Universe, which form the large central mandala.  Once you have completed the mandala, you'll have covered most of the stitches and techniques needed to make the blanket.  The mandala would look beautiful mounted in a hoop and hung on a wall and makes for brilliant round cushions.  It also looks super cute as the top of the Sophie Stool Cover (which I will chat about at the end of this post).
Photo Task
This week's photo task is to share a photo/photos of your Sophie that celebrates:
the friendships you have made through crochet
the way in which sharing your love of crochet has positively impacted a relationship/person/people
precious moments spent crafting together
For this photo task, please use #sophiewithfriends.  You can also share your photos using #sophiesuniversecal2015 and #ScheepjesMal.
My mom (@m.strydom on Instagram) recently shared some very special photos of her Sophie.  They made my heart go all gooey!  This photo of the two of us is one of them.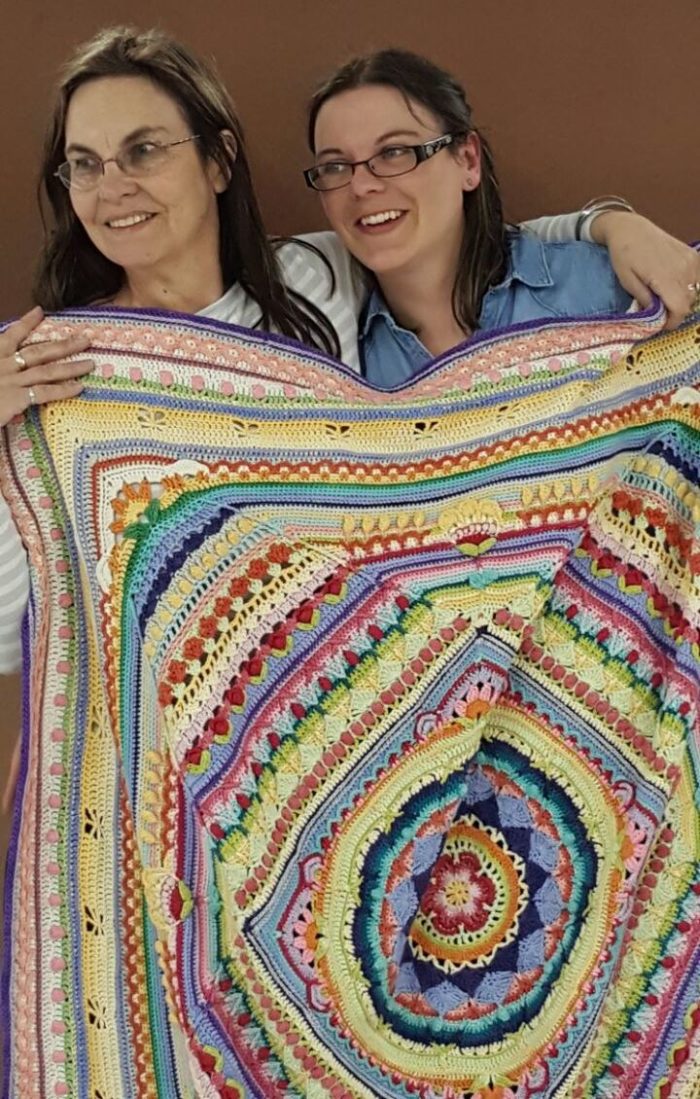 Oh, go on then.  I'll share one more friend-related photo.  This one was taken at the first Scheepjes Bloggers Weekend I attended.  I was so excited and awed by meeting all the wonderful designers pictured in this photo!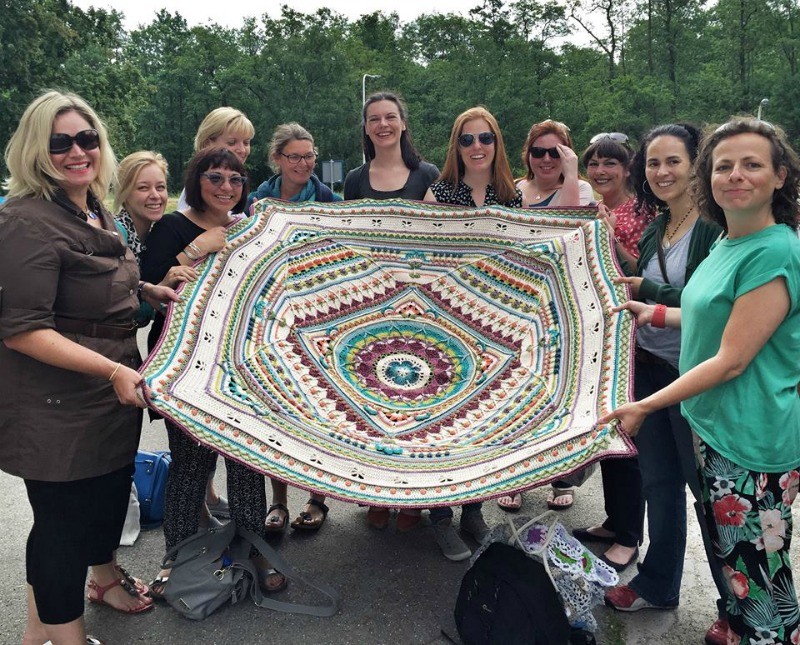 Part 4
Righto.  Down to business.  At the end of Part 4, you will have a large crochet square (Sophie's Garden).  This square, just like the mandala, can also be used as a stand-alone pattern.  By that, I mean that you can incorporate it into other blankets or even make a blanket entirely out of Sophie's Gardens like we did with Sophie's Dream.  I'm not going to say too much about that pattern this week because it ties in beautifully with next week's theme!
This part does require a lot of concentration (especially Round 31), but every stitch is just a stitch!  And if you do them one by one, they aren't nearly as daunting as they might appear written down.  You've got this!
Once you have made Part 4 and are comfortable with the instructions, you can use it to square up any mandala with a final-round stitch count of 240 sts.  I am working on a set of instructions for using it to square up different sizes too.  So far, I have released the instructions for squaring up a mandala with 160 sts (you can find those HERE if you want to bookmark it for later).  I am also working on squaring up my Fancy Nancy Mandala, which has 128 stitches in the final round.
Notes
From the start of this part, I suggest going up to a hook size to prevent the centre from bulging later on.  There is a note about this in the Information Post for the CAL.
Pay special attention to when you should work in front of, into, or behind chain spaces!
New Sophie Colourways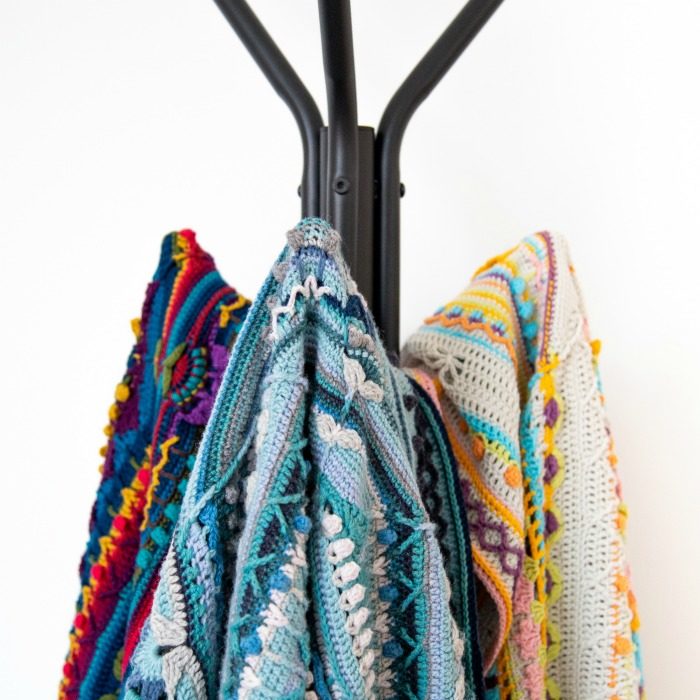 Gauge
If you are following one of the new colourways, here are the suggested gauges:
At the End of Part 4, your square should measure:
Metropolis – 32cm/12.6″
Bamboo Soft – 36.5cm/14.3″
Ubuntu – 35cm/13.8″
Spotlight Sophie Pattern:  Sophie Stool Cover
The brilliant thing about crochet patterns is that they are not absolute.  You don't HAVE to use them the way the designer used them.  With a little bit of imagination, you can turn a square into a skirt or cardigan, a row-based pattern into a pouffe, or, in this case, a mandala into a stool cover.
I LOVE this project.  I loved designing it, I love using it!!  It makes me smile every time I use it or even look at it.  I have had to hide my stool because the boys keep trying to nick it and it is ALL MINE!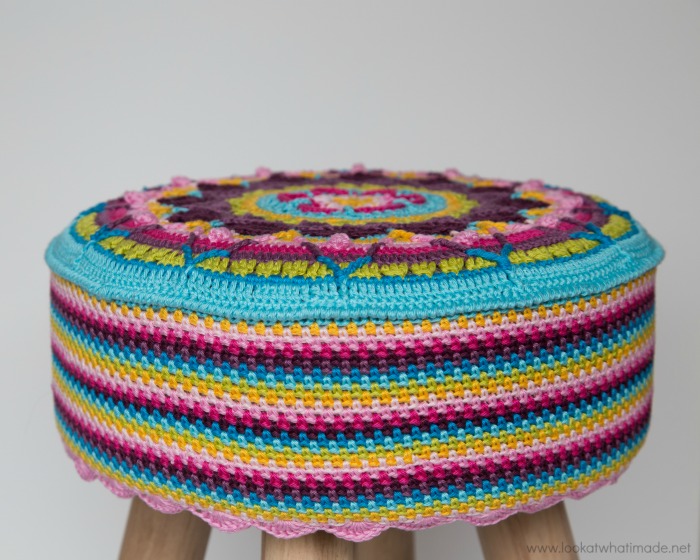 The Sophie Stool Cover uses Scheepjes Catona, which is a mercerized cotton with a lovely sheen.  The kit contains a great-quality stool, along with the yarn, label and buttons.  The pattern is not provided as part of the kit as it is freely available online.  You can read more about it HERE.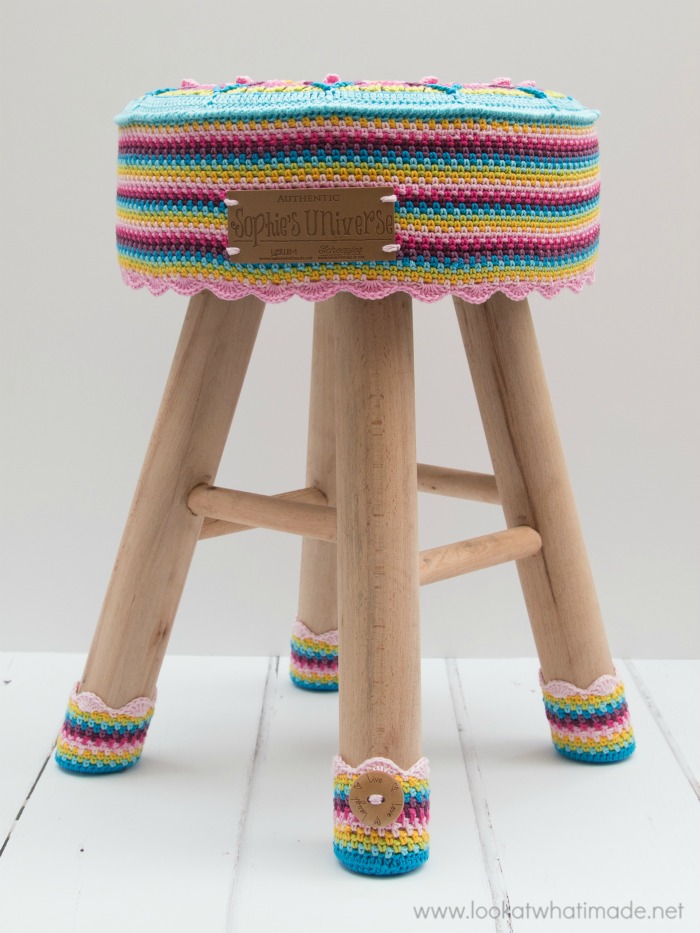 Next week, we tackle the two parts that start the shape-shifting.  Fun times!

This blog post contains affiliate links. I only link to products I personally use or would use.  All opinions are my own.