Good morning and welcome to Week 4 of the Sophie's Universe 5 Year Anniversary MAL.  I thoroughly hope you have enjoyed working on your Sophie with like-minded people, and that you have made many new friends along the way.  If you are new to Sophie, it is also my hope that you have picked up loads of new skills and that you have had at least one 'Look At What I Made!' moment along the way.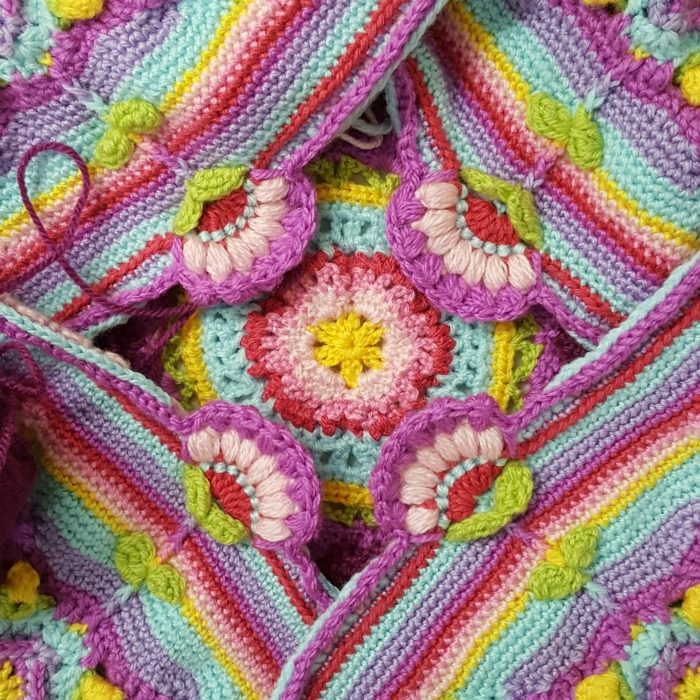 Although this is the last week of the Make-along, the Facebook groups will continue to be a great source of help and cheer-leading, so please do continue to share your journey with us there.  I am always happy to help too (whichever platform you choose to contact me on).  Far from being the end of our journey, this is just the glorious start!
When I started this design, I didn't take many photos along the way.  I don't mean step-by-step photos (of which I took MANY, as you well know) or photos of discarded design elements I could use later (of which there were more than I care to remember – all the frogging I did!!!).  I mean photos of me working on my Sophies out and about.  I have worked on Sophies in planes and trains (and on a ship);  I have worked on her in five countries, in various sea-side villages, in countless coffee shops, in too many hospitals, and in more public spaces than I can count.  I have worked on her among strangers and I have worked on her surrounded by loved ones.
I didn't photograph any of that.  I was at the start of my design journey, and didn't realize then how much joy looking back at such photos would bring me in years to come.
When I went looking through various folders and 5 years' worth of photos, I found a single photo of my Stonewashed XL Sophie On the Go.  A memory completely forgotten.  Taking Sophie to work to finish a round so that I could take photos at lunchtime (last-minute as the post was due the next day and it would be too dark to take photos after work), only to realize that I was probably going to run out of yarn!!!  The tight feeling in my chest as I crept towards the end of the round and the utter relief when I won at yarn-chicken.  The memory of frogging back after the photos were done, adding more yarn so that I could work my ends away safely :)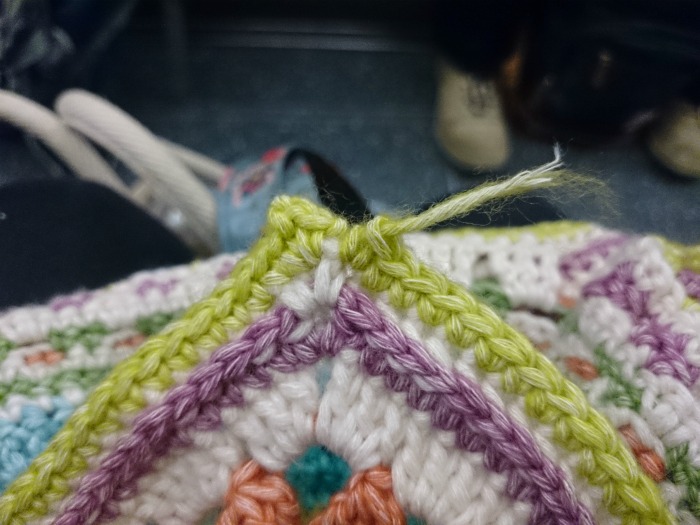 I found one of my Cotton 8 Sophie, showing a blurred fellow crocheter in the background – that was a lovely kindred moment between strangers.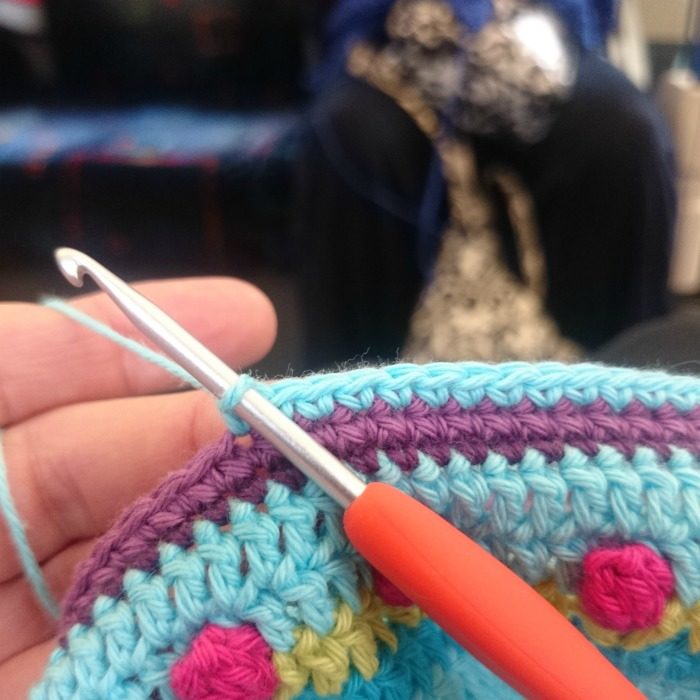 I also found a few of my Colour Crafter Rainbow Sophie, made largely while I walked to work and on the Piccadilly line tube.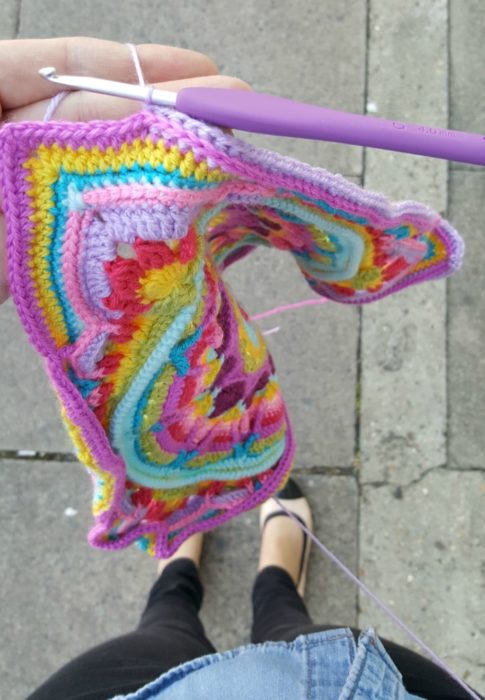 Sophie's Universe MAL Week 4
Photo Task
This week's photo task is to share a photo/photos of your Sophie Out and About (On the Go).  In five years, you might look back on this photo and remember, as I do, a whole forgotten day captured in yarn.
For this photo task, please use #sophieonthego.  You can also share your photos using #sophiesuniversecal2015 and #ScheepjesMal.
Part 7
Last week, we chatted about the shape of the blanket changing from a square to an eight-sided something-or-other.  By the end of Part 6, you should be comfortable with counting the sides and identifying which one is which when you start each round.
In Part 7, you will be making the Roses.  They are my favourite part of the whole pattern and took me absolute days to figure out.  They are probably the design element I am most proud of EVER.
You do have to pay attention when making them, but they are not hard.  I do suggest using stitch markers when you make them so that you can identify the stitches to work into later.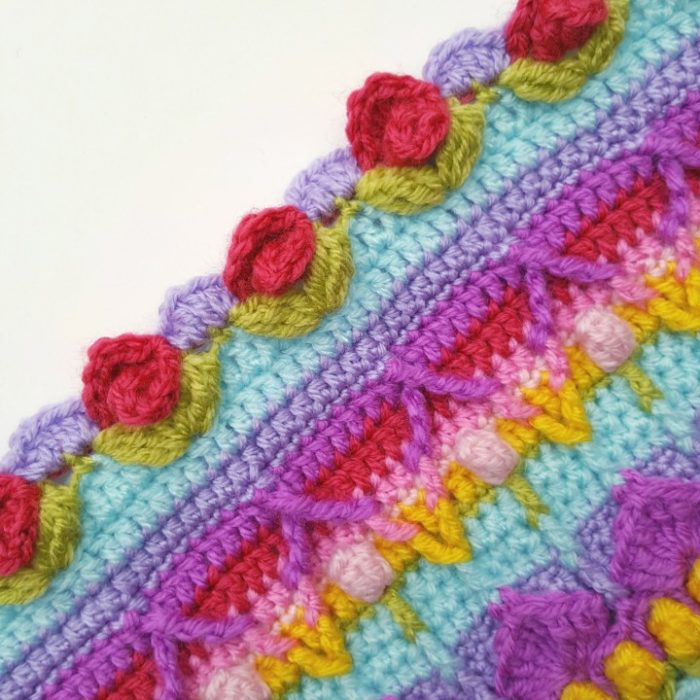 Part 8
In Part 8, you complete the Central Flower on the Short Sides.  Originally, this flower was not part of the design, but I frogged all the way back to the garden and added it, encouraged to do so by Mr. LAWIM.  I can tell you that I was not best pleased that day.  But it had to be done!
When making the Central Flower, pay special attention to where your chosen colours will fall as it does involve a lot of going into previous rounds.  There is a diagram to show you which colours on the Long Side will end up where on the Flower.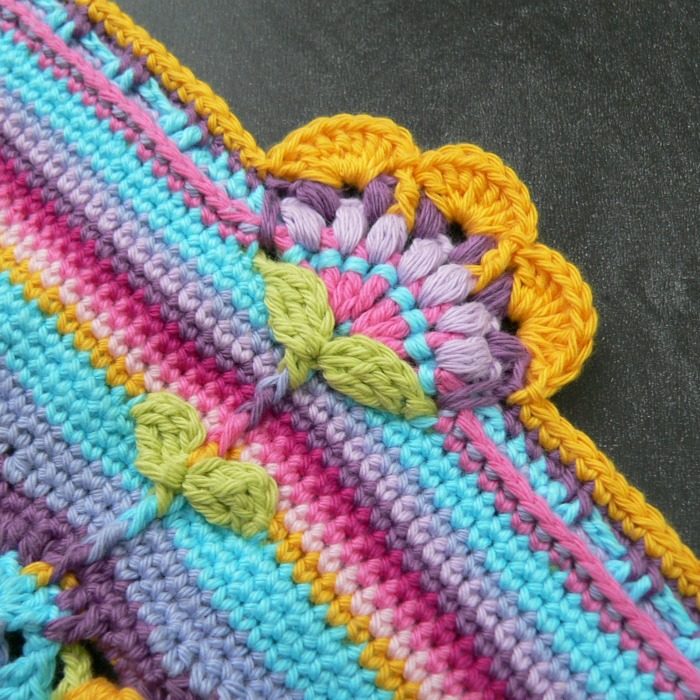 At the end of Part 8, you will be able to fold the blanket into a lovely bouquet for the original #sophiebouquet task.
Once you have completed Part 8, the rest of the blanket should be easy in comparison.  The design slowly tapers back to a square as the rounds progress, with a repeat of Part 4 completing the 'squaring'.
For reference, I am including photos of the Simy's Colourway and Lillabjörn Colourway at the end of Part 8.  At the moment, all the information for those two colourways can be found scattered throughout the blog-series for the MAL.
And with that, we conclude this month-long celebration.  I have enjoyed revisiting Sophie with all of you.  I cannot tell you just how much I have enjoyed it.  I hope that you have enjoyed the journey too, whether you were just starting out or have already made loads of Sophies.
Remember to keep sharing your #tweakyourtote photos as the competition is still running until the 31st of July.  You can find the details for that HERE.
Thank you to Scheepjes for hosting this make-along.  And thank you to you for a wonderful celebration!

This blog post contains affiliate links. I only link to products I personally use or would use.  All opinions are my own.