Welcome to Week 3 of the Sophie's Universe 5 Year Anniversary MAL.  Since this pattern was first released, I have paid virtual visits to so many places through the photos people have shared of their Sophies.  My most memorable virtual trip was probably when I followed someone through Thailand as they started and finished a Sophie on their trip (shoutout to @robandthread on Instagram).  These moments and memories are so special.  They allow us the chance to feel more connected with those that share our creative joy.
Sophie's Universe MAL Week 3
Photo Task
Originally, we wanted to dedicate this week to the #scenicsophie hashtag.  Times being what they are, though, we realised that people are probably still limited in their social excursions.  So we want you to share your #seasonalsophie photos instead.
If it's snowing where you are, go out in your back yard and make snow angels next to Sophie.  If it's sunny, make yourself a cocktail (or a mocktail) and go crochet by the pool (if you are fortunate enough to have one).  Drape her over a pile of leaves if it is Autumn, or scatter handfuls of flowers over her if it is Spring.
You can also share your photos using #sophiesuniversecal2015 and #ScheepjesMal.
Parts 5 and 6
Last week, we chatted about Part 4 of Sophie's Universe, which forms the large central square also known as Sophie's Garden.  This week, we will talk about Parts 5 and 6, in which that central square starts changing shape.
Working with 8 sides instead of 4 is not difficult, it might just take you a little while to get get your mind around the fact that there are now 8 sides (4 'long' and 4 'short').  As the pattern grows, the short sides will gradually grow longer and the long sides will gradually grow shorter.
Notes
Corners and Counting
When counting the stitches for each side, you will be counting from ch-1 corner space to ch-1 corner space (or ch-2 corner space to ch-2 corner space where applicable).  In other words, wherever the corners are formed by making a stitch on either side of a ch space, the stitch on one side of the ch space will belong to one side and the stitch on the other side of the ch space will belong to the other side.  Just like when you are making squares.  Any exceptions will be highlighted.  You can find more help at the start of Part 6.
Stitch Markers
Mark the corner spaces with stitch markers if you think you might have trouble identifying them.
Corners and the Elusive (Hidden) Stitch
The ch-1 spaces are a bit tricky to get into.  It is also quite easy to accidentally skip the first sc after the ch-1 space.  You will have to skip some of these "hidden" sc's on purpose, so make sure that you can identify them.  See this tutorial if you need a recap of which loops belong to which stitch.
Round 41
Landmarks have been supplied for some of the Purple Petals in this round.  Read the notes about these landmarks carefully.  If you get stuck, please see the video tutorial for this round.
Spotlight Sophie Pattern:  Sophie's Dream
If you have enjoyed making the first four parts and would like to use the resulting square in another pattern, I can heartily recommend Sophie's Dream!  It consists of 12 'Gardens' made in Whirl and Bordered with Whirlette.
After Jenny made the Original Sophie's Dream, she didn't want to stop making them, so she ended up making one for each season, with the original being Summer.  You can find the pattern HERE.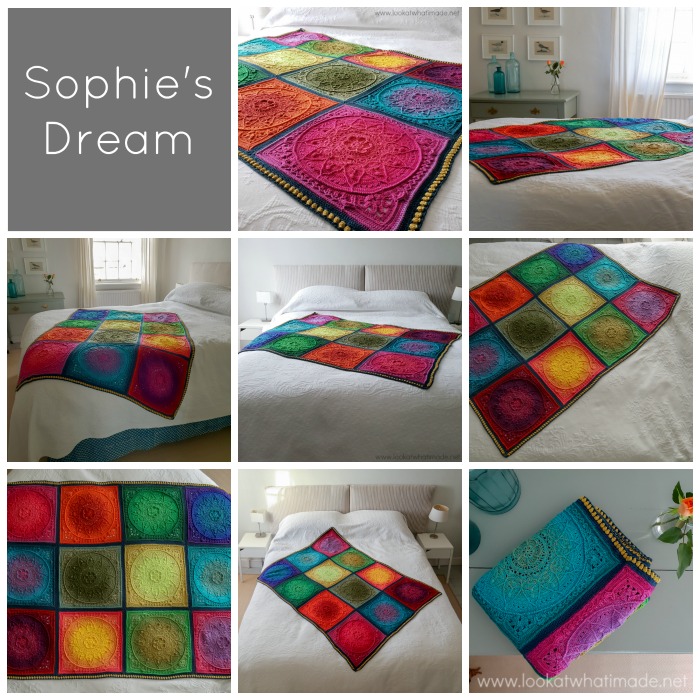 We have since released a Winter Colourway too, which is just gorgeous!  It is full of Frozen-type colours, with a great mix of light and dark.  You can find the pattern for that HERE.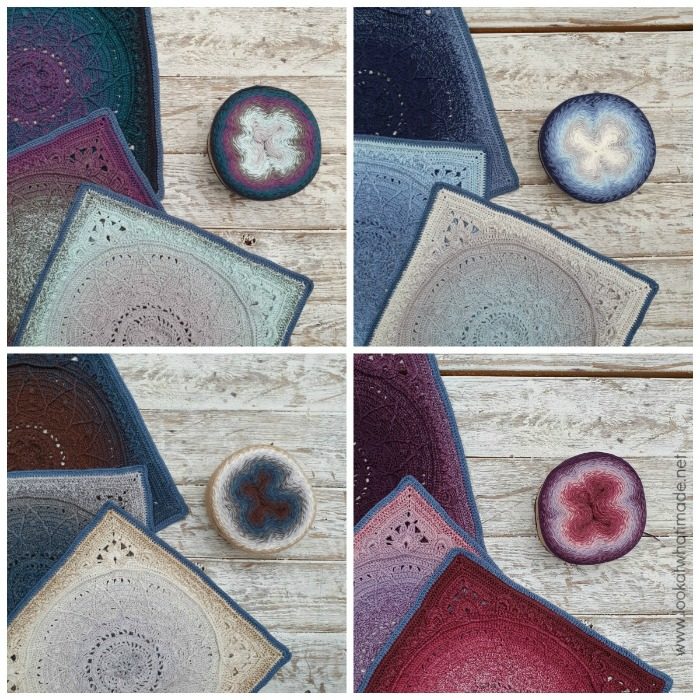 We are currently working on kits for Spring and Autumn too, and can't wait to share those with you when they are available.
Spring is full of gentle pastels and mottled shade.
Autumn is more elegant and subdued, with lots of dark tones and a spot of lime :)
Before you go, I wanted to ask how you are going with your Totes?  Have you started tweaking yours yet?  There's still plenty of time to Enter the Competition!
Please keep sharing your progress photos!  We love seeing them ;)

This blog post contains affiliate links. I only link to products I personally use or would use.  All opinions are my own.