The Sophie's Universe Tweak Your Tote competition is now over, and I am very pleased to announce the winners!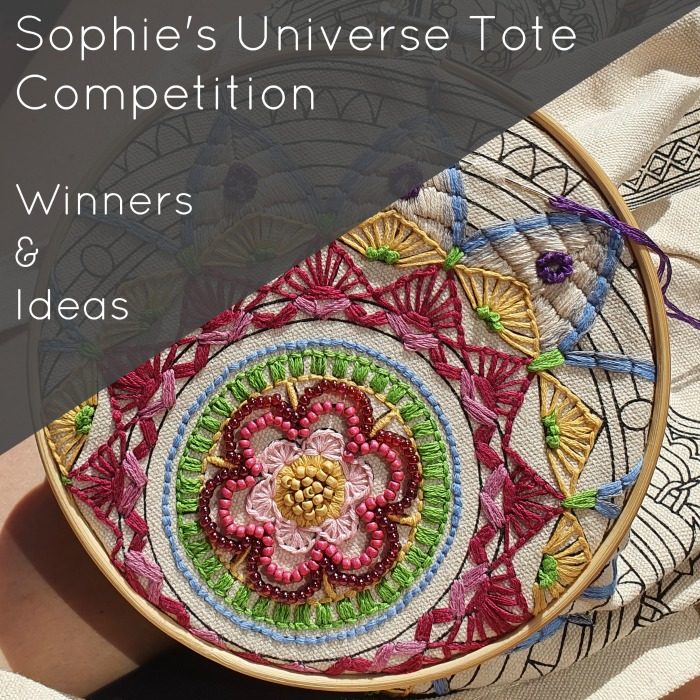 If you have no clue what this competition was about, you can read more about it (and where to buy the Sophie's Universe Totes) HERE.  And if you want some inspiration, you can find all the entries on Instagram and Facebook by searching for the hashtag #tweakyourtote.
Thank you very much to everyone who played along.  Your bags are all beautiful.  And so many different mediums!  I have to tell you that it was very hard to pick just two winners.
Please note that the copyright for each photo belongs to the makers credited.
Ok.  First things first.
The Winners
As I have already mentioned, it was super hard to choose just one winner from each platform.  So hard, in fact, that I couldn't choose.  I had to rope in the boys (including Mr. LAWIM) and one or two anonymous judges.  And even then it was hard!
I feel like I need to do a drum-roll or something…
Our Facebook winner was Simone Van Der Pol (@vanderpolsimone).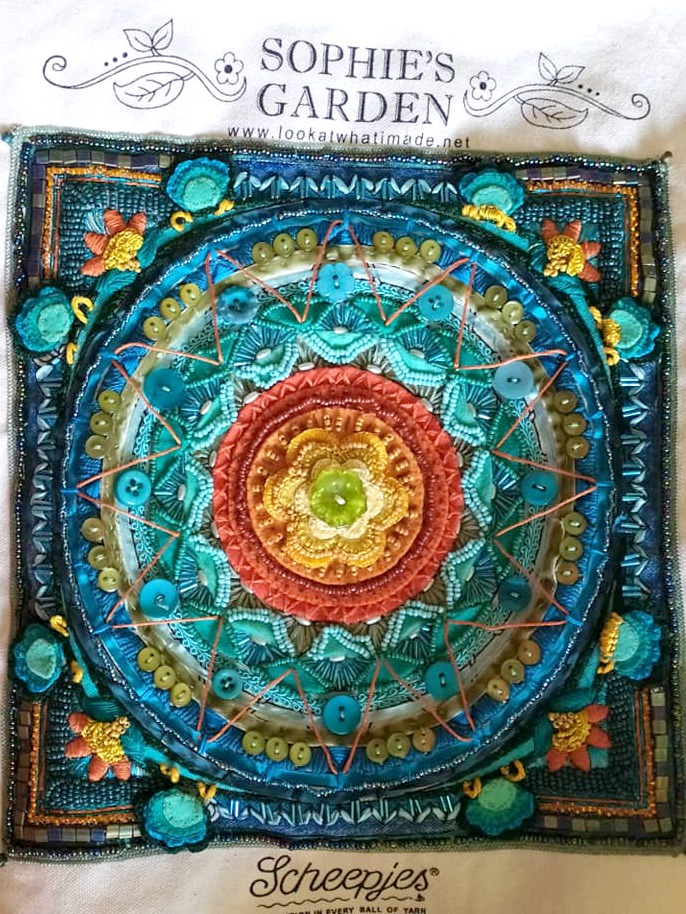 Simone used so many different textures and techniques!  I especially love the layered central flower.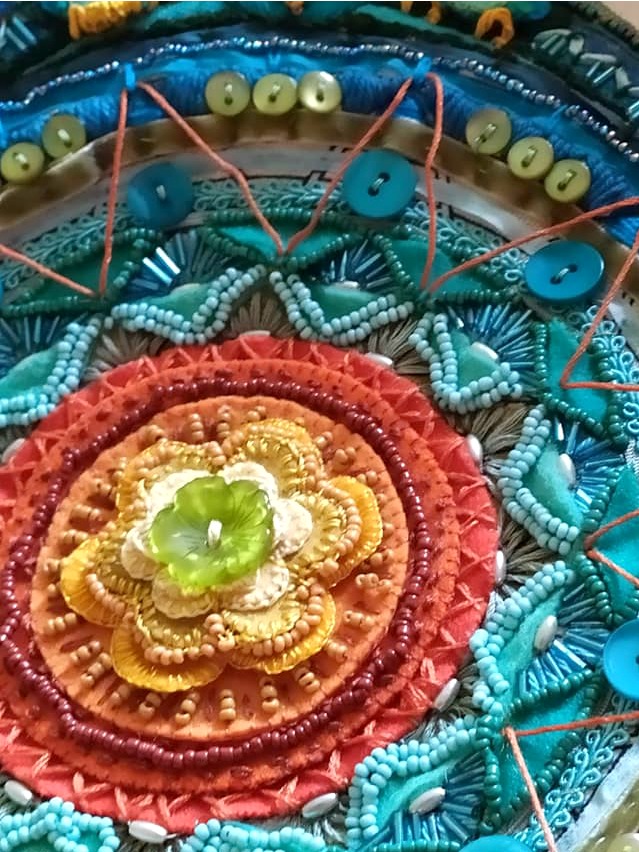 I also really liked her choice of colours, and the little corner flowers make me very happy :)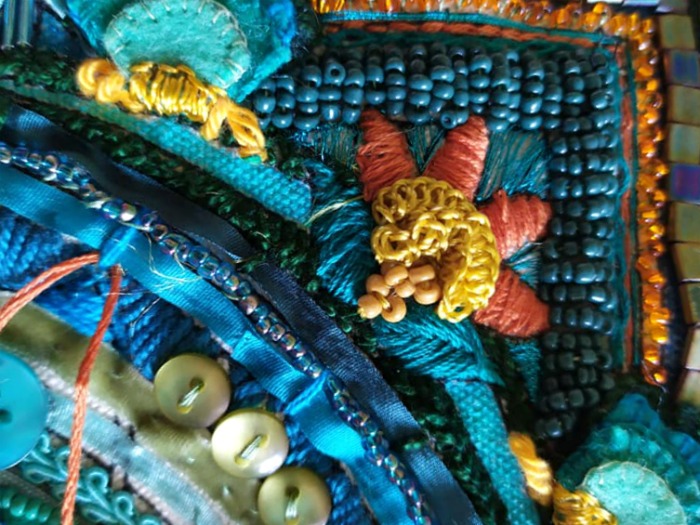 Our Instagram winner was Kate Flood (@knitchetwithkate).  Once again, I really like the colour scheme…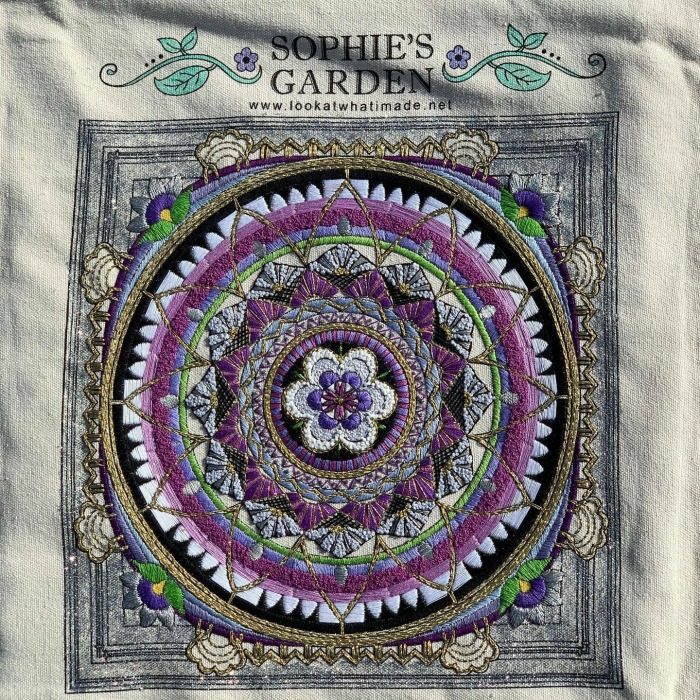 And I am pretty blown away by the neatness and delicacy of the Satin stitches.  I wish my stitches were as neat!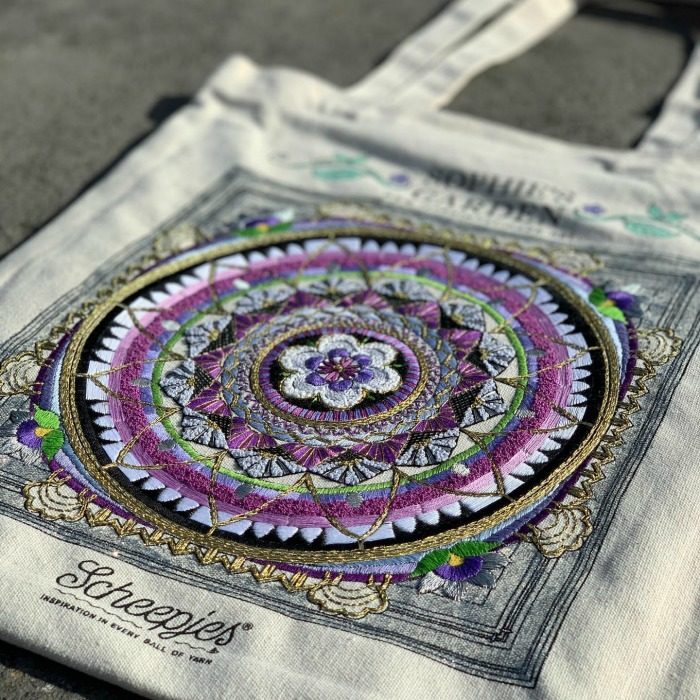 Congratulations to both the winners!
More Ideas and Techniques
With the entries spanning so many techniques, I wanted to share some of them here with you.  I think it is important to celebrate all the different crafts and skills represented, and hope that you find inspiration in these images.  You never know what will spark you to try your hand at something new, or lead you to revisit forgotten-about skills and loves.
This competition has definitely reminded me that I used to love embroidery.  Even though (or maybe especially because) I find it SO MUCH slower than I remember, I will be doing a lot more of it going forward. 
Beading/Sequins
If you followed the Scheepjes Ubuntu CAL 2018, you will know that I am not a stranger to beading either.  The Bracelet and Pendant I designed as bonus projects reminded me of my love of beading in the same way that this competition reminded me of my love of embroidery.
But!  I have never attempted a beaded project as intricate as this one, and can only take my hat off to Rachel Landscheit, who used more than 3700 glass beads to decorate the central mandala of her bag.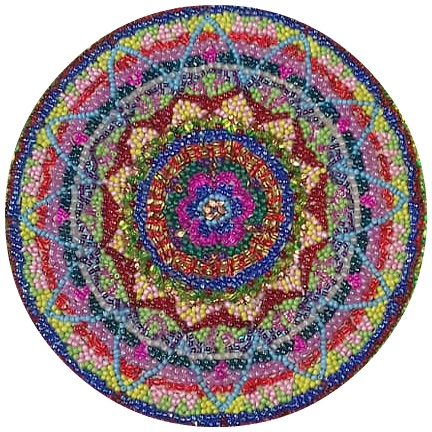 Helen and Stacey Hawkins (mother/daughter duo) decorated their beautiful bags with sequins and a mix of different beads.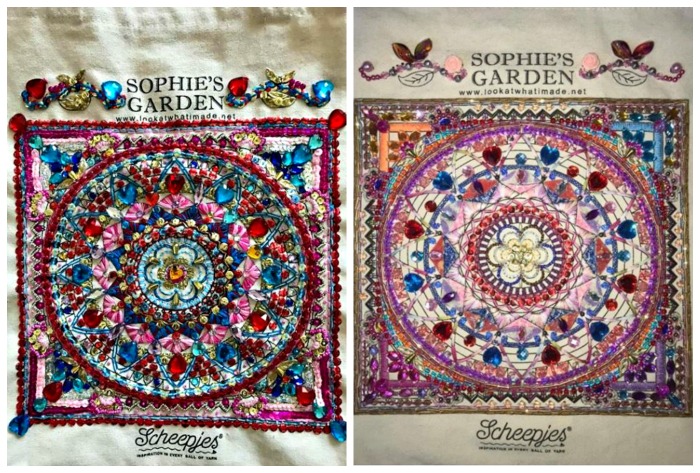 Colouring/Painting
The majority of the entries used either paint, fabric markers, or a mixture of the two.  I tried my hand at painting a tote and failed pretty dismally.  Next time, I'll invest in some fabric markers.  This technique is probably the easiest for on-the-go crafting.
If you want to add a bit of texture, you can always add beads like Jan Buckley did in her gorgeous rainbow version (Main Photo below).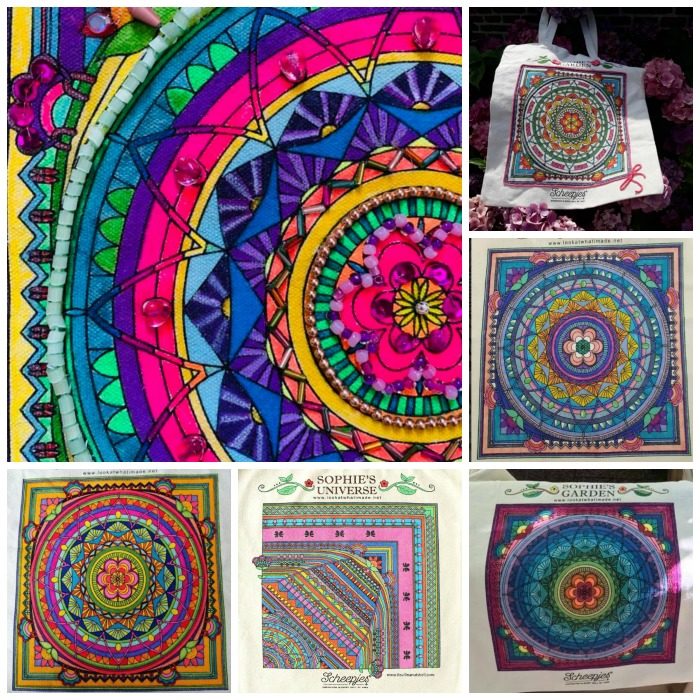 Smaller Photos (From Bottom Left to Top Right):  Vera Prlja, Esther Dijkstra (@itsallinanutshell), Elisabet Betresch, Jane (@34knockatthedoor), Corrie Wittenberg.
Alternatively, you can add some 3D Paint like Kirsty Lawrence did.  I do LOVE texture :)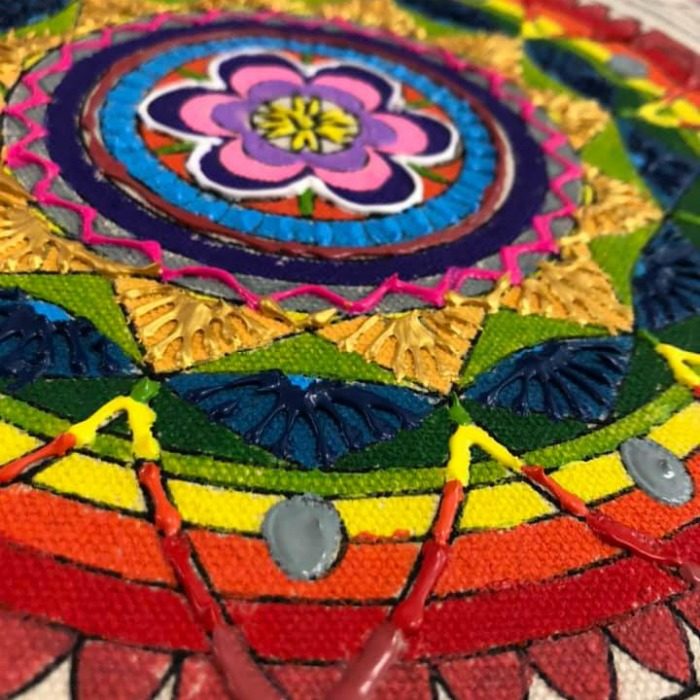 Embroidery
Embroidery made up a big part of the entries, and I love how each one looked completely different, not only because of the colours, but also because of the stitches used and the relationship between stitches and white space.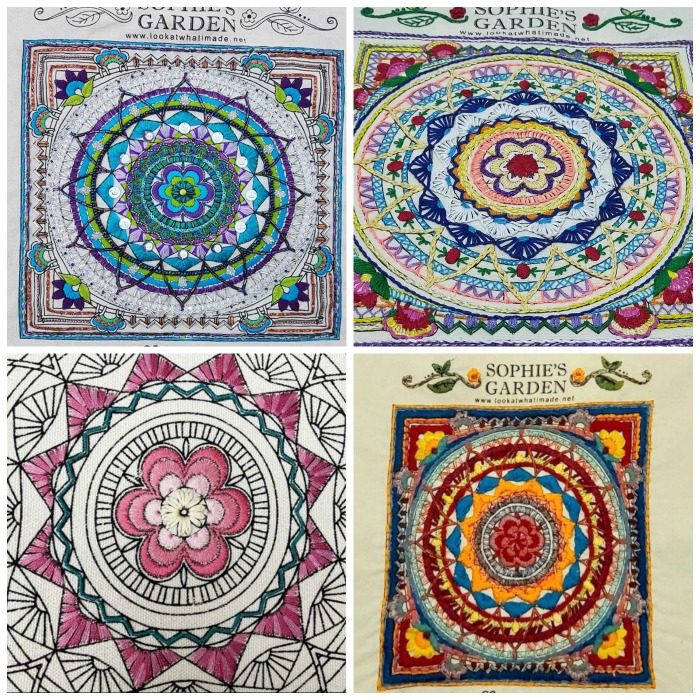 From Top Left to Bottom Right:  Sarah Lee (@sozklee), Shweta Agarwal (@crochetindubai), (@alittlecraftroom), Christina Trinko (@christinadetallitos).
Punch Needle
I'm so glad that someone decorated their bag with Punch Needle Embroidery.  I was SO curious to see how it would turn out.  Isn't it pretty?  Jennifer Melissa Paladino (@the_countess_of_chaos) did a wonderful job with this one.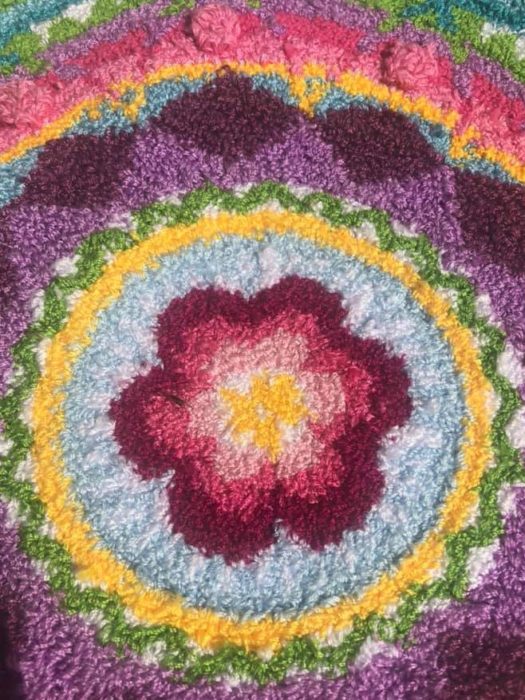 Tie Dye
Last, but by no means least:  The Rogue!  I didn't even think about tie-dye!  I LOVE this one.  Emma Hopkins (@emma_001900) not only dyed her bag, she also dyed her trousers to match.  AND she embroidered her bag with glow-in-the-dark thread.  I think it's brilliant!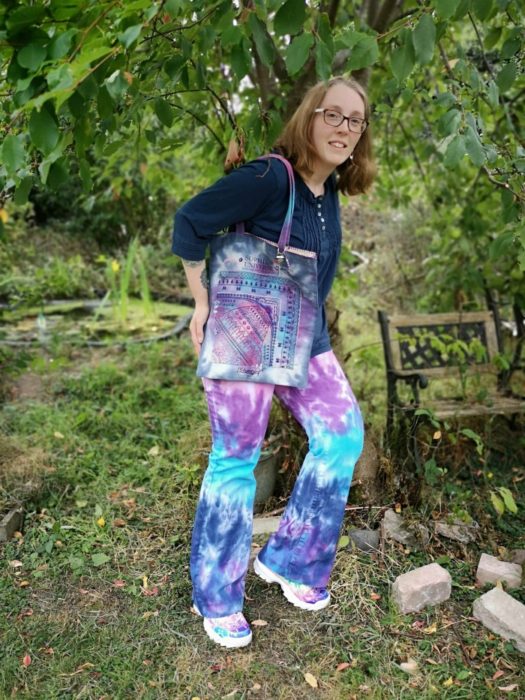 I hope these beautiful creations have left you feeling inspired to create!!
Thank you once again to everyone who entered the competition, and to Scheepjes for providing the prizes!

This blog post contains affiliate links. I only link to products I personally use or would use.  All opinions are my own.