One of the things I like best about being a Scheepjes blogger is that I get to play with all their new yarns. There is a downside to this, though. I can easily spend hours playing with different colour combinations or looking through books trying to get a feel for which design elements work best with a specific yarn weight.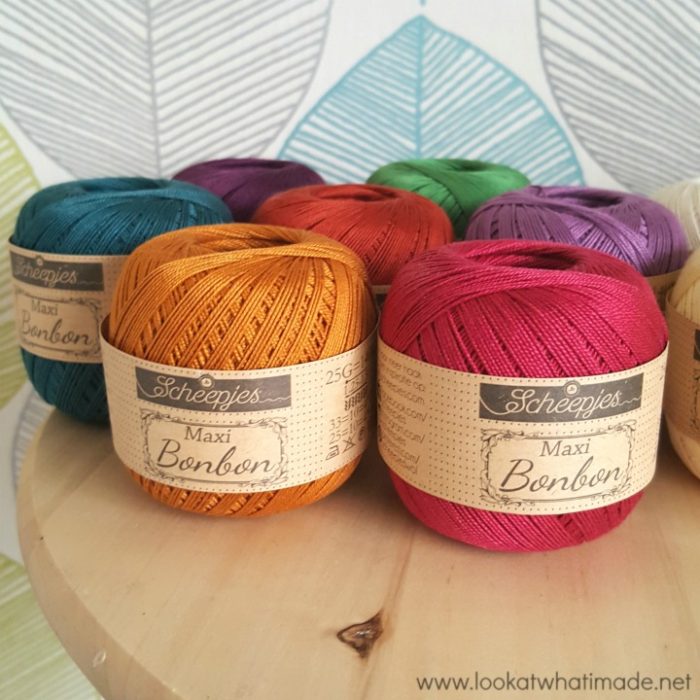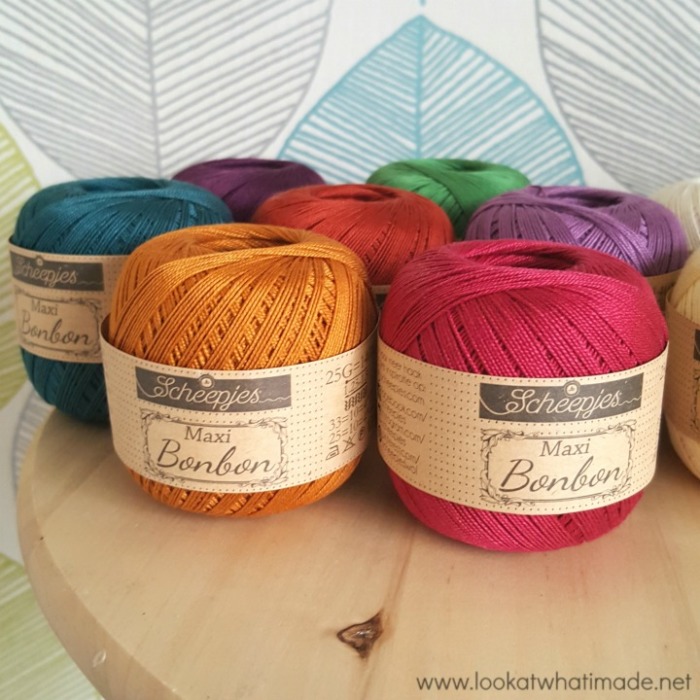 If I were at home all day, this obsession would exhaust itself in a day, allowing me to get back to the business of making rather than playing. Because I work, however, this process can easily take a week of mornings and evenings.
When I received a box full of Maxi Bonbon from Scheepjes (now relabeled Sweet Treat), that is exactly what happened: one whole week (so far) of playing around! Far from being unproductive,though, this 'playing' actually stimulates my mind and I find myself thinking of so many new patterns and/or projects.
When I received the yarn, I unpacked every single ball (outside on the concrete, because our carpets don't inspire me at all) and started playing around with different colour combinations.
Before I tell you about the different combinations I came up with, I am going to tell you about the yarn, because I know I am going to forget once I start talking about colours!
Scheepjes Maxi yarn is available in 2 sizes: Maxi Sweet Treat (25g), which is brilliant for projects that require small amounts of lots of different colours, and Maxi Sugar Rush (50g), which is perfect for large projects that require fewer colours. It is 100% mercerised cotton in lace weight, with a recommended hook size of 1.25 – 1.5 mm.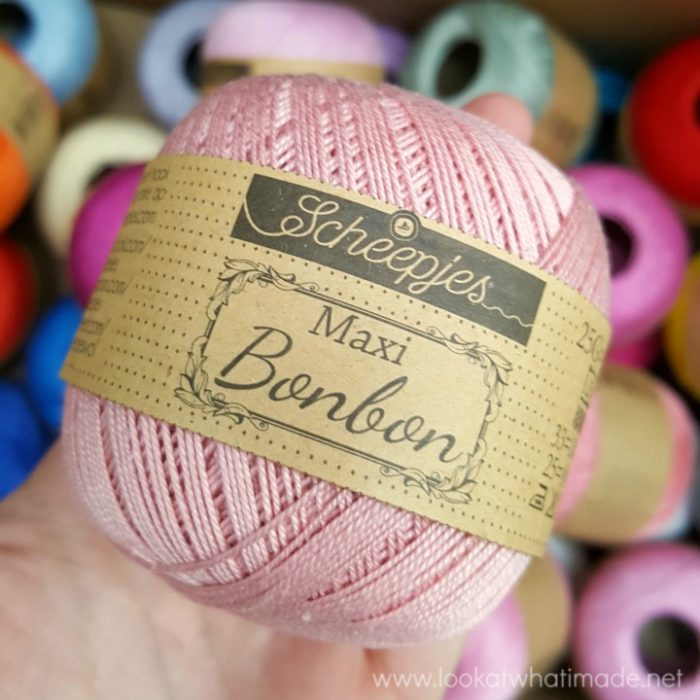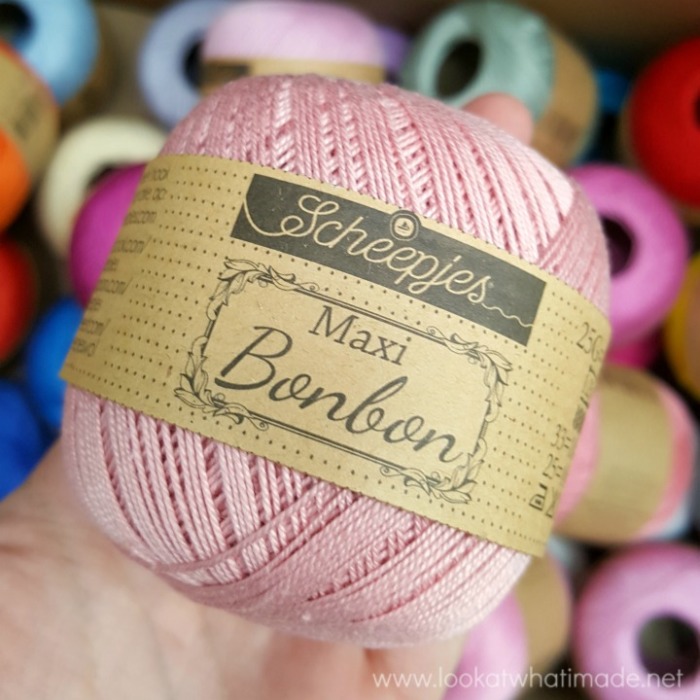 There are a staggering 87 colours to choose from. The shade numbers match up with Scheepjes Catona (also 100% mercerised and twice as thick), so you can combine the two yarns easily for a project that has contrasting dense and lacy portions.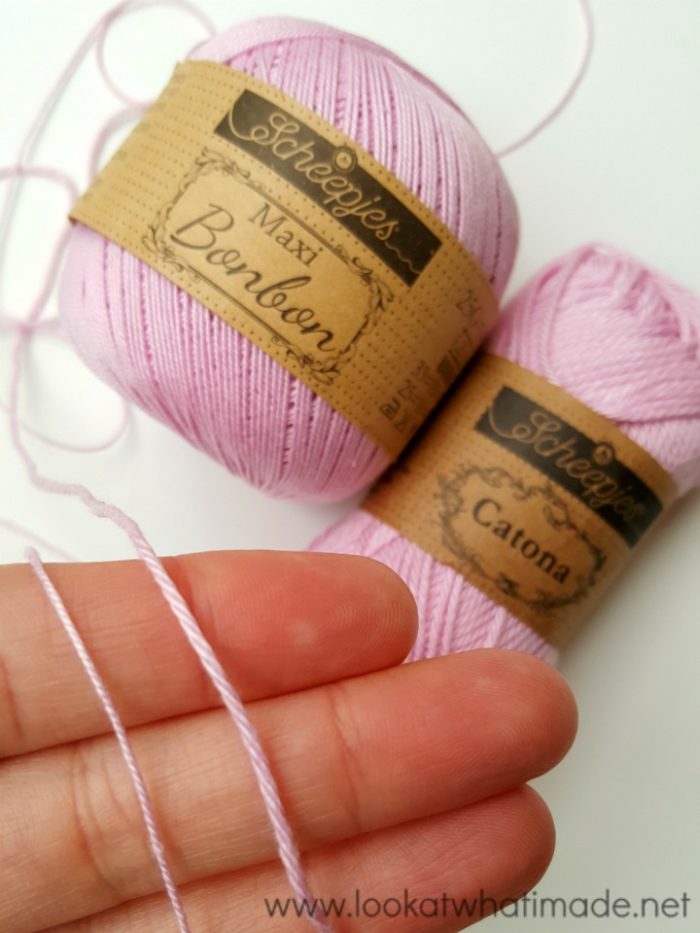 I recommend using a 3 mm hook if you are going to do this, so that the Catona has space to 'breath'. This will make the Maxi portions very lacy.
I made a tiny square to show you what I mean. The first 3 rounds were done with Maxi and a 3 mm hook. The last round was done with Catona and a 3 mm hook.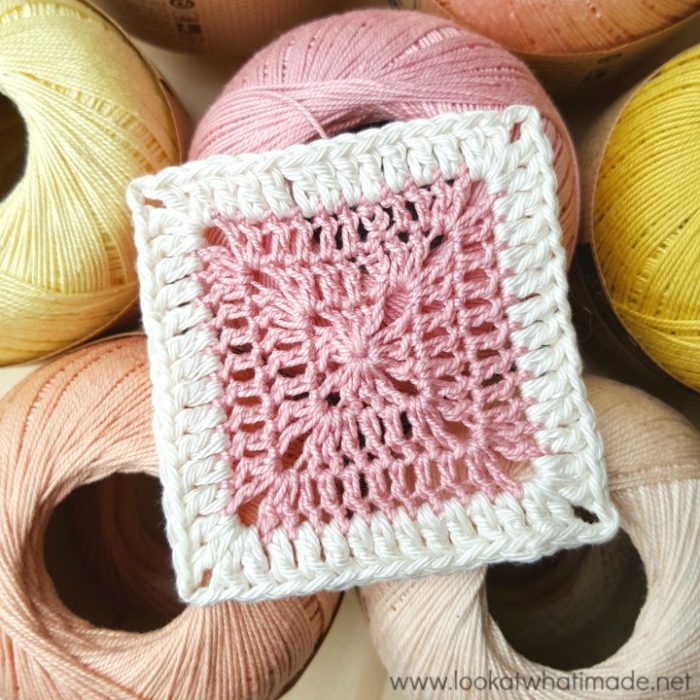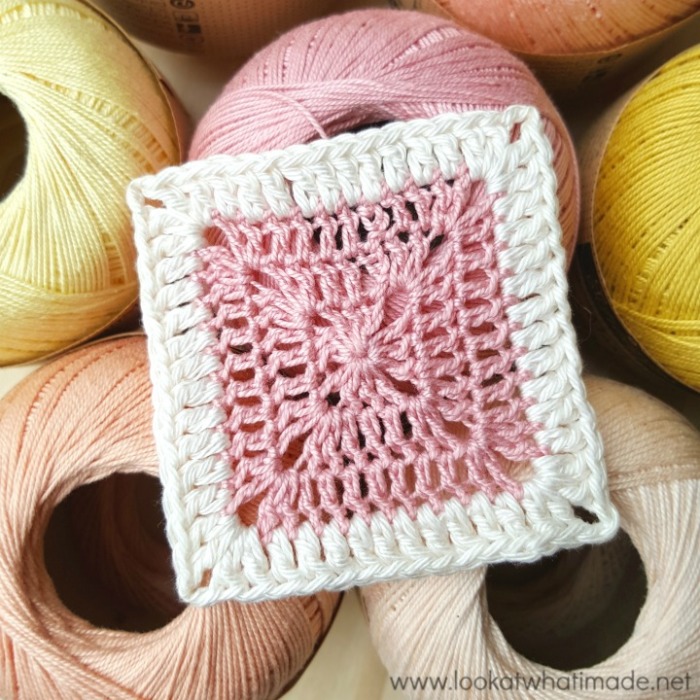 The most important thing (for me, anyway) is that the yarn has a high twist and doesn't split easily.
Scheepjes Maxi Sweet Treat is available from Deramores and Wool Warehouse (Internationally). You can find a full list of Scheepjes stockists HERE.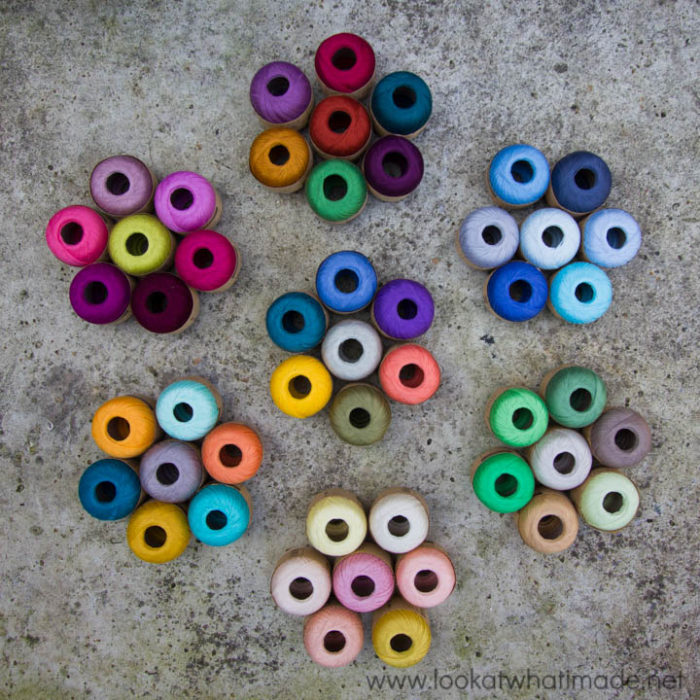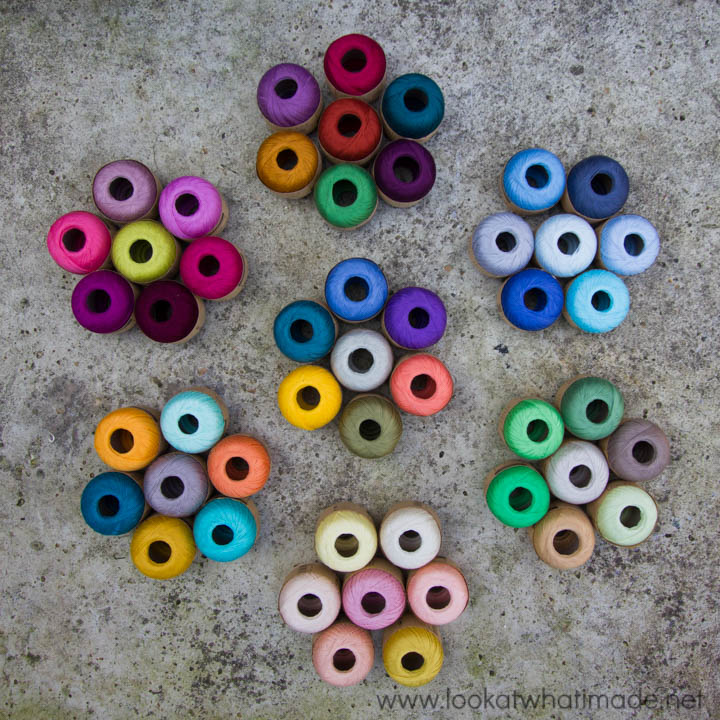 These are the 7 colourways I came up with, each containing 7 colours. They are not my usual bright-is-better combinations. I am trying to expand my colour comfort zone, so I thought of a specific person and then tried to make a combination that suited their style, preference, or a memory of them.
Can you remember those candy necklaces we all use to get when we were children? The ones with the round candies strung on a piece of elastic? You'd have to isolate a sweet and then nibble it off the elastic without getting the adjacent sweets wet…
Don't you think these balls look just like that from the top?
When I was little, I used to cut the elastic so that I could harvest the sweets. I would then turn them into 'flowers' by arranging them on a sheet of paper and drawing stems for them. Playing around with the different colours, this 'picture' kept coming back to me, so I couldn't resist honouring it with a photo.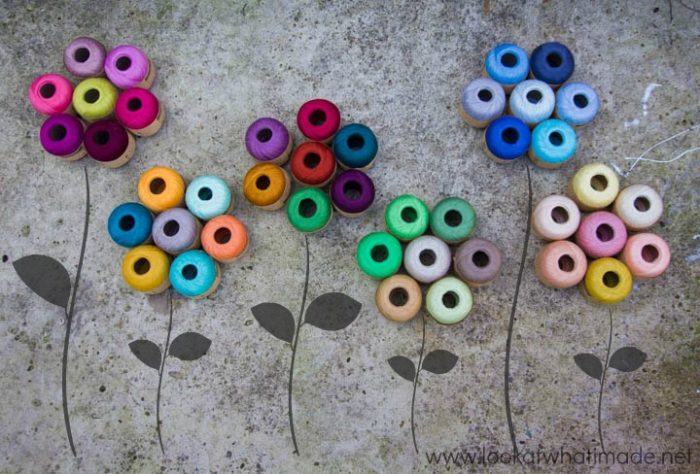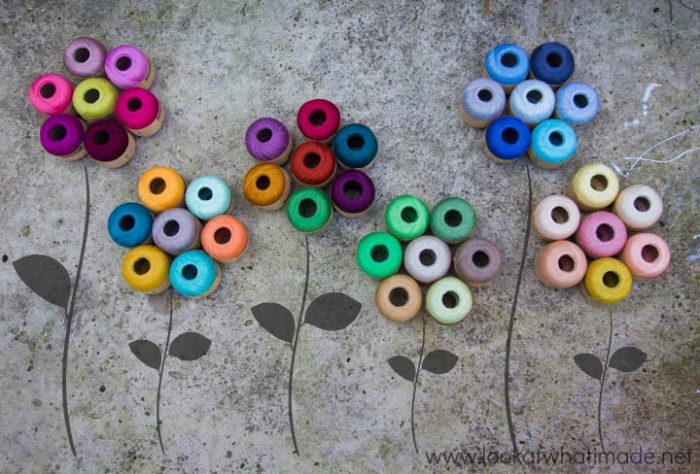 Colourways
When you look at the photos below, please keep in mind that I am still sans camera and am trying (and failing) to get used to the one I am borrowing from a friend. The colours are intense and rich in real life.
First Colourway – Pastel Pink
These colours were inspired by a shop, not a person. When I visited Loop London for the first time, I bought a pack of assorted pastel embroidery threads in muted pastel colours. This is my attempt at trying to recreate the old-world feeling of those 'dusky pastels'.
Second Colourway – Spice
This colourway reminds me of Tatsiana from LillaBjorn's Crochet World, not because they are colours that she likes to use (although she is using similar tones in her Peacock Tail Bag CAL), but because they have a similar feel to the colours I used when I made her Circles of the Sun CAL squares. The colours are rich and autumnal, and as I write this I realize that they are very similar to the shades in the colour-change yarn I used for Joy's Journey a while ago.
Third Colourway – Fairy
This colourway makes me think of my friend Loma. She makes the most beautiful things and her photos are always gorgeous. When she made Sophie's Universe, she took the most amazing photo with her Sophie draped over an old Pink car. She has also made a Lydia blanket, further cementing her as 'pink' in my mind. The 'Antique Rose' and 'Rose' below are slightly more pink in real life, but purples are my way of pushing her out of her comfort zone right along with me!
Fourth Colourway – Voyage
The blues in this colourway were inspired by Shelley Husband from Spincushions. If you follow her Instagram feed (@spincushions), you will know that she LOVES blue.
Fifth Colourway – Meadow
If you have been following this blog for a while, you will know that I have a 'crochet fairy' called Jenny. She helps me crochet when 2 hands are not enough (and she is working on a new project that will blow your mind!). Jenny loves greens, so this colourway is for her.
Sixth Colourway – Whimsy
Sandra Eng (@mobiusgirl on Instagram) uses lots of colours in many different colourways. Six weeks ago she posted a photo with a bunch of squares on it. One of the squares caught my eye and I was surprised because it was such a muted colourway and yet so striking. You can see it HERE (top right). These colours remind me of a bit of Orla Kiely wallpaper.
Seventh Colourway – Dark Whimsy
Although this colourway seems lighter than the previous one, it actually has a darker (more sombre) feel. This colourway is for Mr Lookatwhatimade. Although he has yet to finish his first crochet blanket (how long does it take???), I am confident that he will eventually concede and admit that crochet is much more fun than he likes to pretend it is. I would love to see him make something in these masculine colours, with a nod to his frivolous side (yellow) and his feminine side (coral).
If you like looking at colourways, but want something a little bit different, have a look at the beautiful colourways Susan from Felted Button came up with.
If you want to jump straight into project-envy, you can find some beautiful Maxi Sweet Treat WIP examples here:
I was unsure of what to make with the Maxi, having never worked with something so skinny, but I already have 2 ideas! I won't tease you by making you guess or giving you hints. Time will tell.
Update: I've made some Cactus Puzzle Balls. You can see them HERE.

This blog post contains affiliate links. I only link to products I personally use or would use.  All opinions are my own.