Crochet Dinosaur Puzzle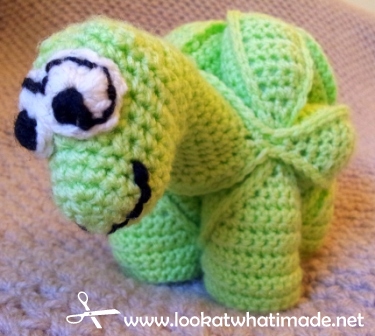 Update July 2014:  This pattern is no longer available as a stand-alone pattern.  Instead it will soon be available as part of a book by Annie's Publishing.
Some of you may have seen my FREE pattern for the Crochet Amish Puzzle Ball.  This Crochet Dinosaur Puzzle is an extension of the Puzzle Ball.
It consists of 3 segments that can be taken apart and assembled at whim.  It stands roughly 15cm high and is about 25cm from nose to tail.  One of my testers did suggest that I straighten his head and I almost did, but in the end I decided that I liked his head slightly cocked to one side.  I think it makes him look a little bemused.
The chunky design is perfect for little hands and the puzzle itself is enough of a challenge to keep most of your grown-up friends busy for a few minutes.  In fact, I love watching my guests struggle with the little wedges.  Yep, I am that sad.  Come to tea at my house and you have to complete the puzzle before you can have a muffin!
The crochet dinosaur puzzle works up quite quickly – although not as quickly as the Amish Puzzle Ball – and it is a less monotonous pattern.
You still have to make 12 wedges, though…yawn.  I really need to employ an army of little old ladies to make wedges for me! Any volunteers?
Anyway…I have great plans for this little beast.  I am also working on a whole host of other animals, so if the crochet dinosaur puzzle doesn't quite float your boat, watch this space.  I will hopefully have the Rhinosaur pattern written up early in the new year and will be looking for some more testers then.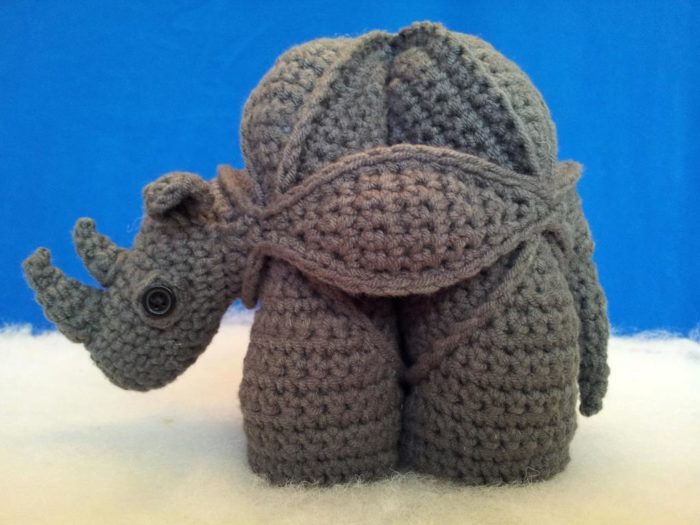 I would like to say a HUGE "Thank you!" to my pattern testers:
Renee Getty
Marjolein de Vries
Karyl Mowers
Julia Szegedi
You guys have made me feel really special and it has been a pleasure getting to know you better.  Thank you for your enthusiasm both before and during the pattern testing.  And some of you made me laugh out loud with your witty emails.
Thank you guys!
Here are some photos of all our completed dinosaur puzzles.
Remember to subscribe to my
Weekly Newsletter
if you would like to be kept in the loop. You can also like my
Facebook
page or follow me on
Bloglovin
,
Google+
,
Pinterest
,
Twitter
, or
Instagram
.
Happy Hooking!