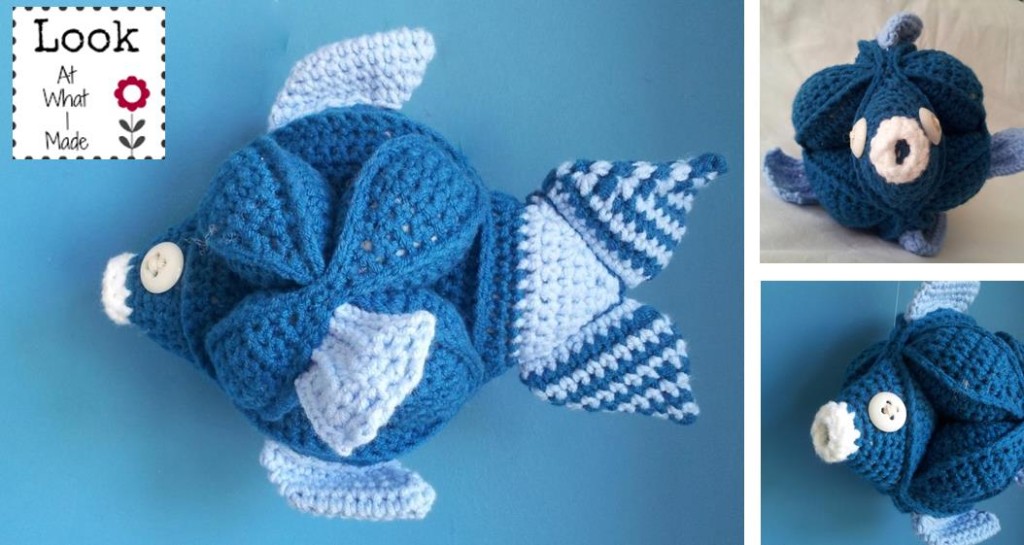 I would like for you to meet Fin the Crochet Fish Puzzle.  He is the most recent of my Amamani (Amigurumi Amish Puzzle Animals) and I must confess that I am more than a little bit in love with him.  He is based on the original Crochet Amish Puzzle Ball, and as such comes apart into 3 segments, or rings, which then have to be re-assembled to form the fish.
The chunky design makes it perfect for little hands to grab hold of and your colour options are limitless!  Just have a look at what some of my testers came up with.  You can see more variations here.
Please note: the testers each put their own creative spin on the pattern.  The instructions in the pattern are for a 2-tone fish with a Main colour body, contrasting colour fins and a striped tail.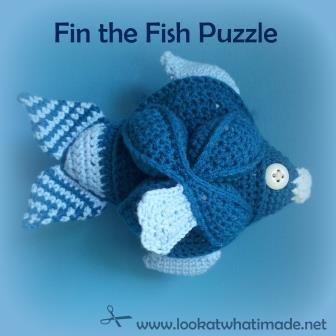 Using the hook and yarn specified, this crochet fish works up to 13 cm wide x 17 cm high x 18 cm long.  That is roughly 5″ x 6.5″ x 7″.
Gauge doesn't matter, but if the yarn you use is too thin for the hook you use, you will end up with holes in your lids.  And if you do make Fin with odds and ends of yarn and some of the yarns are thinner than others, please make sure that the yarn you use for the lids is as thick, or thicker, than the yarn you use for the wedges, otherwise the lids will be too small.  The wedges are more forgiving than the lids!
Although this pattern is easy, it is very detailed, so you will need to have a good grasp of the English language.  If you are not comfortable with English, you are probably going to struggle with this pattern, so I would advise against purchasing it.
You can buy the pattern for Fin in my Ravelry Store.
I hope you feel inspired to make your very own Fin the Fish and cannot wait to see all the variations!
Related Free Patterns
Related Paid Patterns
Remember to subscribe to my Weekly Newsletter if you would like to be kept in the loop. You can also like my Facebook page or follow me on Bloglovin, Google+, Pinterest, Twitter, or Instagram.
Happy Hooking!