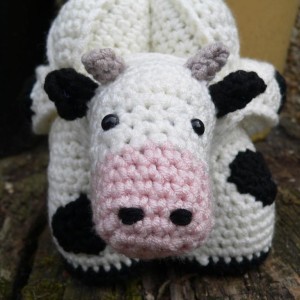 I would like to introduce you to Chloe the Crochet Cow Puzzle. She is just one of my many Amamani Patterns ( short for Amigurumi Amish Puzzle Animals).
The Crochet Cow Puzzle is based on the original Crochet Amish Puzzle Ball, and as such comes apart into 3 segments, or rings, which then have to be re-assembled to form the cow.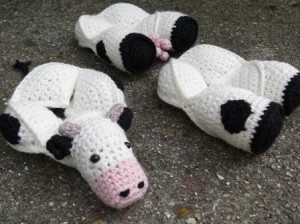 The chunky design makes her perfect for little hands to grab hold of and your colour options are limitless! Think cows are just cream and brown and black? Think again! This is just one of the many colourful cows my testers came up with. Amy has tested for me a bunch of times and her photos are always so pretty and inspiring. You can see more of my testers' colourful creations here.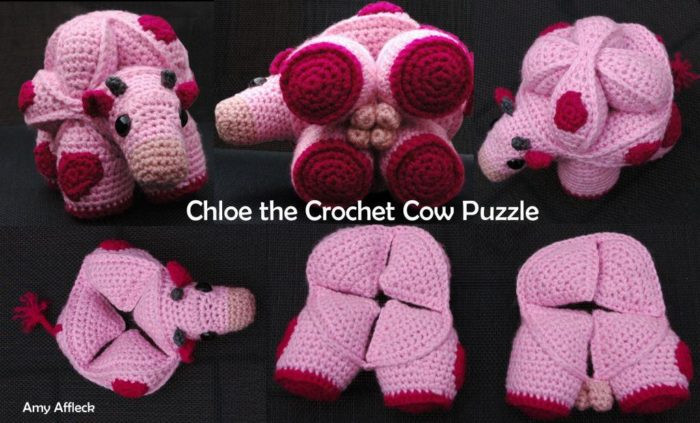 Size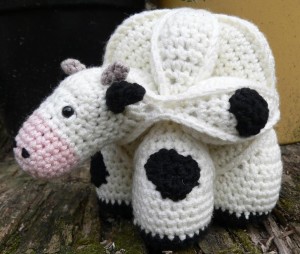 Using the hook and yarn specified, Chloe the Crochet Cow Puzzle works up to 13 cm wide x 15 cm high x 15 cm long. That is roughly 5″ x 6″ x 6″. But you can always use a bigger or smaller hook and thicker or thinner yarn.
Gauge doesn't matter, but if the yarn you use is too thin for the hook you use, you will end up with holes in your lids. And if you do make Chloe with odds and ends of yarn and some of the yarns are thinner than others, please make sure that the yarn you use for the lids is as thick, or thicker, than the yarn you use for the wedges, otherwise the lids will be too small. The wedges are more forgiving than the lids!
Notes
The pattern for Chloe the Crochet Cow Puzzle is suitable for Advanced Beginners.
Although this pattern is easy, it is detailed, so you will need to have a good grasp of the English language. If you are not comfortable with English, you are probably going to struggle with this pattern, so I would advise against purchasing it.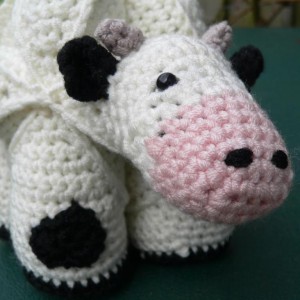 You will need to know:
How to make single crochet stitches, half-double crochet stitches and double crochet stitches
How to increase and decrease
How to work in the round
How to make a magic ring
The pattern also makes use of short rows to help shape the cow's head (only a few), but they are clearly illustrated and thoroughly explained!
Abbreviations
US Terminology used
| | |
| --- | --- |
| Ch | Chain |
| Dc | Double crochet |
| Hdc | Half-double crochet |
| Sc | Single crochet |
| Sc inc | Single crochet increase |
| St | Stitch |
| Sc2tog | Single crochet 2 together (sc decrease) |
| Yo | Yarn over |
| * | Repeat all instructions between asterisks |
Materials
4 mm Crochet Hook for the body (US G/6, UK 8)
3.5 mm Crochet Hook for the ears and horns ONLY (US E/4, UK 9)
Double knit yarn in cream – approx. 270 m/300 yards
Double knit yarn in pink and black – approx. 35 m/40 yards each
Double knit yarn in light brown for the horns (a mere scrap)
Yarn needle
Stuffing
2 Buttons/ safety eyes
Chloe the Crochet Cow Puzzle Pattern

The pattern for Chloe the Crochet Cow Puzzle is now available in my Ravelry Store.
I hope you feel inspired to make your very own Crochet Cow Puzzle and cannot wait to see all the variations!
And if cows aren't your thing, you can always try your hand at one of these related patterns:
Related Crochet Patterns
Remember to subscribe to my newsletter if you would like to be kept in the loop. You can also like my Facebook page or follow me on Bloglovin or Google+.
Happy Hooking!