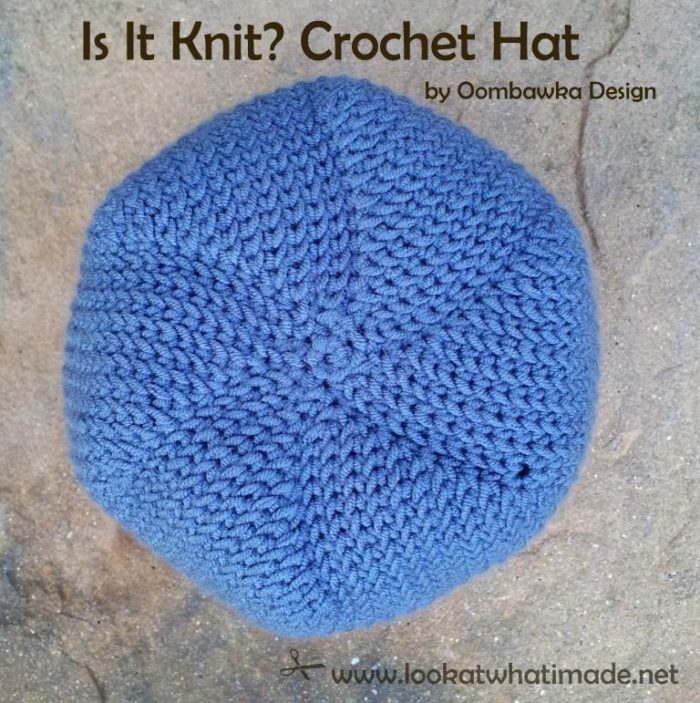 I have had the privilege of testing this lovely Is it Knit? Crochet Hat pattern for Rhondda from Oombawka Design.  And it's easy to see where she got the name from.  The particular stitch she uses yields a true stockinette finish.  Is that impressive?  YES!  I think every crocheter in the world has tried, at some point, to find a crochet stockinette stitch.  And I am first among them.  Stockinette is my favourite stitch ever, but I don't knit (much) and am always hunting for the "look", but with a hook, if you see what I mean.
And if the idea of a true crochet stockinette stitch excites you as much as it does me, you're in luck, because Rhondda has done a lovely tutorial for the Waistcoat Stitch.  But more about that in a minute.
Getting back to the Is it Knit? Crochet Hat first…

My favourite part of the Is it Knit? Crochet Hat is the beautiful spiral (pinwheel) effect on the crown.  I kept flipping the hat over as I was working so that I could take another peek at it.  It reminds me of one of those spirals they used to show on cartoons when they were trying to hypnotize someone.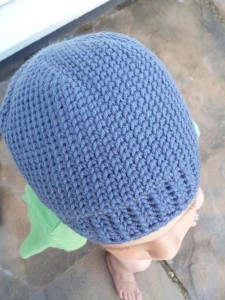 The hat itself is lovely and dense without being thick or rigid and the stockinette ribbing rounds it off beautifully.  This is such a simple, stylish design that it doesn't need any embellishments.
You can find the pattern for the Is It Knit? Crochet Hat in Rhondda's Ravelry Store.
And while you are there, have a little look around.  She also has some free patterns, my favourite of which has to be this Not ANOTHER Owl Hat.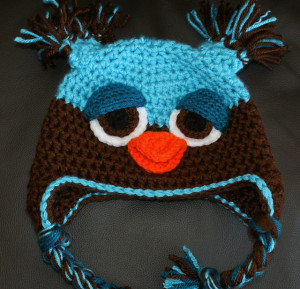 Yes, But What About the Tutorial for the Crochet Stockinette Stitch?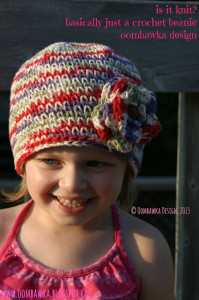 You can find the tutorial for the Crochet Stockinette Stitch (Waistcoat Stitch) here.
And because Rhondda is a darling, the tutorial includes a video tutorial AND a free pattern for the Toddler Size of her  Is it Knit? Basically Just a Crochet Beanie pattern, which also features the lovely Crochet Stockinette Stitch.
So get yourself over to Oombawka Design and start crocheting your little stockinette hearts out!
I would like to thank Rhondda for the Amazing job she did with the tutorial and for sharing the Waistcoat Stitch with the rest of us.
Remember to subscribe to my newsletter if you would like to be kept in the loop. You can also like my Facebook page or follow me on Bloglovin or Google+.
Happy Hooking!

**The photos for the Not Another Owl Hat and the Is It Knit? Basically Just a Crochet Beanie have been used with permission from Rhondda Mol at Oombawka Design.**