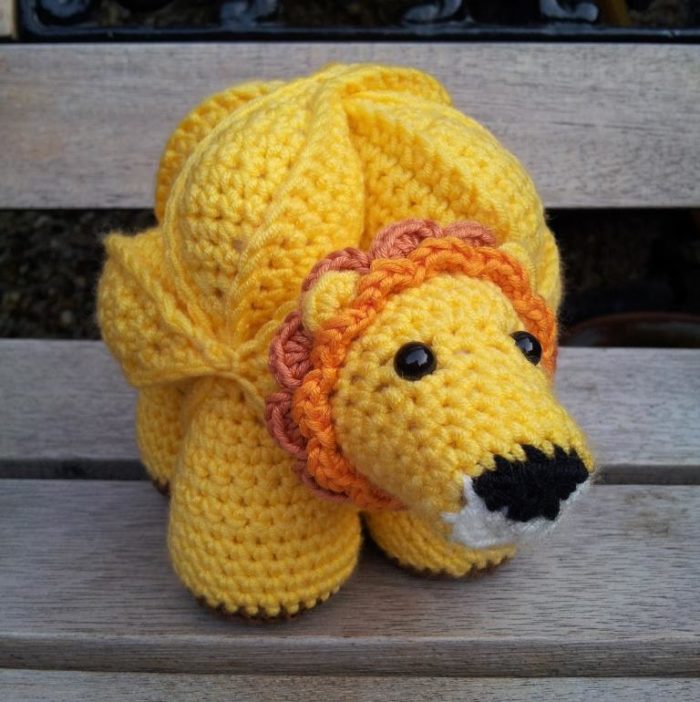 Update July 2014:  This pattern is no longer available as a stand-alone pattern.  Instead it will soon be available as part of a book by Annie's Publishing.
I would like to introduce you to Brill the Crochet Lion Puzzle.  He is the most recent of my Amamani (Amigurumi Amish Puzzle Animals) and I am very chuffed with how he came out.  He is based on the original Crochet Amish Puzzle Ball, and as such comes apart into 3 segments, or rings, which then have to be re-assembled to form the lion.
The chunky design makes it perfect for little hands to grab hold of and your colour options are limitless!  Just have a look at what some of my testers came up with.  You can see more variations here.
Using the hook and yarn specified, this Crochet Lion Puzzle works up to 13 cm wide x 15 cm high x 15 cm long.  That is roughly 5″ x 6″ x 6″.  But you can use a bigger or smaller hook and thicker or thinner yarn.
Gauge doesn't matter, but if the yarn you use is too thin for the hook you use, you will end up with holes in your lids.  And if you do make Brill with odds and ends of yarn and some of the yarns are thinner than others, please make sure that the yarn you use for the lids is as thick, or thicker, than the yarn you use for the wedges, otherwise the lids will be too small.  The wedges are more forgiving than the lids!
Although this pattern is easy, it is very detailed, so you will need to have a good grasp of the English language.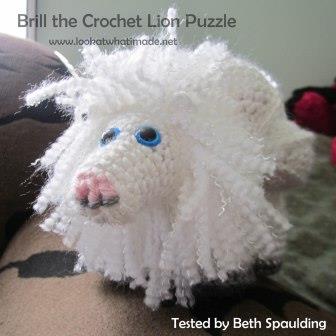 The pattern includes instructions for making both a cutesey mane AND a manly fringe mane.  My husband and I could not agree on which one was better (I obviously voted for cutesey), so I included both.  I will add, though, that if you are using a silky cotton yarn, the manly mane tends to unravel.  So if you do decide to add a fringe mane to your lion, use speciality yarn which will "knot" better.  As a rule of thumb, the more difficult the yarn is to work with, the less likely the fringe is to come undone.
If you want to make VERY sure that your lion is baby-safe, go for the cutesey mane as it won't be unraveling in a hurry.
Remember to subscribe to my Weekly Newsletter if you would like to be kept in the loop. You can also like my Facebook page or follow me on Bloglovin, Google+, Pinterest, Twitter, or Instagram.
Happy Hooking!