An American Pancakes Recipe by a South African in England…how's that for multi-cultural?  And as if that isn't enough, the photo was taken by my sister in New-Zealand..
My husband loves these American Pancakes (called Plaatkoekies in Afrikaans) and it is one of the 5 recipes I have got written above my sink…long story, you can read more about that in my Chocolate and Coconut Banana Cake post.  Suffice it to say:  I have a top-5 and these American pancakes are one of them.
Now if you break out in hives if you even look at oats, you can leave the oats out of the recipe.  I much prefer the pancakes WITH the oats.  It's just BETTER for you.
And if you insist on eating your pancakes buried in butter and topped with Marmite, syrup and grated cheddar cheese – don't you dare knock it until you've tried it, you Marmite snob – your body will be glad of this little healthy kindness.
Oaty American Pancakes Recipe
Ingredients
1 egg
2 tsp sugar
¾ cup of milk
1 cup of self-raising flour
½ cup of oats
¼ tsp salt
1 tbsp butter, melted

Note:  If you do not have self-raising flour, use regular flour and 1 tbsp of baking powder.
Method
Beat the egg with a fork – just enough to mix the yolk and the egg white.
Add the flour, sugar, salt and half the milk to the egg.  Mix with the fork.
Add the butter and the rest of the milk.  Mix some more.
Dump the oats into the mixture and mix a little bit more.
Let the mixture rest for 20 minutes.  I suppose you don't HAVE to, but the pancakes will be much nicer if you do.  Plus you can set the table while you wait…feed the baby…or the dog…squeeze some fresh orange juice…Or you could just hide in the kitchen for 20 minutes of peace and pretend that you're working very hard.  If I didn't have kids, I'd go back to bed with a cup of coffee and a good book.
When your 20 minutes of waiting are up, heat a non-stick pan to medium-high.  If you don't have a non-stick pan, or your non-stick pan is no longer as non-stick as it used to be, pour a tiny amount of oil into a regular pan and heat THAT.  Some people use butter, so you could use that instead if you wanted to.
Once your pan is nice and warm, ladle some batter into the pan.  You can make tiny pancakes – I usually make 4 at a time – or BIG ones.  It really is up to you.  But for the first pancake, I would make a tiny one.  Because everyone knows that the first pancake ALWAYS fails.  Without fail!
Don't turn the pancakes around until you see tiny bubbles starting to form on top of the pancakes.  If you try to turn the pancakes, but they stick, they're either not ready yet, or your pan is worse than mine.  When you do flip them, they should be golden brown.  Continue cooking them on the other side until they no longer stick to the pan.
Stack the cooked pancakes on a plate lined with kitchen towel and place a piece of foil over the top to keep in the heat.  Keep adding the pancakes to the pile as you go.  Don't make them and serve them as you go.  You won't be able to keep up and you might not get any yourself.
Hint:  If you like upcycling and you magically find yourself with an old rinsed-out Squeezy mayonnaise bottle just waiting for a purpose, you are totally in luck!  To avoid the mess of ladling out pancake batter, simply pour the pancake batter into a squeezy bottle and squirt the batter into the pan.  If you are making these Oaty American Pancakes, be sure to use a bottle with a large enough nozzle.
Serving Suggestions
Lazy pancakes
When we have oaty american pancakes, we usually eat them with butter, marmite, golden syrup and cheese.  This might sound weird, but just pause to think about it for a moment.  Sweet and savoury work.  You have peanut butter and jam, you have jam and cheese, you have marmite and cheese, you have peanut butter and syrup…we have marmite, syrup and cheese.  IT ROCKS!
If you like Marmite, but need a little bit of gentle persuasion about adding sweetness to it, try my Marvelous Marmite Cake and see if it converts you.
I've-kind-of-made-an-effort pancakes

If you feel that a little bit of impressing is needed;  say your mother-in-law is visiting or you've got friends staying for the weekend and the bread-and-butter approach just won't work, you can serve these pancakes with a simple berry compote.  Not only does it look like you've gone to some effort (without you actually having to go to any real effort), but it is also better for you than the other 2 options I have listed.  I used a recipe from Yuppiechef, which you can find here.
If you're not into fruit compote, cut up some fresh fruit and pile it on top of your pancakes before drizzling the whole shebang in honey.
Will-you-marry-me pancakes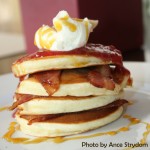 This is my little sister's variation:  a pancake and bacon stack with a drizzling of maple syrup and a dollop of mascarpone.  To add a little something extra she sprinkled a tiny bit of vanilla sugar over the top.  Well, why not?
Make this if you REALLY need to impress someone…well, as much as you can impress someone with pancakes, anyway.
Trouble-shooting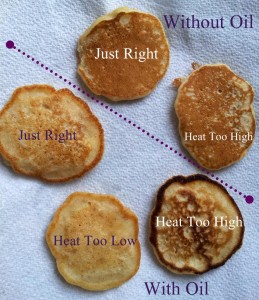 If your pancakes never come out quite how you'd like, here's a little picture to help you along. This picture is really more for myself than for you.  I always have to make a few before I remember how to get them to look the way I want them to look.  Don't laugh.  Sometimes my brain doesn't function on a Sunday morning.
If you are baking your pancakes using oil, you will notice that they form a ring or ridge along the outside of the pancake.  This ring will be darker than the rest of the pancake.  The inside of the pancake will have a more blotchy appearance as the pancake will rise in places, meaning that the whole surface won't be in contact with the heat.
If your heat is too low, the ridges will be pale.
If your heat is too high, your ridges will be too dark.
If you are baking your pancakes without oil, the colour will be a lot more uniform.  By that I mean that the whole pancake will be a light, uniform, golden brown.  You shouldn't have a blotchy appearance.  If you DO end up with a blotchy looking pancake, it means that your heat is too high and the pancake is rising away from the heat in places.
If your pancakes come out too thin, it means that your batter is too runny.  Add a bit more flour or oats.
If your pancakes are small and very fat, it means that your batter is too stiff.  Add a little bit of milk and try again.
I hope you have fun making your pancakes and that they turn out brilliant!
This post has been shared on Craft-O-Maniac's Monday Linky Party.  You can find some more random recipe ideas there…or add your very own recipes/crafts.
Remember to subscribe to my newsletter if you would like to be kept in the loop.  You can also like my Facebook page or follow me on Bloglovin.
xxx dedri