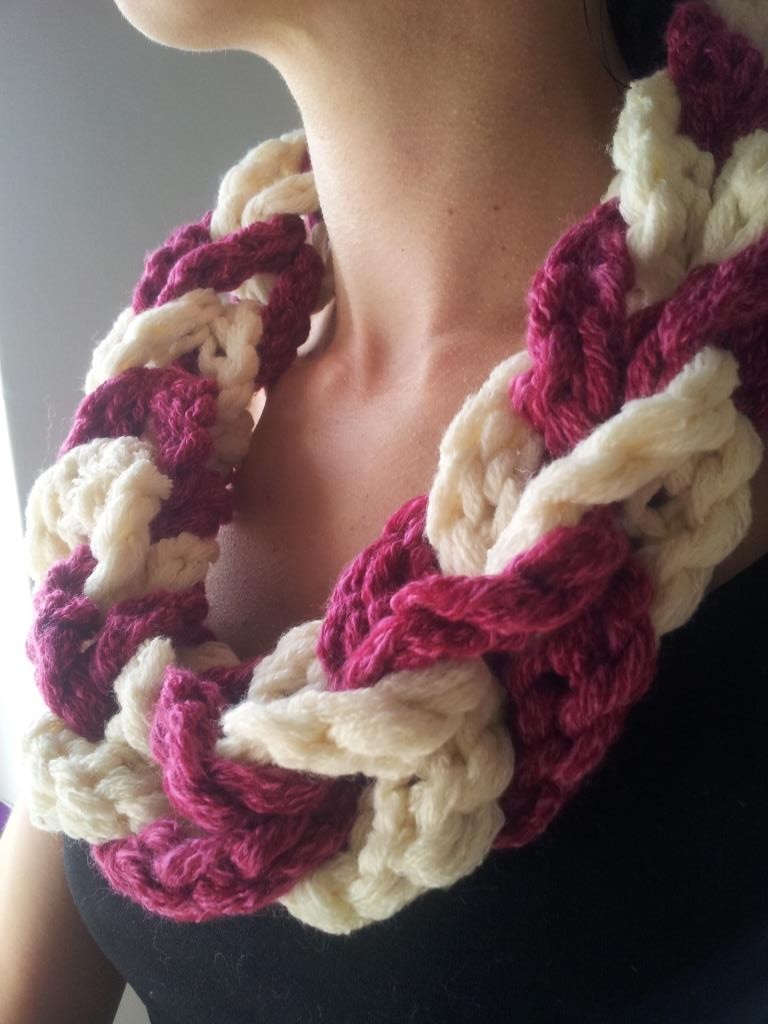 Ok, so this Crochet Chain Link Scarf Pattern isn't really a scarf pattern.  It is actually a pattern for a bracelet, designed by my good friend Pam Perkins.  But the minute I saw the Infinity Puzzle Bracelet, I knew it secretly wanted to be a scarf.
So I sat down with Pam's pattern and started fiddling…not with the actual pattern, that doesn't change at all…rather with hook sizes and yarns.
I have to say that I am thrilled to bits with how it turned out.  Pam's designs are always unique and fun.  Not only is this a scarf, but it also doubles as a take-along toy.
Say what?
You heard me ladies.  Not only does it keep your neck warm…not only is it pretty and pretty unique…it is also take-apart-able.  You'll have to read Pam's post about the Infinity Puzzle Bracelet to understand exactly how it works, but basically the scarf is made up of 20 "links" and one "connector".  If you have no intention of taking the scarf apart, you can skip the connector and just sew the open ends of the last link around the closed end of the first link.
OR you could use a brooch to pin the two ends of the last link around the closed end of the first link.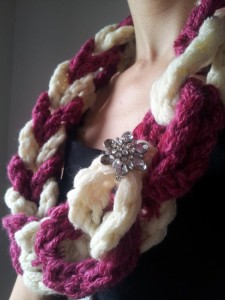 And once taken apart, it takes my 5-year old less than 10 minutes to "build" it again, buying me a little bit of quiet time.  Now just think about it for a moment…think about waiting in the doctor's office with 3 little rugrats to entertain and no toys…think about one of those Sundays when they just WONT stay quiet in church…
And even if you don't have a toddler to entertain, the fact that you can mix and match links should excite you NO END.  If you use just 3 colours and make 10 links of each, you can fashion no end of different "looks".
I'm not going to try and hard-sell the pattern too much, because those of you who like things like this will already be seeing all the possibilities.  But I just want to make very sure that you KNOW how cool I think this pattern is!
So here's the nitty-gritty:
The Pattern
You can find the pattern for the Infinity Puzzle Bracelet here.  The links work up super quickly – less than 5 minutes per link – and consist of only 2 rounds each.
To turn the pattern into a crochet chain link scarf, just substitute the yarn and the hook as specified below and make as many links as you feel you need.  I made 10 each in dark pink and cream.
The Yarn
I used about 110 m (total) of SIRDAR DENIM ULTRA Super Chunky Knitting Wool in dark pink and cream, but you can use any super chunky/bulky yarn with similar properties.  I have included the yarn details below.
SIRDAR DENIM ULTRA
Approx Weight: 100 grams
Approx Yardage: 75 metres/82 yards per ball
Ball Weight: 100 grams per ball
Brand: Sirdar
Composition: 60% Acrylic, 25% Cotton, 15% Wool.
Suggested Needle Size: 10mm
Tension: 9 stitches, 12 rows to 4 inches / 10 cm on 10mm needles
Washing Instructions: Washable at 40 degrees.
Please note that the tension provided above is NOT for the scarf, but for the yarn…just to give you an idea of thickness.
The Hook
I used a 15 mm crochet hook (Q).  That was about the biggest hook I could find (and wield).  You can use a smaller hook if you want, but bear in mind that a smaller hook will yield smaller, tighter links.
Extra Notes
Although Pam says that you can just knot the tails and cut them – and this works perfectly well as the tails are hidden inside the links when they are folded, you might want to work away your tails.  If you do, remember that you will need a Yarn Needle.
"Building" Your Scarf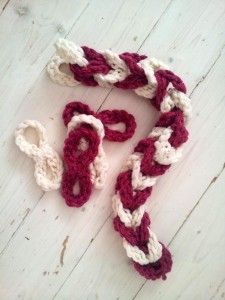 Pam has included some excellent step-by-step photos in the pattern, so you should have absolutely no problem figuring out how to build your scarf.
As soon as I get my act together, I am going to make some more links so that I can show you just some of the ways in which you can mix and match the links to suit your look.
I hope you are as excited by these chain-links and their possibilities as I am.  Please do not hesitate to contact me if you have any questions.  And remember to leave Pam a comment telling her how brilliant she is!
If you belong to Ravelry, and you do make a scarf/bracelet/necklace, remember to create a project so that the rest of us can oooh! and aaah!  You can find the Ravelry page for the pattern here.
Remember to subscribe to my newsletter if you would like to be kept in the loop.  You can also like my Facebook page or follow me on Bloglovin.
Happy Hooking
xxx Dedri