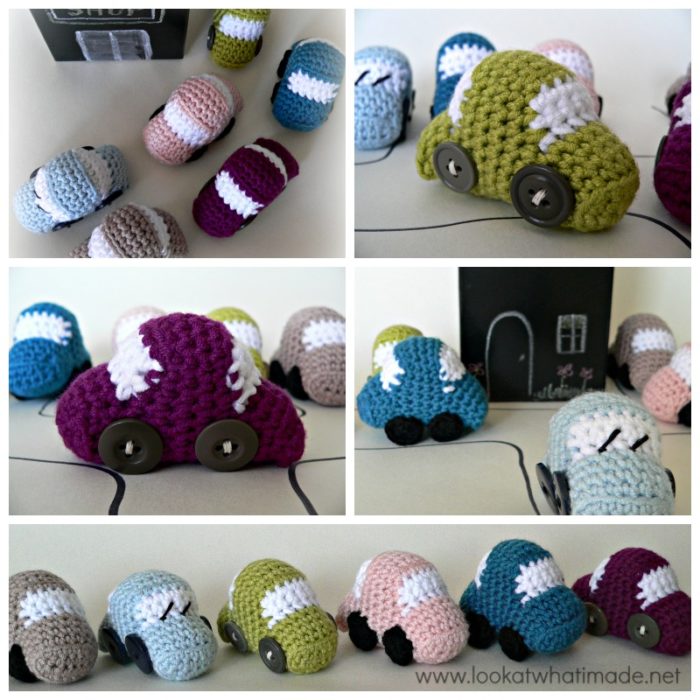 The pattern for these tiny crochet cars has been lying around for absolute ages.  I just never got around to writing it up properly.  I needed motivation.  And motivation struck in the form of a house move!  You know the drill..the minute you have to do something important and big – like an exam – you find yourself INTENSELY motivated in a hundred other (unimportant) directions.
Like just before I went to the hospital to go have little Xander.  One of my spatulas fell in behind the oven.  Of course I had to move the oven right then and there, my mother shaking her head behind me.  And what I discovered was 3 years worth of disgusting!  So it seemed like the most logical thing in the world to clean the floor underneath the oven before I could even consider giving BIRTH!
This post is another prime example.  What I should be doing now is packing.  What I AM doing now is sharing this little tiny crochet car pattern with you lovely lot.  And let's be honest:  would you rather I pack, or I share?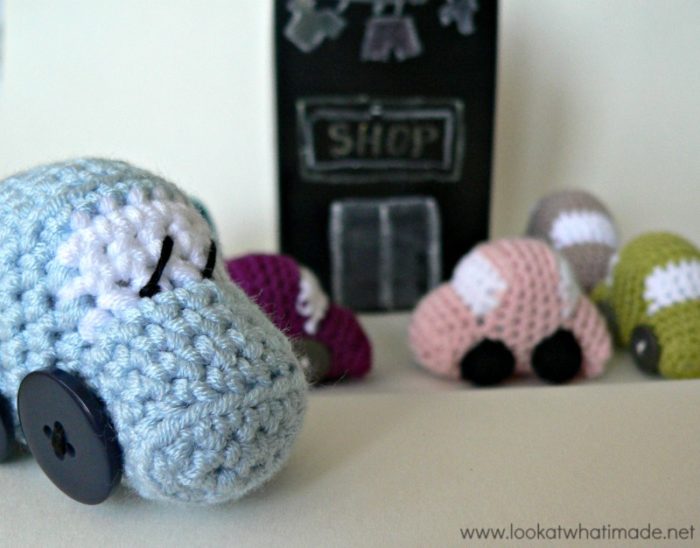 So without further ado, here are the specifics.
Using the hook and yarn specified, these little cars work up to 7.5 cm (3″), making them perfect for a take-along toy or a stocking-stuffer.
The pattern for the Tiny Crochet Cars is suitable for Advanced Beginners.  It contains no less than 36 (!) progress photos, so even if your English isn't great, you should still be able to figure it out.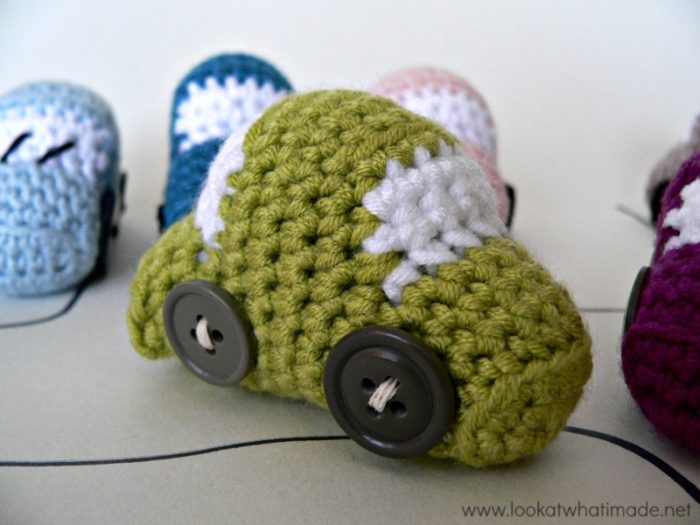 These little crochet cars work up in a jiffy and although they are plain, you can customize them in any way you fancy.  You could add wipers, numberplates, a little bumper, maybe?  Or what about racing stripes (thanx Connie!) or little cartoon faces?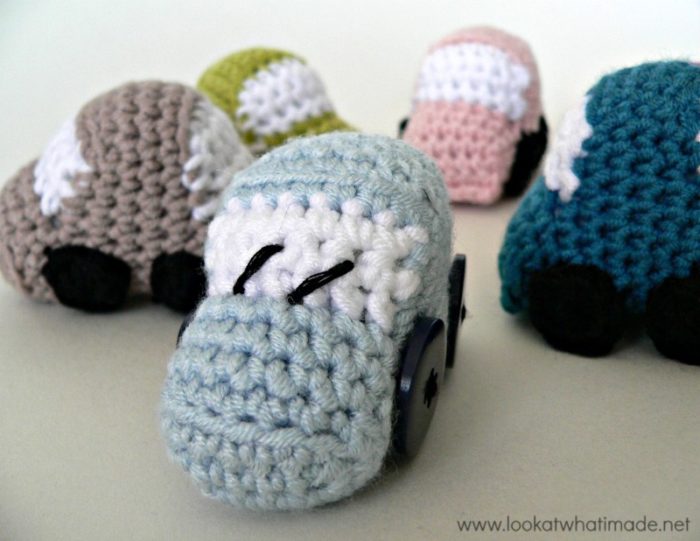 Whichever way you choose to make them, they will go down a treat!
I made my cars using Patons Smoothie Dk
 and a 4 mm Pony crochet hook
 (US G/6  UK 8), but you can use any hook and yarn you fancy, provided that your stitches are tight enough so that the stuffing doesn't show.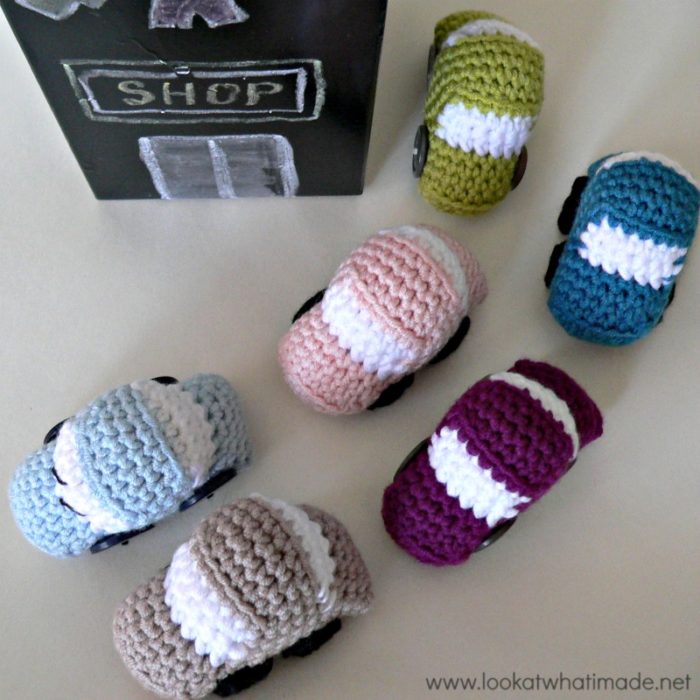 Here are some of the things you will learn:
How to make short rows – don't freak out.  Short rows are just rows that do not begin/end where rows traditionally begin and end.  If you have never used short rows, this pattern is the perfect vehicle (sorry, couldn't resist that one) to get you more comfortable/confident in the use of short rows.  Each step is well illustrated!
How to work into the back loop only AND how to make front-post stitches
How to use a piece of scrap yarn as a running stitch marker
And some of the things you need to know before you start:
How to make a single crochet
How to increase
Pattern
Remember that you can also save it to your Ravelry Favourites so that you can find it later on.
Like I have already said, the pattern has a butt-load of photos, illustrating everything from the foundation chain through to the sl st's at the end.  There is also an Appendix on Page 6 that contains the 1-page written-only pattern.
This pattern uses US Terminology (find US/UK comparison chart here)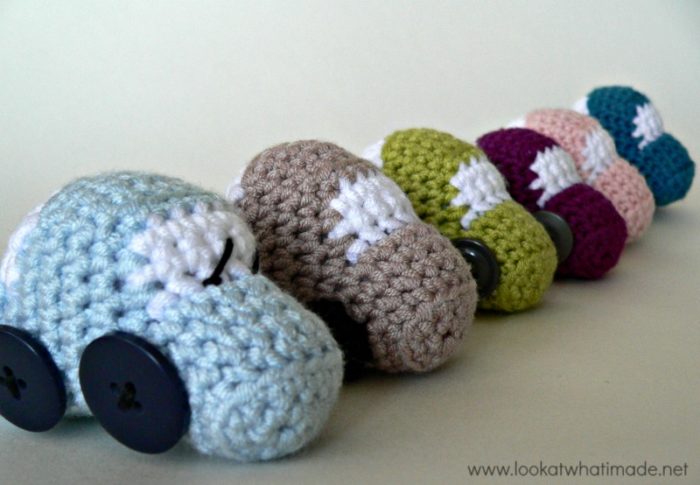 I hope you have great fun making your Tiny Crochet Cars and that the little recipients love them to bits.
Remember to subscribe to my newsletter if you would like to be kept in the loop. You can also like my Facebook page or follow me on Bloglovin or Google+.
Happy Hooking!