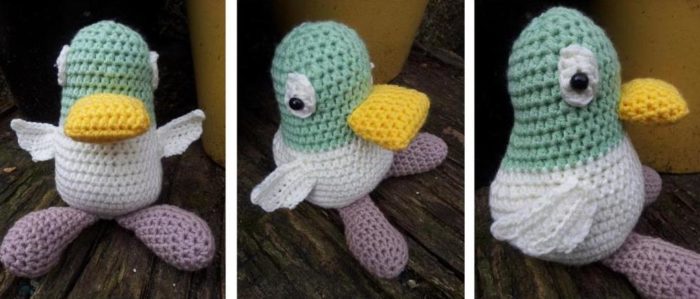 I am so excited to feature this free Crochet Duck Pattern by Jo Clark.
I met Jo through my Facebook page when she shared the crochet stroller bag she made using my Aunty Dollie Bag Pattern.  When she asked me to test this Duck pattern for her, I was thrilled.  I really enjoyed the experience – I have only tested 4 patterns so far, so still get excited when I'm asked – and hope to test more of her patterns in the future.
This is Jo's first design and I think she has done a brilliant job!!!  The pattern is suitable for beginners and it is extremely easy to understand.
For those of you who don't know, Duck is a character in a British television show called Sarah and Duck.
The pattern for Duck is available as a free Ravelry download.


Remember to subscribe to my newsletter if you would like to be kept in the loop.  You can also like my Facebook page or follow me on Bloglovin.
xxx dedri