Hello and Welcome to the Charlotte's Universe CAL 2021.  I have been waiting for this day for a very long time!  Sometimes a project falls out of your brain and into reality with lightning speed – like when I designed Sophie.  Sometimes, like with Charlotte, it takes its time to be born, gathering so many memories and friends along the way.
Charlotte's Universe is a continuous square blanket with a lot of floral/lace detail.  She carries elements of Sophie and my Banksia patterns (because they are all sister-patterns), but she also inspired some elements of the Ubuntu CAL 2018 (most notably the use of the Popcorn Wheat-stalky things to create corner interest).
---
When I decided to do this crochet-along for Charlotte, I made a list of words about what this project means to me and what I want from this experience (for all of us). They were:
light ** joy ** organic ** meaningful ** connected ** community ** empower ** celebrate ** LOVE ** friendship
---
If I waited to be 100% ready before embarking on this journey, I'm afraid I would never have shared the pattern with you.  So I decided to take a leaf from the above list and just go for it!
I am so incredibly grateful to everyone who has helped me make this a reality.  My testers and proofreaders have been fantastic, Esther's videos are brilliant, and Masako's charts… they make me smile so wide!  I am especially grateful to the group of ladies who will be moderating the Facebook Group.
If you have already joined us for a crochet-along, welcome back.  If you are new to my designs, or crochet-alongs in general, I am so excited for you!  I have made amazing life-long friends through the communities that spring up around a project like this, and I am convinced that you will too!  May you enjoy every moment (even the frogging).  And may you make many good friends and memories along the way.
Charlotte's Universe CAL 2021
This pattern will be presented as a 12-week crochet-along, with LOADS of tutorial photos by yours truly, charts by Masako Kawahara from Crochet_Hmmm (who also happens to be our Japanese translator), and videos by Esther Dijkstra from It's All in a Nutshell.  The CAL will start on the 1st of August 2021.  I realise that a month is a long time to wait, but times being what they are, this should give you plenty of time to think about your colours and order (and receive) your yarn.
Please do not copy, reproduce, or distribute this pattern in part or as a whole.  This pattern belongs to me and I retain all rights to it.  Copyright is protected by Scheepjes.  Please see my Terms of Use if you would like to read more.
---
Index
---
Resources
Pattern:  You can find the links to all the weekly photo tutorials under Timeline below.
Printing/PDF:  There is a Print-friendly button in the bottom right-hand corner after every post.  Please use this print-friendly button to print/save the tutorials.  Take a look at THIS TUTORIAL if you don't know how to use the print-friendly button.
Video Tutorials:  Esther Dijkstra from It's All in a Nutshell will be making step-by-step video tutorials for each Part of this crochet-along.  If you struggle with any aspect of the pattern, I strongly suggest having a look at the video for the relevant part as they are extremely detailed and helpful.
Facebook:  You can share your journey in our dedicated Facebook Group HERE.  Please keep in mind that this is a new group and that the moderators and I will need to find our feet as much as you will.  I am literally winging that bit :)  **It would help us greatly if you could answer the three questions you are asked when joining the group because that a) helps us to get to know you a little bit (YES, I do read them) and b) helps us automatically approve your request.**
Ravelry:  Add the CAL to your Ravelry Queue.  There is also a dedicated Ravelry Thread HERE in the Colourful CAL's/KAL's & Projects Group.  Thank you to Reimy and Alice for setting that up and moderating it.
Instagram:  If you are on Instagram, you can find me as Barbertondaisy.  Please add your photos using #charlottesuniverse so that we can all Oooh! and Aaah!
If you would prefer to use a written-only US PDF version of this pattern (English only), you can buy it HERE in my Ravelry Store. The PDF contains only a few photos that I have deemed essential for the execution of the blanket, and round-by-round charts by the talented Masako Kawahara.
Translations
Translations will be available in Dutch, Japanese, and Swedish.  I am confident that more languages will pop up as we go :)
Difficulty
Intermediate.  Although this is an Advanced pattern, it has been written specifically for adventurous beginners.
Gauge
These are the unblocked gauges at the ends of the relevant rounds:
| | | |
| --- | --- | --- |
| | Double Knit (Vintage and Sunshine) | Whirl (Pink Charlie) |
| At the end of Round 13: | 16.5cm (6.5″) | 13.5cm (5.3″) |
| At the end of Round 18: | 22.5cm (8.8″) | 16.5cm (6.3″) |
| At the end of Round 36: | 44cm (17.3″) | 38cm (15″) |
I am a very tight crocheter.  The gauges above do not reflect what I got, but rather a consensus by the testers.  The total amount of yarn used depends on you meeting this gauge.
Size and Materials
For this crochet-along, we have made three official colourways:  Vintage Charlotte, Sunshine Charlotte (Sunny Charlotte), and Pink Charlie.  You can find more details about those below.
You are, of course, free to use any yarn/hook combination you fancy.  I will give you some tips for choosing colours in 'Choosing Your Own Colours' below.
Vintage Charlotte
Sunshine Charlotte
Pink Charlie

Finished Size:

160cm (63″)
160cm (63″)
130cm (51″)*

Yarn Weight:

Double knit (#3)
Double knit (#3)
4 Ply (#2)

Hook Size:

4 mm hook  (US G/6  UK 8)
4 mm hook  (US G/6  UK 8)
3.5 mm hook (US E/4  UK 9)

Yardage:

4760 meters (5205 yards)
4760 meters (5205 yards)
3500 meters (3827 yards)
Yarn packs are available from my Wool Warehouse Shop HERE.  You can find the direct links for each colour pack below.

Recommended Retailers for Scheepjes Yarn:

*Anna Added 3 extra rounds to Pink Charlie.  Those will be provided at the end of Part 14.  If you wish to stop at the same spot as the other two versions, your blanket will be 125cm (49″).
Colourways
Vintage Charlotte
This is the original blanket, also known as Simply Charlotte.  It started its life as a square I designed for 67 Blankets for Mandela Day way back in 2016.  The central flower was inspired by a design John P Kelly shared, and I am so thankful to him for letting me use it as the start of this beautiful journey.
I fell head over heels in love with the combination of the stitches and the yarn.  It had such a beautiful vintage feel!  I knew, from the moment I started, that I would keep 'growing' her.
Yarn
Scheepjes Softfun Aquarel (60% cotton/40% acrylic), 50g/140m/153yds

Colour A – Cloudscape (804) x 21 balls
Colour B – Riverscape (802) x 10 balls *Contrast Colour*
Colour C – Cityscape (806) x 6 balls
Yarn Packs for this colourway are available from Wool Warehouse HERE.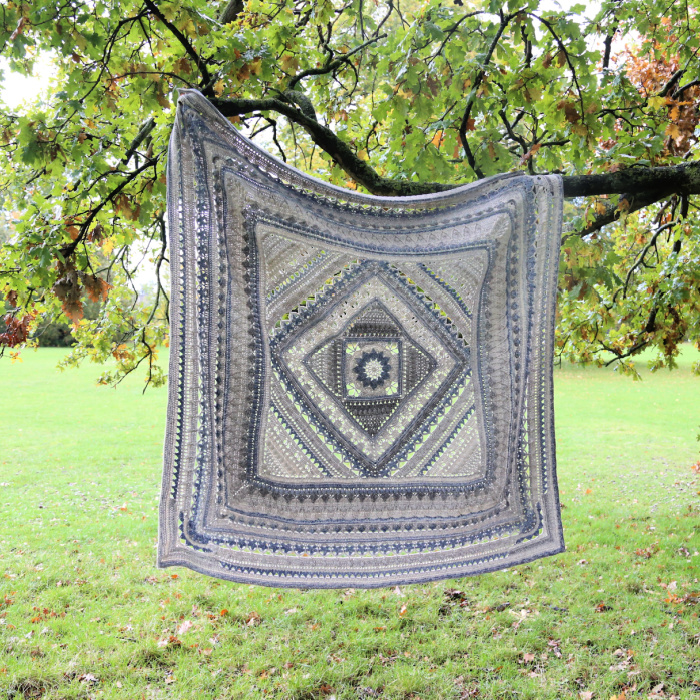 Sunshine Charlotte
This colourway is the brainchild of my tester and Australian friend Cass Micheli.  We first 'met' through Sophie and then in real life when I did the crochet cruise in 2019.  She is a bag full of fun and laughter, with a very keen eye for colour and photography.  When we met, she gave me a pair of Wattle earrings.  I am fairly confident that this colourway was inspired by her love for Wattle trees :)  Cass will be in charge of the Facebook Group.  You can find her HERE on Instagram.
Yarn
Scheepjes Softfun Aquarel (60% cotton/40% acrylic), 50g/140m/153yds

Colour A – Sunscape (805) x 21 balls

Scheepjes Softfun Denim (60% cotton/40% acrylic), 50g/140m/153yds

Colour B – 520 x 10 balls *Contrast Colour*
Colour C – 518 x 6 balls
Yarn Packs for this colourway are available from Wool Warehouse HERE.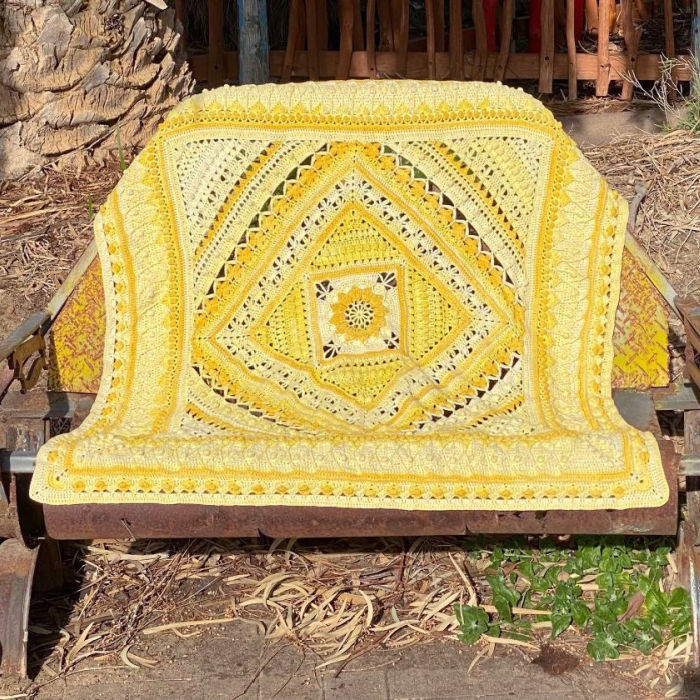 Pink Charlie
Pink Charlie is the brainchild of my Canadian friend Anna Moore (who recently acquired a new grandchild called Charlotte!).  Anna and I have worked together on a number of projects, and I would definitely not have been able to share this pattern yet if it wasn't for her help along the way.  Not only did she make Pink Charlie, she also re-made the original colourway so that she could take photos of each part for me.  Shockingly, I took very few progress photos as I worked my way through this design, so I am very grateful to her for all her help.  You can find Anna HERE on Instagram.
Yarn
Scheepjes Woolly Whirl (70% cotton/30% wool), 215–225g/1000m/1093yds

Colour A – Bubble Lickcious (474) x 2 balls *Main Colour*

Scheepjes Whirlette (60%cotton/40%acrylic), 100g/455m/497yds

Colour B – Frosted (852) x 3 balls
Colour C – Chewy (865) x 2 balls
Yarn Packs for this colourway are available from Wool Warehouse HERE.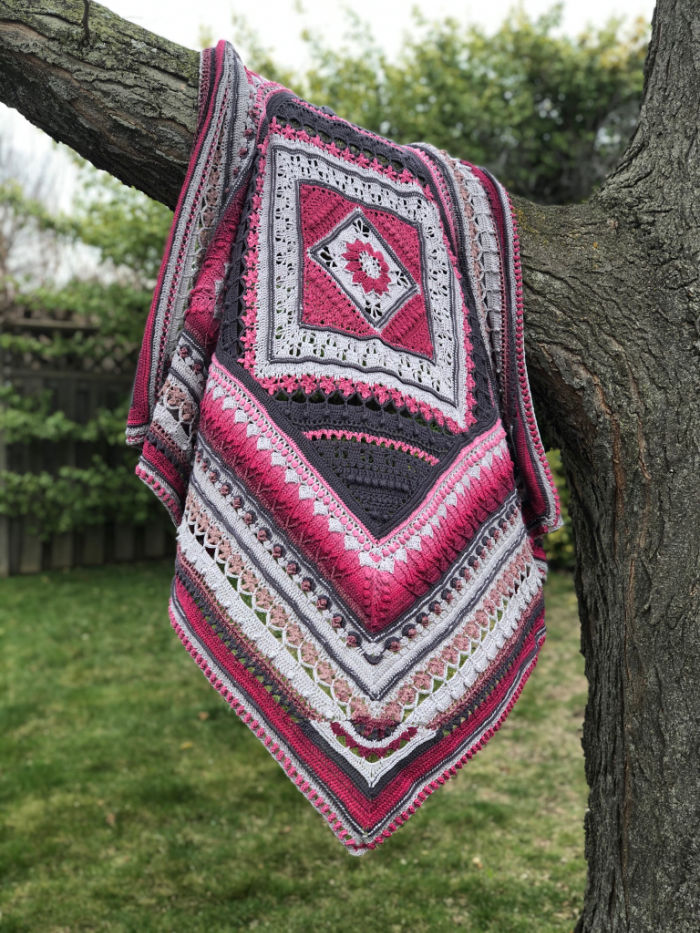 Choosing Your Own Colours
You can use as many or as few colours as you like.  Generally, I think more is more, but with this pattern, I liked the way three colours played together.  However, 'Video Esther' is using a lot of colours, and it looks fantastic.  She will be sharing details for her yarn and colours on her blog HERE.
If you are using many colours, I wouldn't overthink placement, as the more the blanket grows, the better the colours will marry.  When we did Sophie, I know many people doubted their colour placement during the first 3 parts, but as soon as the blanket grew, individual colour transitions became less obvious and everything started to feel more harmonious.
If you are using three colours, I suggest using two base colours that are similar (different shades of the same colour work best, but different colours with a similar neutral shade will work well too), and one Contrast Colour for the Central Flower, Roses, and Daisies (Yarn B, if you want to figure out yardages).
If you are using a Whirl/Woolly Whirl, I suggest using it as the main colour, with two matching or contrasting Whirlette shades to break elements up a bit.  You can also just use a Whirl if that is your preference.  It will look very elegant, but some of the textural elements may not stand out as much.
To help you figure out colour placement, I have provided a colouring-in template under Helpful Templates below.
Bonus Colourways
My biggest focus for this CAL is that it be organic and joyful.  Since announcing the CAL, I've seen so many gorgeous colourways and different yarn weights.  Some of them immediately made me go 'Oooooh, I've always wondered what Charlotte would look like in THAT.  I want to feature it.  Will you make it if I send you the pattern, like, right now?  May I share it??'
So as the CAL progresses, I may add extra colourways, each with its own information page and colours-per-round.  I will be updating the colours per round and photos for those weekly as the CAL progresses.  These blankets have not been completed yet, so I won't be able to give you exact yardages, but my maths skills are epic (and by that, I mean that I've built a great spreadsheet over the years that does the maths for me), so wherever possible, I will give you a very good estimate.  What is important to me about sharing these is that it gives you more information on how different yarn weights will work.  And the more information we have on different yarn weights and compositions, the better, right?
Charlotte's Universe Timeline
Helpful Templates
Important Tips and FAQ
Although great care has been taken to supply loads of landmarks and hints throughout the pattern, it is impossible to predict all the things that people may find tricky.  This space is reserved for answering frequently asked questions and addressing recurring misunderstandings as they reveal themselves to us during the CAL. 
#1 Can I substitute Colour Crafter for Softfun?
Yes, you can. They are similar in weight and will yield similar-sized blankets. 
Softfun is 140m/50g and Colour Crafter is 300m/100g, meaning that you get 20m more of Colour Crafter per 100g.
So if you want to replace Softfun with Colour Crafter, you will need half the balls, which will equal the same yardage (plus a bit for love).
#2 What yarn/colours are you using for the Rainbow Photo Tutorials (Part 7 onwards)?
For the rainbow photos, I am using a Rainbow Scheepjes Softfun Minis Colourpack (all the colours except orage and red).  I am not making a full blanket in this colourway, so I can't give you yardages and round by round colours, unfortunately.  It is LOVELY to work with and the individual colours are available as 50g balls on Wool Warehouse.
2480 – Pink
2495 – Hot Pink
2511 – Dark Turquoise
2515 – Deep Violet
2516 – Apple
2519 – Violet
2603 – Cool Blue
2605 – Emerald
2634 – Bumblebee
2636 – Soft Coral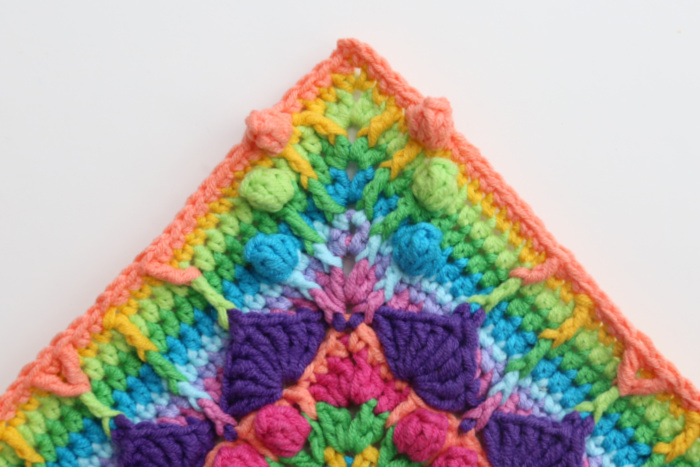 #3 Where is a Good Place to Finish Off Early?
If you do not want to make the entire blanket, there are a few places that you can comfortably stop.
Stopping at Round 74 will give you a neat little border that finishes the blanket off nicely.  If you are using double-knit yarn, this will give you a blanket that is roughly 90cm squared.  If you are using worsted weight or something like Chunky Monkey, this will give you a blanket that is roughly 130cm – 140cm squared.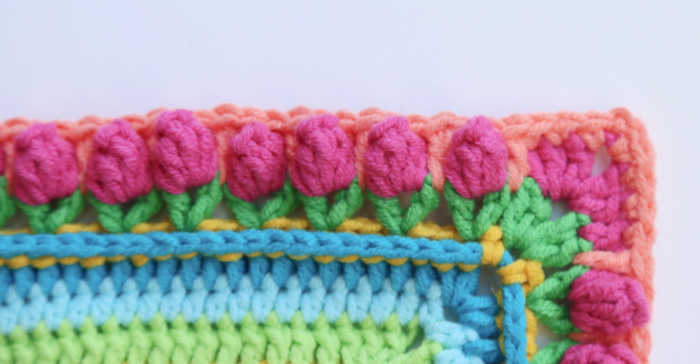 Another option is to stop at the end of Part 9.  This will not give you a neat border though, and your sides will be a bit ruffled still.
So I suggest using my Whipsiderry Border to finish it off.  This border has a lot of single crochets in the first few rounds, which will bring the ruffle back under control.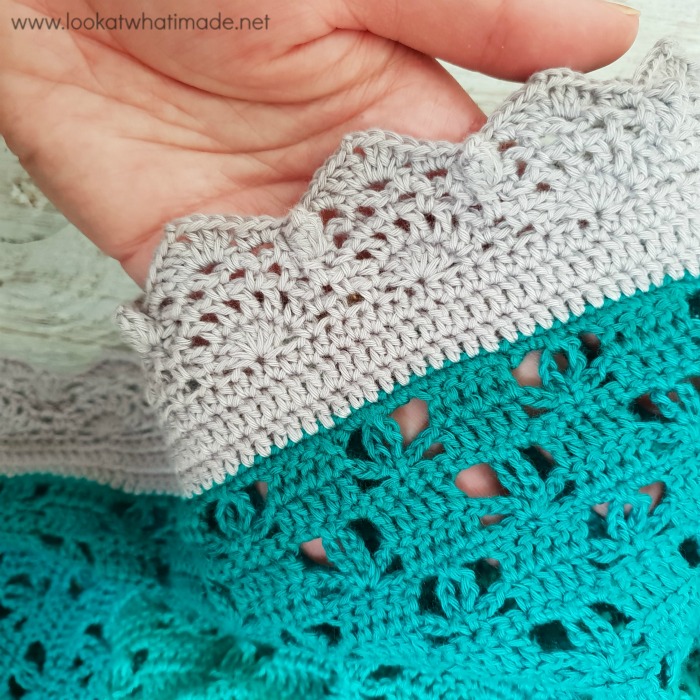 To do this, you will need to add 4 more stitches to each side, so I suggest making a round of BPdc with (2 dc, ch 2, 2 dc) corners to bring you to 205 sts per side.  If you are using double-knit yarn, this will give you a blanket that is roughly 115cm squared.  If you are using worsted weight or something like Chunky Monkey, this will give you a blanket that is roughly 170 – 180cm squared.
Blocking
This particular blanket needs a very light blocking at most.
If you are going to use foam squares to block on, consider buying these Interlocking Foam Exercise Mats.  They are similar to these Knitter's Pride Lace Blocking Mats
 but cheaper.  You will also need some of these Clover Fork Blocking Pins
 (although regular non-rust pins will work as well).
Examples of Charlotte
As the CAL progresses, you will be able to view examples of other people's colourways and works in progress.  For now, these links won't yield a lot, but they will soon!
Ravelry – you can see examples (along with colours and yarn used) HERE on Ravelry.
Instagram – you can find all the images tagged with #charlottesuniverse HERE on Instagram.
More Charlotte Patterns
Testers
Thank you to my fantastic team of testers, makers, and translators!
Aza Karlsson
Ulrika Larsson
Camilla Fredriksson
Anna Moore (Pink Charlie)
Cass Micheli (Sunshine Charlotte)
Loma Groenewald
Carolyn Robinson King
Sabi Bulla (Space for Grace Charlotte)
Lynnette Wilkie (Proofreader)
Jenny Lowman (Latte with Love Charlotte)
Masako Kawahara from Crochet_Hmmm (Charts)
Michael Wassenaar from Mike's Creatieve Wereld (Sunflower Charlotte)

This blog post contains affiliate links. I only link to products I personally use or would use.  All opinions are my own.