Michael Wassenaar from Mike's Creatieve Wereld is making Charlotte in Chunky Monkey.  He will be sharing his progress on his Dutch Vlog weekly (links at the bottom of the post).  I am so pleased that Michael agreed to test this pattern in Chunky Monkey because I LOVE the yarn and was sooo curious to see just how big she would be.  The resulting blanket is already MUCH bigger than my Charlotte, and he's only on Part 10!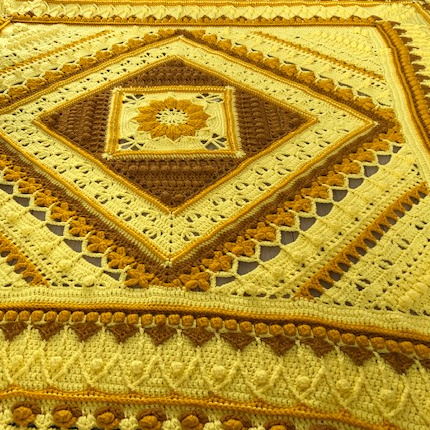 This one is an absolute yarn-eater.  Based on our super maths calculations, she will take a staggering 56 balls of Chunky Monkey, coming in at 260cm(98″) and 5.5kg!!!  I can't wait to see how she grows!
You can follow Michael HERE on Instagram and HERE on Youtube.
Please note that the yardages below are estimates as Michael is still working on the blanket.
Materials
6 mm hook  (US 10/J  UK 4)
Scheepjes Chunky Monkey (100% acrylic), 100g/116m/127yds

Colour A – Lemon (1263) x 33 balls
Colour B – Golden Yellow (1114) x 14 balls *Flowers*
Colour C – Ochre (1709) x 9 balls
Gauge
These are the unblocked gauges at the ends of the relevant rounds:
At the end of Round 13:  27cm (10.6″)
At the end of Round 18:  37cm (14.6″)
At the end of Round 36:  73cm (28.7″)
Size
260cm (98″) – 5500g
Colours Per Round
Follow the Colours for the original Vintage and Sunshine versions as stipulated in the brackets after each round header.
Photos
Vlogs

This blog post contains affiliate links. I only link to products I personally use or would use.  All opinions are my own.