This beautiful blanket has been made by my dear friend and tester, Sabi Bulla.  I LOVE IT!  Skies light is a gorgeous yarn to work with, and it has a beautiful, subtle stonewashed look.  Sabi is one of the admins in the Facebook Group and you will soon learn that she has a great sense of humour and a wonderful way with words.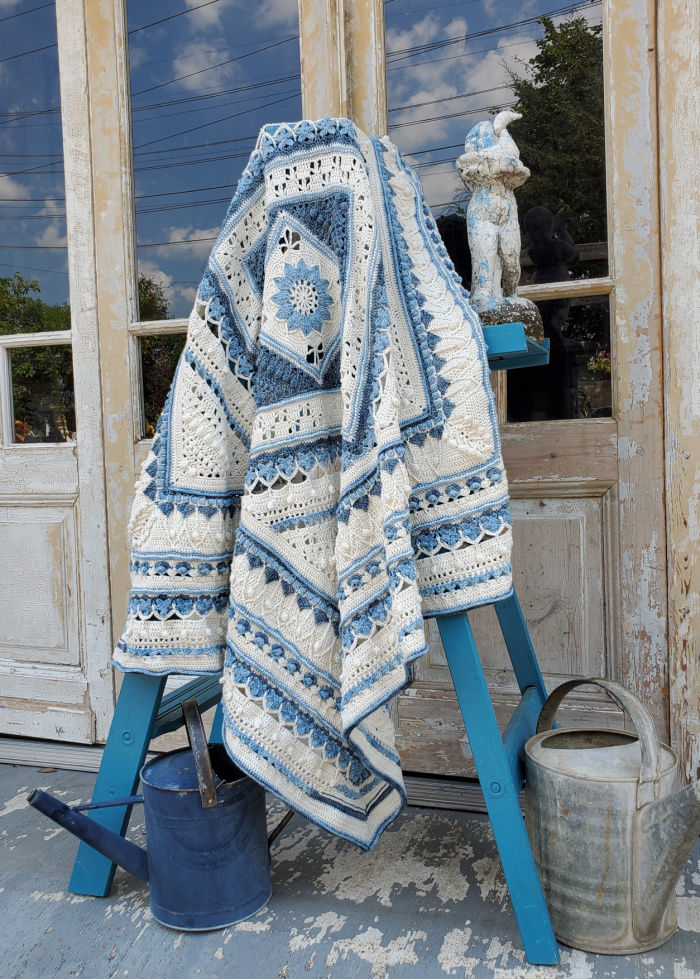 In this version, Sabi has chosen to use a Main Colour (A) and two blues as Contrasting Colours.  Most of the flowers are made with Colour B, and Colour C is used as an accent (and for the leaves of the Roses).  You can achieve a similar look in any colour by substituting Colours B and C for a light and dark version of the same colour.
Materials
3 mm hook  (UK 11)
Scheepjes Skies Light (100% cotton), 100g/340m/370yds

Colour A – Undyed (118) x 7 balls *Main Colour*
Colour B – Cirrocumulus (109) x 3 balls *Most of the Flowers*
Colour C – Altocumulus (112) x 2 balls *Accents and Leaves*
Gauge
These are the unblocked gauges at the ends of the relevant rounds:
At the end of Round 13:  13cm (5″)
At the end of Round 18:  18cm (7″)
At the end of Round 36:  36cm (14″)
Size
122m (48″), 950g.
Colours Per Round
Follow the Colours for the original Vintage and Sunshine versions as stipulated in the brackets after each round header.
Photos

This blog post contains affiliate links. I only link to products I personally use or would use.  All opinions are my own.