Hello and Welcome to the Ubuntu CAL 2018.
You have no idea how excited (and how nervous) I am about this CAL.  Where have I heard that before?  Oh yes!  Those were the exact words I wrote when I shared the information post for Sophie's Universe almost 4 years ago now and I think they will ring true for every BIG project I embark on.  I hope (with all my heart) that you will enjoy making this blanket with us.  May you learn lots of new stitches and make many, many good friends along the way!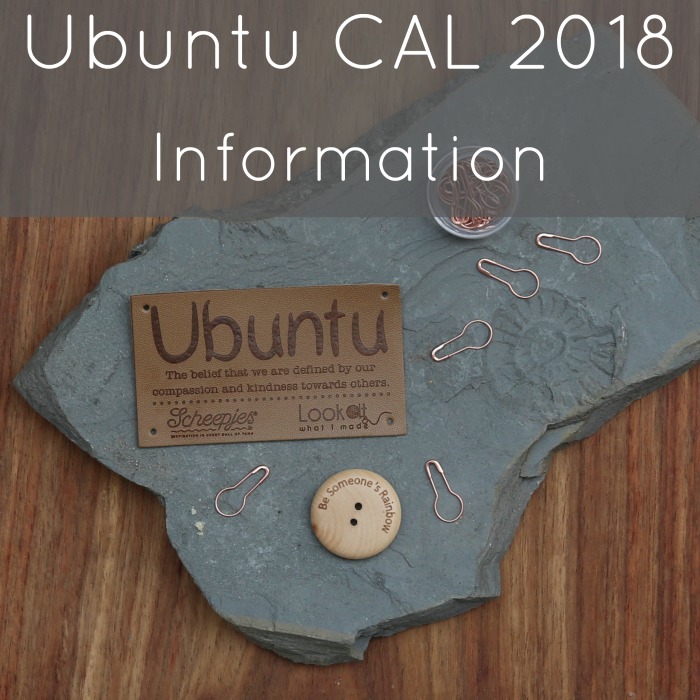 Ubuntu CAL 2018
The Scheepjes Ubuntu CAL 2018 starts on Wednesday 12 September 2018 (next Wednesday!!!) and will last for 12 weeks.  The instructions will be shared by Scheepjes as free weekly PDFs (with weekly tips by me – see Timeline below).
During the CAL, you will be creating a hexagonal blanket with a central star (created by joining 6 diamonds) and lots of floral detail.  The theme behind the CAL, UBUNTU, is a theme of kindness and caring for those around us;  a sense of community and belonging.  You can read more about that HERE.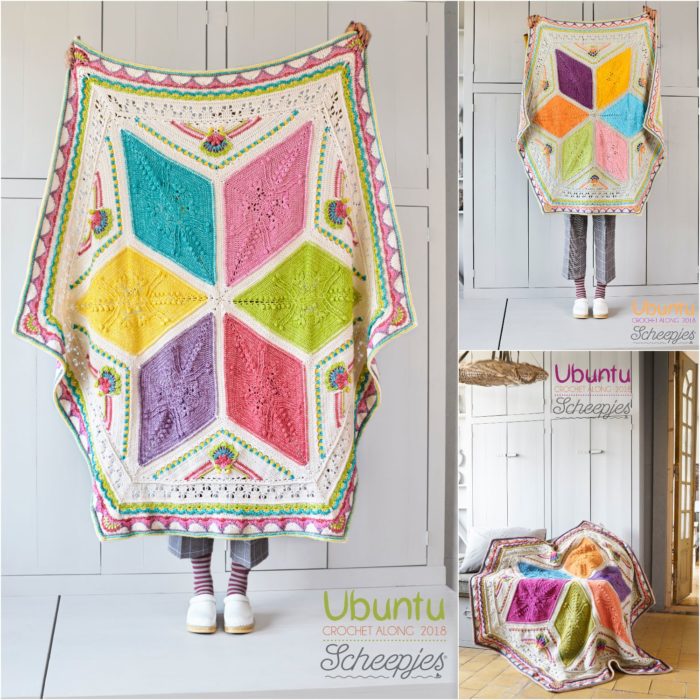 Index
Resources
* Please see Special Stitches and Techniques for actionable information about gauge, especially if you bought a kit!
Translations
Translations will be available in English (US and UK), Swedish, Danish, Dutch, French, German, Spanish, Czech, Finnish, Norwegian, and Hebrew.  You can find all the translations HERE on the Scheepjes Website (at the bottom of the post for each part).
Difficulty
Although this is an intermediate pattern, it has been written specifically with adventurous beginners in mind.
Special Stitches and Techniques
If you would like to brush up on your skills while you wait for Part 1 (or have any queries along the way), please have a look at the Special Stitches and Techniques Photo Tutorial for this CAL.  I especially recommend looking at the Gauge information as it is SO IMPORTANT!  Plus, it will give you something small but tangible to do while you wait for next week :)
Ubuntu Kits
Kits are available in 3 sizes:  Small, Medium, and Large.  If you would like more information about the kits, please see THIS POST.
Kits are available from most Scheepjes retailers:
Ubuntu CAL 2018 Timeline
Helpful Templates
Bookmark:  I have created a little bookmark to help you organize your colours for the CAL.  You can find the template HERE.  You can either print it on regular paper and laminate it, or you can print it on cardstock.
Important Tips
GAUGE!!  Please see my tips on making a gauge square before you start this journey!
I am so looking forward to sharing this CAL with you!
Photo Tasks
Just like with Sophie, I thought it would be fun to do some photo tasks as a way of getting to know each other better.
I would love it if you would share these photos with me on Instagram so that we can all 'Ooooh' and 'Aaaah'!
Please note that these photo tasks are not 'officially' part of the CAL.  I kindly request that we keep these photo tasks out of the Facebook groups as the groups are dedicated to supporting the technical aspects of the CAL.
If you don't have Instagram, please feel free to use the Contact Me button at the top of this page so that we can open a dialogue and exchange photos via email.
Testers
I would like to thank the following people for testing this pattern:
Pat Laurenti
Ulrika Larsson, Camilla Fredriksson, and Åza Karlsson (Swedish Translators)
Minno Baarman
Sonja Hollands
Jenny Lowman
Therese Eghult and Kela Ahnhem (from Sisters in Stitch)
Translators
I would also like to thank the following people for translating this pattern out of the goodness of their hearts:
Czech – Hana Drozdová
Danish – Nann Møller-Ottesen
Finnish – Milla Elo, Päivi Metsola, and Mervi Järvensivu
French – Nathalie Robichon
German – Karin Koch
Hebrew – Sarit Grinberg
Norwegian – Hilde Tildlund
Portuguese – Ana Morais Soares
Spanish – Lynda Hernandez
Swedish – Ulrika Larsson, Camilla Fredriksson, and Åza Karlsson
US to UK – Theresa Pearson

This blog post contains affiliate links. I only link to products I personally use or would use.  All opinions are my own.