I feel like the title of this post should have been '!!!!!!!!!!!!!!' or 'Stop the Presses'!  Something to echo the speed and sound of my heart racing away in my chest!  It has been more than three years since I embarked on the Sophie's Universe CAL (crochet-along).  I kept meaning to do another CAL, but the amount of work that goes into a project like that is staggering and I felt so overwhelmed that I couldn't even contemplate tackling something so huge again…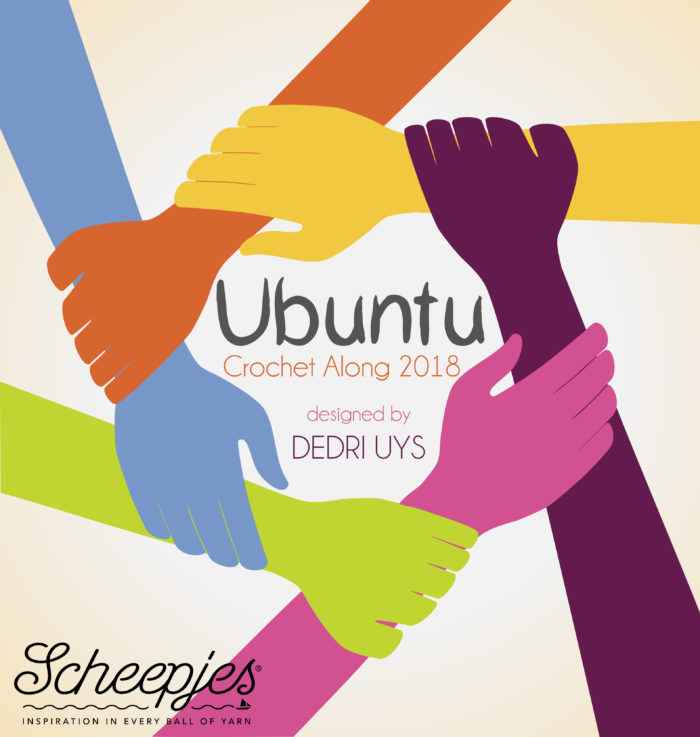 …until Scheepjes asked me if I would like to design their 2018 CAL.  Surprise!
If you made Sophie's Universe or Charlotte's Dream, you will know that I spend A LOT of time on my designs.  I want them to be unique and I want them to be interesting and complex.  I want them to tell a story!  Once I have created a design, I want the pattern to be written in such a way that an adventurous beginner can follow along.  I want everyone who participates to have all the tools they need to not only follow my pattern but to grow in their knowledge and love of this wonderful craft of ours.  I want them to walk away feeling inspired and empowered.  I want them to look at their work and feel like a child running up to someone they love, pride glowing in their face, saying:  'Look at what I made!'
With so many things on my 'I want' list, it takes me a very long time to get to a place where I feel marginally ready to share a big project with the world.  In this case, it took more than a year and a half (and MANY testers) from first being asked to design this project to finally being able to share it with you.
I cannot tell you what it is yet and I can't show you any photos.  You will have to wait until next week for that.  But I CAN tell you that I have put my heart and soul into creating something I hope you will love.
I can also tell you the name of the CAL:  Ubuntu.
The word Ubuntu in a Nguni Bantu term meaning "humanity towards others" or "I am because we are". Through Crochet-alongs, I have found a community that constantly reminds me of the essence of Ubuntu:  connection, community, and mutual caring for all.  We wanted to honour and celebrate that in this CAL, both in the design and how we choose to engage with each other as we embark on this journey.
This project means a lot to me, and I'm thrilled that I will soon, once again, be swathed in the happy hubbub of a large communal project!  I hope you will be able to join us, whether you are an old hand at CALs or have never done one before and would like to see what all the fuss is about.
It's going to be a blast!!!

This blog post contains affiliate links. I only link to products I personally use or would use.  All opinions are my own.
ps.  Scheepjes released the first teaser for this CAL on Wednesday (18 July 2018), which was also Mandela Day.  I think this is so fitting, because Mandela showcased the spirit of Ubuntu in his daily life and interactions with people, as well as in the legacy and teachings he left behind.  In fact, when Obama spoke at Mandela's memorial, he spoke about Ubuntu.  You can find the clip HERE if you would like to see it.