I have embarked on a new adventure… or rather, an old adventure with a new twist.  This time, I am basking in dusky pastel colours, reminiscent of period dramas and sultry summer evenings in the British countryside (with a little bit of South Africa thrown in for fun).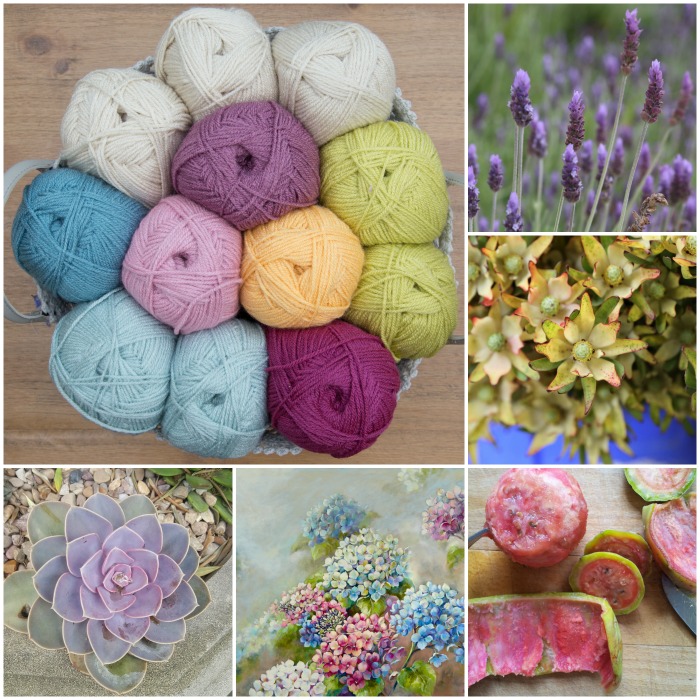 This journey has been a bit bizarre.  Usually, I start with a very clear element of inspiration – a place, a person, a drawing, a photo… Once I have that, I choose the colours that best embody that inspiration (in my mind, at least).  This time, I started with an existing pattern repeat and a vague idea of colours. This might not sound like a problem – pattern, tick;  colours, tick – but it was!
Designing, for me, is as much about the sentiment and nostalgia as it is about the stitches and colours.  Having found myself with a set of colours and trying to work my way back to exactly why those colours spoke to me proved to be a very tricky endeavour.  The more I tried to pin down my inspiration and find a name for the blanket, the more complicated and exciting the puzzle became.  This is going to be a long post with LOTS of photos.  I know that some of you have limited time, so I have broken this post down into the following two parts:  The Important Bit (yarn and colours) and The Cup-of-Tea Bit (lots of talking and photos).
The Important Bit
I will be using Scheepjes Colour Crafter (100% acrylic/100g/300m) for this project (available from Scheepjes Stockists).  Colour Crafter is a lovely, bouncy, affordable acrylic with a huge variety of colours.
My friend Kay helped me choose the colours – she is more confortable with pastels than I am.  We decided on Zandvoort (1218), Delftzijl (1822), and Goes (1820) as the three main colours.  These colours are meant to represent stone, foliage, and evening sky.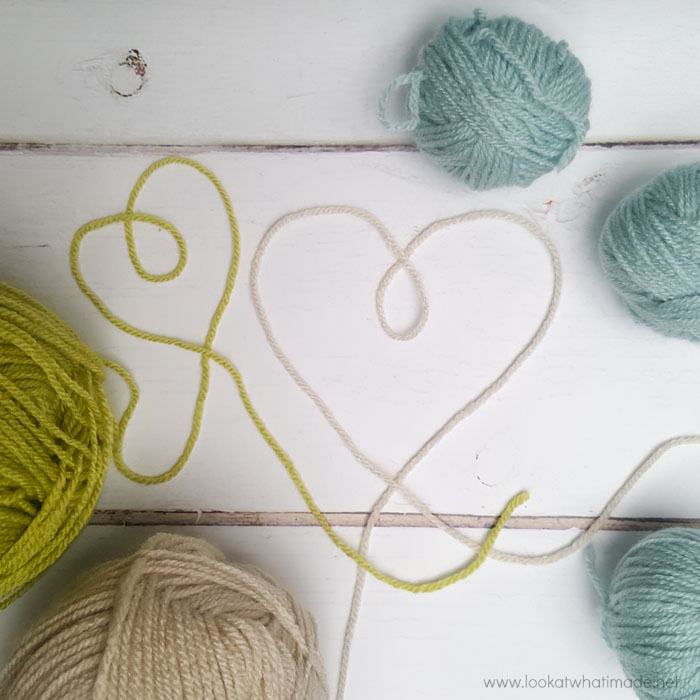 For the contrasting colours, we chose Gouda (1081), Venlo (1080), Alphen (1722), Hoorn (1067), and Zutphen (1828).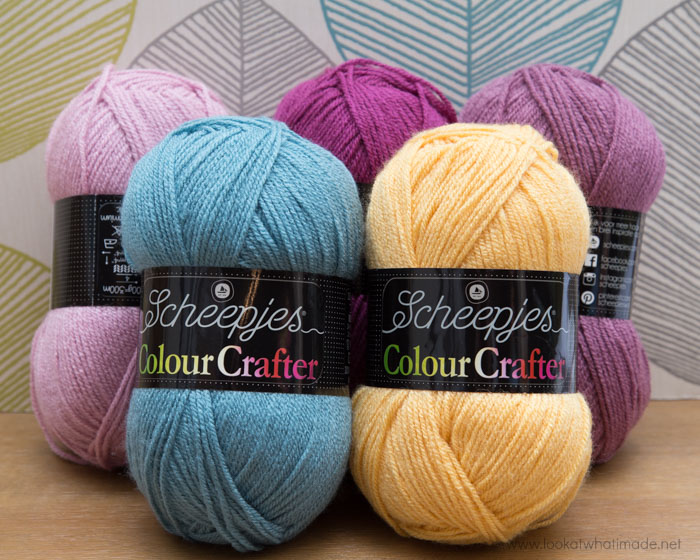 You will notice that these are not my usual colours, but just wait until you see how they play together!  I will show you a sneak peek next week.  In the meantime, I would love to know what these colours remind you of and what you would call a project made in these colours – yes, I am fishing for names, although I think I've finally hit on the perfect one!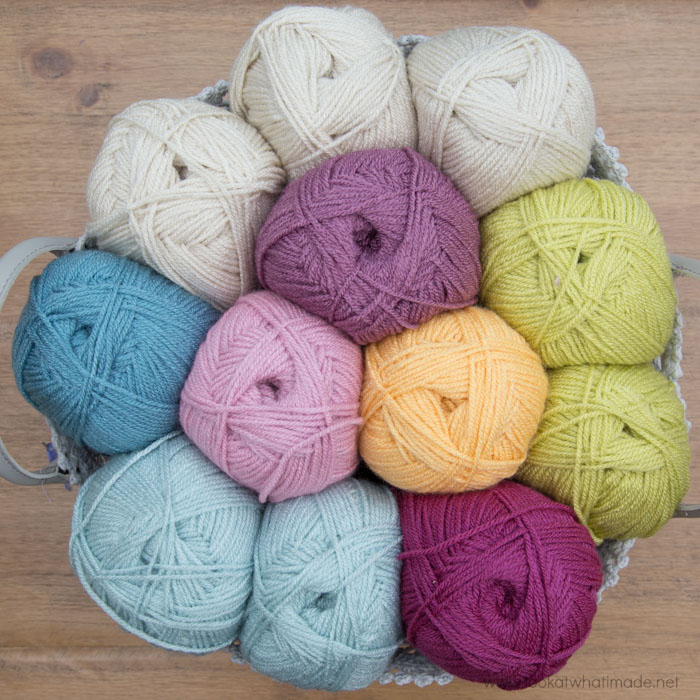 Follow Our Memory Lane Journey
Memory Lane Blanket:  Yarn Arrival (This Post)
The Cup-of-Tea Bit
I think the only way to approach this part is from the beginning, so here goes.
I have been planning to make this particular blanket (spoiler alert) for over a year.  Between my contributions to the Yarn Bookazine, my column in Inside Crochet, growing Charlotte, working on the Sophie's Stool Kit, and focussing on a super exciting top secret project, I just couldn't envision finding the time to make it myself.    I realized that I could either ask someone to make it for me, or it might never get made.  I asked my friend Kay if she would be willing to make it (you might remember Kay helping me crochet some rounds of the Stonewashed XL Sophie when the CAL was still running).  Kay came over for tea (and a bit of a yarn organisation session) and after a lengthy debate, we decided on the colours listed above.
I told Kay that the colours made me think of Highclere Castle where Downton Abbey was filmed – particularly the Secret Garden.  I'm a huge Downton fan!  I was quite pleased with myself.  I thought Highclere would be a lovely name.
Kay told me that the colours reminded her of the Cotswolds (particularly the stone and the sky).
I Googled the Cotswolds because I thought I had never been, but then realised that I had!  When Mr. Lookatwhatimade first came to England (two years before I could join him), he found a job as a Commis Waiter at Lords of the Manor in Upper Slaughter.  When we were both (finally!) living in England, we went on a trip to Bourton-on-the-Water, Stow-on-the-Wold, and The Slaughters so that he could show me 'his valley'.  In fact, that's where we bought the #iseememoriesblanket (our ugly, 50p charity shop blanket).
All of a sudden, I was torn.  Should I call the blanket Highclere, or should I call it Cotswolds?  Both were apt, but neither felt exactly right.
When I asked Simy Somer what the blanket and/or colours reminded her of, and she sent me this photo of a Notting Hill Street.  For her, the colours were Hugh Grant and Julia Roberts.  Coincidentally, Hugh Bonneville was one of the actors in Notting Hill (one of my favourite movies), so another tick for Highclere as he was my leading older crush in Downton!  These houses reminded me of the colourful houses in the Bo-Kaap in Cape Town – specifically those in Chiappini Street.
Even though the colours were right, I was stuck on a floral theme, so I started Googling 'Country Gardens' and came across this photo:
Aren't the colours just perfect?  The photo reminded me of the lavender bushes at my parents-in-law's farm…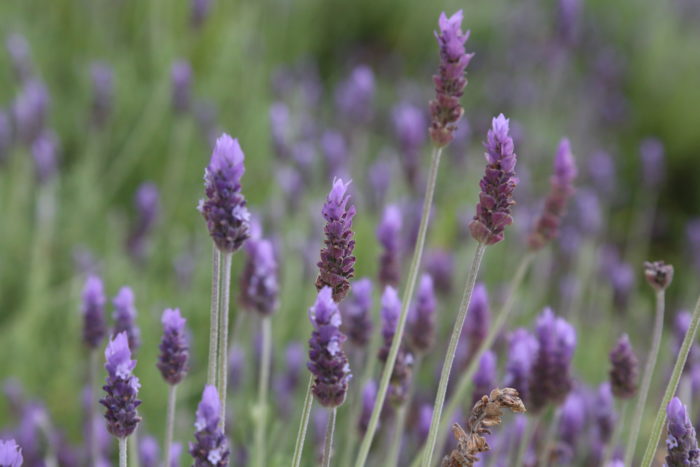 … and the frosty winter morning when I took this photo of a lavender bush on our street.  I remember taking the photo and being struck by the contrast between the two photos… one capturing a balmy South African evening, and one capturing a frosty British morning.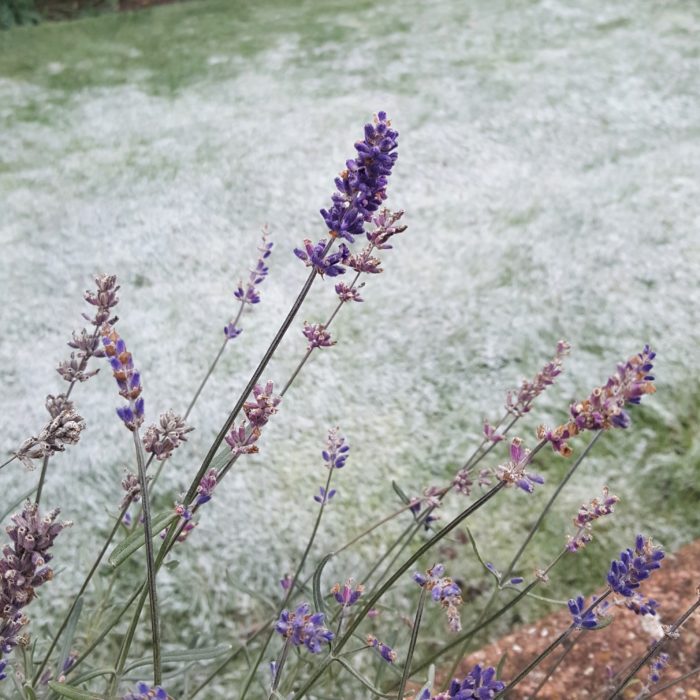 While I was looking for the lavender photo in my 'South Africa' file, I came across these photos of the fynbos bouquets the boys picked for me when I was doing the South African tour last year.  Isn't it amazing how the same colours can have such a different feel?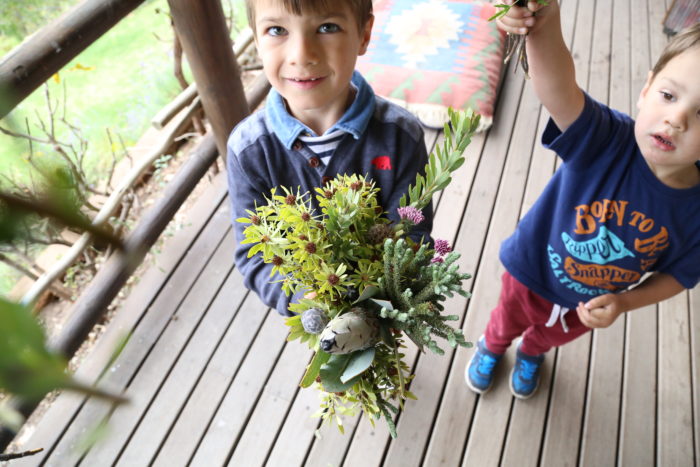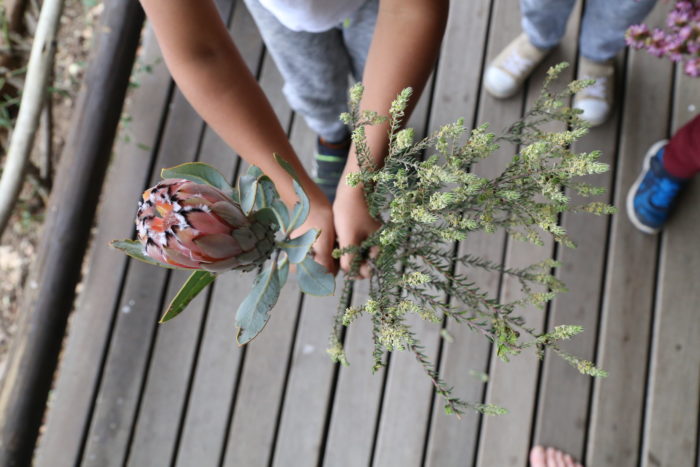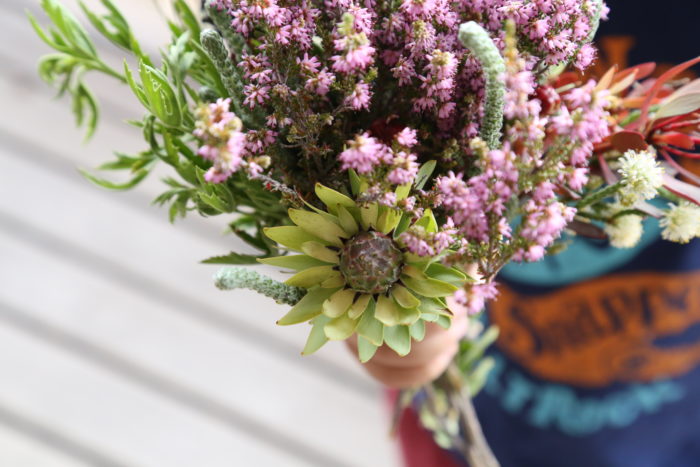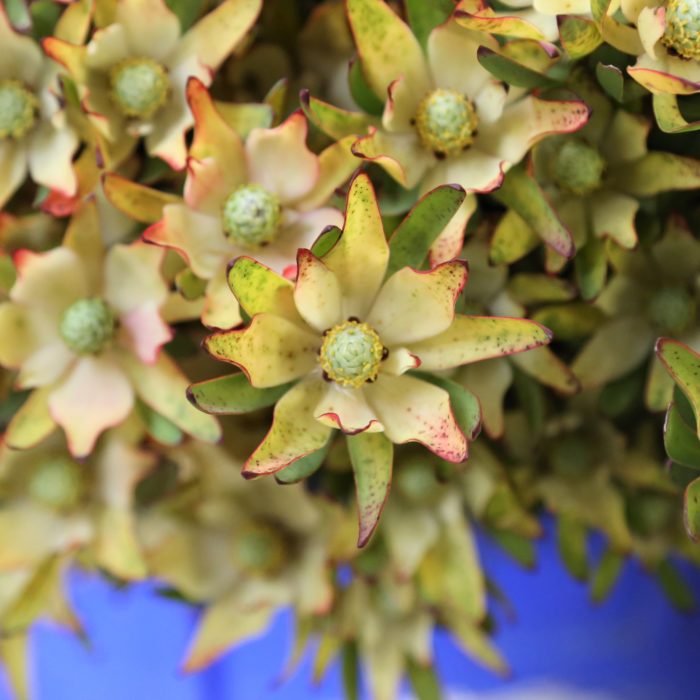 Now I was even more confused on the name front.  On the inspiration front, however, I was starting to realize something interesting.  What had felt like a vague and slightly random colour-choice was actually a reflection of my life and memories.  The more of my photos I scrolled through, the more I realized that a staggering number of them featured the same colourway and that each one held a universe of stories and memories, like this one: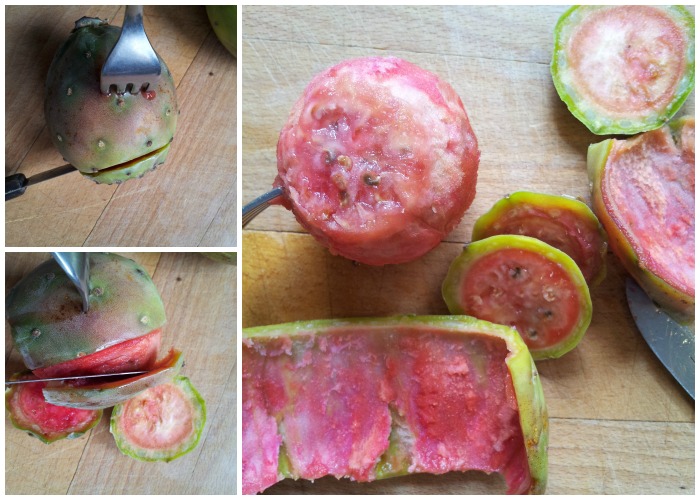 That prickly pear was a gift from one of the consultants at work.  I had told him that prickly pears were my favourite fruit and that I missed them dearly.  He went to Selfridges and bought me three prickly pears.  They cost more than a whole bucket full of prickly pears would have cost in South Africa!  I can remember travelling home with the bag clutched in my fist, eager to show Mr. Lookatwhatimade my bounty.  I can remember the excitement of putting them in the fridge to cool before peeling and slicing them.  I can remember there being only one slice left for me by the time Mr. Lookatwhatimade and the boys had helped themselves, and I can clearly remember how amazing that one slice tasted as it threw me back almost two decades to my giddy summer of first love.
Scrolling some more, I came across this photograph, taken while we were walking back to the station after a trip to the Imperial War Museum over the summer holidays.  Yes, it is just a succulent, but it reminds me of the mayhem and joy of that day, of my elation when my first succulent blossomed (and the sadness of it promptly dying afterwards), and of playing house under the Spekbos (Elephant's food plant – Portulacaria afra) with my eldest brother when we were still knee-high to a grasshopper.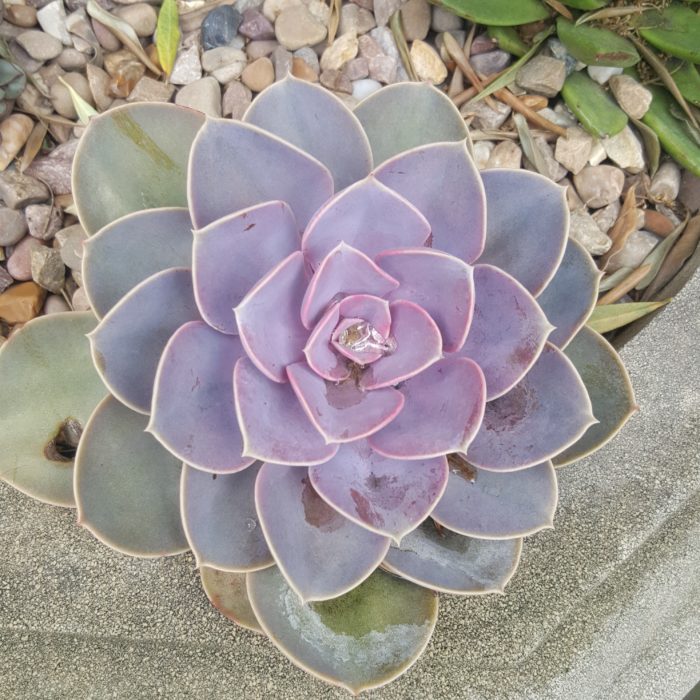 That very week, I had taken a photo of my neighbour's Hydrangea bush…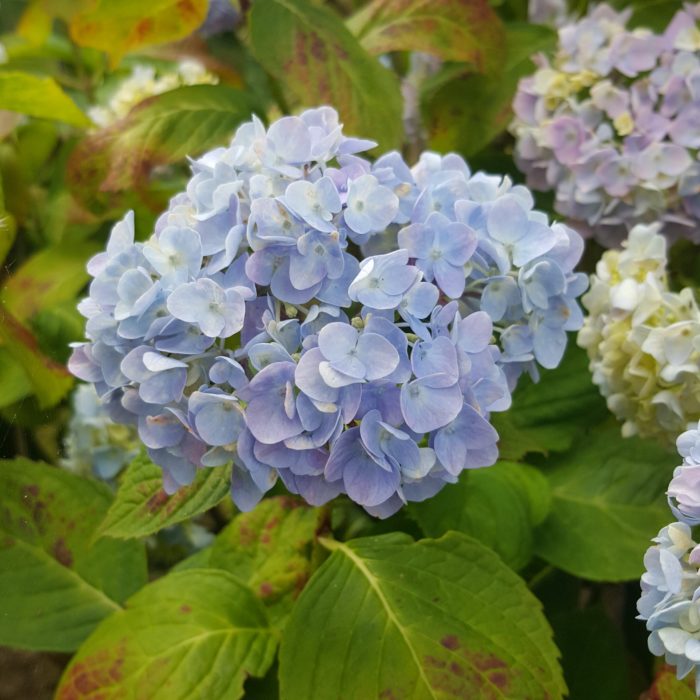 … only to see this painting by Nel Whatmore shared on Facebook that same evening!  Seeing it reminded me of attending the Chelsea Flower Show last year (for the first time) and being able to see Nel's work in person.  That brought back a whole lot of related memories and stories too.
Just the week before, we had had a family painting session, and this was Mr. Lookatwhatimade's first attempt at oil painting (it looks very different after a few more layers).  When I first met Christiaan, dressed in shorts and flip flops at a Kareoke bar, I never would have imagined that he had an artistic streak.  I have been encouraging him to start painting again for… oh… probably five years?  Watching him and the boys discuss colours and shades and technique made me happier than I can put into words.  So there is another memory that has entwined itself with this specific colourway.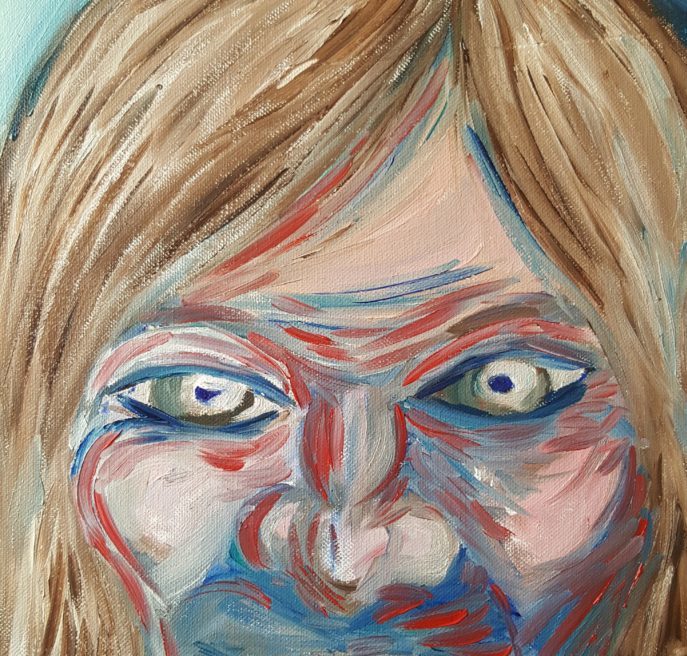 My point (if there is one) is that sometimes a journey is straightforward – like when I decided to do the Namaqualand blanket or Summer in Swanage and chose the colours accordingly – and sometimes a journey is complex and revealing – like this one.
Of course a project can be 'just a project', but for me, nothing is ever 'just' anything.  I map my life by the sights I see, the sounds I hear, the memories I have, and the things I make.  Tieing them together intensifies the enjoyment and strengthens my sense of self and family.
I hope you will come back next week to see some work-in-progress pictures :)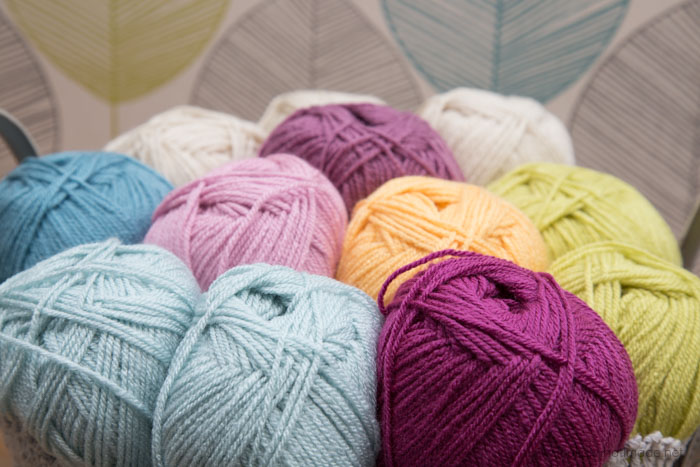 Have a lovely weekend!

This blog post contains affiliate links. I only link to products I personally use or would use.  All opinions are my own.