Heehee, I hope you're excited to see the Lynda Blanket!  I LOVE how it turned out (I think I might have said that already… a few times)!!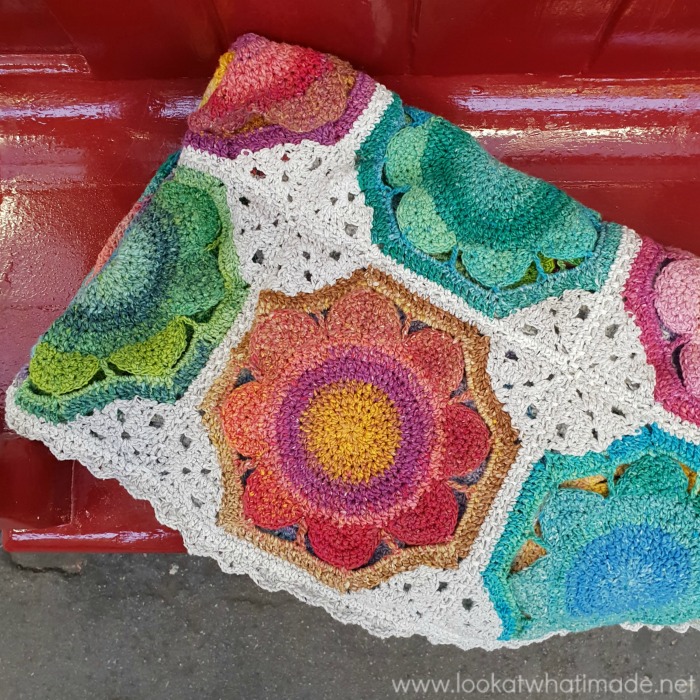 Last Thursday, I had one of those dreaded 'good service on the Piccadilly line' delays on my way home.  Usually, tube delays trigger a LOT of negativity for me, but that one didn't!  Here's why:  I was sitting there at Baron's Court, grumbling to myself about the fact that I just wanted to get home, worrying about taking nice photos before the sun went down and WHERE I would take the photos.  I looked down at my lap and focussed on the fact that the red of the bench always makes me happy.  And then I thought:  "That would make a lovely backdrop for some photos."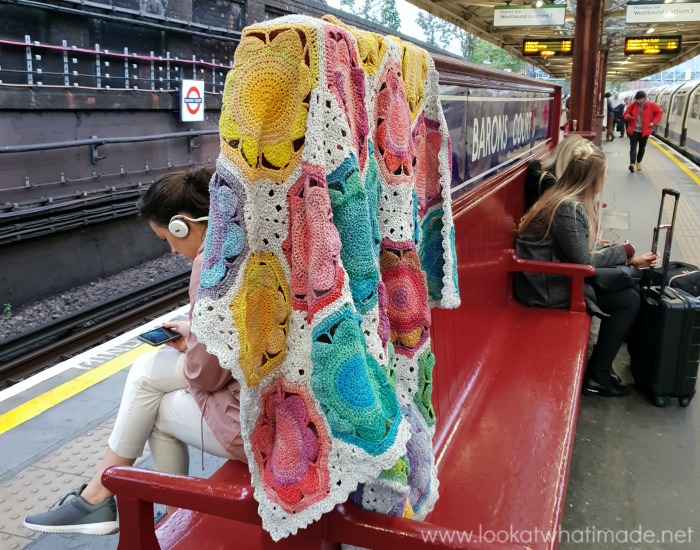 So I spent my 15-minute wait taking loads of photos of the blanket.  I had a little inside giggle at what the people must be thinking about my schenanigans.  To be fair, you see all sorts in London, so a middle-aged woman draping blankets over benches is probably not that bizarre.
This encounter was not unlike the time I took photos for my Lydia Blanket Reveal at the cemetary between Baron's Court and Charing Cross Hospital one morning.
The photo below was my favourite.  I would have loved to get the bottom of it in as well, but I was mindful of the fact that there were tube tracks behind me and 'PLEASE STAND BEHIND THE YELLOW LINE' blaring over the tannoy.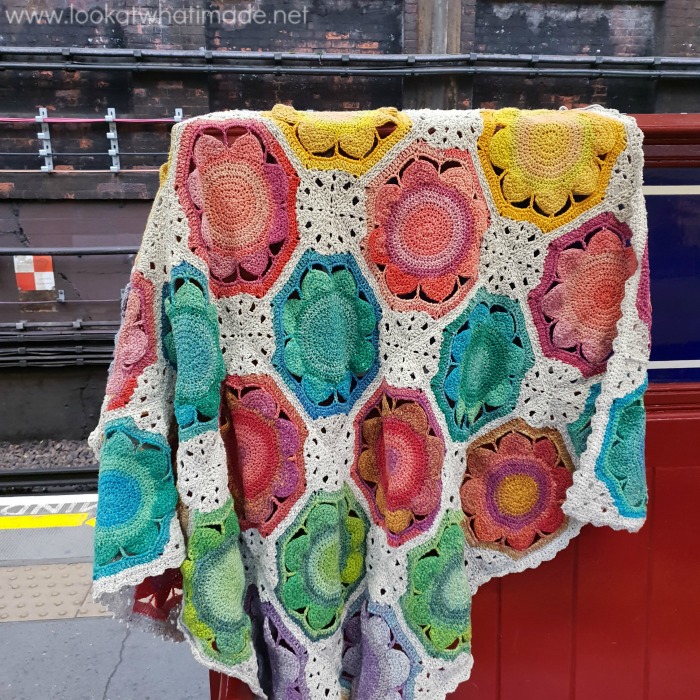 Here you can see a bit more of it.  If you look at the ochre/purple/pink Octagons, you will notice that each one works up differently, depending on where the colour-changes fall.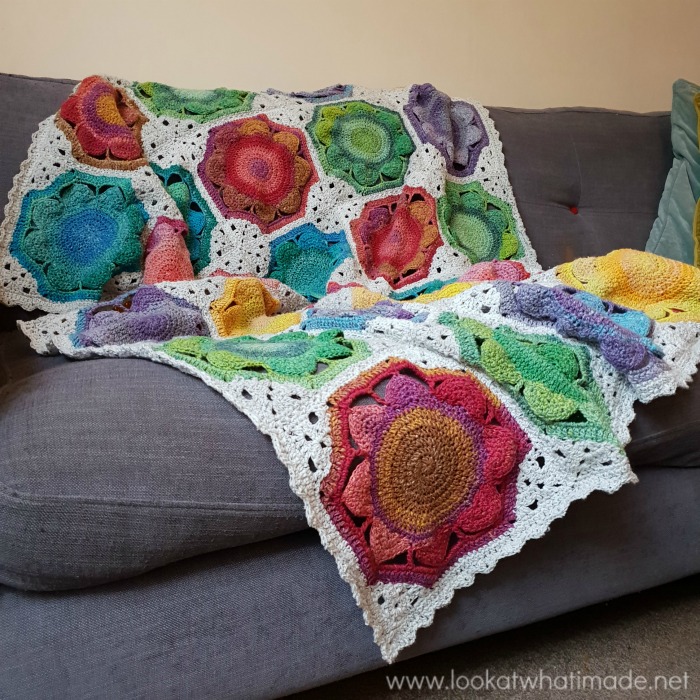 This unpredictability is one of the things I most enjoyed about using Scheepjes Secret Garden for the motifs (and figuring out the final layout).
First, I used a photo of just one square to make a mock-up of the blanket so that I could see if my vision for it would even work. For the record, I think it would look great in one colour, keeping in mind that each octagon will look different as discussed above.  Then I used one image of each colour to create mock layout options.
I finally decided on a diagonal sequence.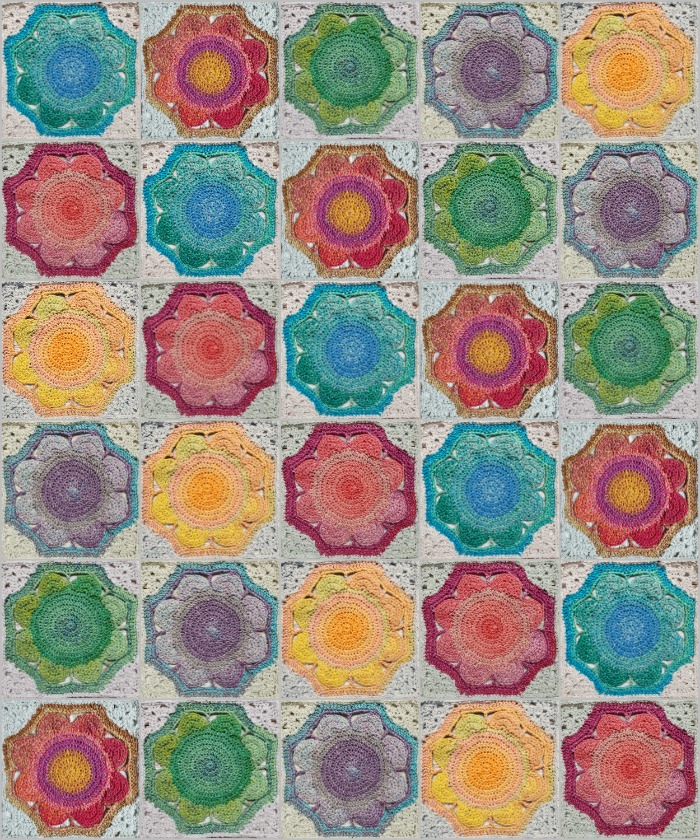 Having decided on my layout, I still wasn't quite sure how the actual squares would play together (because they are all different, have I mentioned that yet?).  I then spent a delightful hour (or two) moving all the furniture out of the way and physically arranging all the squares on the floor until I was happy with the balance.
In the photo below you can see more examples of how each flower differs.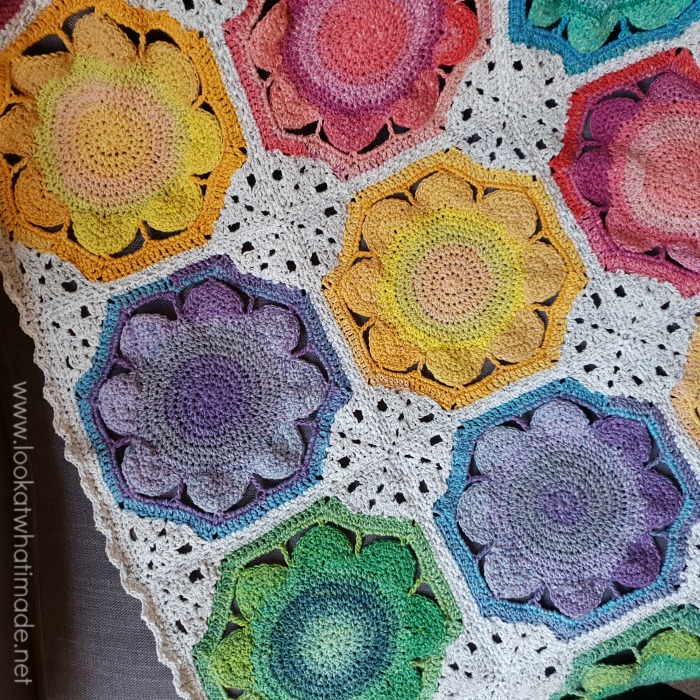 Having joined all the squares, I opted for a simple border so as not to distract from the colourful flowers in the blanket.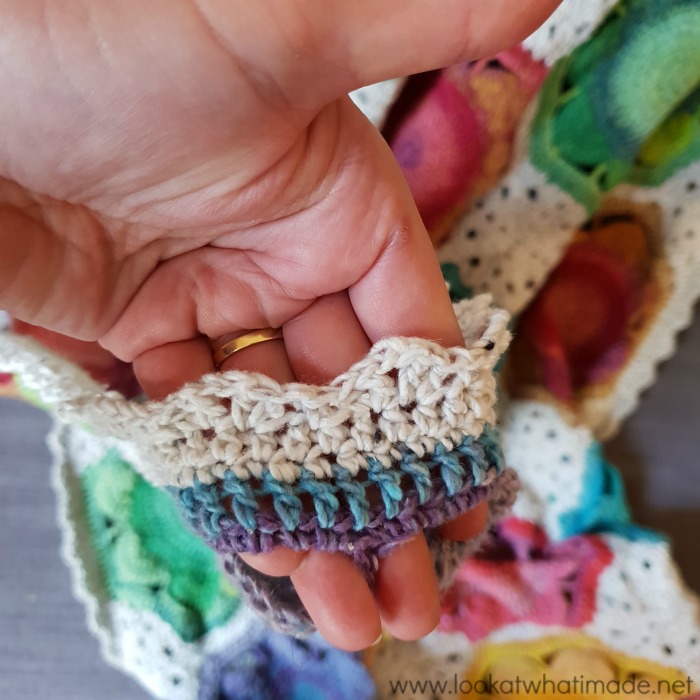 Finally, I asked Boys 1 – 3 to help me take a photo of the finished blanket.  Boy 3 is on the right, moaning about getting back to his Fortnite game; Boy 2 is on the left, asking if anyone will be able to see that he is only wearing underpants;  Boy 1 is in the middle, standing on his tiny tippy toes and trying to be as tall as his brothers.
When I look at this photo; at this blanket, at these hands and feet and the boys they belong to…
… It confirms (affirms) that "Look at what I made!" feeling I want each of you to delight in every time you create something!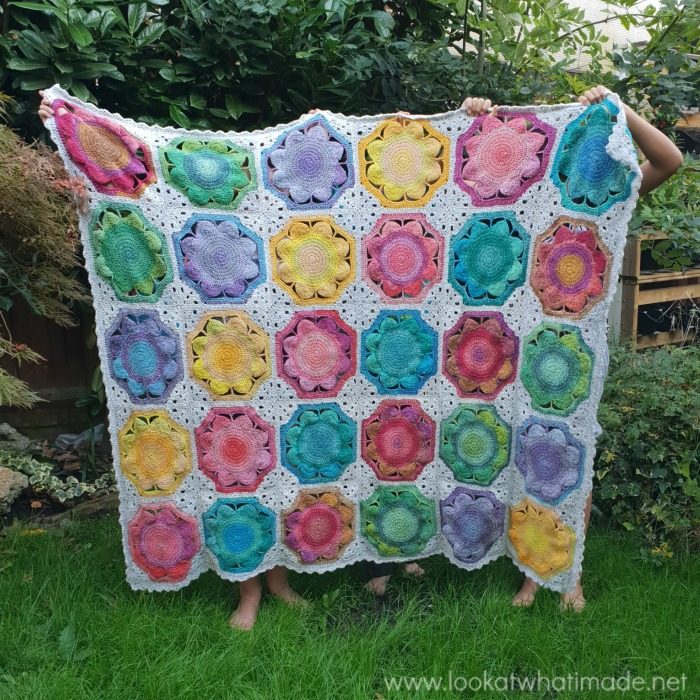 I will be sharing the pattern next week Thursday (as well as where you can buy yarn kits, should you wish to).  I can't wait!
I hope you have had a fantastic Thursday.  My day was filled with ups and downs and three four five very ups (if 'very ups' isn't a thing, it should be), equalling a total of pretty darn wonderful.
---
Want to see more of our Lynda Blanket journey?
Lynda Blanket Reveal – This Post

This blog post contains affiliate links. I only link to products I personally use or would use.  All opinions are my own.
---
More Free Patterns
---