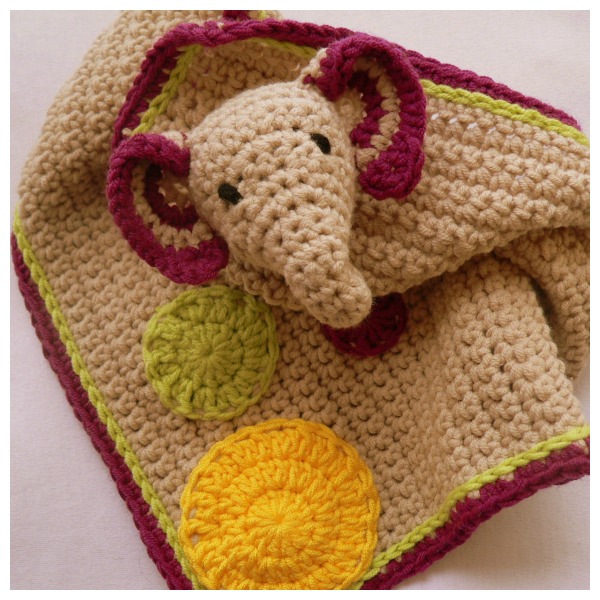 Just over a year ago I published this pattern for Grace the Crochet Elephant Lovie. The pictures weren't that great and a few people had issues with the instructions for the elephant's head.
I have now updated the pattern with better photos and a simplified head. After thorough testing (both in this pattern AND in the pattern for Meimei the Baby Elephant), I am pleased to report that it is now easier to understand.

I was toying with whether or not to add a pair of legs (arms…whatever), but have decided against it. You are welcome to add your own, though. You can find instructions for the legs here.
Another thing that was bugging me about this pattern is the "untidy" (some might call it ugly) look between the blanket and the round of contrasting single crochet (the border). I have found a solution in the form of surface slip stitches and have included a link (to this tutorial) in the pattern.
If you want to know a bit more about this pattern (like the inspiration for the name and other little ramblings), you can read the original post here.
To view (and save) the updated PDF Pattern for Grace, click HERE.
Are you a Ravelry member? If so, here is a link for adding the pattern to your Ravelry queue.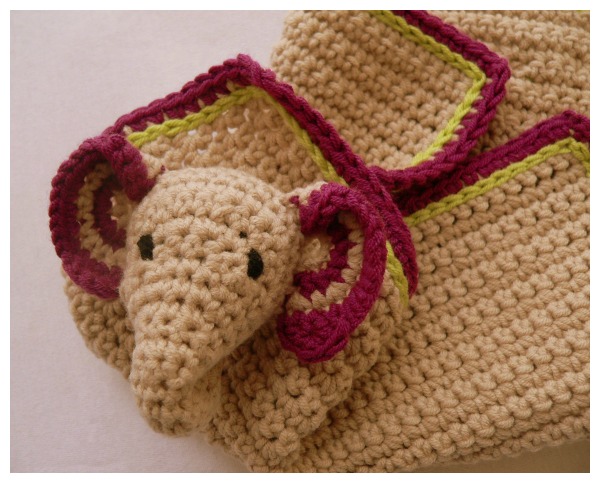 Here are some more photos of my elephant comfort blanket. I hope the recipient likes it. Or if she doesn't, hopefully the little wriggler in her belly will!
Thank you to Michele Henson, Lisa Robson, Terry Spears and Kimberly Slifer for testing the pattern for me. A huge Thank You to Venetia Smith, who once again helped me edit it.
Oh, I forgot to mention that the blanket is now slightly smaller than the original. It should be more proportionate now, Kimberly. Using the hook and yarn specified, the resulting lovie (comfort blanket) will be about 24 cm x 24 cm (just over 9.5" x 9.5").
Related Free Patterns
Remember to subscribe to my newsletter if you would like to be kept in the loop. You can also like my Facebook page or follow me on Bloglovin or Google+.
Happy Hooking!