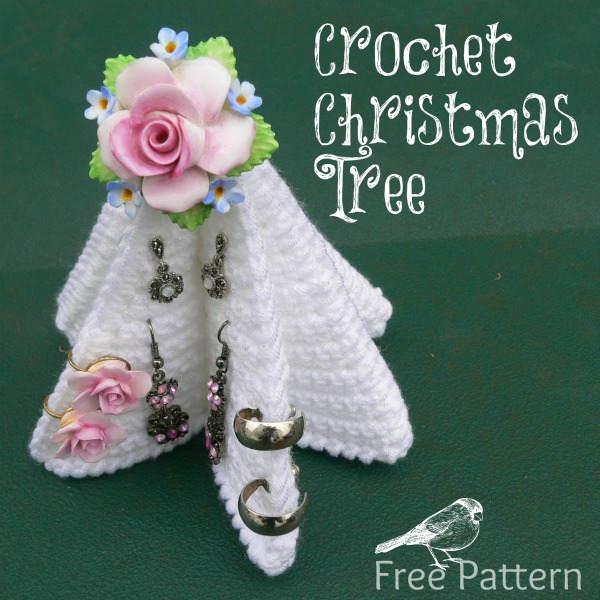 This is such an easy little Crochet Christmas Tree.  I used my friend Pam Perkins' free Foldable Desktop Christmas Tree Pattern.  I love all of Pam's designs.  I have said this before, but Pam is very much in touch with her inner child and her designs are whimsical and wonderful.  
Three of my favourite Grandma Perkins designs are the Amazing Flying Doily, the Magical Flower Child and her Crocheted Folded Fortune teller, all of which she kindly guest-posted about here on my blog.  
Oh, and don't forget the Infinity Puzzle Bracelet Pattern, which I used to make this Crochet Chain Link Scarf.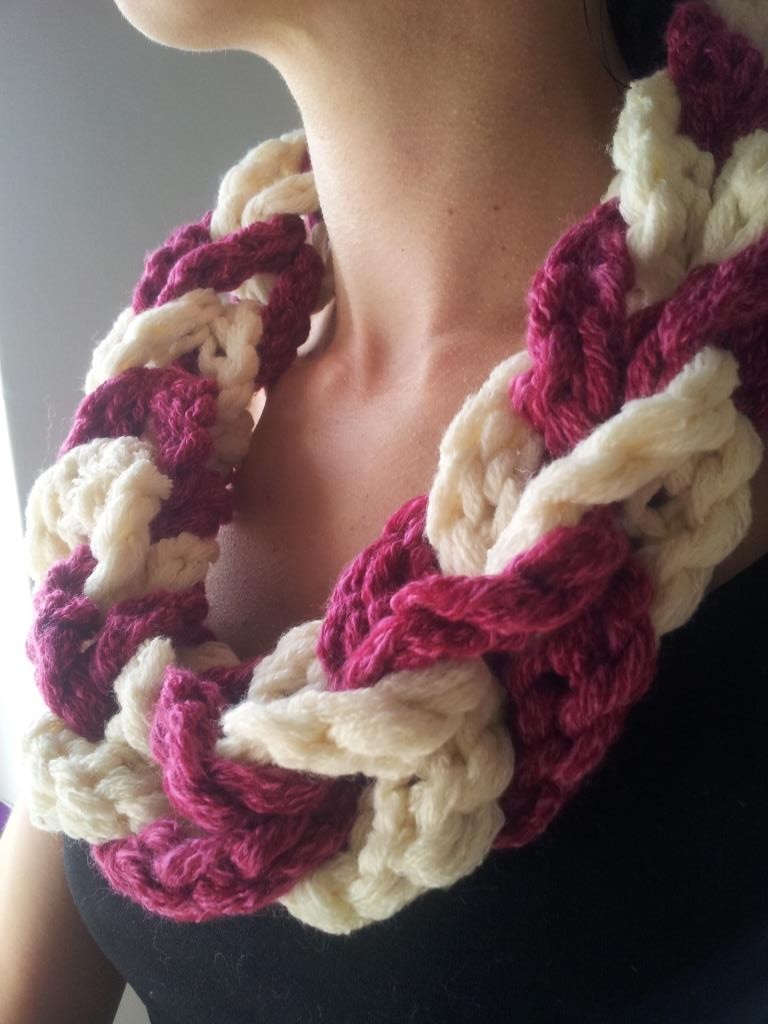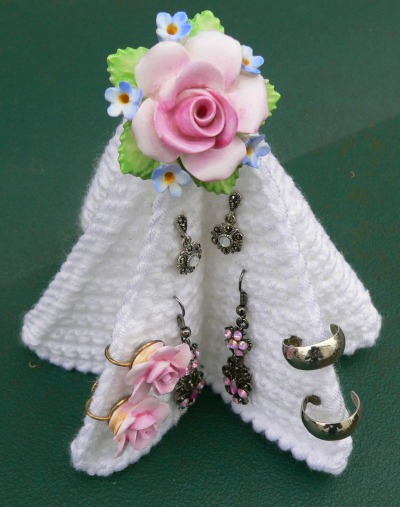 The next one on my list is her Magical Flower Chain, followed by her Pocket Wreath Paperclip Bookmark.
Do yourself a favour and go and have a look at Pam's patterns.  They are unique and easy and they would make excellent Christmas gifts.
Right.  Back to the Crochet Christmas Tree
 Like I said, I used this pattern by Pam Perkins.  I only made 23 rows for each section.  Once assembled, I made a single round of crab stitch (reverse single crochet) all the way around the bottom of the sections to add a bit of sturdiness.
My little Crochet Christmas Tree stands all of 20 cm high (8″).
As you can see, I have adorned  my Christmas tree with a brooch and some earrings.  I think I will use it to store all my earrings and brooches (yes, I don't have many) as it works really well.  Plus I think it looks mighty pretty.
You could always adorn your tree with strands of chain stitches and/or little crochet ornaments.  Or you could embroider some details onto it.  Stick a tiny crochet star on top, work some popcorn stitches into the design, make a multicoloured tree…  This is one of those blank-canvas projects that allow you to explore your creativity in so many different directions.
This is what the tree looks like from the bottom.  The bottom rounds of each segment aren't crocheted shut, although Pam does have another version of the tree on her site where the bottoms are closed.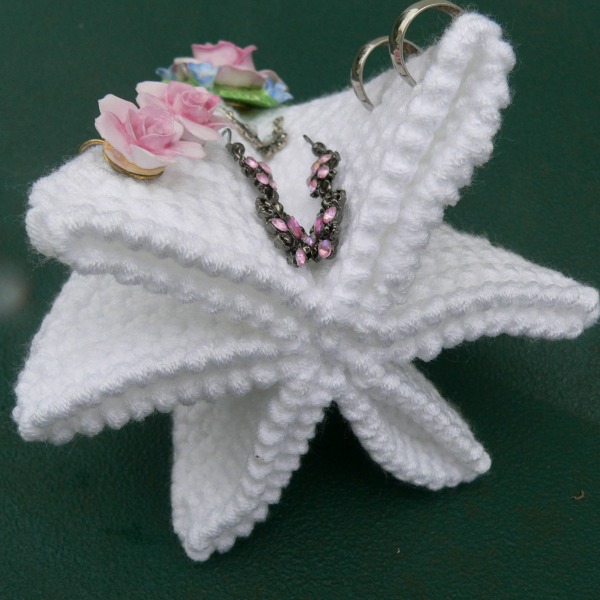 The tree fold flat so that you can store it easily.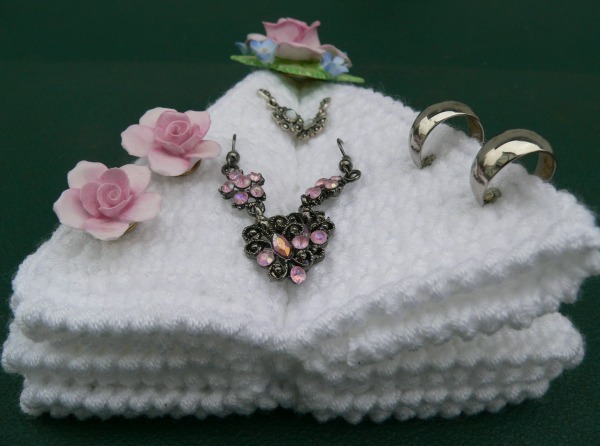 The pink rose brooch and earrings, belonged to my great grandmother (well, my great grandmother's sister, but she was like a great grandmother to us.  She used to babysit me into her 80's and was still chasing chickens on the farm into her 90's).  My Aunty Dollie Bag is named after her (and based on a fabric pattern found between her stuff).  When she passed away at the ripe old age of a hundred and lots, I inherited this little set.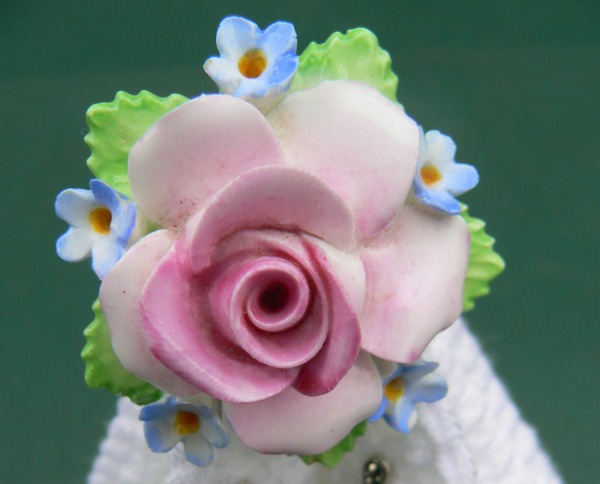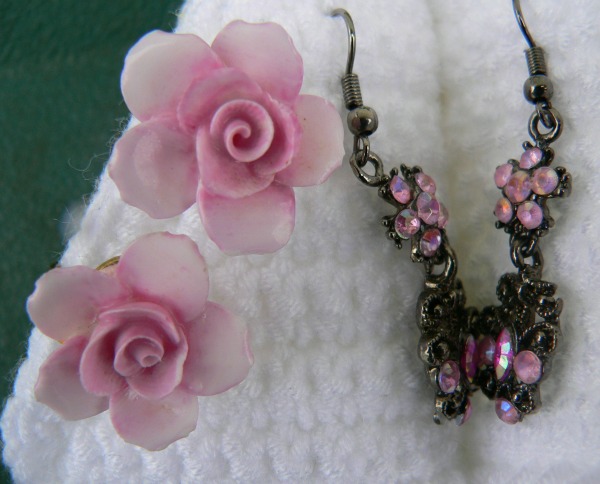 Now isn't that pretty?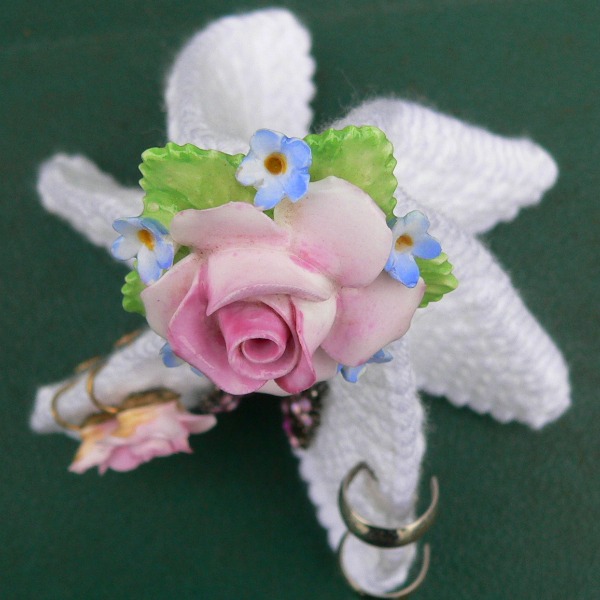 I hope you are well and truly on your way to completing all your Christmas-gift projects and that you have great fun doing so.
Remember to subscribe to my newsletter if you would like to be kept in the loop. You can also like my Facebook page or follow me on Bloglovin or Google+.
Happy Hooking!