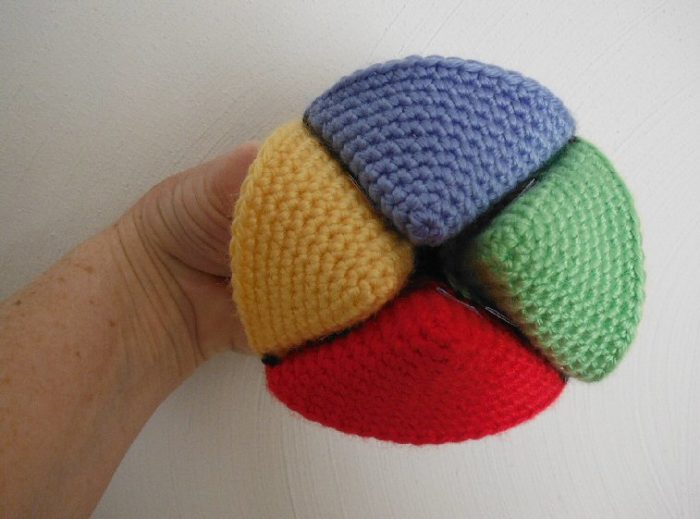 Crochet Fortune Teller Pattern
Do you guys remember Pam Perkins and her Amazing Flying Doily? Well…she's sharing another of her free patterns with us. This time it is a Crochet Fortune Teller. We used to make these out of paper when we were little.
We didn't put fortunes in them, however. We used to put boys' names into them and then you'd have to say, before the name was revealed, if it was:
LOVE,
HATE,
KISS
or
MARRY.
I'd invariably end up marrying Coenie Cilliers (pronounced Silly). Ahhh, to be 10 again…
Here is a little link if you want to fold a Paper Fortune Teller…let's pretend we're making it for our kids, not ourselves :) It is a quick and easy activity that will keep them entertained for quite a while…the best part of the paper fortune teller is making it all pretty and deciding what your options are going to be.
And while they play with their paper fortune tellers, YOU can get down to the business of making a Crochet Fortune Teller. Because, let's face it, this thing is just too cute and whimsical!
The pattern contains instructions for the fortune teller (both for joining in the round and for working in the round without joining) and some templates for folded fortunes.
Thank you for letting me host another of your lovely patterns, Pan. And thank you for all the cute stories x
Grandma Perkins' Crochet Folded Fortune Teller
by Pan Perkins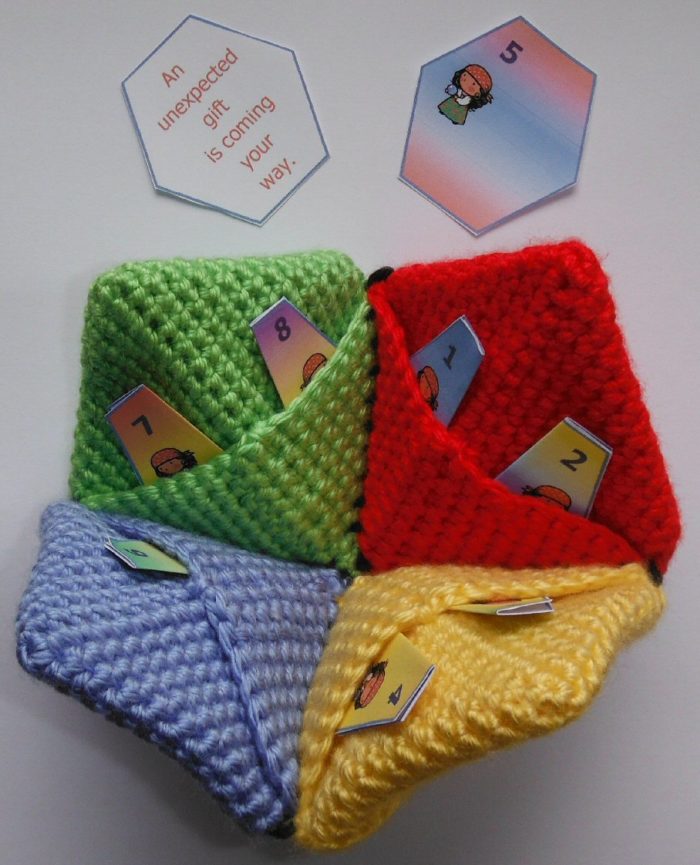 Fun and Fortunes!

Hello again to all crocheters out there!

It has been my Good Fortune to be friends with Dedri.

She amazes me with her vivid imagination for creating.

Lately, she has been churning out different animal puzzles.

And each is cuter than the last.

Talking about good fortunes ………….

Do you remember folding notebook paper in the school-yard?

When I was in grammar school, all the kids would love making Fortune Tellers.

We would color them and write secret fortunes inside.

And then share them with our best friends.

And I'd like to share this pattern with you.

Who knows what the future holds for you.

It's always good to know,

"There is happiness in your future."

Dreams do come true, if only we wish hard enough.

Pan Perkins
Click on the link below to download the FREE pattern:
And if you have honestly NEVER seen one of these in action, you will need a little demonstration…which Pan has kindly provided with this YouTube video.
Remember to subscribe to my newsletter if you would like to be kept in the loop. Alternatively you can like my facebook page.
dedri xxx