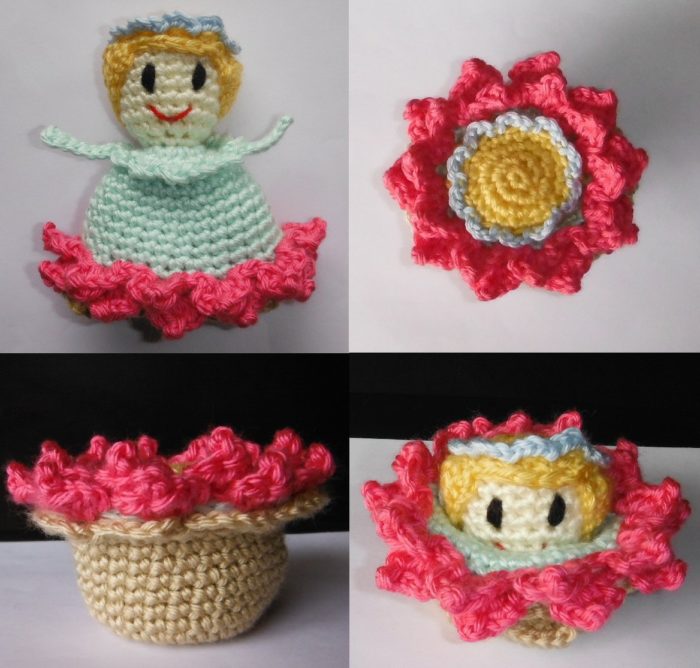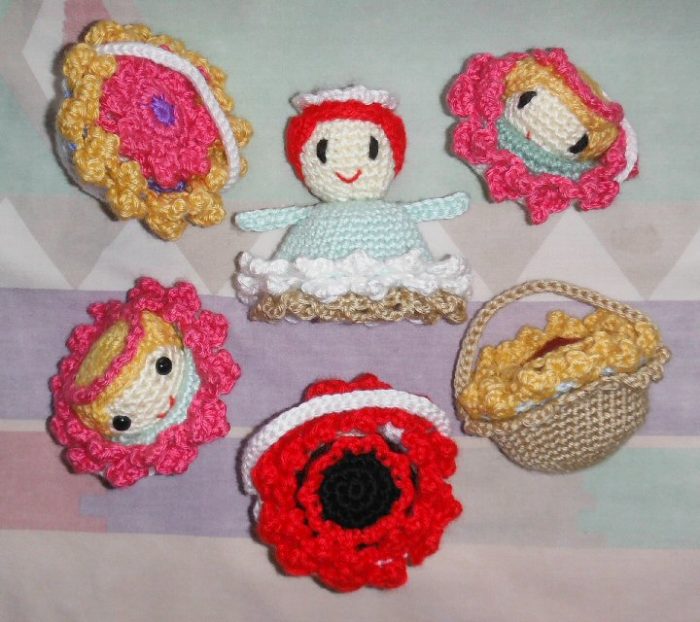 Magical Flower Child Crochet Pattern
by Pan Perkins
Once again my friend Pan is kindly sharing one of her crochet patterns with us.  And as Easter is coming up, it would make the perfect little addition for your Easter basket.
This Flower Child crochet pattern will yield a little hollow doll that inverts into a basket with a pretty flower inside it.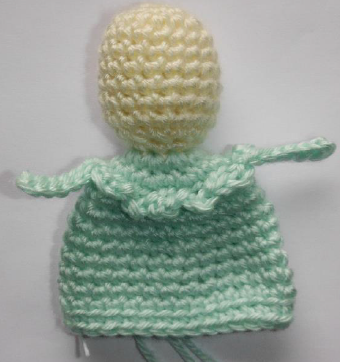 Please note:  Pan has altered the pattern to include a little collar (please see the very first image above).  This was to make the attachment of the arms easier and I think it adds to the charm of this little Flower Child.  Most of the pictures used in this post, however, are collarless (because she made them as she was perfecting her pattern).  I could have left them out, I suppose, but I love all the different colour combinations and they are too cute to not be shared.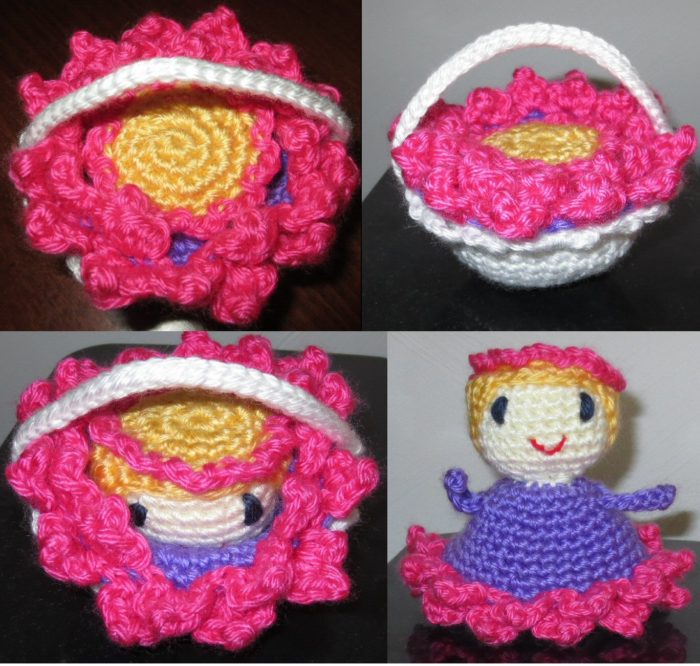 Hello again to all crocheters out there!

Easter is almost here.

And that reminds me of baskets of flowers…..

And baskets of flowers remind me of "Flower Children".

Maybe some of you will remember the "Flower Children".

Growing up in the 50's and 60's was a magical time.

We had the greatest music ever.

And San Francisco was filled with Flower-Children.

My hubby and I moved into our first apartment in Berkeley (a burb of SF).

On that night, Hari-Krishna sang and chanted outside our window….. ALL… NIGHT… LONG…!

I remember the sidewalk-kiosks on Telegraph Avenue.

Hippies and the like would sell their handmade wares:

Beaded-jewelry, toys, hats, tie-dyed clothes and lots and lots of crochet items.

And everyone wore flowers in their hair.

I have always had a fascination with Flip-Flop Dolls.

And this little crocheted Flower-Child can transform into a beautiful flower basket.

Years ago, I saw a picture of one similar to this, but I could never find a pattern.

So I created my own.

And I would like to share it with you.

She would be a great Easter gift.

Or maybe a bedside pal for someone who might be ill.

She folds easily into her basket and out again.

I used Easter colors, but she would be cute in any color.

Life can be hectic.

Take time to stop and smell the roses.

And enjoy the pattern.

A big "Thank You" to Dedri!

If it were not for her, I would never have been motivated to share my patterns.

I am having so much fun.

I hope you all are, too.

Anyway I am off to my next crochet adventure.

Pan
Magical Flower Child Crochet Pattern
Click on the image below for the FREE PDF Pattern.