Gemina the Crochet Giraffe Puzzle
Update July 2014:  This pattern is no longer available as a stand-alone pattern.  Instead it will soon be available as part of a book by Annie's Publishing.
It feels like years since I posted my last crochet puzzle pattern (although it has just been a month).  And so I am very pleased, to get this Crochet Giraffe Puzzle Pattern out there.
Gemina gets her name from the crooked-necked giraffe of facebook fame.  Mainly because I like alliteration, but also because of her asymmetry.  Let me explain.  This crochet puzzle is the fourth in my Amamani series (Amigurumi Amish Puzzle Animals) and is based on my FREE Crochet Amish Puzzle Ball pattern.
Typically these Amamani are configured differently, or symmetrically if you prefer.  But because of Gemina's loooooong neck, I have had to alter the way she is constructed and assembled.  Consequently either her neck or her legs appear asymmetrical, depending on your point of view.
I think this lends to her charm.  My husband does not.  Be that as it may.
The puzzle consists of 3 segments that can be taken apart and re-assembled at will.

Once "built", Gemina stands 23 cm high and measures 12 cm from front to back.  The chunky design is perfect for little hands and inquisitive minds.  And she would make the perfect gift for any young child.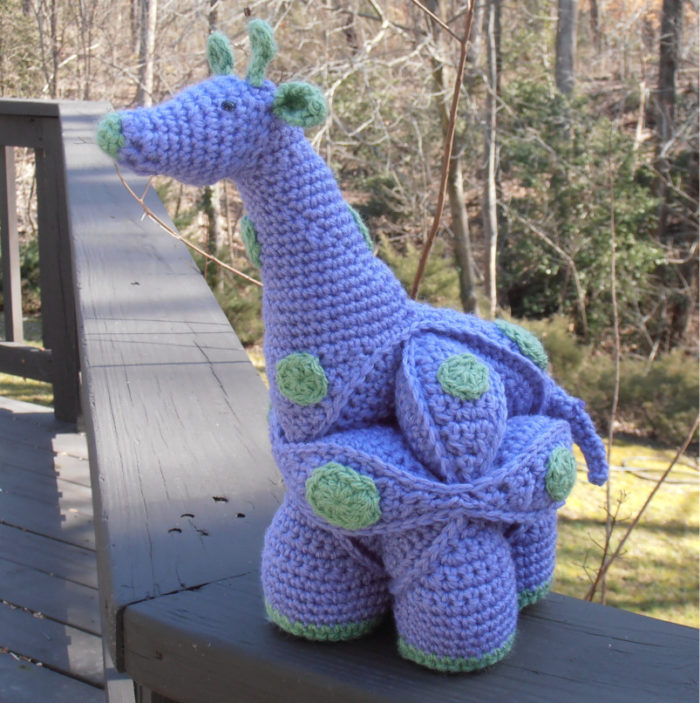 You will need to be comfortable with joining in the round and increasing/ decreasing.  It would also help if you are familiar with short rows.  Don't freak out if you aren't, though, because the short rows are explained as well as I can humanly manage and I will always gladly answer any questions you might have!
If she looks a bit too tricky for you, but you are fascinated  by the idea, why don't you try making my Crochet Amish Puzzle Ball instead?
Once again I would like to thank my superstar testers for testing the crochet giraffe puzzle pattern for me:
Marjolein de Vries
Maggie Miller
Dianna Smith
Julia Szegedi
Pam Perkins
Celeta Moyer 
  Coming Soon:  Hermione Horse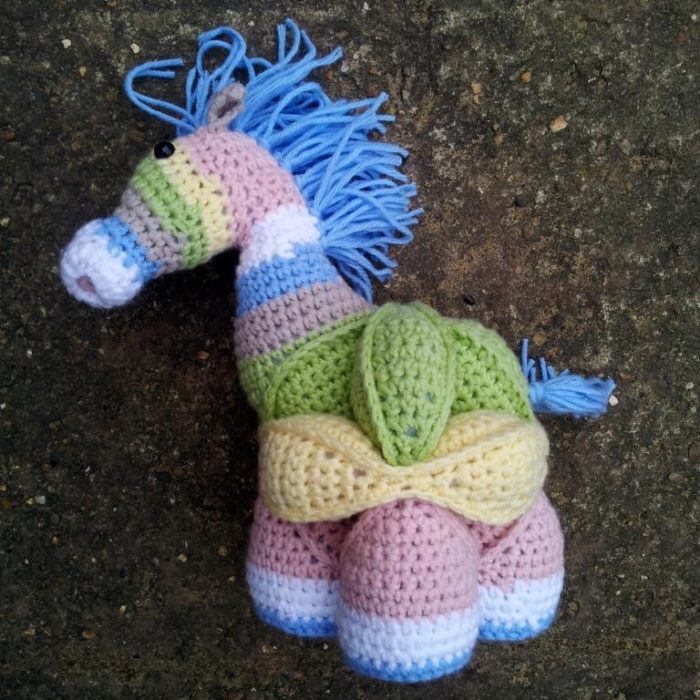 I hope you have great fun making your Crochet Giraffe Puzzle!
Remember to subscribe to my Weekly Newsletter if you would like to be kept in the loop. You can also like my Facebook page or follow me on Bloglovin, Google+, Pinterest, Twitter, or Instagram.
Happy Hooking!