Last weekend, I attended my fifth yarn retreat with Devon Sun Yarns and what a feast it was! Sidekick Jenny of Charlotte's Dream and Whirling Sophie fame came along too, which made it particularly special.
Usually, I talk a lot in these posts. This time, I will let the photos do most of the talking. Of course, I won't be able to stop myself from babbling anyway :)
The Journey
Having always made the journey to Lyme Regis by my lonesome, it was such a treat to travel with Jenny. Taking the train is always good for my soul (apart from when I have to stand cramped in a corner all the way) because the scenery loosens something in me and blows away the pent-up stress of daily life. I especially like it when the overcast skies make the greens glow like this. I can't think of a better way to start a yarny weekend than crocheting and chatting with a friend for 3 hours.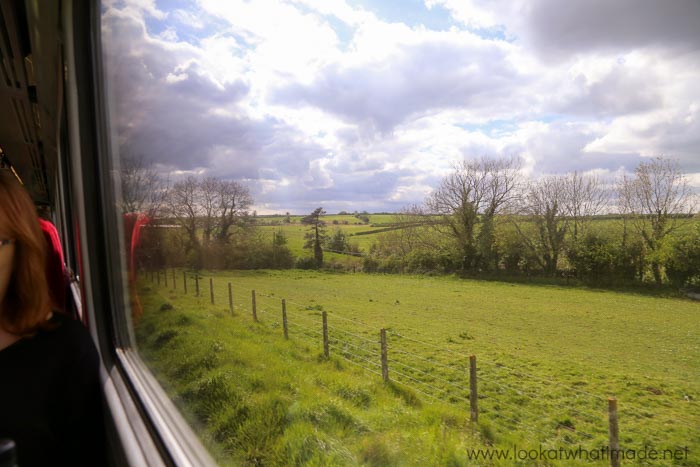 The Food
As always, there was plenty of delicious food and CAKE!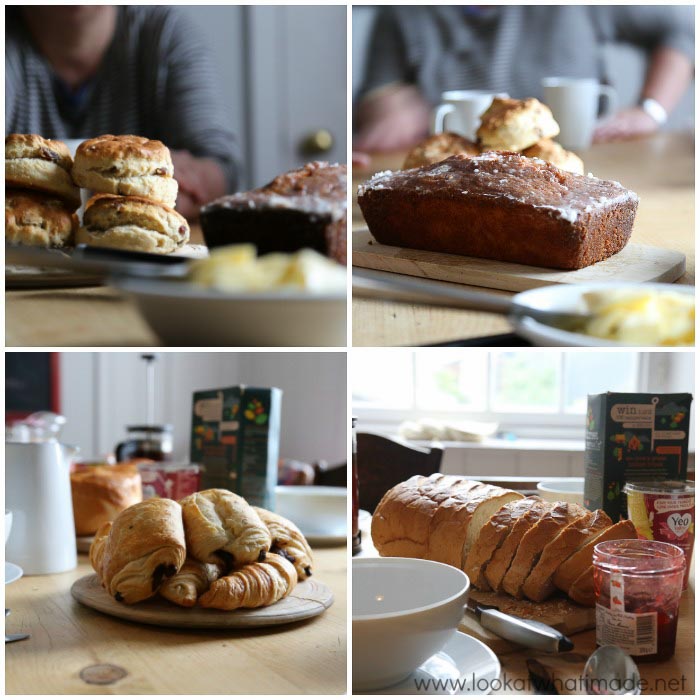 Lunch is always my favourite meal of the day at these retreats. Lots of salads, lots of cheese and bread, and lots of different meats to choose from. Actually, all the meals are my favourite because I don't have to prepare any of them!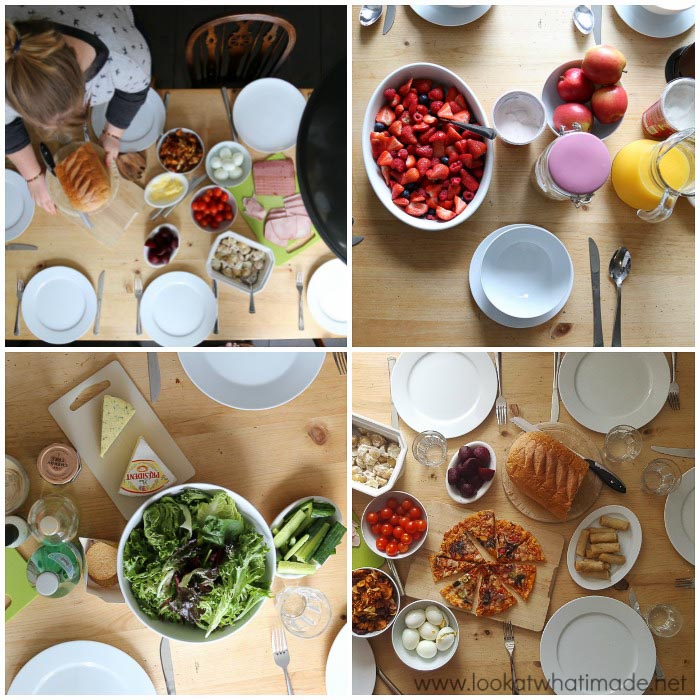 The Flowers
I have to mention the flowers. Every time I walk into the house at the start of a retreat, they are the first thing I look for. They are also almost always the first thing I take a photo of. I don't know why, but flowers make me as happy as yarn does. I have no idea what these are called, but aren't they gorgeous?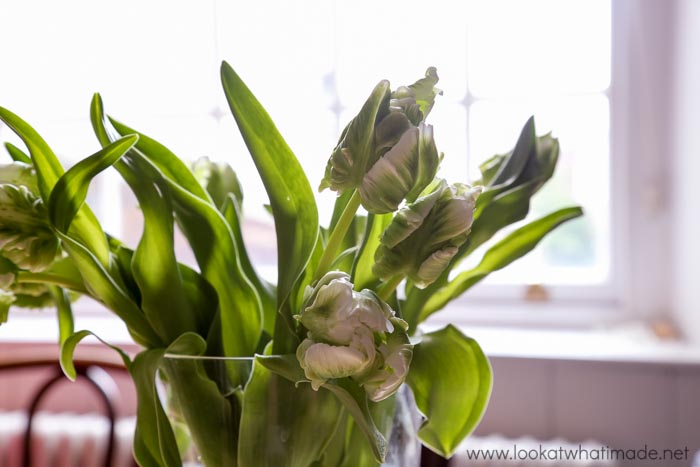 I couldn't resist making a collage of the flowers from the first four retreats :)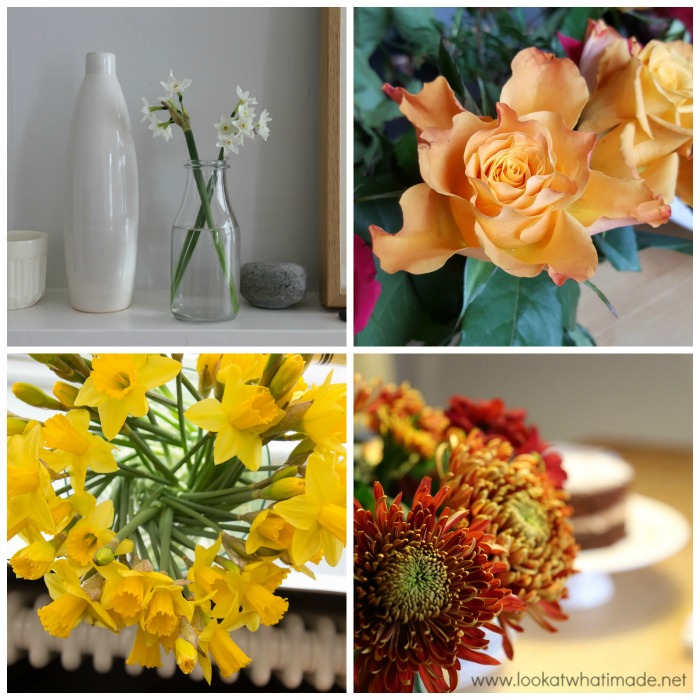 The Yarn
There are two sitting rooms in the house. One of them is used for sitting around and crocheting, with yours truly usually sat cross-legged on the carpet in front of the fireplace (lit or not). You can see a photo of this room in the post I wrote about the March 2016 retreat. The other one is where Daisy displays her yarn and notions. I love going in there to look at all the colours. I didn't take many pictures of the impromptu yarn shop this time. I only have two, in fact. The first one is just yarn porn with a few pattern books thrown in for fun.
The second one is a windowsill one. This is another recurrent theme (more about that in a second).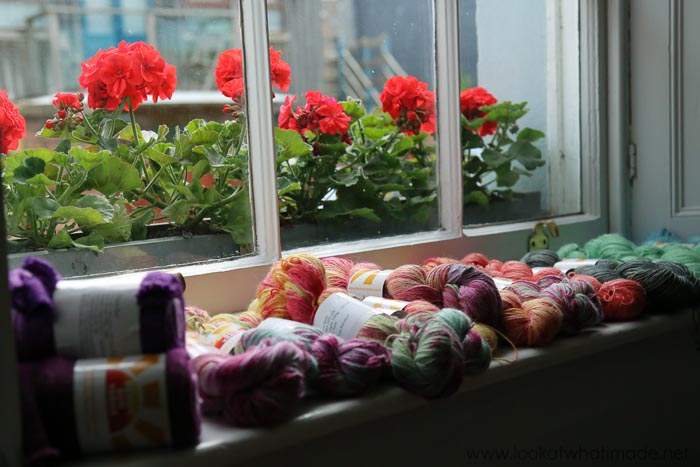 I do have some photos I took on previous retreats…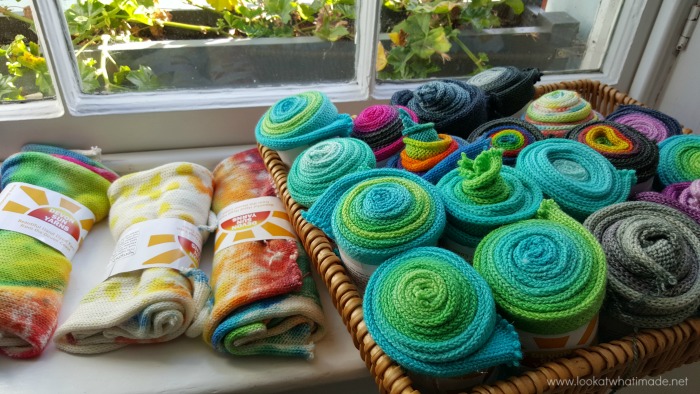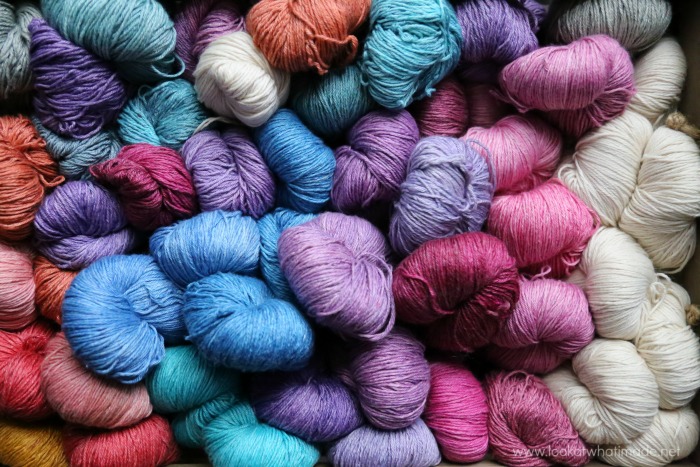 Back to windowsills. If you have read more than one of my retreat posts, you will have noticed that there is almost always a windowsill photo. My own house (and by that I mean the one we rent) is a porridge magnolia affair with mottled brown carpets, plastic-framed double-glazed windows, and very little light. To stay in a house, however briefly, that has distressed wooden floors and window frames, and more natural light than a person knows what to do with, is such a luxury. I am forever gravitating to the windowsills in every corner of the house :) On Sundays, when everyone is preparing themselves to leave, I always go around the house taking photos in ALL the rooms. I found this beautiful little collection of yarns in one of them. I love how that one skein of purple pops in the moody photo :) And that gorgeous jug!!!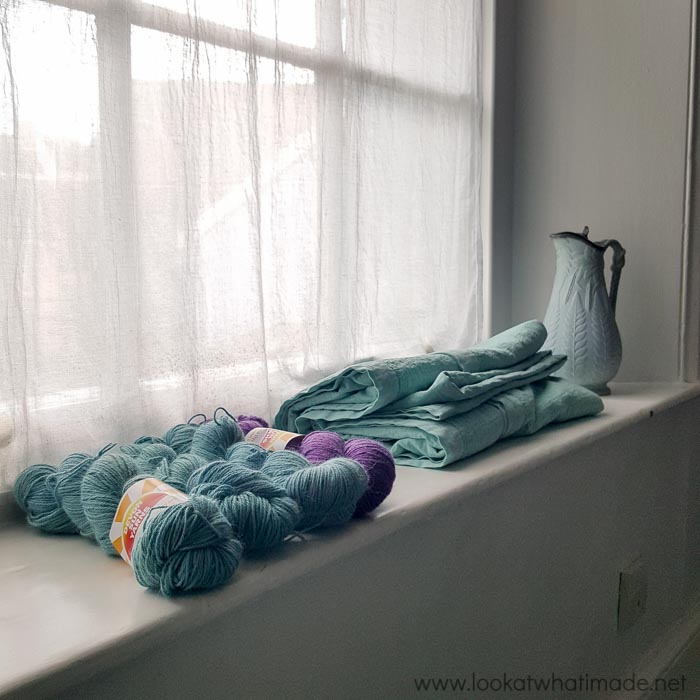 Ooh, and before I forget, I also managed to take a lovely photo of my My Story Shawl worked up in Scheepjes Invicta.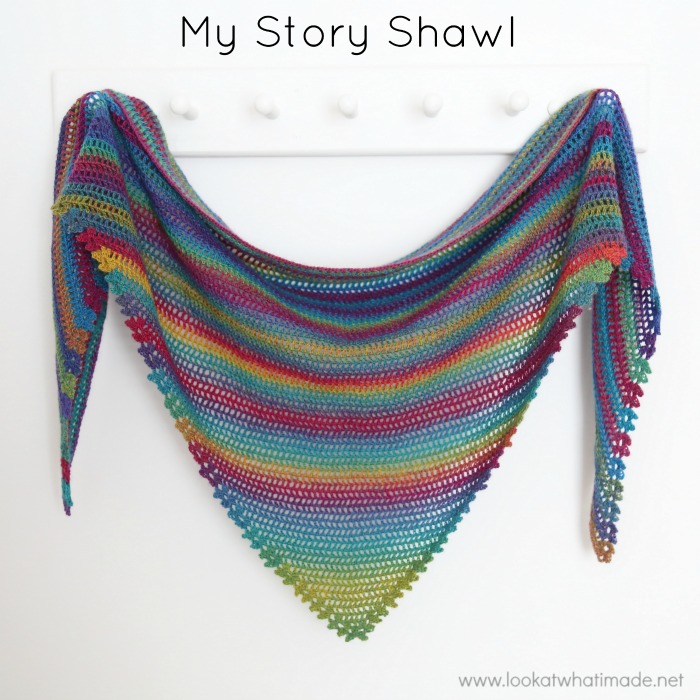 Dyeing Yarn
Of course, a Devon Sun Yarn Retreat is not complete without a spot of yarn-dyeing.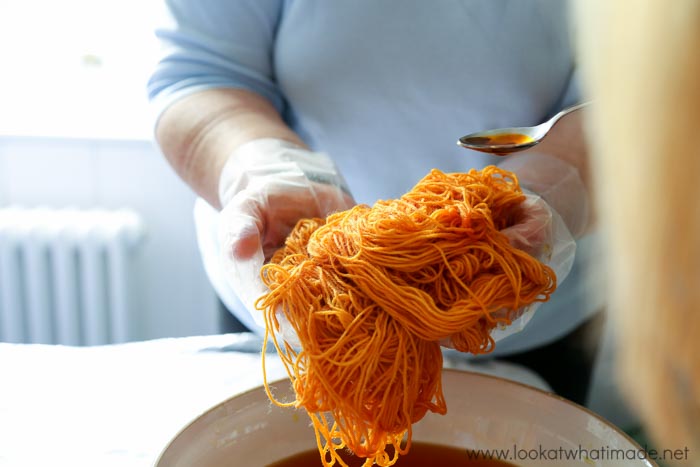 Just look at Jenny's face!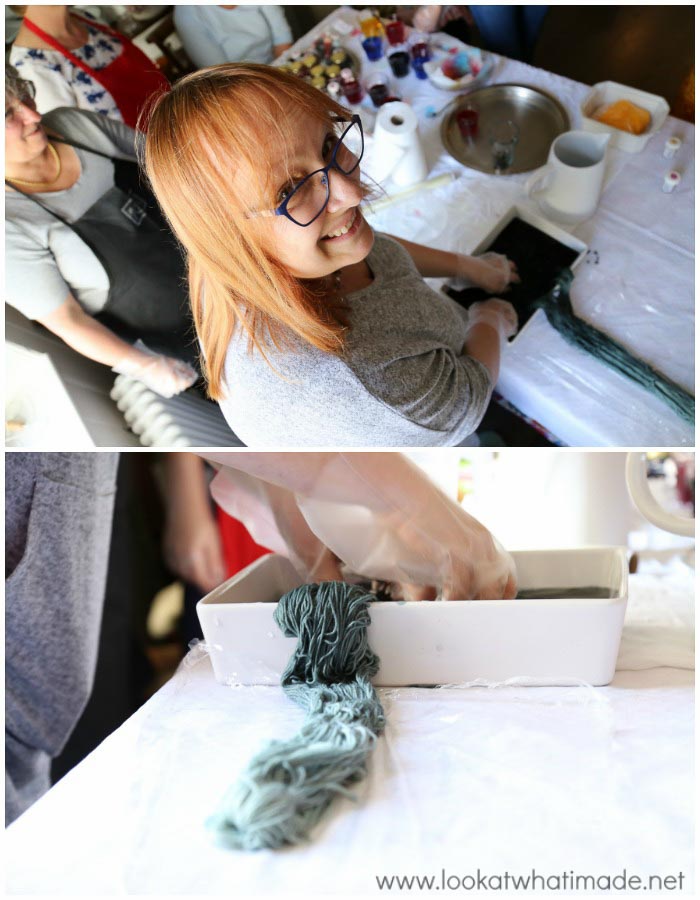 I think it is safe to say that everyone was pleased with how their yarns turned out.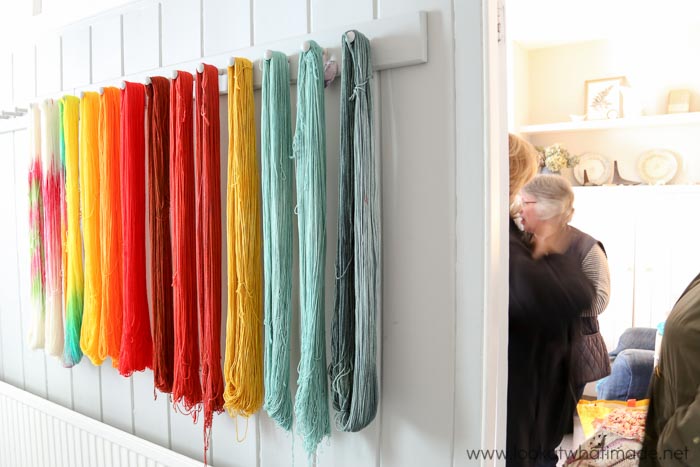 Just look at this beautiful rainbow! Can you guess which three are mine? Yes, greedyguts dyed three lots this time.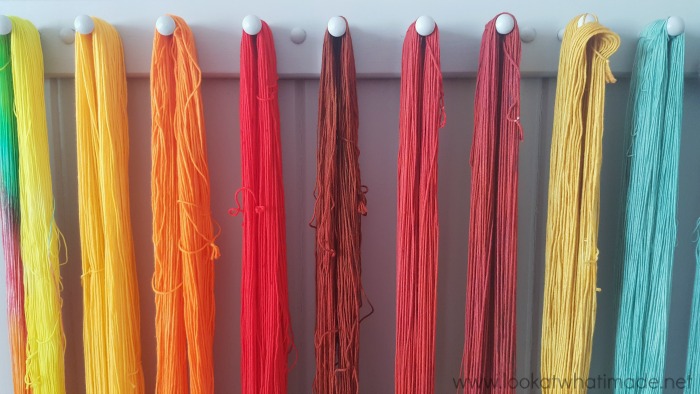 Oh, go on then. I'll tell you. Mine are the reddish ones (windowsill alert).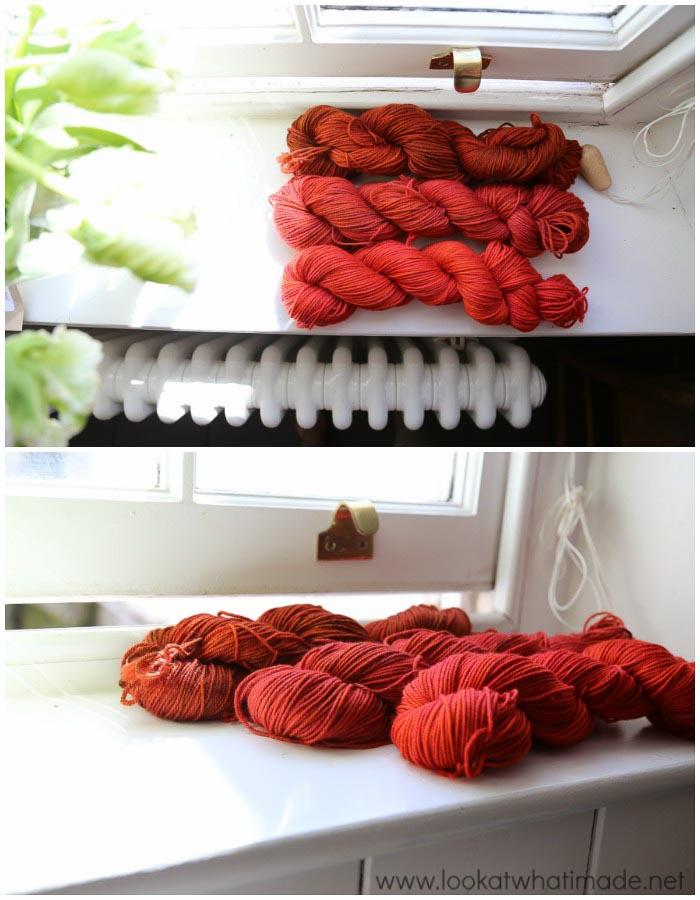 I am going to use one and gift two.
The Project
For this retreat, I designed a lacy square, which will hopefully be the first of a series of squares.
Aunty Jeanette is a very dear friend of mine. When I was sixteen, her son (my boyfriend at the time) and I went on a Prickly-Pear-Picking mission. It was an insanely hot Karoo day, so on the way back (driving in his 1972 Merc with a bucket of prickly pears resting between my feet), I decided to turn down my window. When we got back to his house, I realised that I was completely covered in prickly pear thorns…like head-to-toe covered! The three of us spent the remainder of the afternoon tweezing them all out.
When I was working on the design for this square, the colours and shape of my prototype reminded me of that sweltering laughter-filled day, so I decided to indulge in whimsy and call it Jeanette.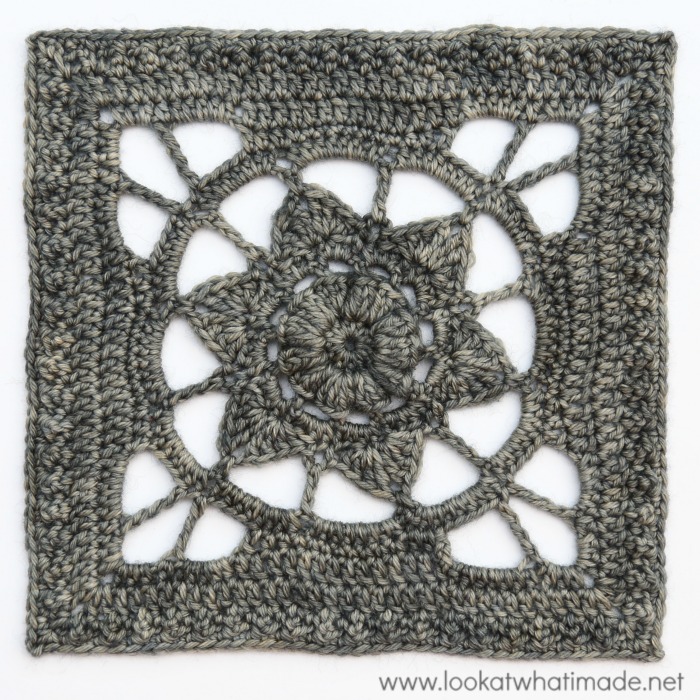 Watching all the ladies work on my Jeanette square made me feel oddly at home and home-sick at the same time.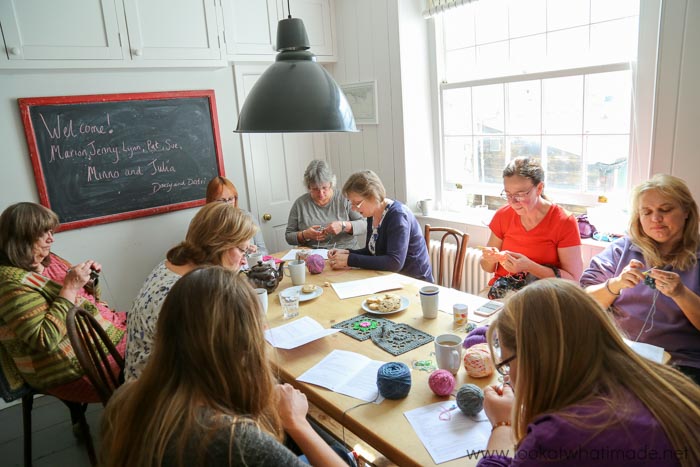 Look at how different the squares turned out, depending on the number of colours in the yarn and the 'length' of each colour.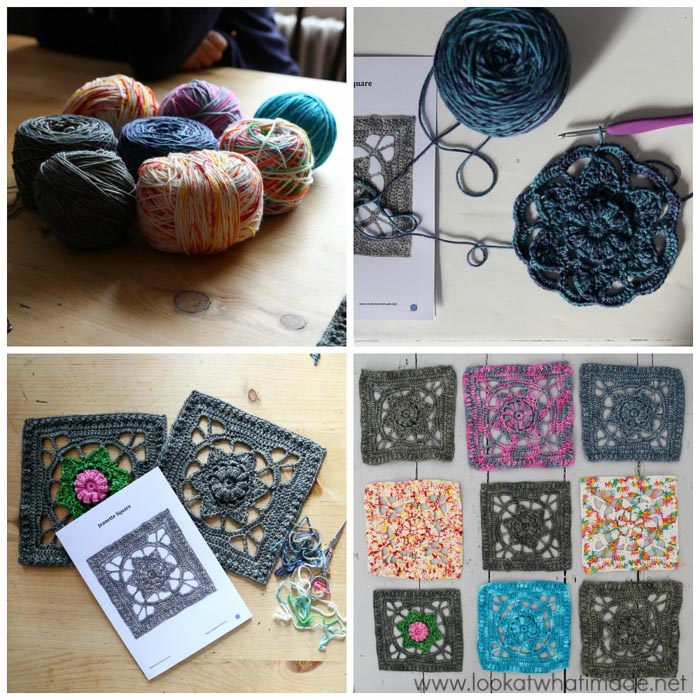 What Else?
On Sunday morning, I went for a walk. Usually, when we go treasure hunting (more about that in a minute), we turn left when we hit the seafront and follow the path until we get to the bit of beach where a Victorian dump is slowly falling into the sea. If you turn right, however, as I did for this stroll, you will reach The Cobb, made famous by the fact that it is where Jeremy Irons first spotted Meryl Streep in the 1981 movie 'The French Lieutenant's Woman' (you can see a clip of that scene HERE). And I just thought of two things: I was born in 1981, and (not related to my birth year) I STILL haven't watched the movie, despite meaning to for three years!!!
The Cobb is beautiful. This photo does not do it justice at all, being so far away. You can see some stunning photos of The Cobb HERE.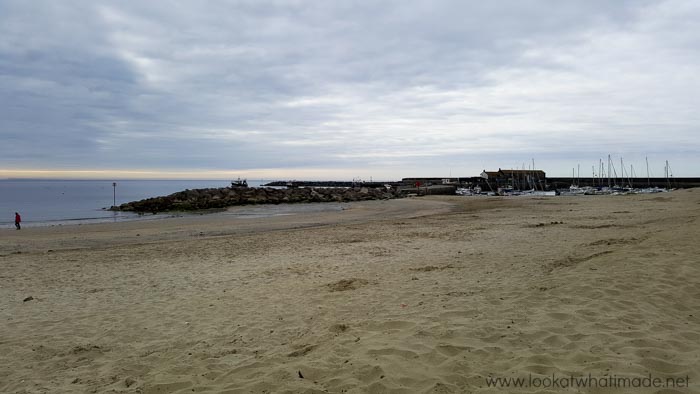 As for treasure hunting… one of my favourite parts of a yarn retreat is when we go hunting for fossils like real-life Mary Anning's. Because there is a Victorian dump slowly eroding into the sea, finds can vary greatly. I have picked up iron pyrite, old enamel containers, a spoon, ammonites, rusty steel utensils, and many glass jars.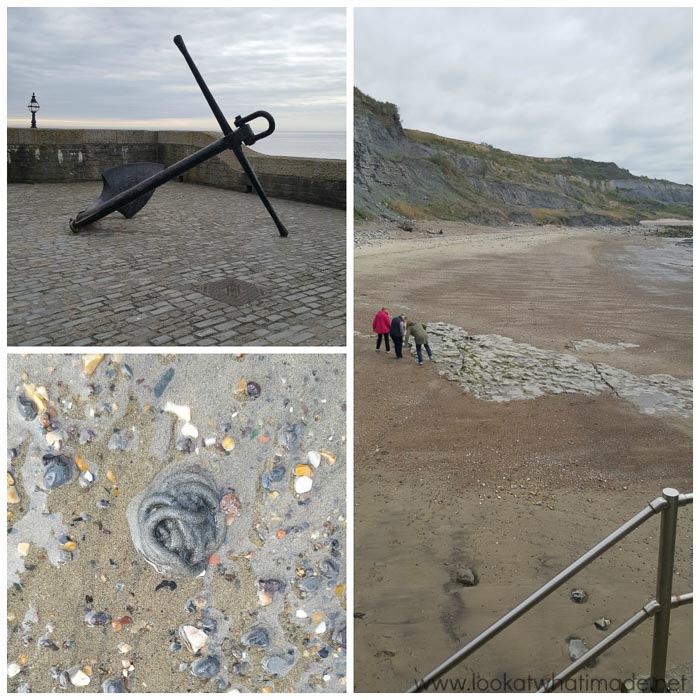 On this latest excursion, I found nothing more than an intact 4 FL OZ glass jar, completely filled and obscured by mud.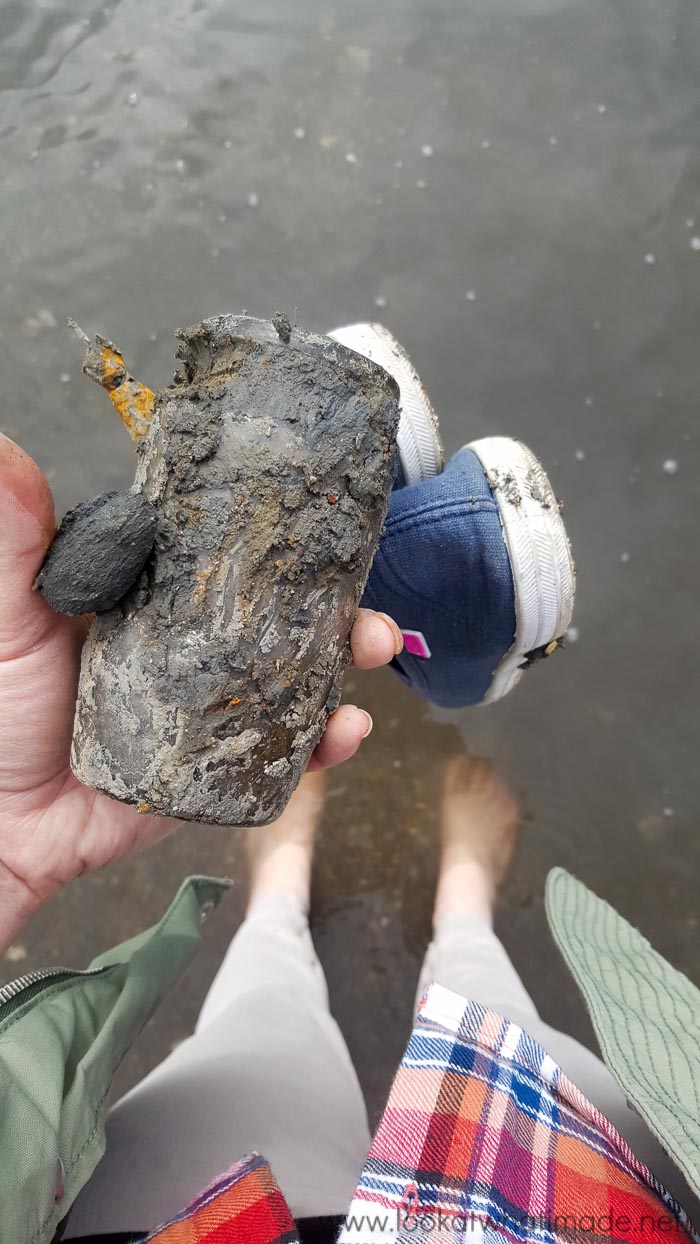 On my last retreat, I ran into the most delightful fossil hunter. I kept an eye out for him this time, hoping that he would make an appearance again. Alas, my luck did not hold. But just LOOK at him. Isn't he perfect and straight out of a novel or a bygone era?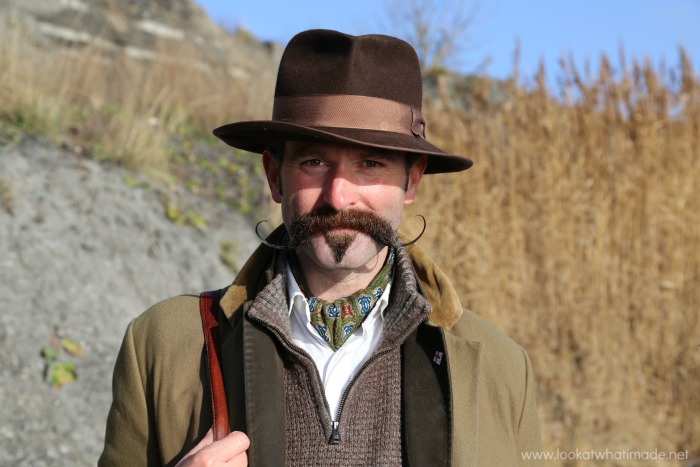 And on that random note, I am going to sign off. Have a wonderful weekend!
Previous Retreats

This blog post contains affiliate links. I only link to products I personally use or would use.  All opinions are my own.