The words 'weekend retreat' sound positively lush, don't they? They sound like time away from the oven, the washing machine, and the hoover. They sound like a beautiful, peaceful space and a lot of time to relax and reflect. Add some yarn, cake, and good company, and you get a Devon Sun Yarns Retreat!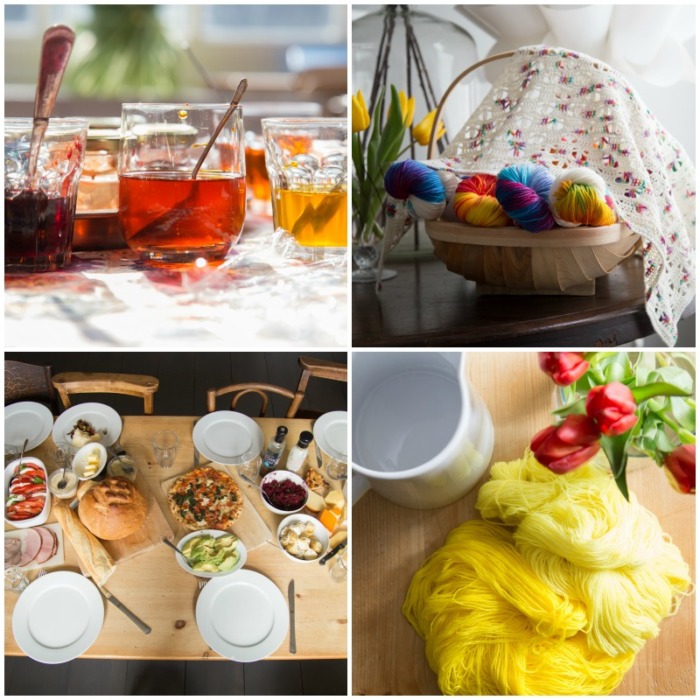 You might remember me waxing lyrical about 'The Most Amazing Crochet Weekend Ever' last year. That was the first retreat I did with Daisy (from Devon Sun Yarns) and we enjoyed it so much that we thought we would team up again. I was concerned that the second retreat wouldn't live up to the memory of the first one, but it did! It was fantastic!! And I would like to include you in the fun by sharing a few (many!) photos.
Ready?
A Yarny Weekend Retreat
For the last retreat, I traveled to Lyme Regis by train. This time four of us drove down together and we got to see so much more of the English countryside. I have just spent an hour trying (and failing) to write about our journey and I am giving up! When I was young, I dreamt of being a writer. That didn't happen, and worse than that, I now find myself incapable of thinking in pretty sentences most days! So you'll have to do with a bullet-point list, I'm afraid.
Highlights of the Journey:
Taking the Ferry between Sandbanks and Studland
Detouring through Poundbury (I want to move there!!!)
Detouring through Swanage (you can read more about my love of Swanage HERE)
Arriving in Lyme Regis
When we arrived, we spent a frantic hour unloading, meeting new people, and carrying bags and suitcases to the various bedrooms. Just as an aside, you have NO idea how much luggage (yarn and projects) a house full of crocheters can bring along to a retreat!!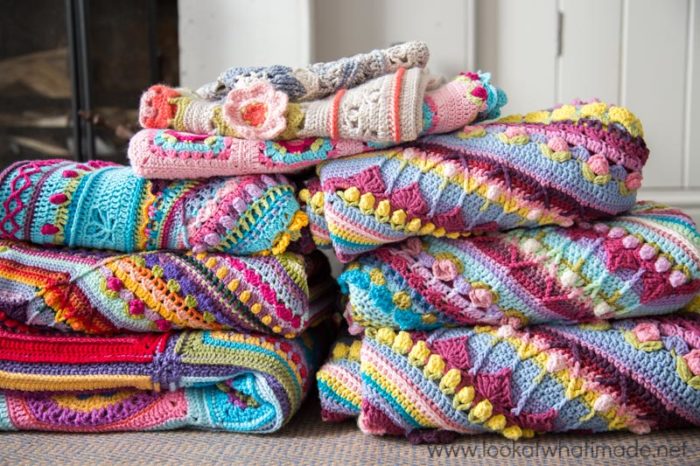 Once that was all sorted, we settled down at the beautiful kitchen table with a warm drink and a slice of cake. I am always shy when I meet more than one new person at a time, but the women were so bubbly, and the atmosphere so cozy, that I felt right at home immediately. I suppose it helped that I already knew 6 of the people there, one of whom had come all the way from Oceanside (CA) to attend the retreat!
While everyone got to know each other, we had a little rummage through our lovely goody bags. I didn't take any photos of the cakes or goody bags this time, but if you absolutely need to see cake pics, have a look at the photos of the last retreat.
I designed this Banksia Shawl specifically for the retreat (the pattern is currently only available when you buy a skein of Sprightly 'Rainbow Strike' yarn from Devon Sun Yarns). As part of our 'goody bag', we each got to choose a skein of yarn. Most of the women chose to use their skeins to create this shawl.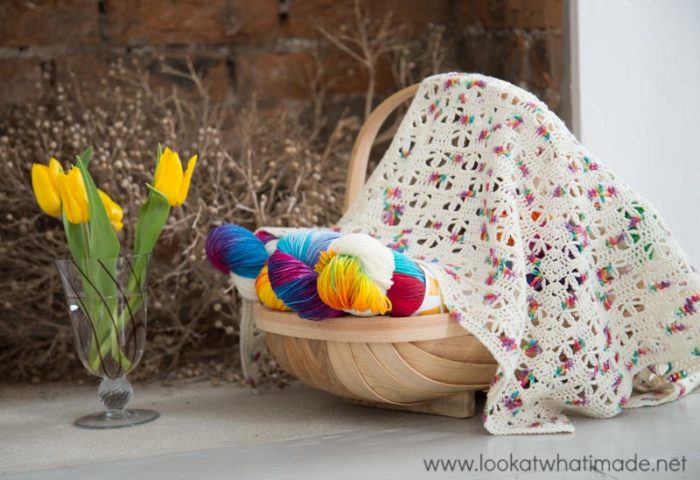 Before we could use the skeins, though, we had to turn them into yarn cakes. Daisy had asked us to bring along whichever swifts/winders we had so that we could wind the cakes easily. This was such a brilliant idea, because it gave us the opportunity to use the various devices and see which ones we liked (and which ones we didn't).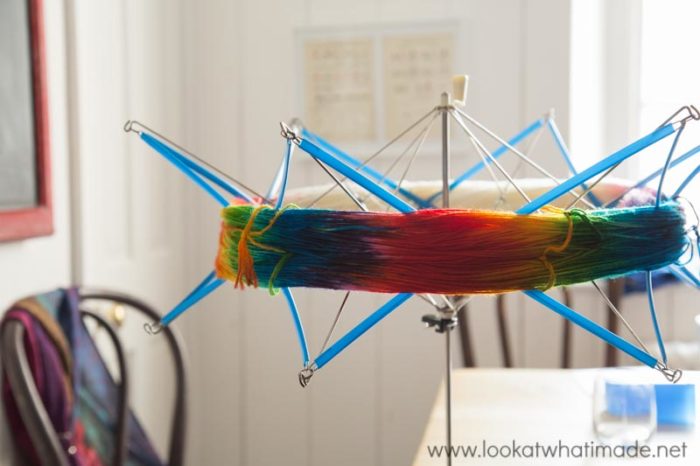 I own the Lacis Swift (pictured above) and the Stanwood 4-ounce winder. I thought they were great, until I tried the Stanwood Amish Style Swift and the Stanwood 10-ounce yarn winder, which are so much nicer!
And just look at our pretty yarn cakes and shawls!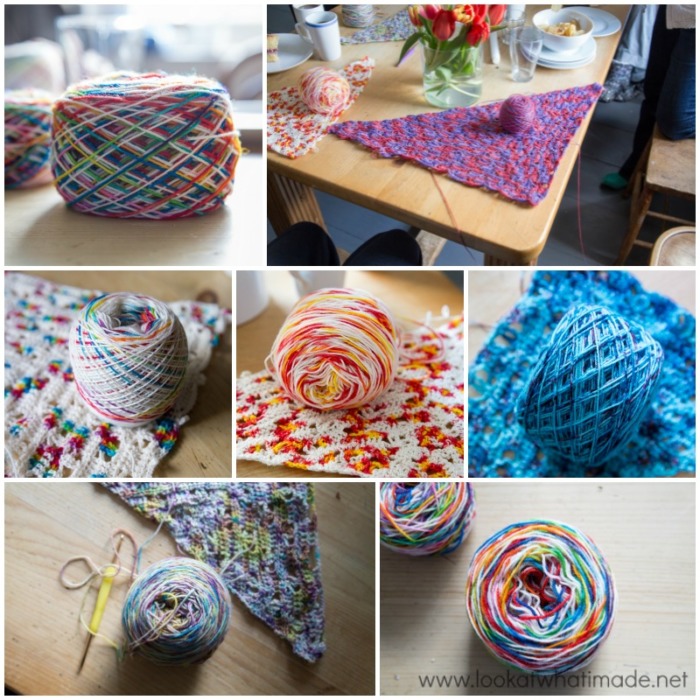 One of the best parts of the retreats (for me, anyway) is dyeing my own yarn. You think it's hard trying to choose a colourway for your projects? You should try deciding on a colourway for your yarn! I always want to make what everyone else is making, because it's all so pretty!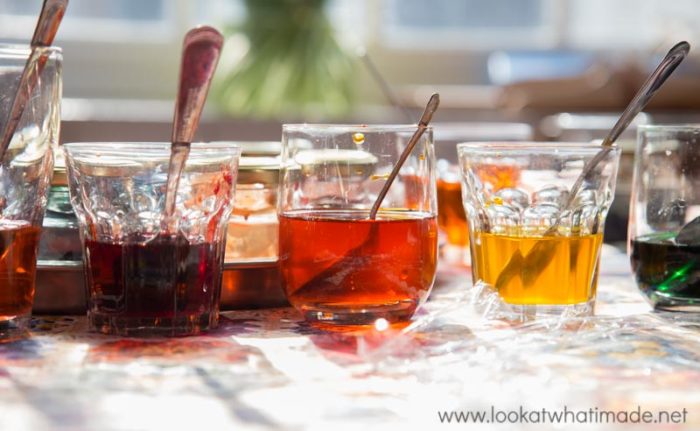 Some people chose to use lots of colours, like for this gorgeous rainbow yarn Emma made (it's the same skein as pictured on the swift above).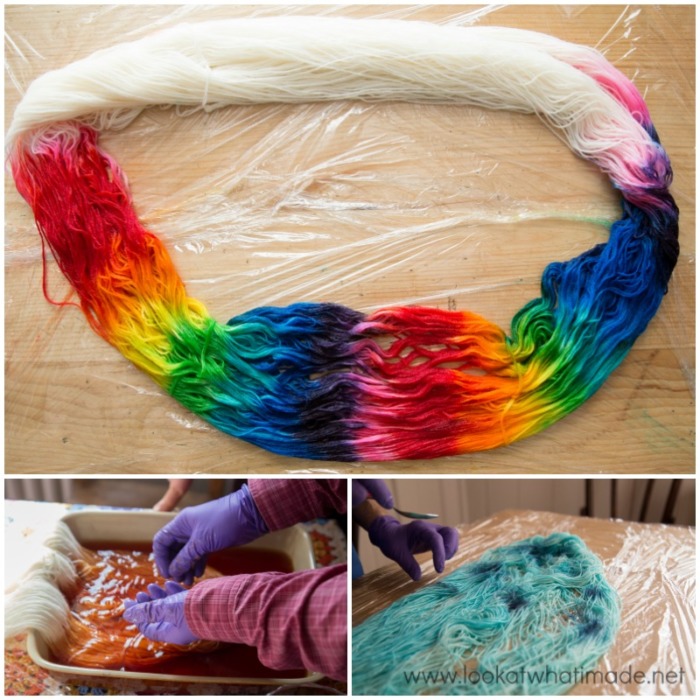 I chose to use just one colour, inspired by the gorgeous bunch of Daffodils that lived on the windowsill in the kitchen. Actually, I chose to do two different shades of yellow, because I am going to attempt knitting (*gasp*) my first pair of socks (or maybe I will beg my friend Kay to make me some)…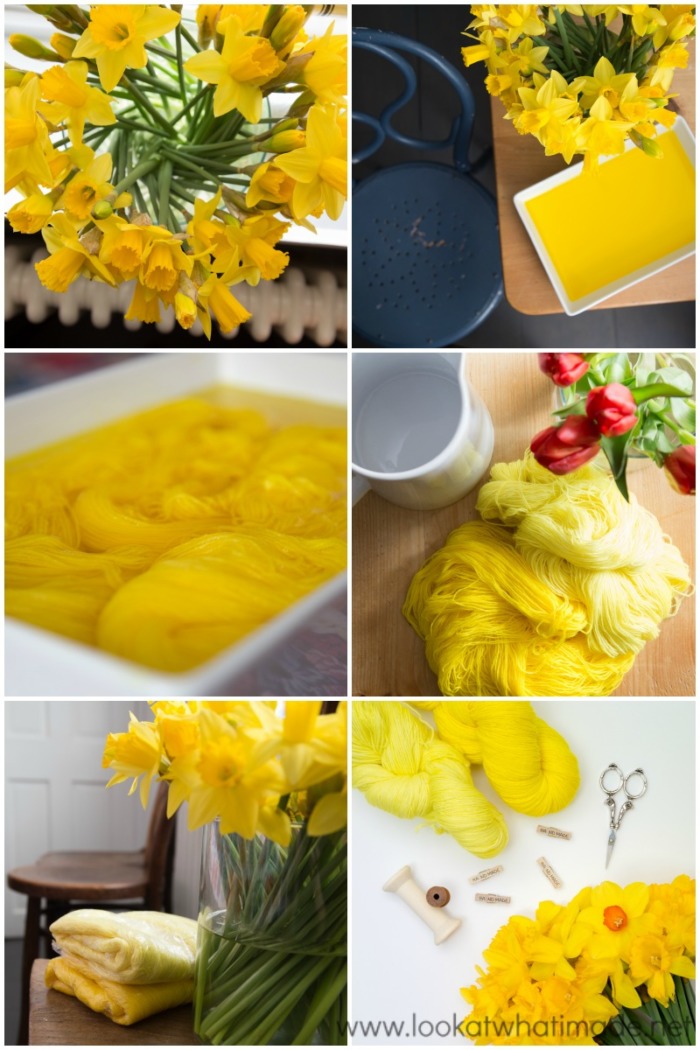 Just look at all our lovely yarn! Each skein is unique and so special. When I crochet, I crochet memories into my projects. The thought that our yarn is already imbued with memories, before we even start on our projects, makes me very happy!

Just like last time, I used the gorgeous setting to take photos of my latest projects.
Using one of the bedrooms to take photos of my Lydia Blanket
A tiny blanket I made using the Flowers Abound e-book by Spincushions
If you are going to attend one of Daisy's retreats, I suggest you pack a few projects that you would like to take pretty pictures of. The house is a sun-trap and there are hundreds of pretty corners to take photos in. It would be such a shame to not utilize them!
What Else Did We Do?
In between eating…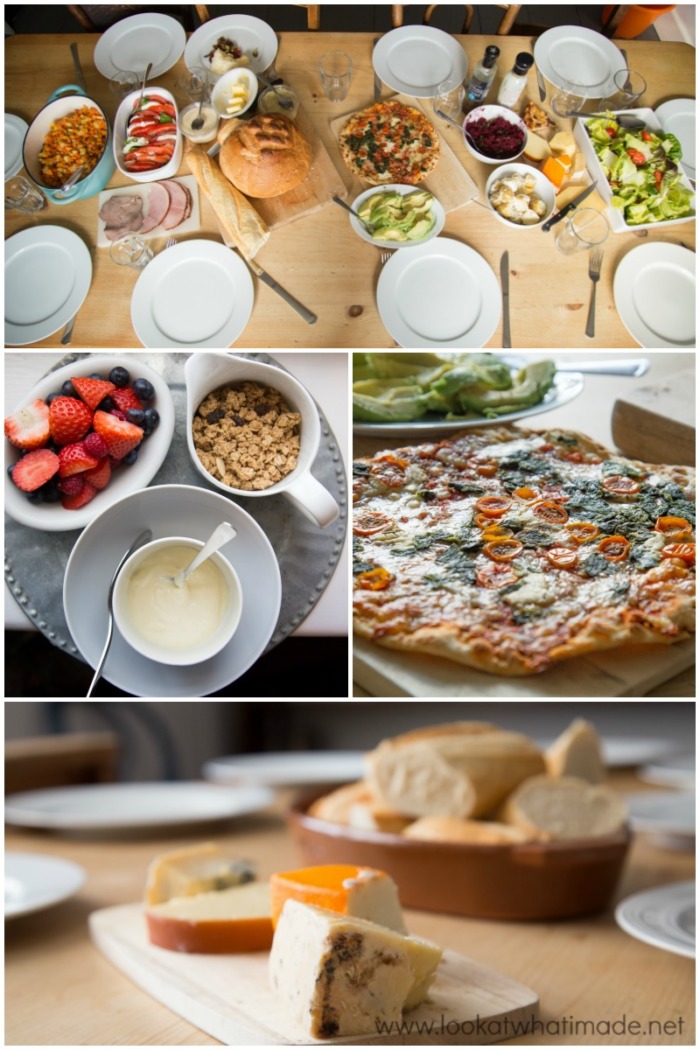 …and crocheting…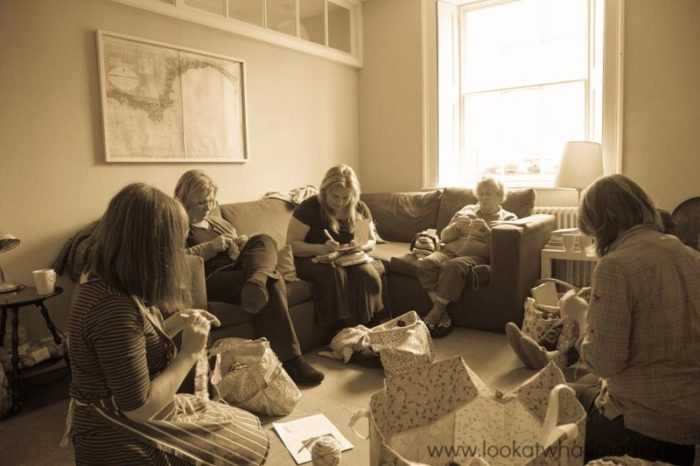 …and making our own ergonomic hooks (under the tutelage of Beth from Koru Tumi)…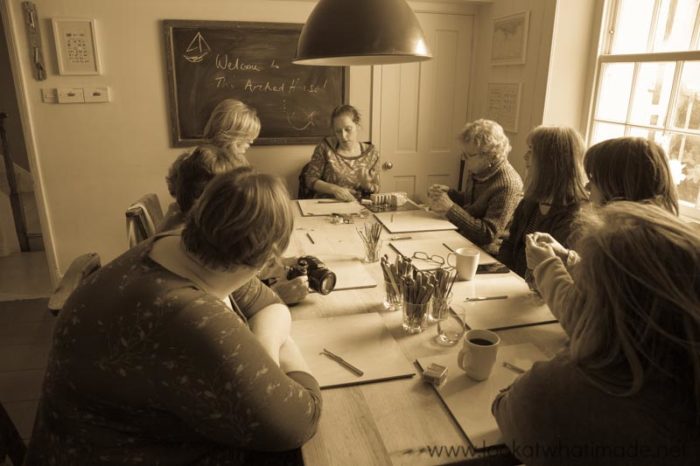 …we managed to fit in some treasure-hunting. The last time I went treasure-hunting on the Jurassic Coast, I came home with an old victorian enamel pot filled with ammonites and pieces of pottery (you can see them in my last retreat post). This time my haul was much more humble, mainly because we were frozen to the bone and I could not feel my fingers after 30 minutes! At least I found a 10 cm (4″) piece of Iron Pyrite (fool's gold) and an old rusty screw. Next time, I am going to find a dinosaur bone, I just know it!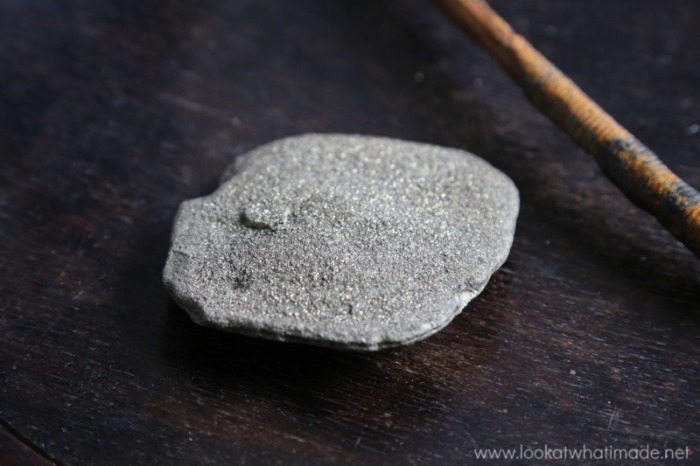 On Sunday, when all the bags were packed and the last slice of cake had been eaten, we spent an hour goofing around and taking photos in one of the beautiful bedrooms (the most beautiful one, in fact).
I wish you could have experienced this weekend with us. It was amazing! Lots of laughing, chatting, eating, dyeing, crocheting, and relaxing. I cannot wait for the next retreat!
If you would like to join us on one of our crochet retreats, there are still spaces available for September and December, and remember that you will receive the Banksia Shawl pattern when you buy a skein of Sprightly 'Rainbow Strike' yarn from Devon Sun Yarns.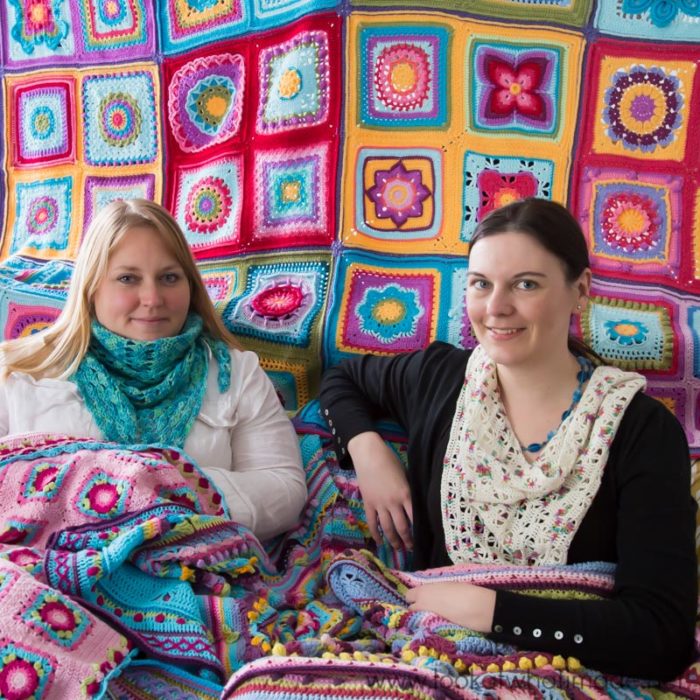 This blog post contains affiliate links. I only link to products I personally use or would use.  All opinions are my own.