The Lookatwhatimade family has just returned from a lovely (long) weekend away. It was exactly what we needed after the mayhem of the last two weeks, although coming back to a house full of boxes that still need to be unpacked was depressing to say the least! Luckily the internet is up and running now :)
This post is largely NCR (non crochet-related), but I did manage to crochet a teeny tiny motif. I also managed to do some knitting. Yes! I can knit. And now I can knit continental style too :)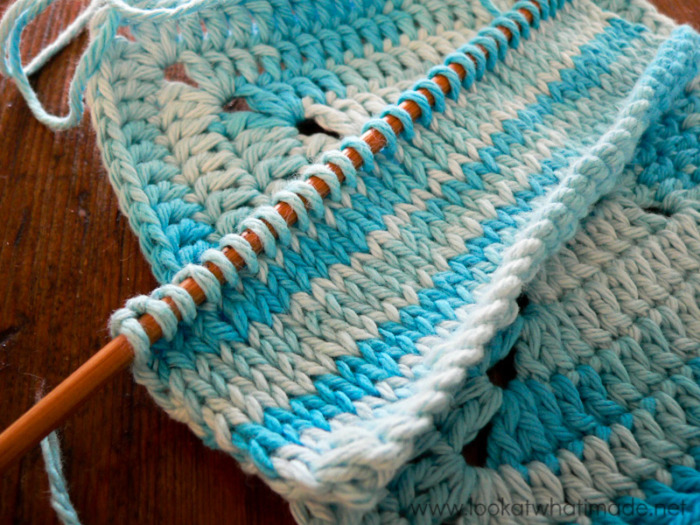 I left with an ouchie wrist and an ouchier back. I came back with a jolly big bump on the head and an ouchie leg – virtual cupcakes to anyone who knows how I got those by the end of this post :)
For our first ever English holiday we went to Swanage in Dorset. I know! Over 10 years in England and this is the first time we have gone away for the weekend (not counting the odd night in Milton Keynes with friends).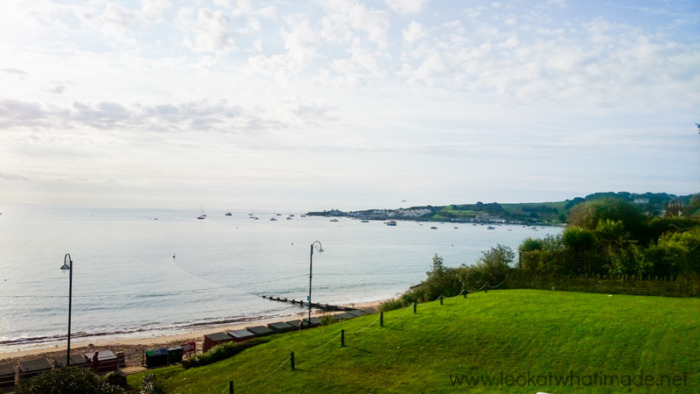 We stayed in a sea-side flat with a gorgeous view. The boys had so much fun on the beach. Watching Xander's amazement at seeing the sea was the best, because he had just turned two the last time we visited Jeffrey's Bay and Paternoster (South Africa), and I don't think he can remember it.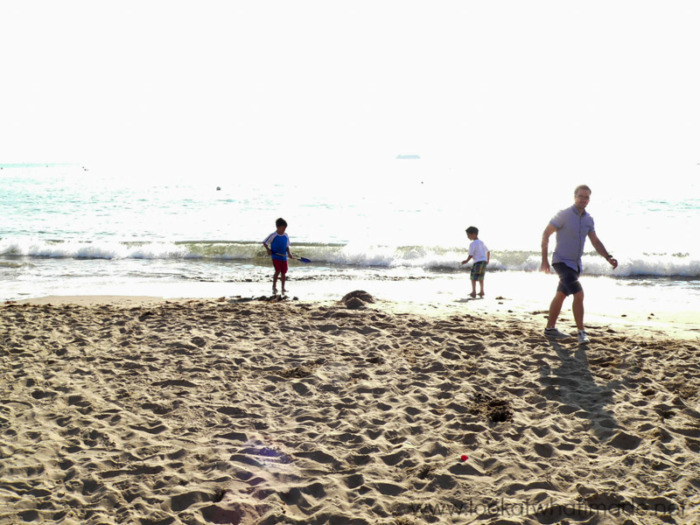 Our first trip to the beach seemed like the perfect opportunity to showcase the Attic 24 Bag my friends Kay and Jo made for me a while ago. Not having been able to crochet for the last 3 weeks (due to my sprained wrist), I take every opportunity to surround myself with crochet pieces in order to ward off the non-hooking blues. Taking this particular bag to the beach was one of my less brilliant plans. I am still shaking sand out of it, but I am not complaining. Every grain of sand is a reminder of a weekend well spent!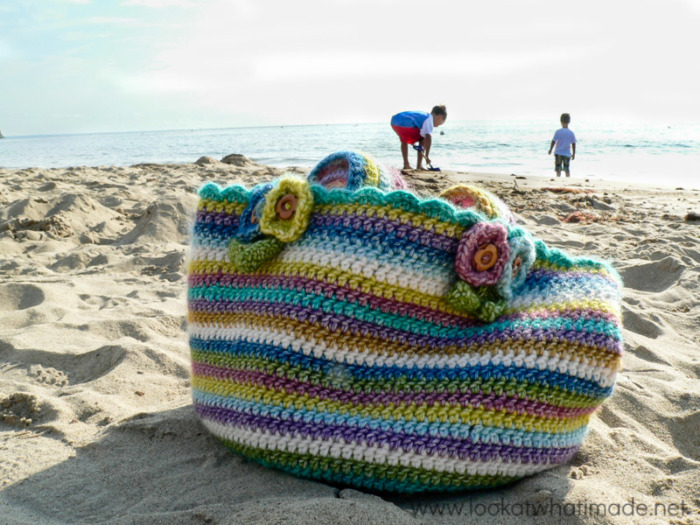 I am very rarely in our family photos because I am usually the one taking them, so when we get a photo like this I am elated. Proof that the boys do have a mom!!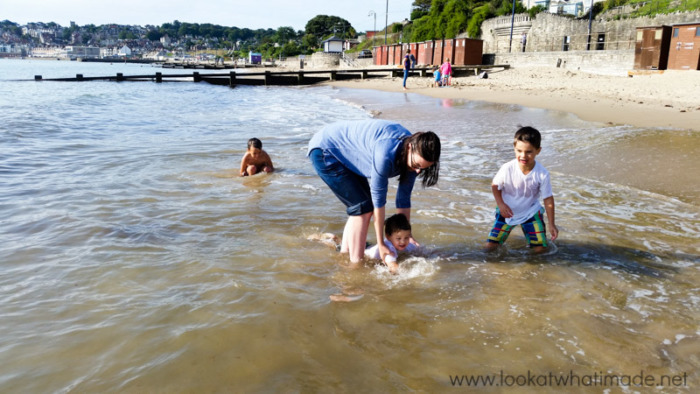 After that bit of splashing I indulged in a spot of knitting. This little tester square came about because I wanted to show my friend Lynnette the difference between knitting and crocheting with a short colour change yarn. I used Lily Sugar n Cream (The Original Ombre) in the 'Swimming Pool' colourway for this experiment. Personally I much prefer knitting for short colour change (or even variegated) yarn. I will be doing a post about that soon.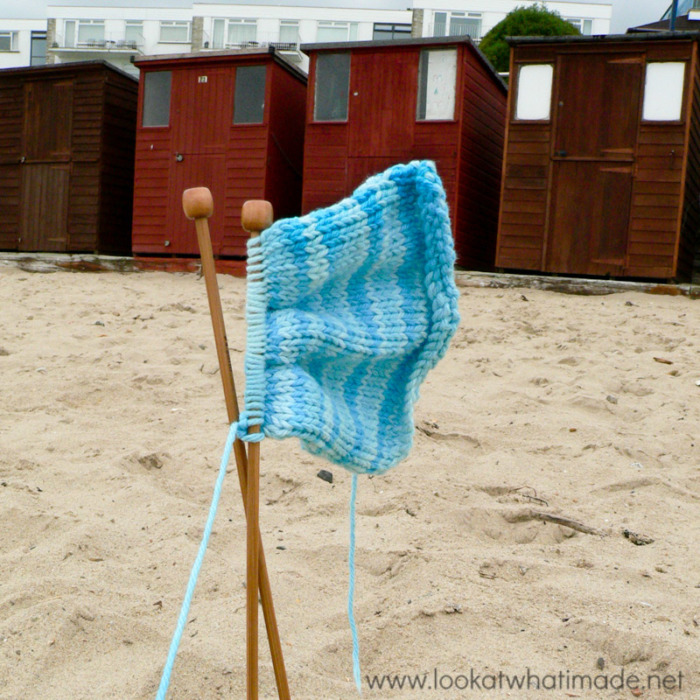 I am working on a design (and have been since before Sophie ended) inspired by beach huts. I wanted to share a photo of the actual beach huts I had in mind (Mossel Bay, South Africa), but the only photos I could find are quite pricey to use or share. You can see them HERE if you are very curious.
The beach huts below live in Swanage, and although they aren't exactly what I have in mind, they are pretty all the same :)
And while I am sharing inspiration, I thought you would enjoy seeing the kind of things that inspire me (through colour and texture). I can see the brick wall being turned into a scrappy stripey blanket (like a bunch of scarves sewn together). The tree would make a beautiful Orla Kiely type mile-a-minute and the warm (textured) squares that form the dinosaur's body made me think of a shawl or scarf done in King Cole Riot (Volcano). The Garden Path shawl (paid pattern on Ravelry) or the Augusta Shawl (free on Craftsy) would both look great in this colourway.
Corfe
One of my favourite experiences was walking through the streets of Corfe. It is the cutest little village ever. And when I say little, I do mean little!
Here you can see Mr. Lookatwhatimade and the boys, strategically posed next to a doorway. To appreciate how teeny that door is, you have to know that Mr. Lookatwhatimade is a good 13 cm (5″) shorter than me and he would just about be able to walk through that door upright if he took his ever-so-cool hat off.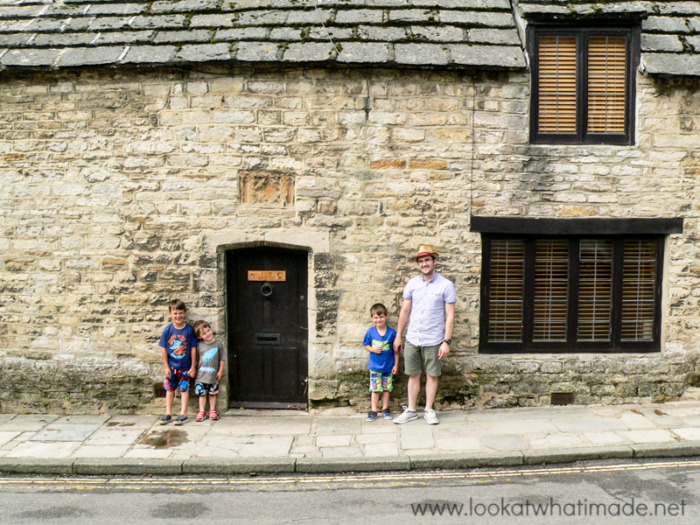 We had wanted to visit Corfe Castle, but there was so much to see (and so little time), that we decided to skip it this time and just walk in the church grounds instead. I don't think there is anything the boys like more than a graveyard and a few gargoyles.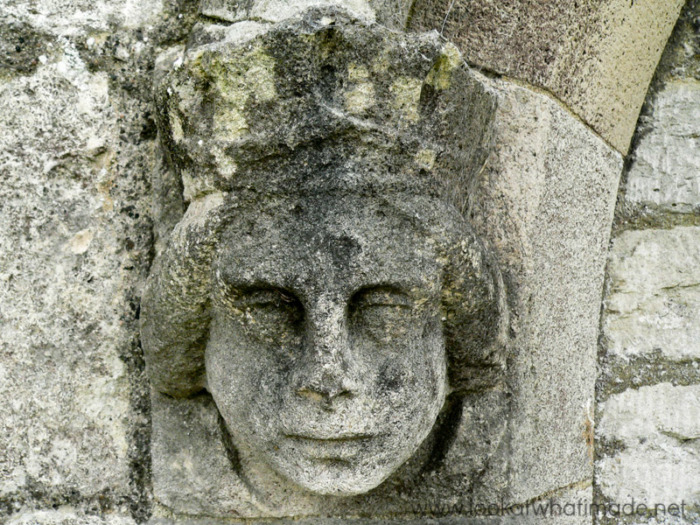 Here's my little 'Vampire' lying down on an ancient grave. The day after our move he had to have 5 of his teeth removed (due to hypomineralisation). Like I said…hectic 2 weeks!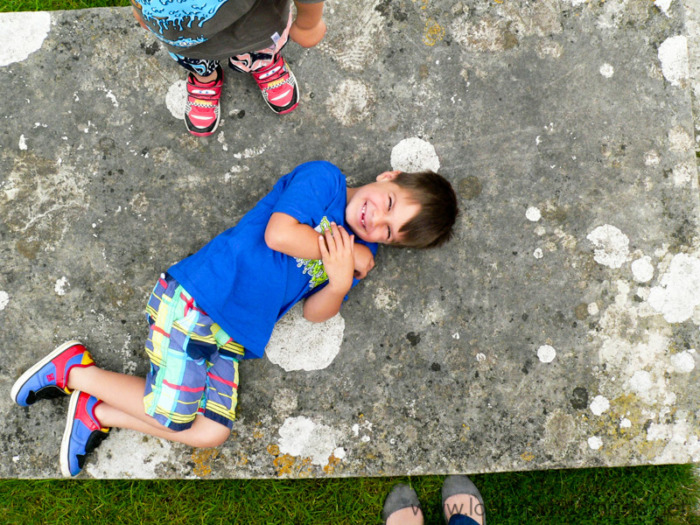 The only not-so-nice thing about Corfe is the fact that I got stung by a wasp (numerous times) while buying a bergamot candle in a gorgeous little shop. This is the first time I have ever been stung by a wasp. I am used to bee stings, my father having been a beekeeper at one stage, but wasps with their nasty frenzied attacks are quite new to me. I must say, I much prefer a bee sting!
When we got back to the flat I spent a leisurely hour (or two) thumbing through Lynnette's stash of crochet books. I absolutely LOVE Erika Knight's books, and will be ordering them as soon as this post is done.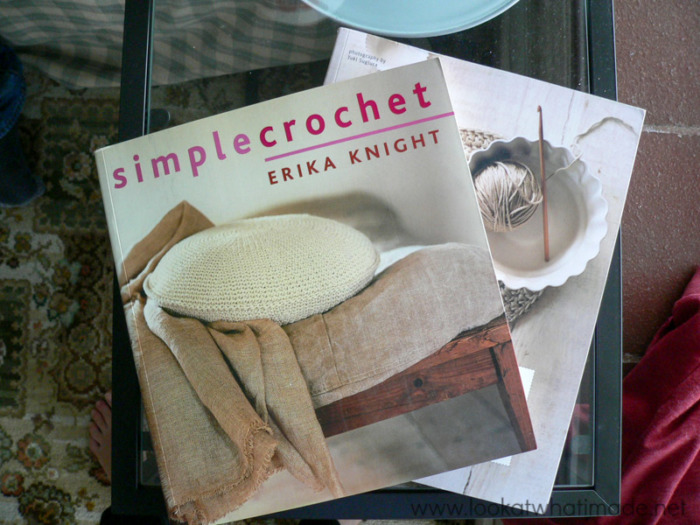 'Simple Crochet' is full of simple projects made using interesting yarns (like leather and fabric). The book is available from Amazon.co.uk
and Amazon.com.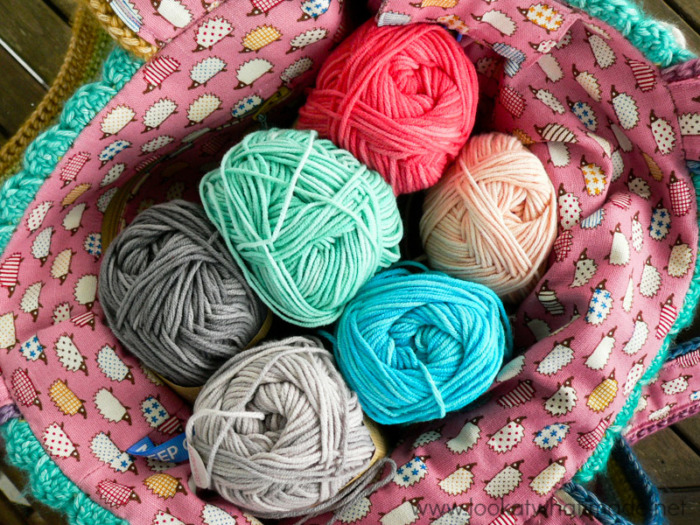 It just so happens that I took 6 balls of Scheepjeswol Softfun Denim with me, so I decided to make a little something from 'Crochet Workshop' – available from Amazon.co.uk
. (This book can be also be found on Amazon.com as Simple Crocheting.)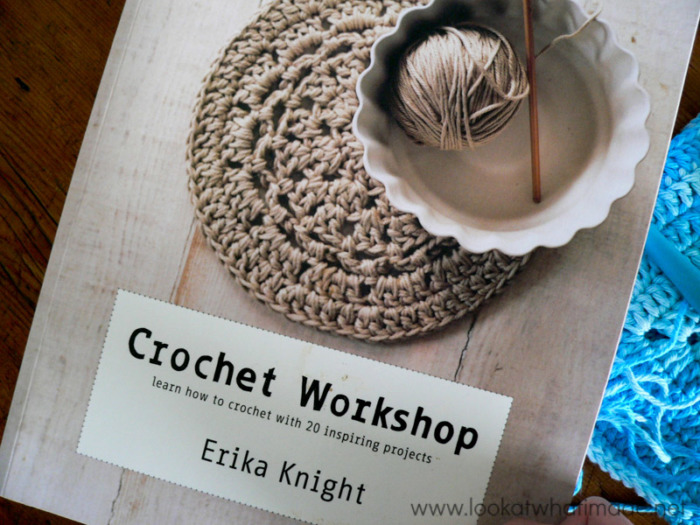 I didn't want to make anything too big, because my wrist is quite tender still, so I made the 'Star Circle' (p. 59).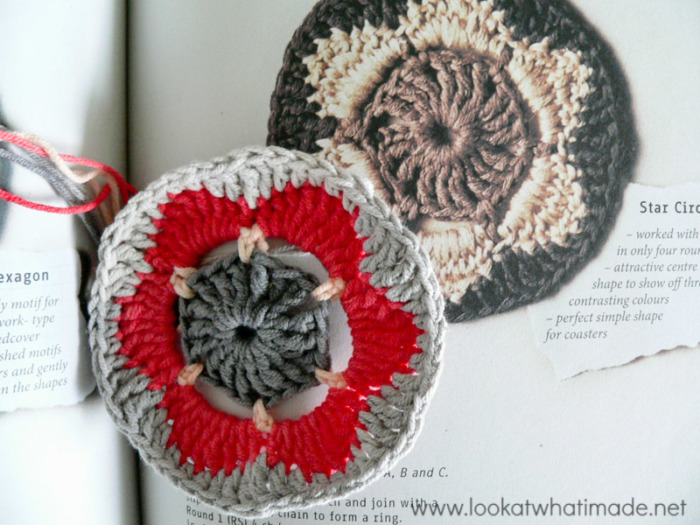 Worth Matravers
The last place I wanted to tell you about is Worth Matravers. We visited a quaint little pub called the Square and Compass. Pieter was particularly pleased because the pub houses a tiny fossil museum.
A while ago I read an article in the Metro about a guy who had built a wooden version of Stonehenge. Imagine my surprise when we got out of our car to see this 'Woodhenge' standing right there!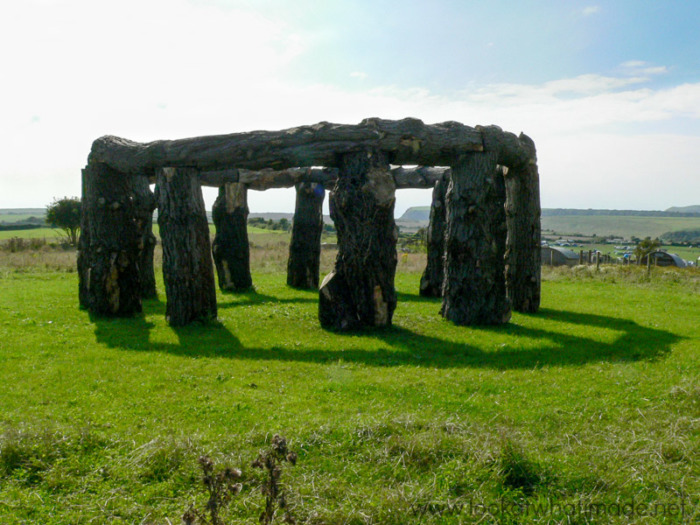 The pub itself is tiny, but there were over a hundred people sitting and lounging all over the little hill it is situated on.
We decided to sit inside (unlike every other person there, but necessary with the children and their hyper moods). Jaco and Xander spent most of the hour there playing with a stuffed badger.
When we finally ventured outside again, I ducked to get through a very low doorway, neglecting to notice that there was an ever lower lintel. I banged my head very hard! And if there's blood, it's always proof that the injury was indeed worth the prickle of tears and the 'I-want-my-mommy' face.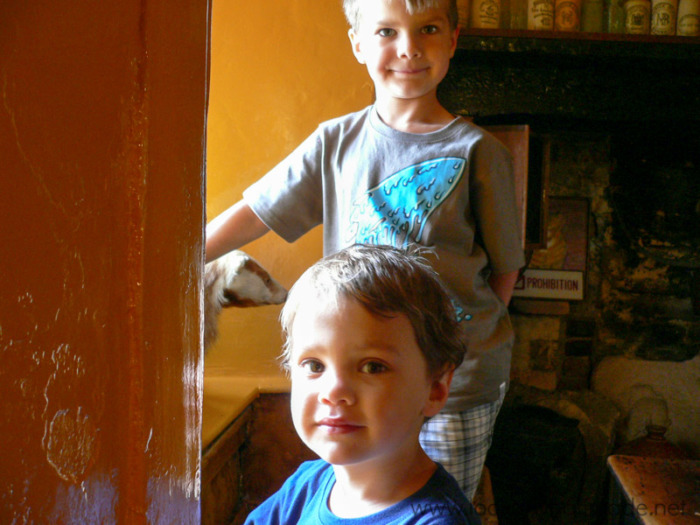 Interesting Facts about Worth Matravers
Benjamin Jesty, who is buried in Worth Matravers, was one of the first people to vaccinate his family against Smallpox (even before Edward Jenner became famous for the Smallpox vaccine).
Worth Matravers was the nerve center for radar development in the UK during the second world war.
My final treasure (and it has to be crochet) is a book Lynnette gave me: Crochet Basics by Nicki Trench (available from Amazon.co.uk
and Amazon.com). The book is full of colour, and you all know how much I love colour! I found myself coming back to these flowers numerous times. They would look great on a cushion, with some slip stitch stalks and tiny crochet leaves…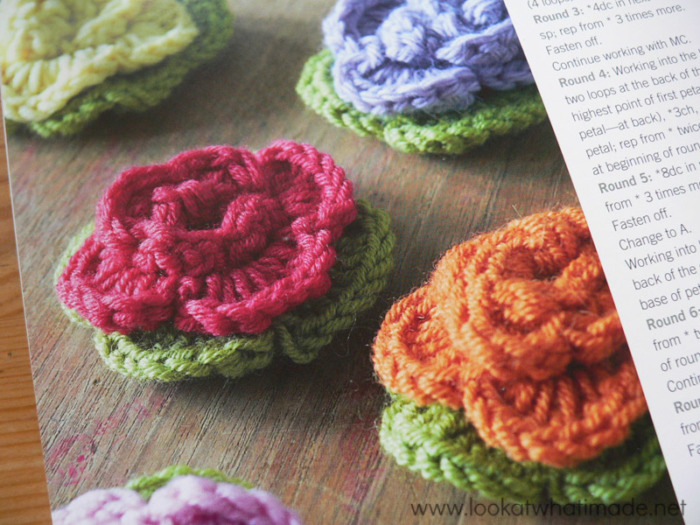 In closing I am sharing a photo of my boys waiting for a Full English Breakfast at the Brook Tea Rooms in Swanage.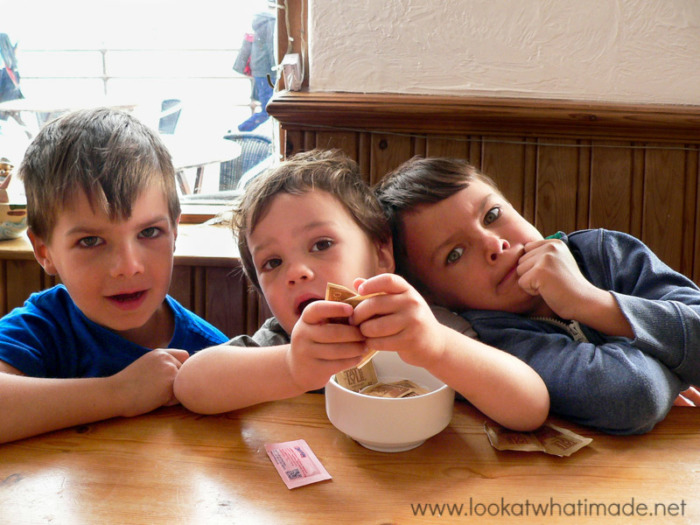 They look quite cute here, but it has been a tough 2 weeks (I'm sure I've mentioned that about 20 times), full of tantrums (Xandi), pain (Jaco), attitude (Pieter), stress (Christiaan), and frustration (yours truly). If you follow me on Instragram you will have an inkling of my feelings of ineptitude. It breaks my heart when they hurt (physically or emotionally) and I don't have the tools or patience to make it better. It has been a while since I have felt so out of my depth with them (you can read more about that here), but I keep reminding myself that this too shall pass.
And on that note, I am going to bid you adieu.

This blog post contains affiliate links. I only link to products I personally use or would use.  All opinions are my own.