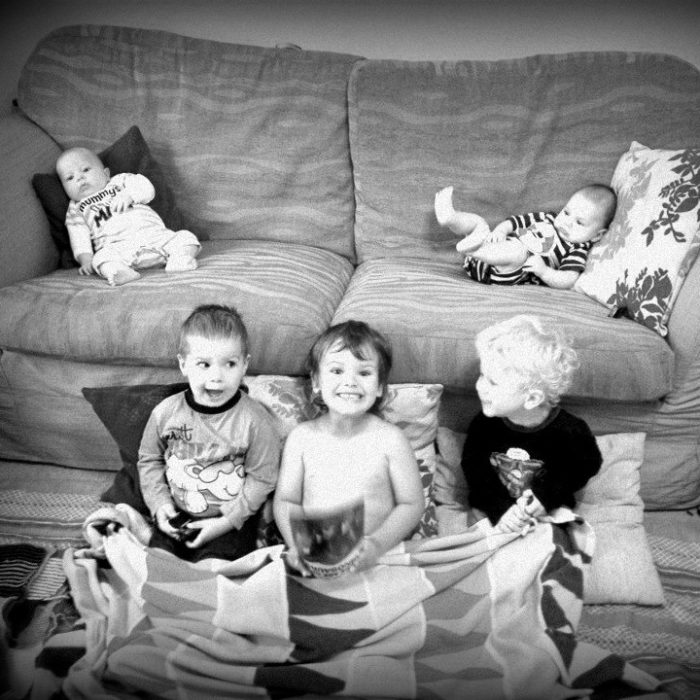 Bine, Olly and Jamie stayed over last night.  For those of you who don't know, or have forgotten, Christiaan and I used to share a house with Bine and Neil.  We lived together for 3 years, until the number of kids between us made the arrangement impossible.
I have been struggling with my three boys lately.  And then Bine and I had a conversation last night about how moms don't tell you when they struggle.  I always feel like I'm the only one that will admit to the kids driving me INSANE a lot of the time.
This is an example of a conversation between Mothers of More (MoM's):
"So how are you guys coping?"
"Oh, I love being home with them all day!"
"Yes, there is nothing better than getting to spend all day forming their little minds."
"But don't you find it hard with 2/3/100 children?"
"Oh no!"
And then, after some coffee and cake – which is the equivalent of a few drinks to a Mother of More – and a tentative and rare ceasefire between the fifteen toddlers outside – which is the equivalent of a drug!! – someone shows a chink in their armour.
"Hmmm," this MoM says, forgetting herself for a moment.  "I got so mad at So-and-so the other day.  She poked her brother in the eye with a half-eaten Kit-Kat while I was upstairs drying my hair."  And then she realizes that she has just admitted to four mommy errors and freezes.  But there is a collective whoosh as every other mother secretly thanks God that they are not the only ones…
Slowly the stories come out…husbands wanting things, kids wanting things, work wanting things, demands, needs, moods…
And pretty soon there is a mountain of jumbled failures with which the MoM's can soothe their wounded egos.
And I love it!  It makes me feel human when other people admit that, yes, they too can barely get the washing done before it needs to be done again and some days they also only manage to have a shower at four in the afternoon.
I wish all mothers would stop pretending that they have everything under control and start admitting to each other how they really feel.  There is something so empowering about knowing that you are not alone.  That you are normal.  That you are a GOOD MOM despite not spending 4 hours a day teaching your two-year old to read.
Now there might be some of you who think: "Pish!  If you have the time to blog and craft and bake, you have the time to teach your child Latin and Calculus.
No!  No, no, no.  Because I am a person.  Before I am a wife, before I am a mother.  Before I am (or can be) anything, I am my own person.  And I need to feed and nurture my soul so that I can be a better wife to my husband and a better mother to those wonderful and terrifying boys!
So sometimes I bake a cake when I really should be doing the fifth load of washing and sometimes I stay up till 12 to make cake pops for a baby shower.  Sometimes I pretend I don't hear someone ask for something so that my husband will respond.  Sometimes I don't sweep the cobwebs from the corners of the ceiling for a whole month.  Sometimes all my plants die.  Sometimes I pile all my clothes on the chair in the corner of our bedroom until it threatens to cause a landslide.
I don't go out with the boys every day.  I don't always feed then a two-course meal.  Ok, I do always feed them a two-course meal, but it isn't always healthy.  I let my husband bath them most nights.  Sometimes I forget to brush their teeth.
I scream a lot!
But none of that means that I love them any less.  And hopefully none of it makes me a bad mother.
The last thing I do before going to bed each night is to look in on them.  I stand there – sometimes for a few seconds, sometimes for a lot longer – and just LOOK at them.  And I get the biggest high.  No matter how angry they made me or how horrible the day.  I thank God for them every single night before I close my eyes.
The craziness is part of the happiness, I guess :)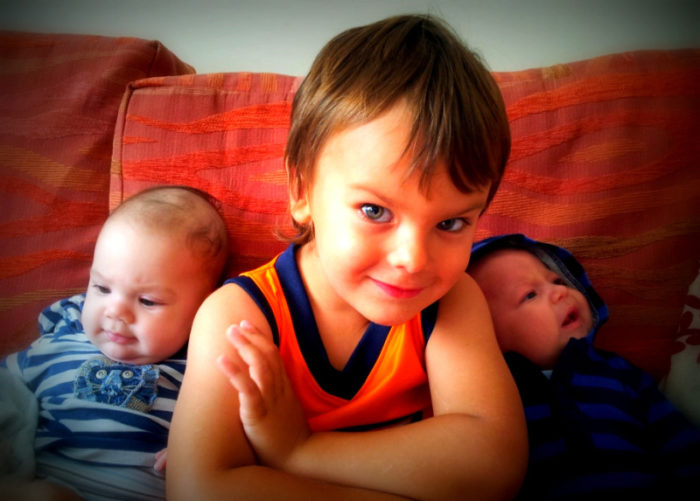 Remember to subscribe to my newsletter if you would like to be kept in the loop.  You can also like my Facebook page or follow me on Bloglovin.
Happy Hooking!