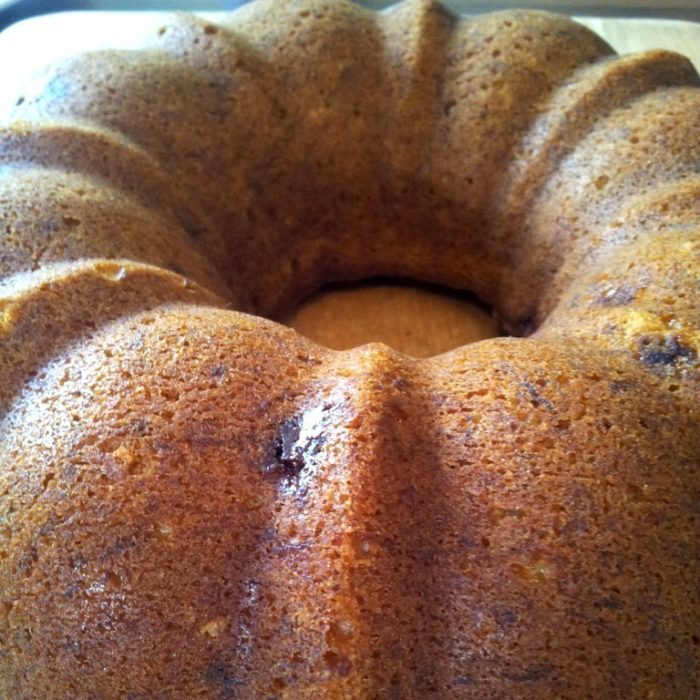 I thought I would share my Chocolate and Coconut Banana Cake Recipe with you on this fine day.  But first, a little bit of a ramble.
Because we are not yet on the property ladder – the first rung is waaaaay above our heads – it is really hard for us to make changes to the space we live in.  One of the big issues in our first rented home was kitchen space.  So we got some 25mm thick mdf and laid it across the tops of the cupboards flanking the window.
I went to town with the decorating and it's (a little bit) garish, but it has served us well.  This is now the third property in which we have utilized our make-shift utensil-hanging-thingy.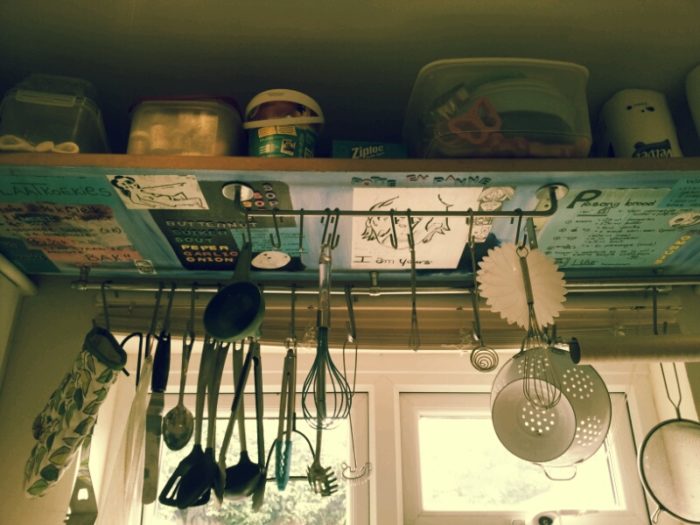 On it are written my 5 most-used recipes:
Plaatkoekies – which are the same as American breakfast pancakes
A Basic White Sauce (because even though I know this recipe off by heart, my husband asks me how to make it EVERY single time he makes it.)
Butternut Soup (because that is the recipe I snagged my husband with…hmmmm!)
A Basic Egg Custard
My Grandma's Banana Bread Recipe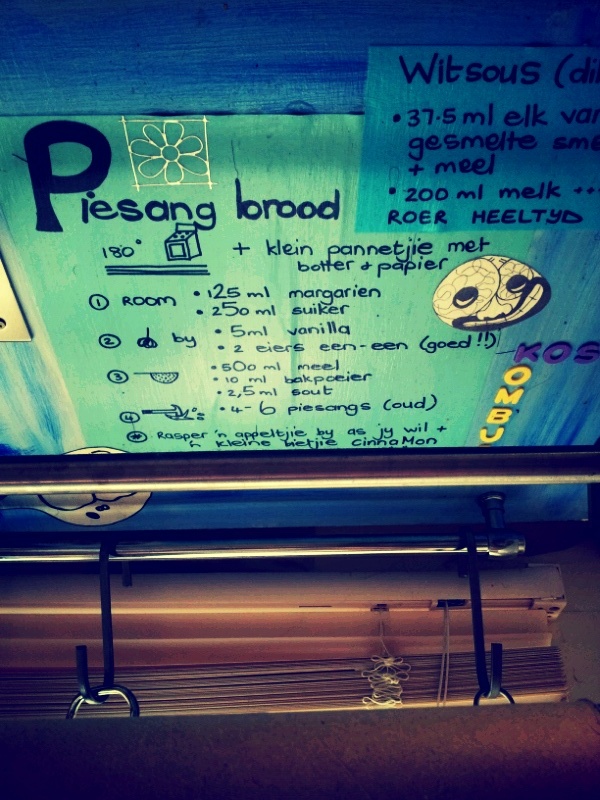 The other day I felt like experimenting a bit – dangerous territory as hubby and Mike (who scoffs most of the Banana Bread I make and is quite a Banana Bread Snob) are very particular about their Banana Bread.  And let me just stop there to add that I know most people will call this same recipe a Banana Cake, but we grew up eating slices of it smothered in butter and it's very hard for me to call it Cake.
After writing that bit I went aGoogling.  "What is the difference between Banana Bread and Banana Cake", I typed in, and stumbled upon David Lebovitz' post Banana Bread, or Banana Cake.  I had quite a giggle.  His posts always amuse me and this bit in particular struck a cord:
"I'm also the kind of person if I have one egg white leftover, I'll go out and buy bananas, sour cream, chocolate chips and more eggs just to make a Banana Cake."
That is so typically me.
And with two young boys and a weaning baby you can just imagine how many bananas we have around the house (and how many of them go off…)
Where was I?
Oh yeah, my experiment.
We had the neighbours over for dinner last Saturday as Liz and the kids had just come back from a 10-day holiday in Ireland.  I made Jamie Oliver's Spicy Pork Ribs, Jamie's Balsamic Potatoes and a rocket salad.  For dessert I made this Chocolate and Coconut Banana Cake, which I served with home-made frozen yoghurt.
And I loved it!  And my husband loved it! And the kids loved it! AND Mike didn't disapprove, which is high praise when it comes to banana bread :)
This cake is quite dense and is at it's best if served with plain old vanilla ice-cream.
Chocolate and Coconut Banana Cake Recipe
If it wouldn't get me sued senseless, I would call this a Chunky Monkey Cake.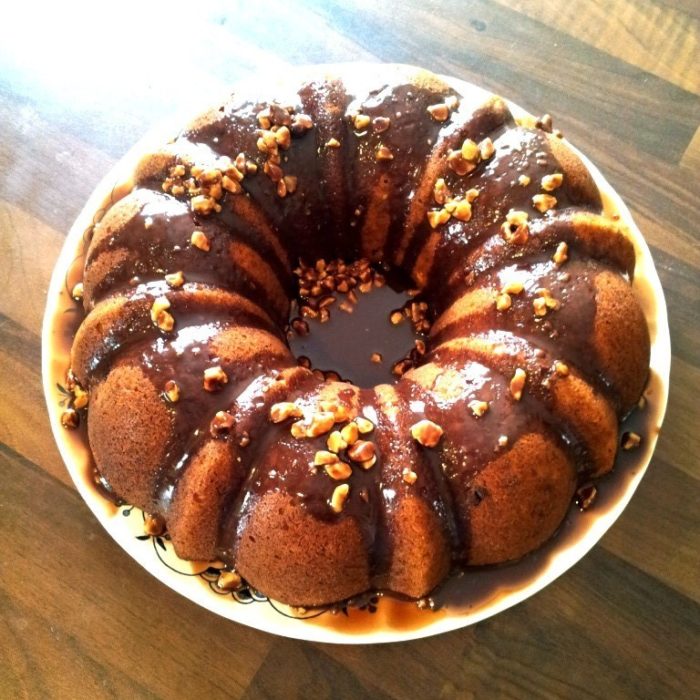 Pre-heat your oven to 180°C.
Spray your Bundt Pan with non-stick cooking spray.  (Of course you can make this in a loaf tin, but isn't it sooo pretty in the bundt pan?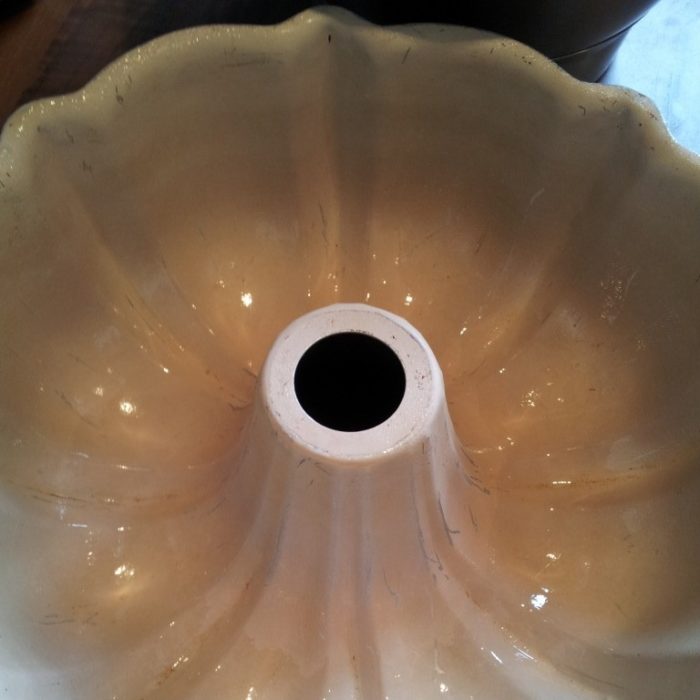 I got this pretty Mrs. from the charity shop in Ruislip Manor for 50 pence.  And she looks like she could tell some stories.  Now isn't that better than buying a new, characterless one from Amazon for £15?
Ingredients and Method
Cream until pale and fluffy:
1/2 cup Butter
1 cup Sugar
Beat in:
Add:
2 cups sifted Flour
2 tsp Baking Powder
1/2 tsp Salt
4-6 smashed mushy Bananas
1/2 cup Dessicated Coconut
100g bar of chocolate (I used hazelnut chocolate – why not!) smashed
Stir to combine.
Scrape mixture into your prepared bundt pan and bake for 30-40 minutes – check after 30 minutes.  You don't want a rock-solid lump of banana goo.
Chocolate Glaze/Ganache
I know it seems counter intuitive, but trust me, the water is not going to combust the chocolate upon contact.  You can read more about my godmother's water ganache HERE.
Melt together:
100 g Plain Chocolate (I used the hazelnut chocolate for this as well, because that is what I had and it works)
50 ml water
When it is all melted and runny, set it to one side to cool down a bit.  If you pour it on the cake straight away it will just run down the sides and puddle around the bottom.  Give it a good 30 minutes to firm up a bit and then drizzle over the cake in any way you fancy.
It is worth mentioning that this cake freezes really well!  Wrap in cling film AND foil and it will keep ages in the freezer.  To defrost, simply remove from the freezer about 4 hours before you want to serve it.
Have you got a favourite Banana Bread/Banana Cake recipe or variation?  Why don't you share it with us!  Or maybe you just want to give me your two cents' worth on why you think it should be called cake/bread.  I would love to hear your views.
Remember to subscribe to my newsletter if you would like to be kept in the loop.  You can also like my Facebook page or follow me on Bloglovin or Google+.