Hee hee hee…  After all the teasing, here she is in all her beautiful simplicity:  Sue's Dream!  Do you see what I meant about the layout being my favourite part of the blanket?  Doesn't it both calm and celebrate the colours so very well?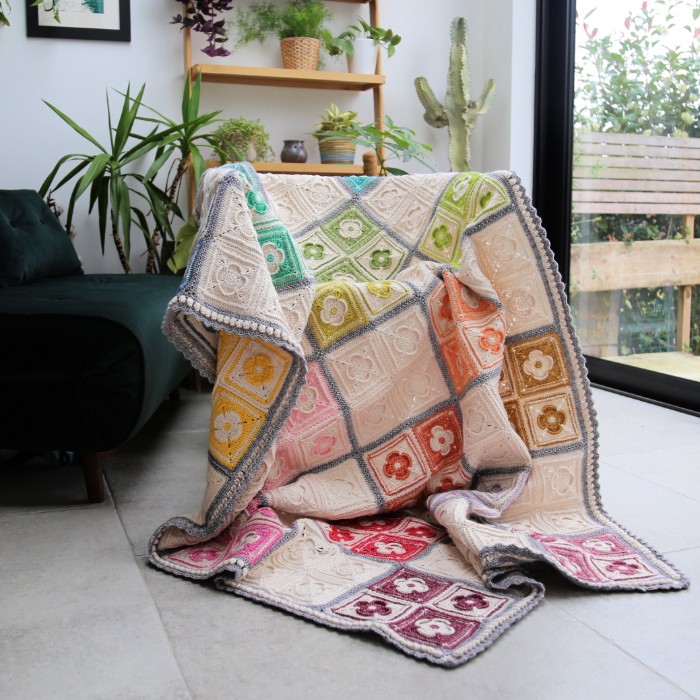 If you haven't been following this little journey, you may wish to read my two previous posts:  Yarn and Work in Progress.  I'll be sharing the pattern here on my blog next week.
Sue's Dream consists of 140 small Sue squares made with Scheepjes Stonewashed in Moonstone and 18 contrasting colours.  The individual squares are then joined in sets of four to create bigger squares, which are bordered with Smokey Quartz.  I call these Foursquares (because, you know…).
Altogether there are 17 Moonstone Foursquares and 18 Contrasting Colour Foursquares.  These are then arranged in a chequerboard pattern…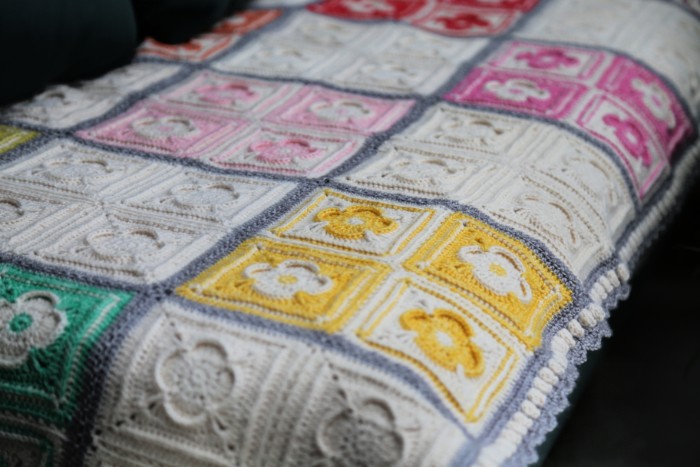 …and joined with our favourite join, before being bordered with a mix of the Charlotte's Dream Border and the Lynda Blanket Border.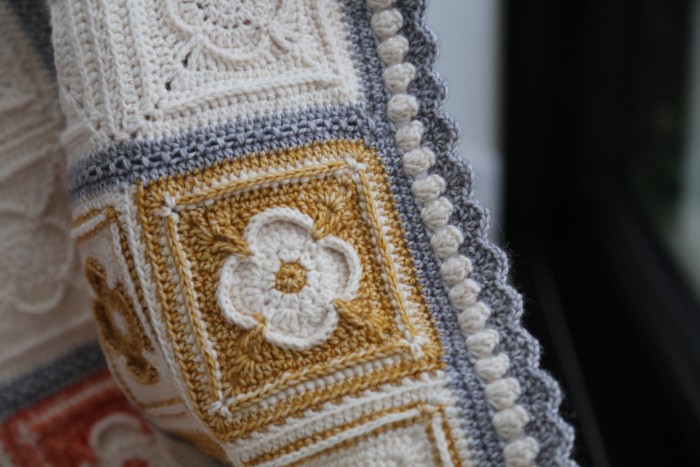 TADA!!!
Isn't she beautiful?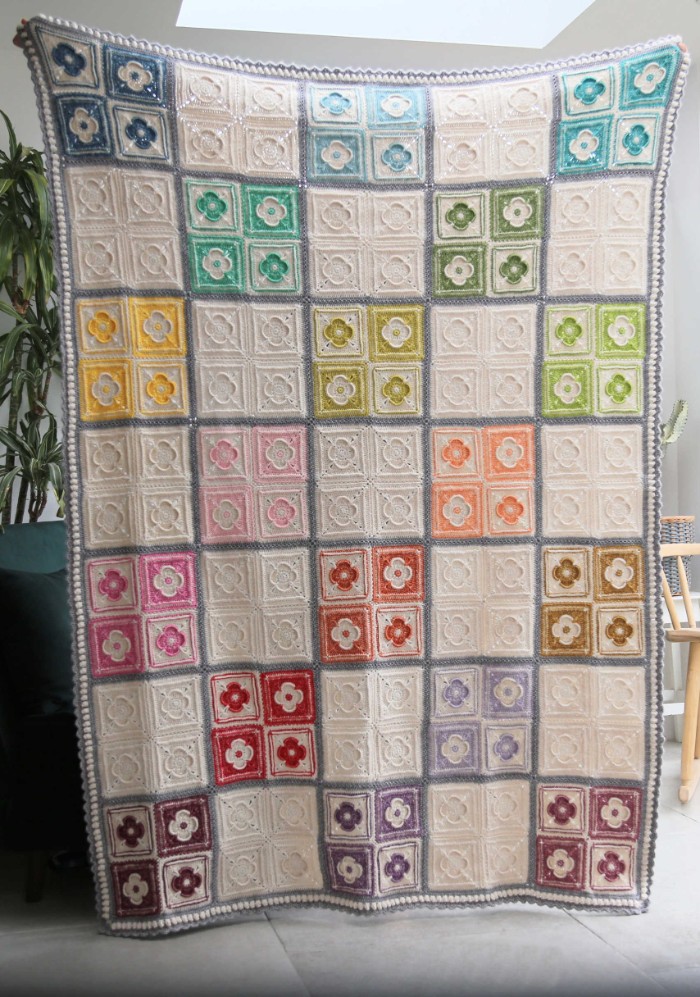 For reference, that is me holding the blanket up just above my head (I'm tall).  It took me close to twenty tries to get this shot. It's not easy trying to photograph yourself on a timer, let me tell you.  I had to run to the blanket, pick it up, make sure I was standing in the right spot, hold it up just so, and then run back to see how it turned out.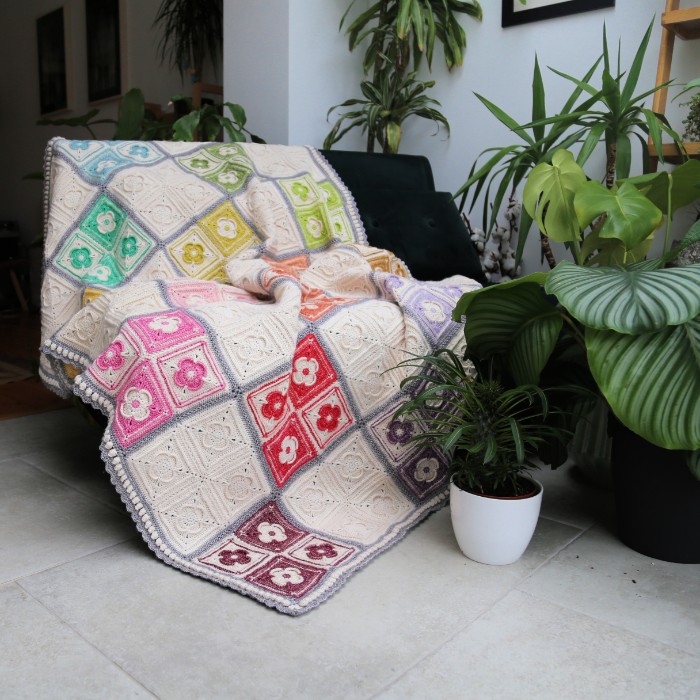 I absolutely low how the Main Colour squares calm the colours down without detracting from them.  I also love the not-quite-rainbow progression of the colours and the balance between the bright and the pale shades.  I've said it before, but Jenny did such a lovely job with this one!
And there you have it :)  One Sue's Dream all done and ready to join our other two Dream patterns.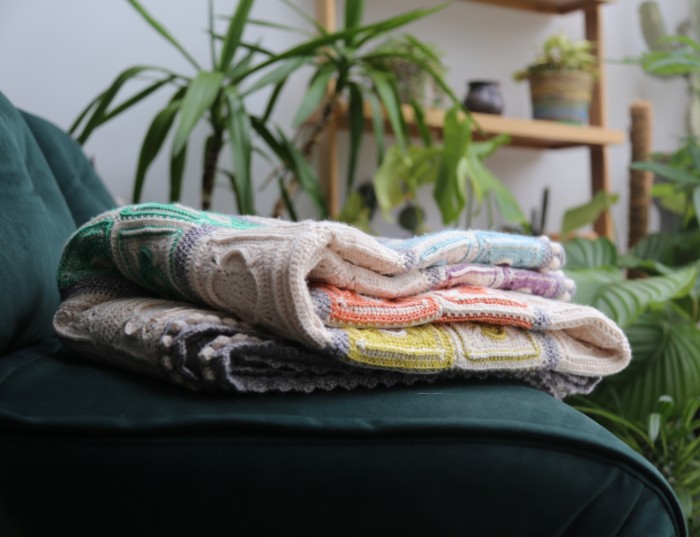 Remember to check back next week for the pattern!
Want to see more of our Sue's Dream journey?

This blog post contains affiliate links. I only link to products I personally use or would use.  All opinions are my own.