I am very excited to show you a few work-in-progress photos of Sue's Dream.  There will only be a few, mind you, because I don't want to spoil the surprise of the layout (too much).  Like I said last week, the layout is my favourite part of this blanket (apart from the colours).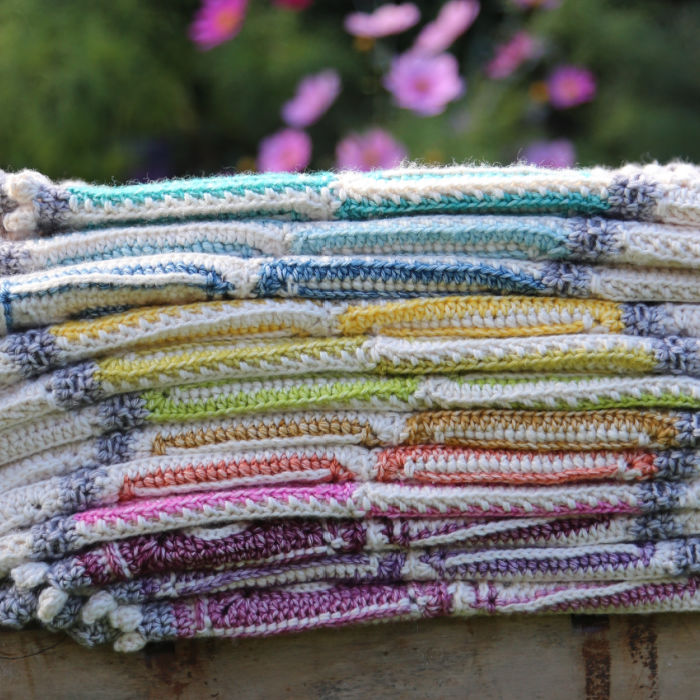 In case you need a reminder, Jenny and I worked together in London for 15 years.  Ever since the crochet bug bit her when she made Sophie in 2016, I would spend most of my lunchtimes with her, heralding my arrival with a hollered 'Whoohoo!' as I approached her office.  We have spent hours and hours and hours of our lives Ooohing and Aaahing over colours and test squares and shawls (Jenny LOVES making shawls).  This 'Dream' blanket was the last one she made before I changed jobs and moved to Exeter, so sharing it is bittersweet.  I hope she will continue making Dream versions*!
*Dream versions are squares (like Sophie's Garden and the Charlotte Square) where either of us go:  "Hmmm, I wonder what it would look like if we took this square and these colours and made a whole blanket out of it".  Then Jenny's eyes light up, and before I know it, we are knee-deep in squares and squeals as she brings this dream to life.
Soooo, Sue's Dream starts with a humble four-petal flower…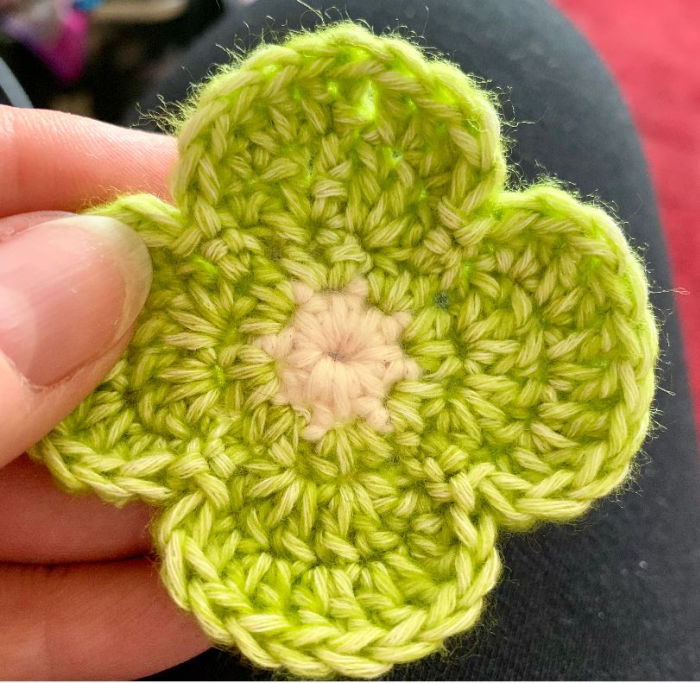 … which is squared up into a simple little Sue Square.
More precisely, 140 Sue Squares.  Below you can see 36 of them, which is roughly a quarter of the total.  Isn't Jenny's little crochet corner a happy little place?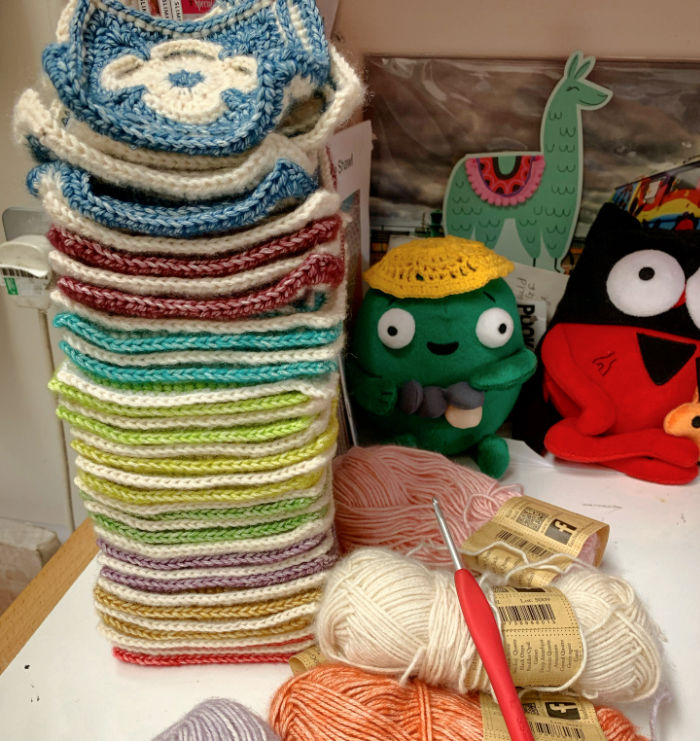 Once all the squares are made, they are joined together into sets of four or 'Foursquares'.  How pretty are they????  They scream mini cushions to me.  Oooh, could that be done?  Are mini cushions a thing?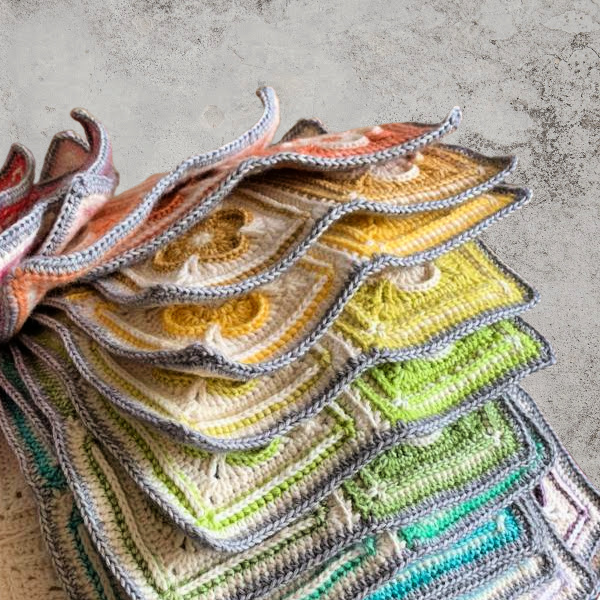 These Foursquares are them joined together with my granny's (sc, ch 1, skip 1) join, which has become our go-to join for any and every blanket.  The join makes a cute little helix/train track pattern that blends in very well when made in the same colour as the last round of the squares.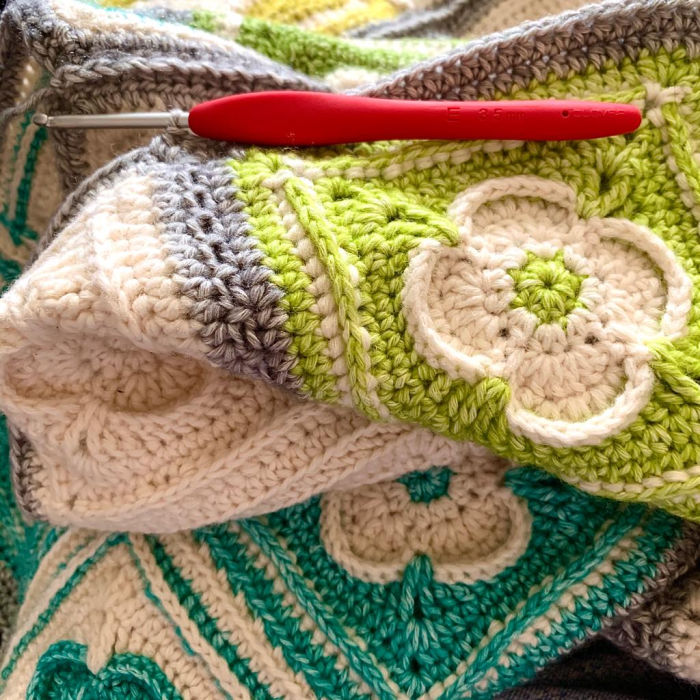 And what you end up with is a blanket full of both colours and space;  a calm, elegant celebration.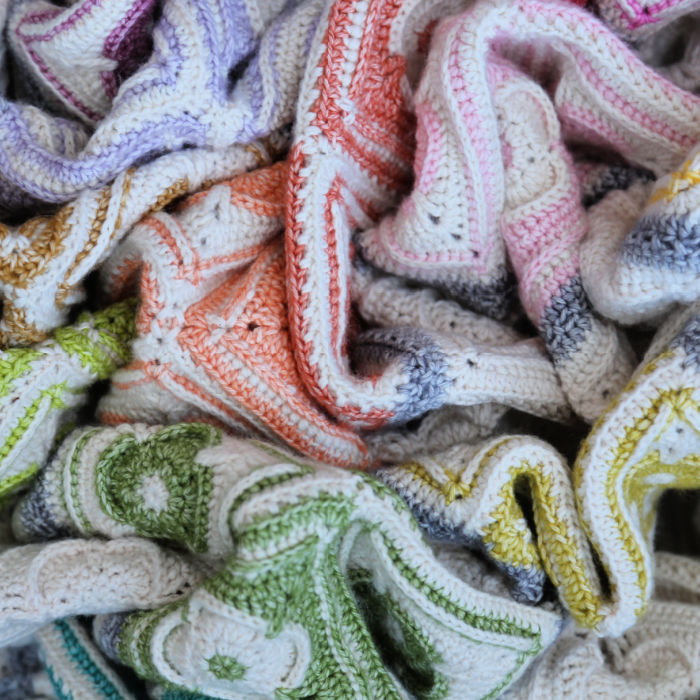 I cannot wait to show you the photos of the finished blanket next week.  In the meantime, I'm still trying to figure out how to marry this pattern with a box of Stonewashed Cutie Pies.
Want to see more of our Sue's Dream journey?

This blog post contains affiliate links. I only link to products I personally use or would use.  All opinions are my own.