The Namaqualand blanket is very dear to my heart. I designed it for my South African crochet tour with Be Inspired last year and the colours and pattern are meant to reflect the beautiful flower-strewn fields that grace Namaqualand every spring.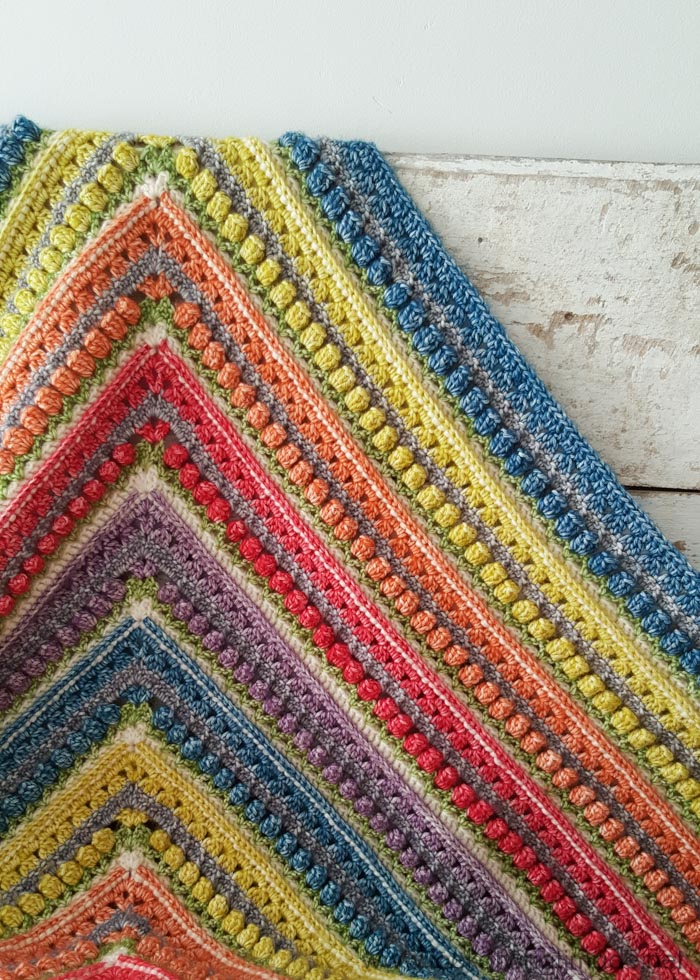 Although I have never seen the Namaqualand flowers in real life, they were a very 'real' part of my youth and education. I'm going to go off on a little bit of a tangent now, so please indulge me.
In England, 'Spring Day' (the first day of Spring) is not a thing. It is SO not a thing that it doesn't even have a name. BUT in South Africa, we celebrate 'Lentedag' (Spring Day) every year (or at least we used to when I was still living there). We have songs and poems and festivals dedicated to it; magazines herald the start of the floral season and tv programs dedicate slots to the fact that Spring has sprung.
These celebrations of Spring invariably included commentary and/or photos of the Namaqualand flowers. I wish I had beautiful photos to share with you, but I don't. You can, however, see plenty of gorgeous photos HERE as a Google Image Search.
My mom's mother, Ouma Erika, was born in Namaqualand in 1933. When her mother died, she was adopted by Daantjie Scholtz (a local lawyer, mayor of Springbok, Member of Parliament for Namaqualand, and owner of the prestigious guest-farm Naries) and his wife Ouma Epie. In 1975, the year television first came to South Africa, Ouma Epie was interviewed on tv. She spoke about how, on 'good weather days', her husband would declare the town 'closed for the day' so that all the inhabitants could go and have a picnic in the flower-filled fields.
This is a photo/postcard Ouma Epie sent my mom in 1979 (just over a month after my parents were married and 2 years before I was born).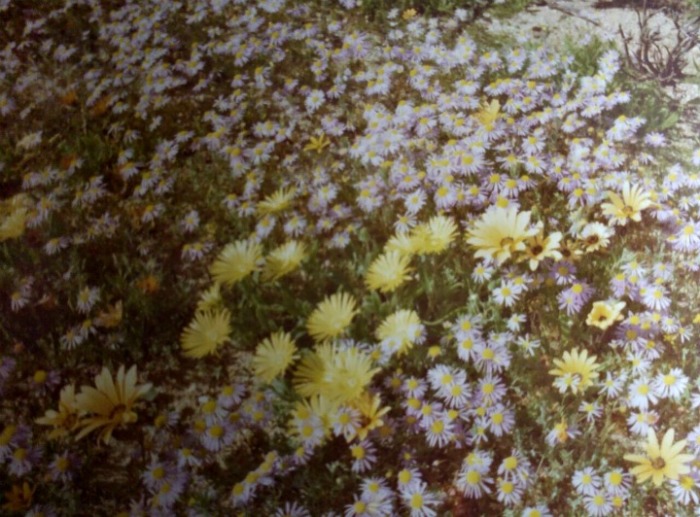 And this is a photo my Ouma Erika took around the same time. It does not even come close to doing the flowers justice, but just look at those clumps of purple flowers! Wouldn't you love to have a picnic there?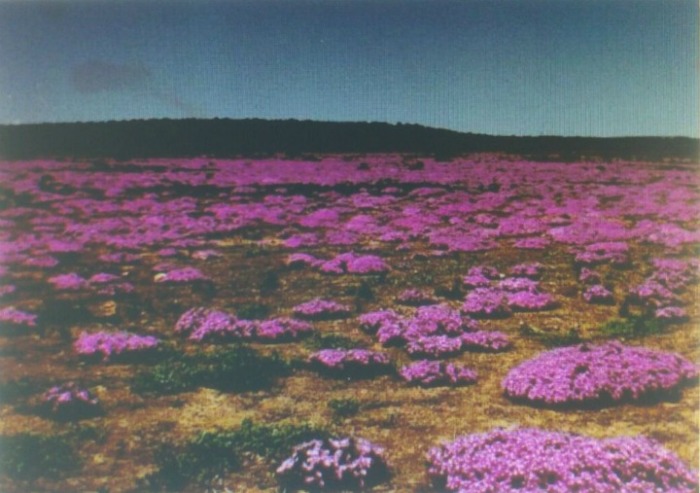 So now you know why this blanket is special to me in so many ways. It is a celebration of crochet and colour just as much as it is a celebration of my heritage.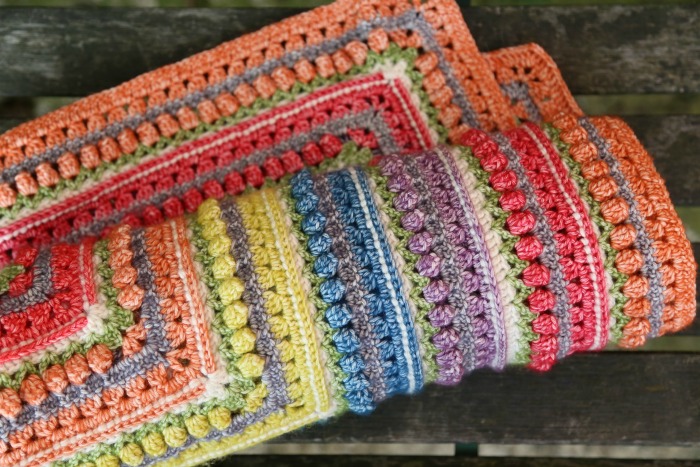 Just like Sophie, the Namaqualand blanket is a square. At 1 m x 1 m, it is meant to be a bold baby blanket or small lapghan.
Materials
I have used Scheepjes Stonewashed (in 8 colours) and a 4 mm hook. Yarn packs for the original colourway (including a printed written-only pattern) will be available from Wool Warehouse HERE next week (you can use the 'Notify Me' function to let you know when the yarn packs go 'live'). If you are in South Africa, yarn packs are already available HERE from Be Inspired (the written-only pattern is available as an add-on to the kit).
Pattern
I will be posting the pattern for this blanket (and a step-by-step photo tutorial) here on my website next Friday. The pattern covers:
Identifying stitch anatomy when working with the front and the back of your work facing you
Making Popcorns in 3 different ways
How to stop a granny square from 'twisting'
Going Bigger
If you are looking for a bigger blanket, using a worsted weight yarn like Stonewashed XL, a 5.5 mm hook, and a lot more yarn will give you a blanket that is just over 1.5 m x 1.5 m. Alternatively, you can just keep adding repeats until the blanket is as big as you want it to be, or you get thoroughly tired of popcorns (whichever happens first).
Going Rectangular
I know that square blankets make most people's brains fizzle. Later this year, I will release the pattern for making the same repeats in rows. If you really want a rectangular blanket, you can wait until then and 'marry' the two patterns to create a rectangular blanket, but this pattern was really meant to be a celebration of all things non-twisty-square and growth-mentality-crochet (yes, those are both things!).
If you want to see some photos of the Namaqualand blanket/square, or you want to share some photos of your own progress, please see/use #namaqualandblanket on Instagram. You can also see more photos of the blanket HERE.
Please check back next week for the pattern!

This blog post contains affiliate links. I only link to products I personally use or would use.  All opinions are my own.