Good morning :)
There is nothing that can snap me out of a creative rut quite like receiving samples of a new yarn. So many of my favourite designs started their life BECAUSE of these samples. Charlotte started her life as a happy accidental marriage of a few sample balls of Aquarel and a design request.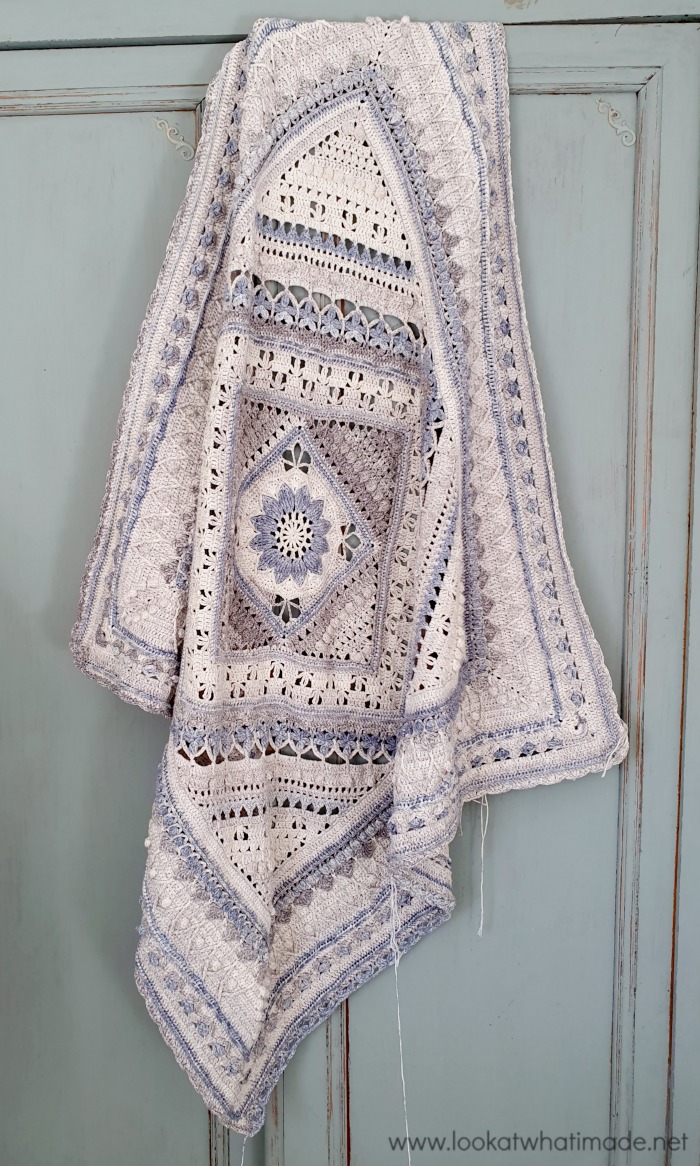 My Hide and Seek in the Hydrangeas Shawl came about because of a ball of Our Tribe in the 'Look At What I Made' colourway.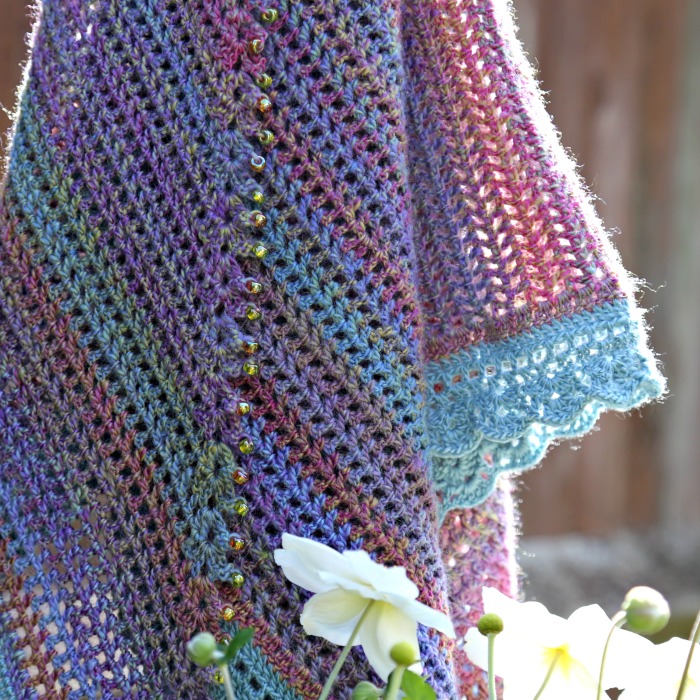 And Secret Garden yarn screamed at me to be made into colourful flowers for the Lynda blanket.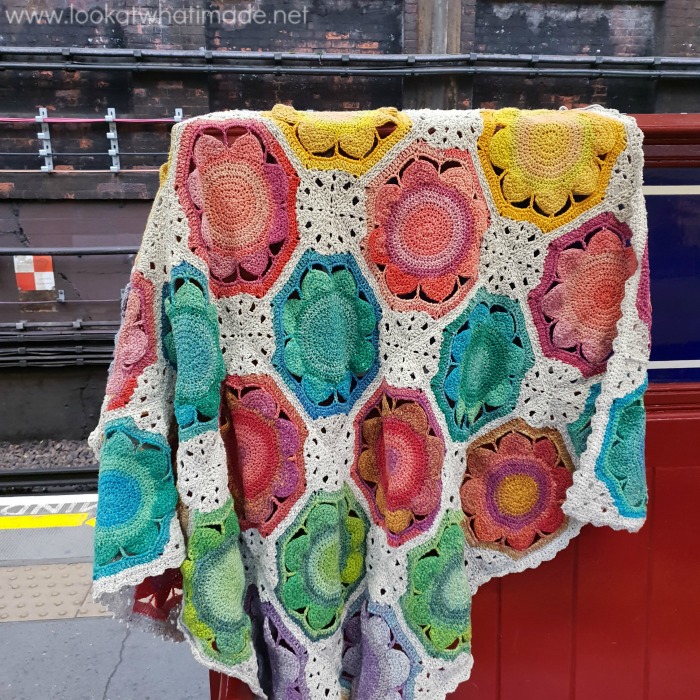 People often ask me about my design process and it is hard to give a definitive answer because it varies so much with each project. What I CAN tell you is that the yarn and colours, more often than not, are the very first step.
The spark.
When I want to design something without this spark, I reach for one of my favourites, which I know and love: Stonewashed/Stonewashed XL, Cotton 8, or Softfun (they all photograph well for step-by-step too, which is very handy). I always make sure I have a ready supply of those in many different colours. This often works really well and I end up sticking to the yarn for my final piece. Occasionally, though, those designs take a little nap somewhere until, like magic, the perfect yarn for them shows up on my doorstep.
That is what happened with the two projects I am making in Scrumptious and Truly Scruptions. But I'm getting ahead of myself.
First, I'll tell you about the yarn.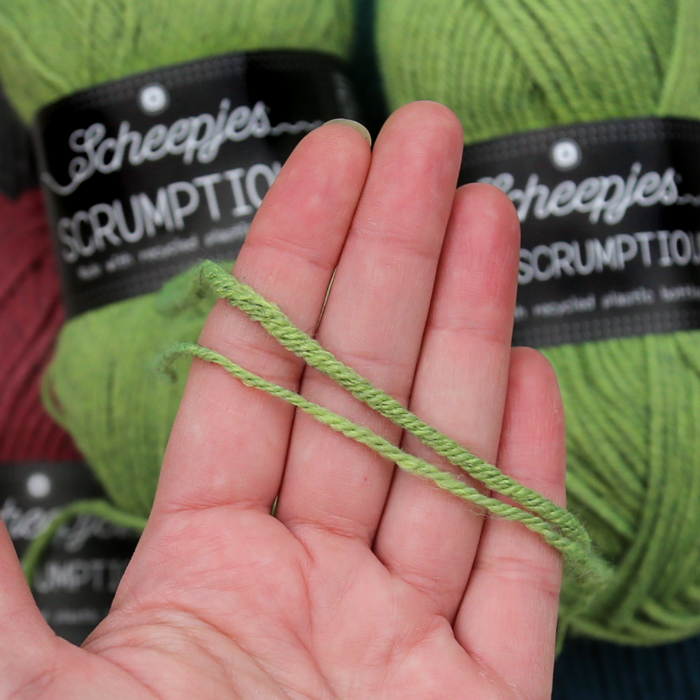 The first thing I have to mention is that both yarns are made from 50% Recycled Polyester (recycled plastic bottles) and 50% Acrylic. You'd think that that would make the yarn feel weird, but it is soft and lovely to work with. Most of the colours (of which there are 80 to choose from) have a heathered look. It's hard to explain, but it makes it look more like wool than acrylic. I think you'll see what I mean when you see the square I'm working on with Scrumptious.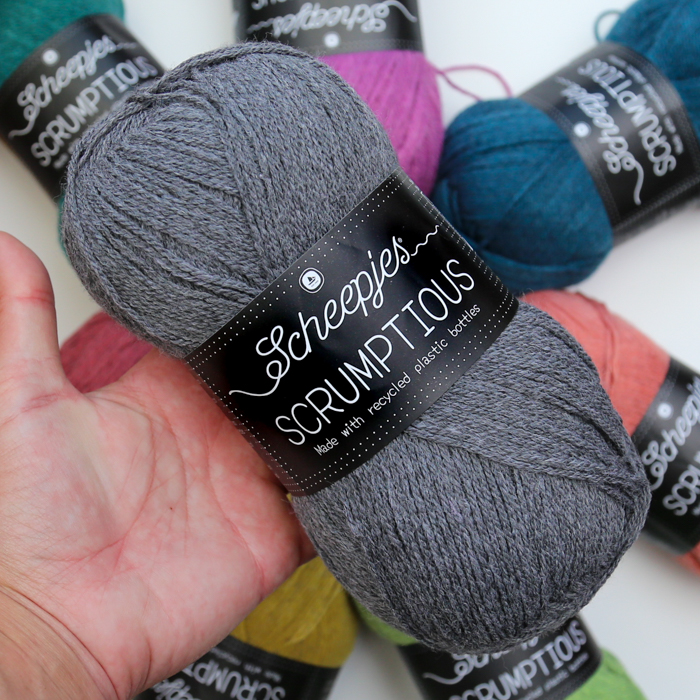 Scrumptious is a DK weight yarn (1oog/300m) and twins with Colour Crafter. You can successfully use both in a pattern, or you can interchange them in patterns that call for one or the other. I'll add a list of pattern suggestions at the bottom of this post.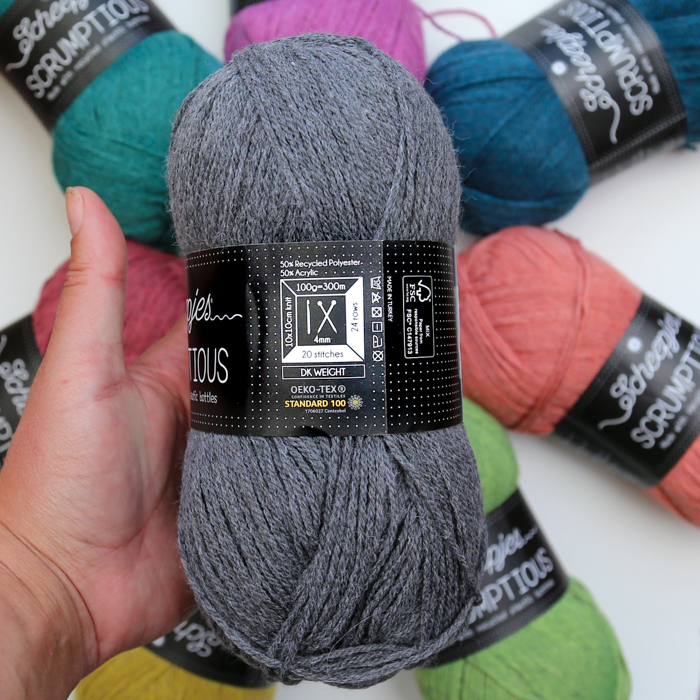 Truly Scrumptious is an Aran weight yarn (100g/108m) and twins with Chunky Monkey. Ditto about interchangeability. Although I love Chunky Monkey, I think I prefer Truly Scrumptious because it has a tiny bit more 'grip' to it.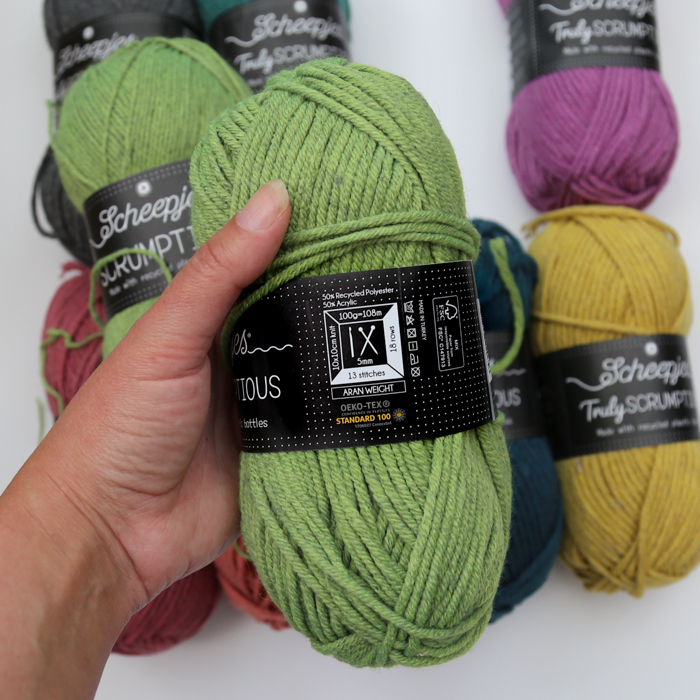 When I heard about this yarn, I asked for samples in similar shades to the Terrazzo I used for my Diversion Scarf a while ago. That's another design that hopped straight off my hook as soon as the sample yarn arrived.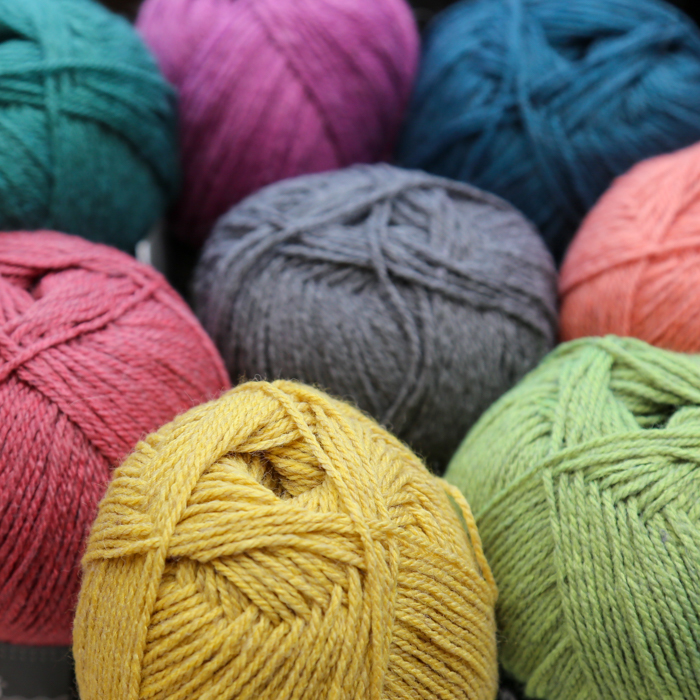 When the yarn arrived, I was delighted with it. I couldn't wait to try it, but we had made plans to go to Black-a-Tor with London friends (camping in Cornwall for a week), so I packed all the yarn, hoping to take some lovely photos of it out in the wild.
Best. Laid. Plans. And all that.
Satnav took us down a track that was NOT designed for our poor car. It rained. We turned around. It rained some more. We all got out and navigated Mr LAWIM through the dodgiest bits, scraping the car but not stranding it! It kept raining. Boys were moaning "this is the worst day ever". I laughed my 'this has gone beyond bad and into comical' laugh. And still it rained! Buddy loved it, though.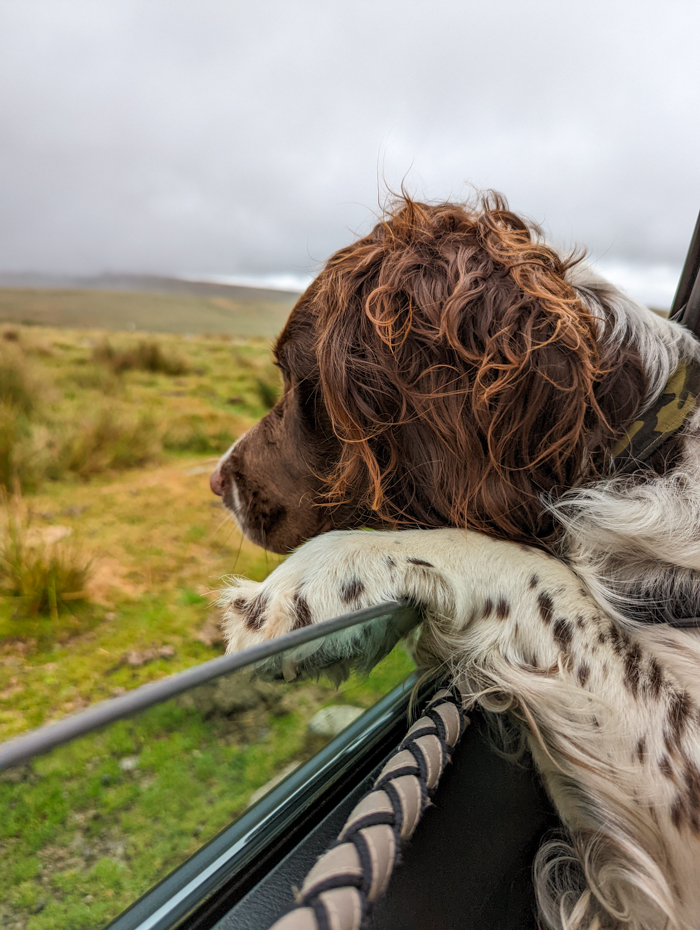 After a re-route (which turned out to be yet another trap), a pitstop for a car-sick boy, and a change in where we planned to meet, we arrived at Meldon Reservoir an hour late. And guess what? It hadn't stopped raining yet!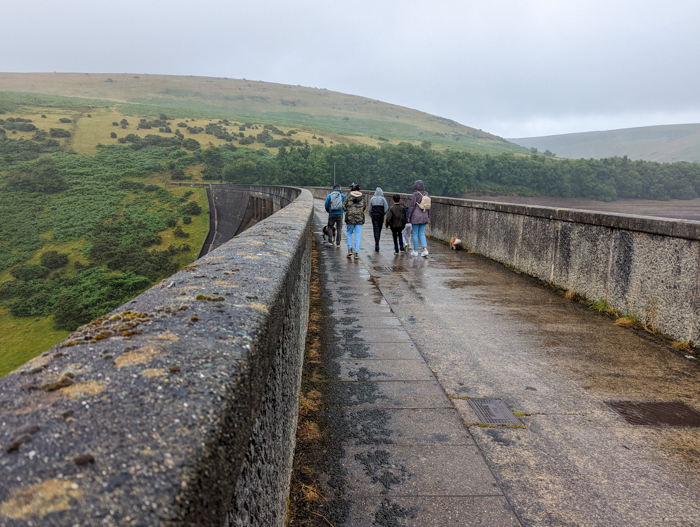 Our planned walk and picnic didn't quite go as planned…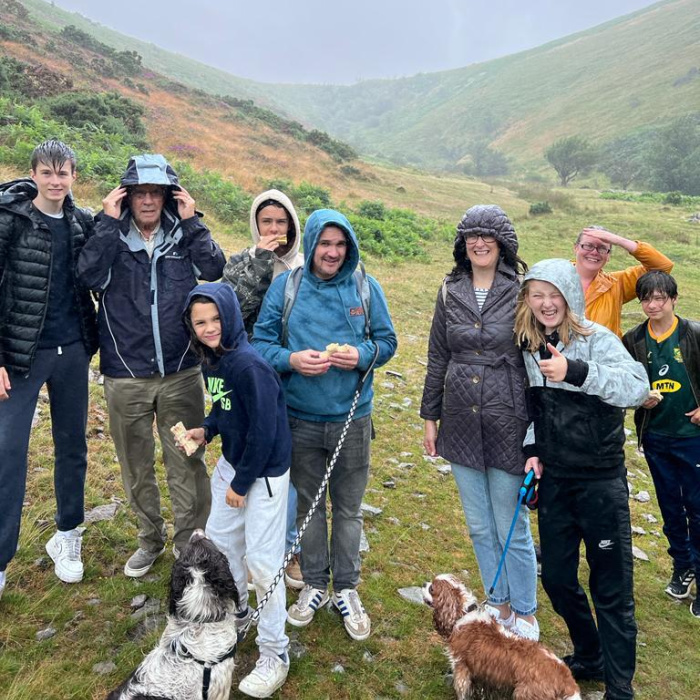 My amazing photoshoot didn't quite go as planned…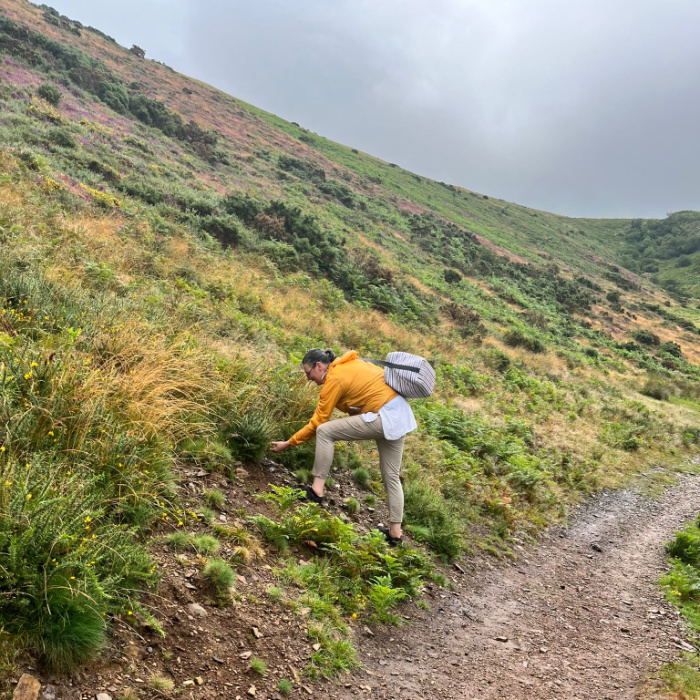 We still managed to have a great time though. I used to get so worked up when things went wrong. Ok, I still get worked up, but I used to get really really worked up. Now I remind myself that the outings that go wrong are often the ones I remember best, and I keep reminding myself of that fact.
I took what photos I could and managed to pick up (from the ground, not the plants) some leaves and flowers that fit the vision I had for this colourway.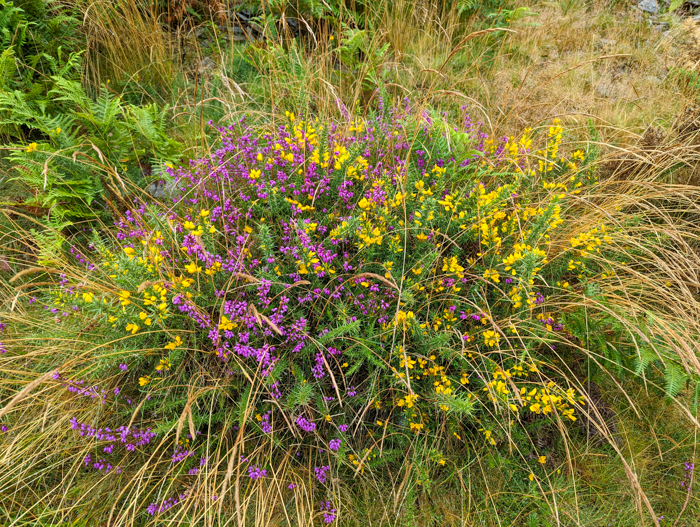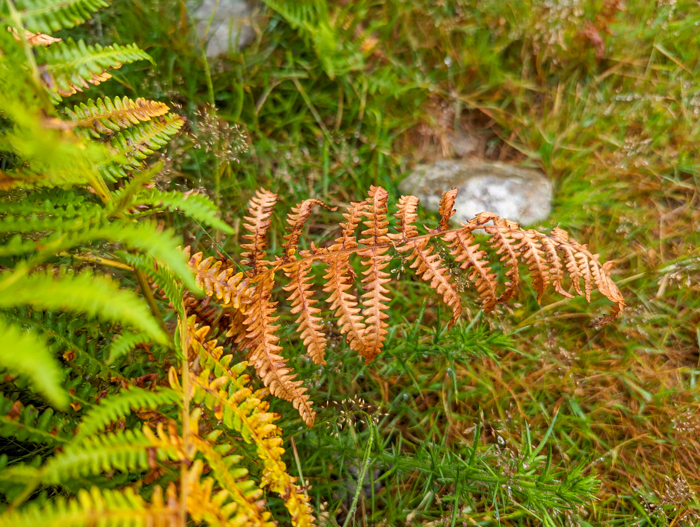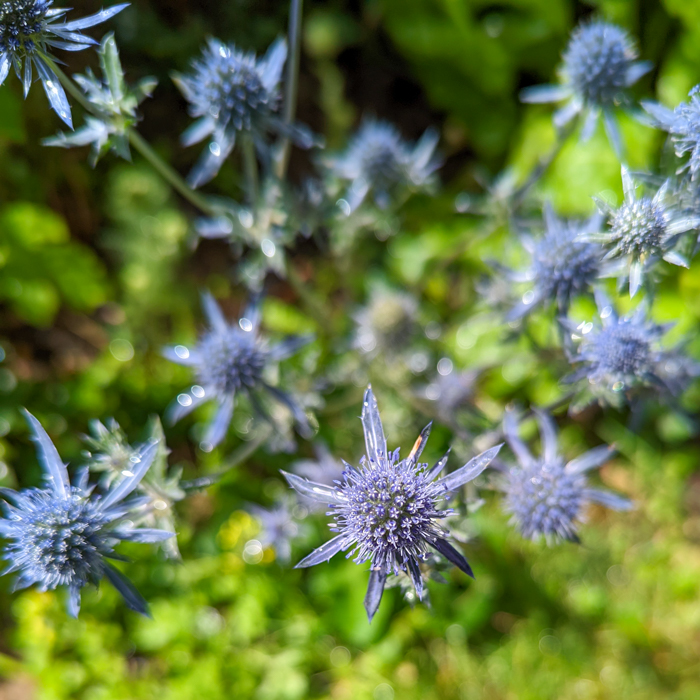 My brilliant idea was to photograph each ball with a flower or leaf similar in colour, but when we got home I opted for a nap and when I went to check my little collection of flora the next day, some of them had wilted and/or gone crispy. Don't regret the nap, though, and still managed to get SOME photos :)
For both projects, I am using 7 colours and one dark grey.
There are two pinks: Grapefruit Curd Tart (308) and Summer Berry Tartlet (322)…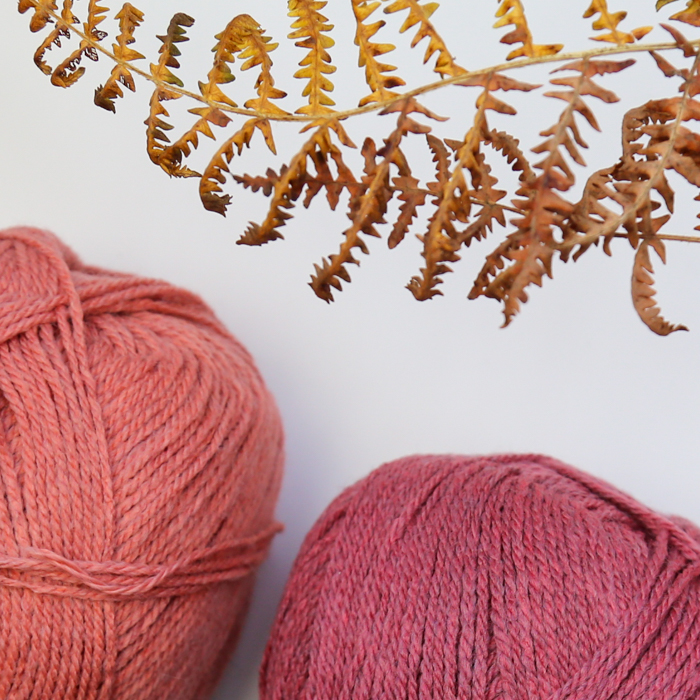 One yellow: Citrus Rice Pudding (315)…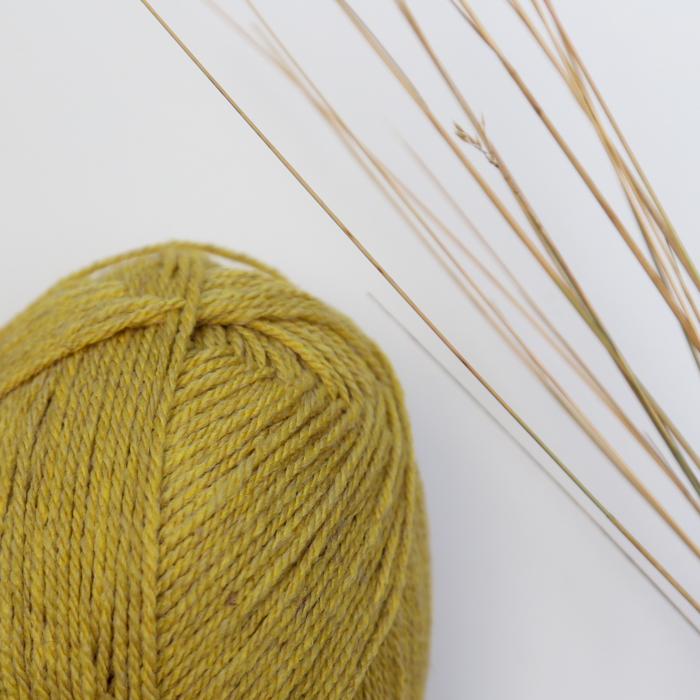 One purple: Blackberry Honey Gelato (312)…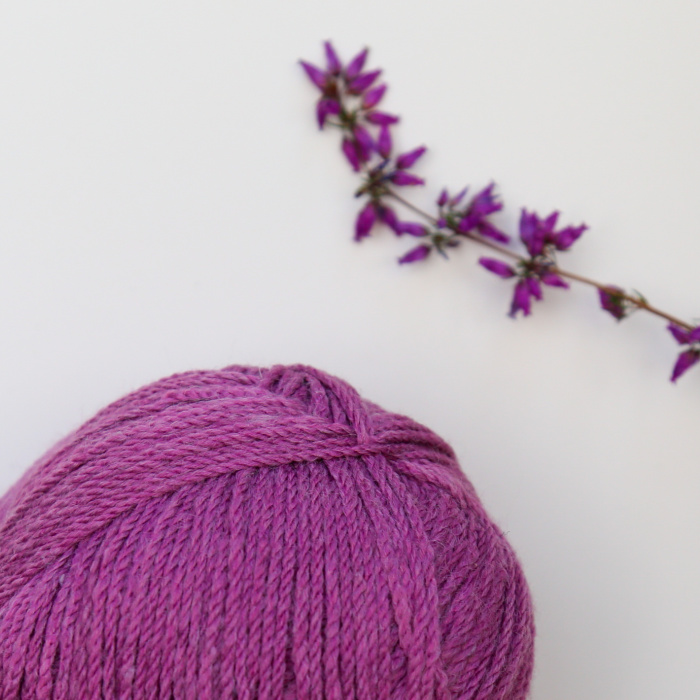 One green: Matcha Chiffon Cake (326)…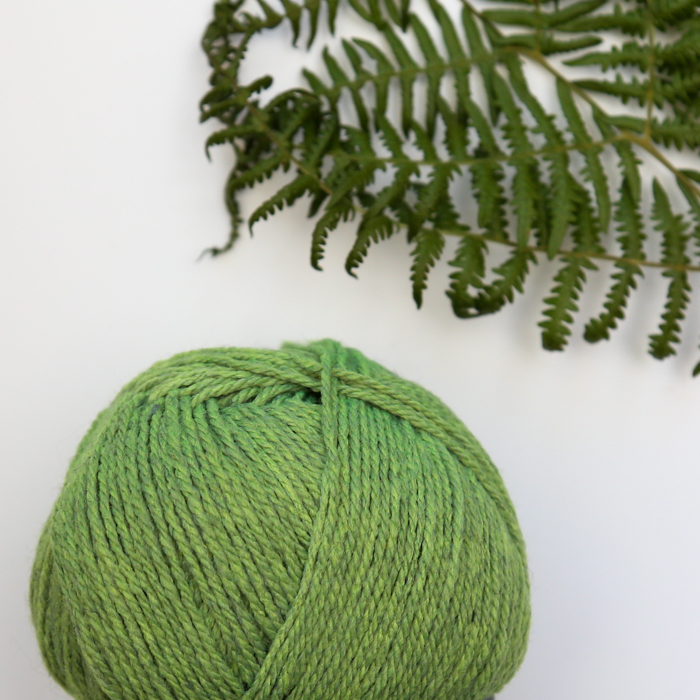 And two blues: Rainforest Cake (349) and Forest Fruit Pound Cake (354). Oh, and the grey: Black Sesame Muffin (380).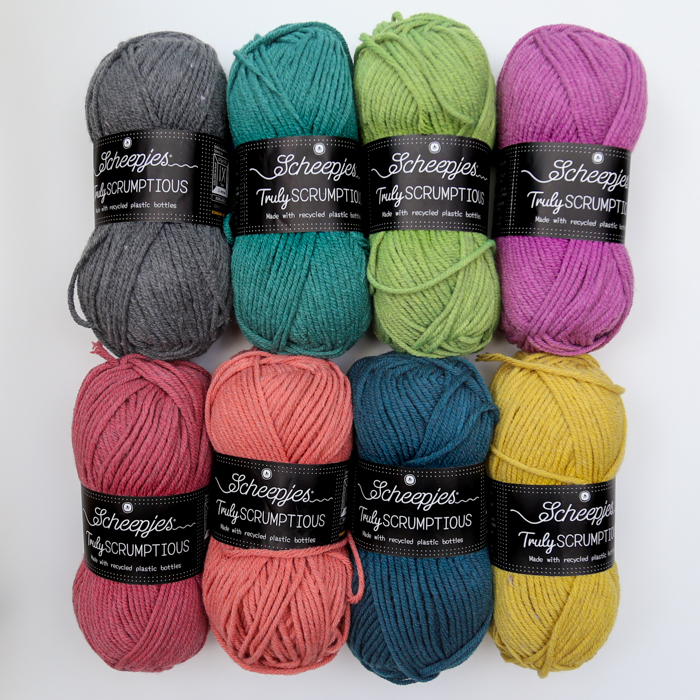 With the DK, I've remade a pattern that's been on the back burner for ages. It's the test square I made to figure out the maths for the wheat-stalky corners in Charlotte's Universe. I originally shared a version of this pattern as the Bejeweled Seat Pad (Inside Crochet Issue 93), using Stonewashed XL and Invicta (discontinued) held together.
I have adapted the pattern into a square with a final-round stitch count of 40 stitches per side, making it equivalent to a 12″ square when using Worsted Weight yarn. I tend to aim for that number because it means that you guys can include it in blankets made with lots of other 12″ squares without having to do fiddly maths.
This square is called Daisy's Bouquet, and I am working on the photo tutorial (with charts by Masako Kawahara).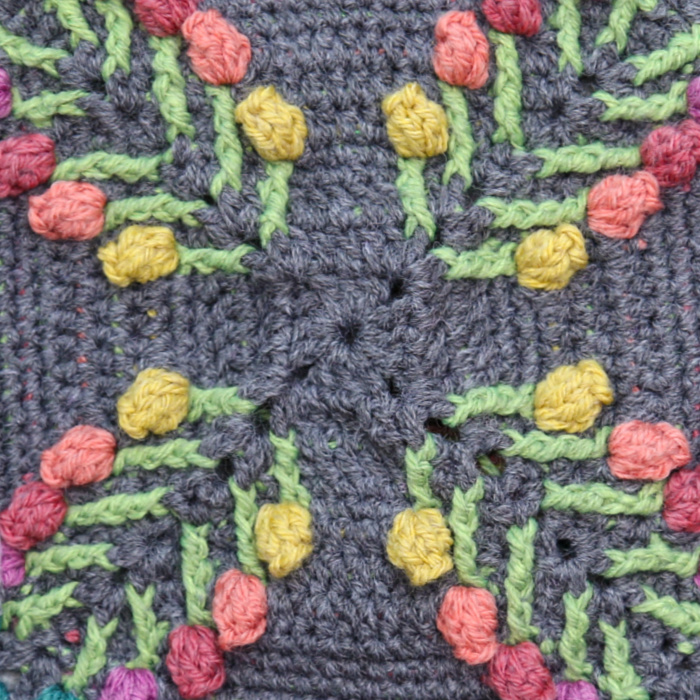 With the Truly Scrumptious…
Well…
I've had this heart design idea in my head for the longest time. I actually started designing it months ago, but never got further than the first 6 rounds. When the Truly Scrumptious arrived, I knew it was meant for that design. Within 24 hours, I'd completed the design for phase one of my cunning plan. Imagine my delight when I flicked open my bullet journal the next day (this was back in September) to find that the note I wrote down for September at the start of the year (I write a note for each month at the start of the year and generally forget to read them) was : 'I Carry Your Heart Design'. It was meant to be, guys. This one was meant to be!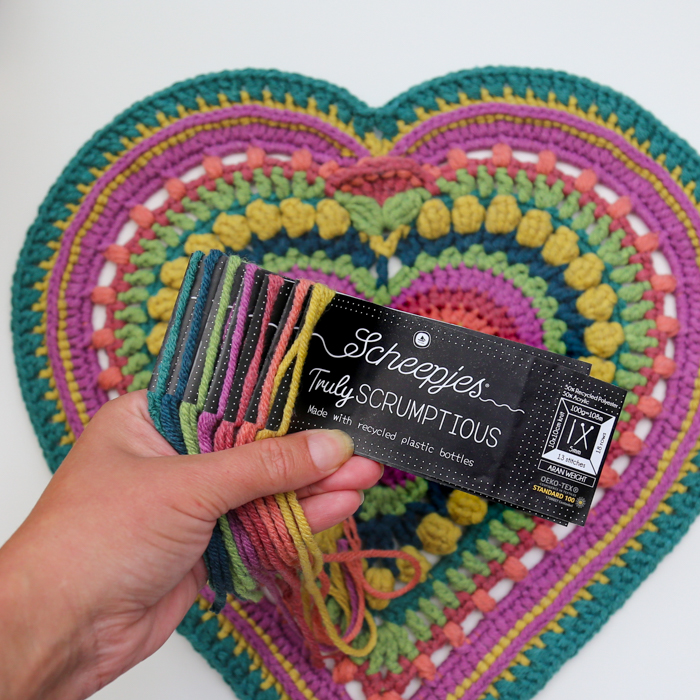 Of course, it has a spot for a flower to bloom!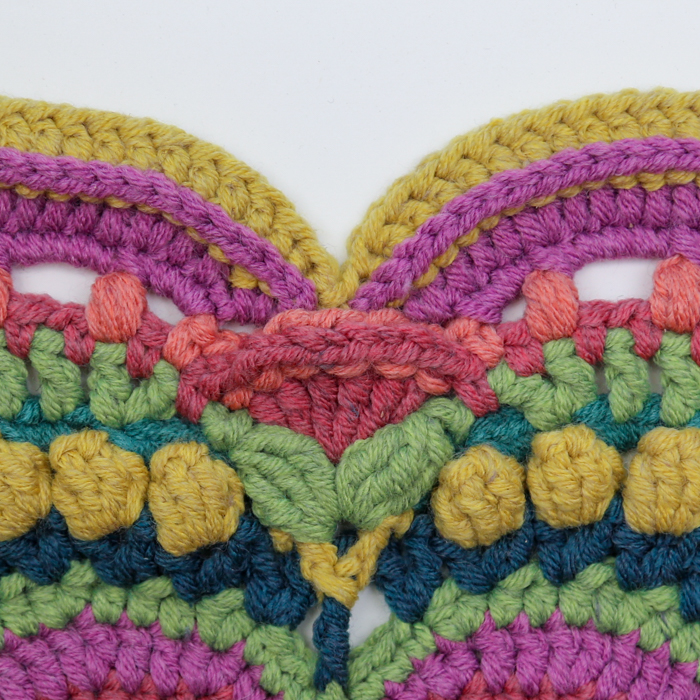 I can't wait to share these designs with you :)
Pattern Suggestions for Scrumptious and Truly Scrumptious

This blog post contains affiliate links. I only link to products I personally use or would use.  All opinions are my own.