Whoohoo! My beach hut blanket is done and I have decided to call it Summer in Swanage. Although the blanket was inspired by the beach huts in Mossel Bay and Muizenberg (South Africa), I found myself constantly reminded of our recent trip to Swanage as I made row upon row of waves. I am a very sentimental creature and this blanket, for me, has become Swanage.
The photo above was taken just before I added the border. I chose to add a simple linen stitch border. The green is my nod to the Studland Seagrass Meadow (which gives the water in Studland Bay a teal appearance). The yellow is for the sun, and the blues echo the colours of the sea.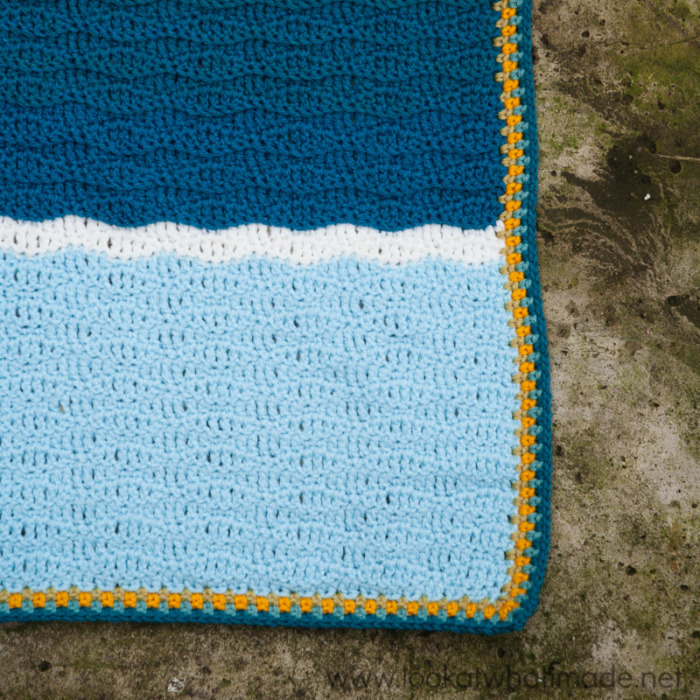 I decided on this simple border because the blanket itself is so simple. If I could have gotten away with it, I wouldn't have added a border at all, but the blanket did need a little something to finish it off.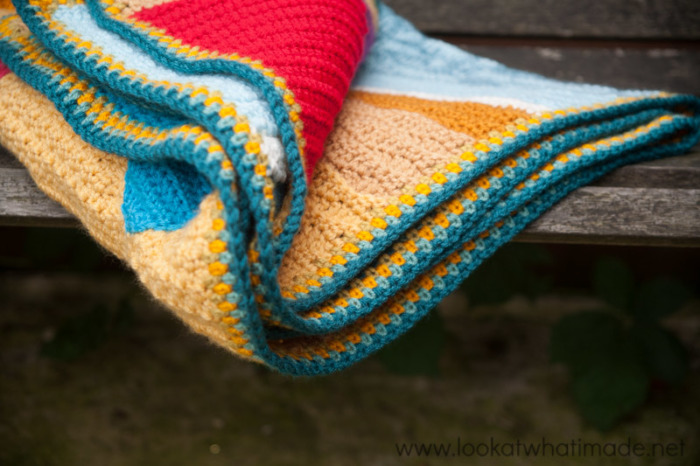 Photographing the completed blanket was a nightmare! How do you photograph something that is so big and really needs to be seen in its entirety? (At rest the blanket is 120 cm wide by 150 cm long, but it stretches to 170 cm long due to its weight.)
Well…you scrunch it up a bit…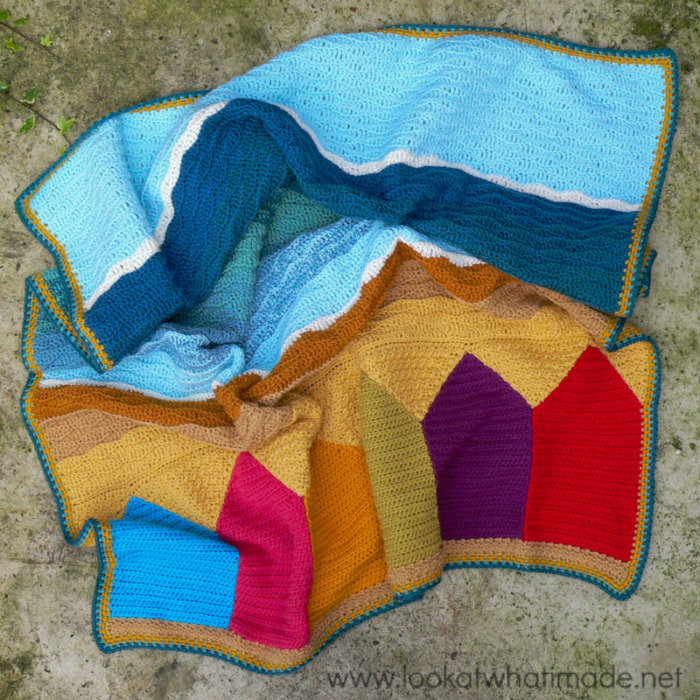 …or you take an angled photo…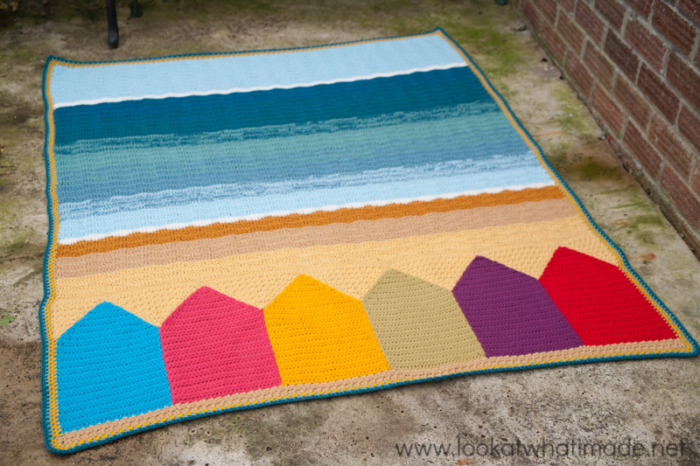 …or you drape it over a bench…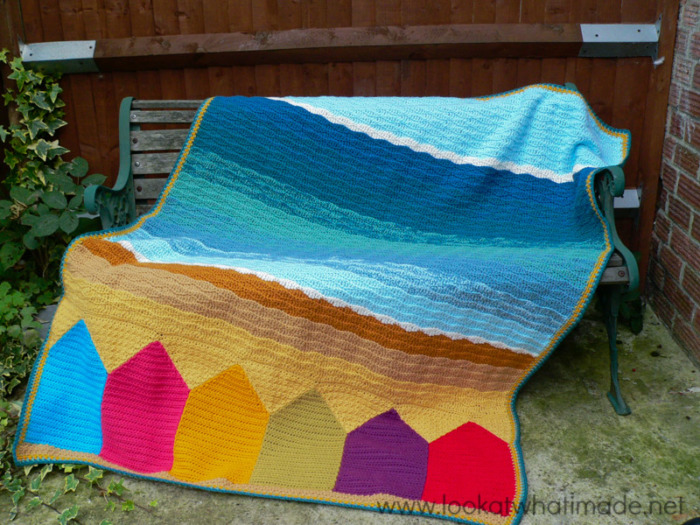 …or you perch precariously on two wet chairs with your arms high above your head and just point and shoot until the whole thing is finally in the frame…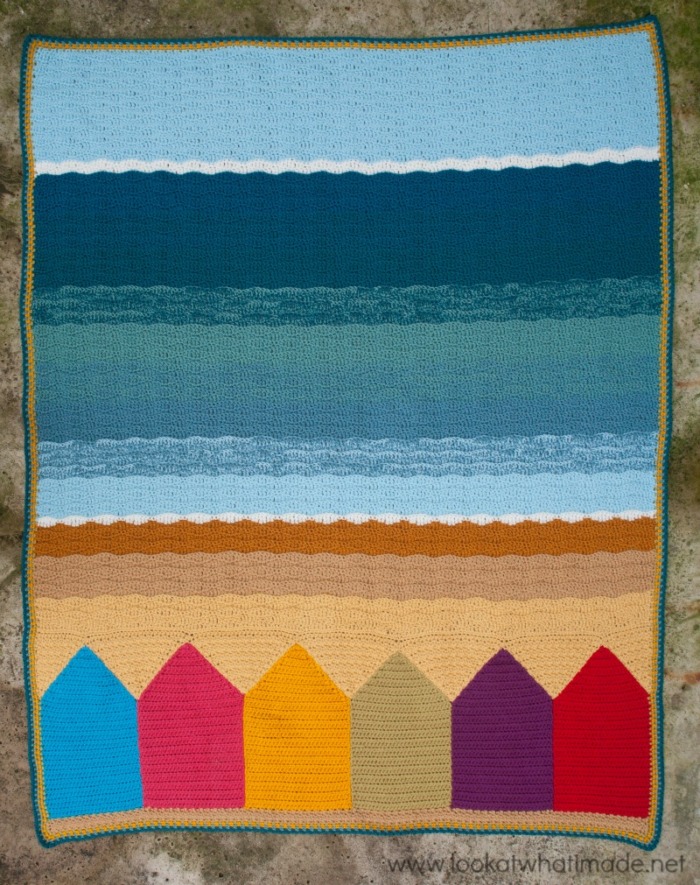 If only I was at the seaside right now! Wouldn't that make for a great backdrop? I have now managed to take some photos at the sea side :)
I have to say that I LOVE this blanket. I loved making it, I love how it turned out, I love what it reminds me of. When I look at it I am playing on the beach as a child, I am walking along the beach writing prayers in the sand, I am sitting on the beach with my husband on our first Valentines together, I am watching my children build sand castles while I crochet.
You can now find the free pattern for the blanket HERE.
You can find the Colour Crafter I am using on Scheepjeswol.com (NL) and Wool Warehouse (Internationally). If you already have some of the yarn and you've made something with it, please share it on Instagram using #Scheepjes #ColourCrafter.

This blog post contains affiliate links. I only link to products I personally use or would use.  All opinions are my own.