Tatsiana from LillaBjorn's Crochet World has created this gorgeous muted version of my Summer in Swanage blanket. It is called Birthday in Malmö, and I LOVE it! When Tatsiana first asked me if she could make (and blog about) a more serene version of Summer in Swanage, I was so excited. I am a big fan of her work and her colourways are always serene and stunning.
I cannot tell you how happy I felt when I saw her completed blanket, and when I read about the inspiration behind her colours, I could almost feel the sea spray hitting my face.
If you would like to recreate Tatsiana's blanket, you will need 2 things:
Yarn Packs for Birthday in Malmö and Summer in Swanage
I know many of you prefer the more muted shades of Birthday in Malmö to the vibrancy of Summer in Swanage, so Tatsiana and I are excited to tell you that you can now buy yarn packs for Birthday in Malmö from Wool Warehouse. The yarn packs include a written-only version of the pattern, modified to reflect the colours and yardages that Tatsiana used to create Birthday in Malmö. Summer in Swanage yarn packs are also available from Wool Warehouse and Deramores.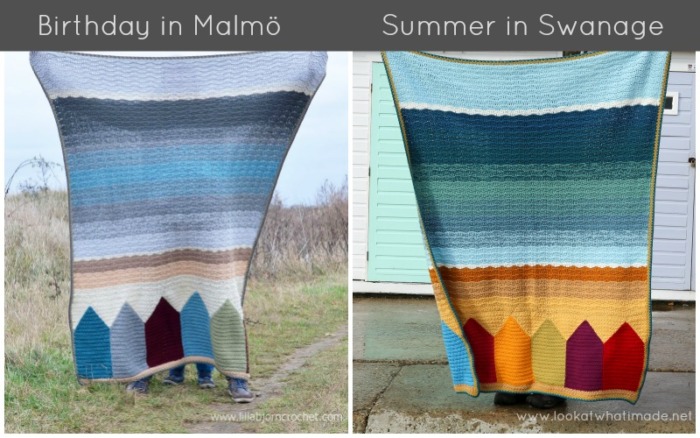 I'm curious…which one speaks to you? Subtle and Serene, or Crazy Colourful? How would you colour in your beach scene?
Actually… don't tell me, show me! You can find a blank colouring-in template for Summer in Swanage/Birthday in Malmö HERE. We should totally have a little competition…
Update: We DID have a competition and you can see the entries (and winner) HERE.
I would like to thank Tatsiana for allowing me to create a colour pack using her wonderful interpretation. If you aren't following Tatsiana's work yet, you are missing out! I suggest that you grab a cup of coffee and stalk her online. You can find her on her Website, Ravelry and Instagram. Her work is absolutely amazing (especially her overlay crochet).

This blog post contains affiliate links. I only link to products I personally use or would use.  All opinions are my own.