You may recognise this blanket as the 'Green Thing Flower Blanket' I've been sharing on Instagram and Facebook for the last three months. My mom calls it the 'Never Ending Blanket' because I kept adding to the design. And quite a few people have suggested 'Flower Power' as a name (for obvious reasons).
I like naming my blankets. It's part of the fun of the design, waiting for the name to reveal itself to me. This time, none of the names I rolled around in my mind felt right, so I just started sharing it using the draft name I gave it right at the germination of the idea.
I had resigned myself to the fact that it would stay Green Thing… and then I met Maya at my Puzzle Ball workshop at the National Crochet Conference in Sydney. Maya is 13. She started making Sophie's Universe when she was 10, finishing it a few weeks ago.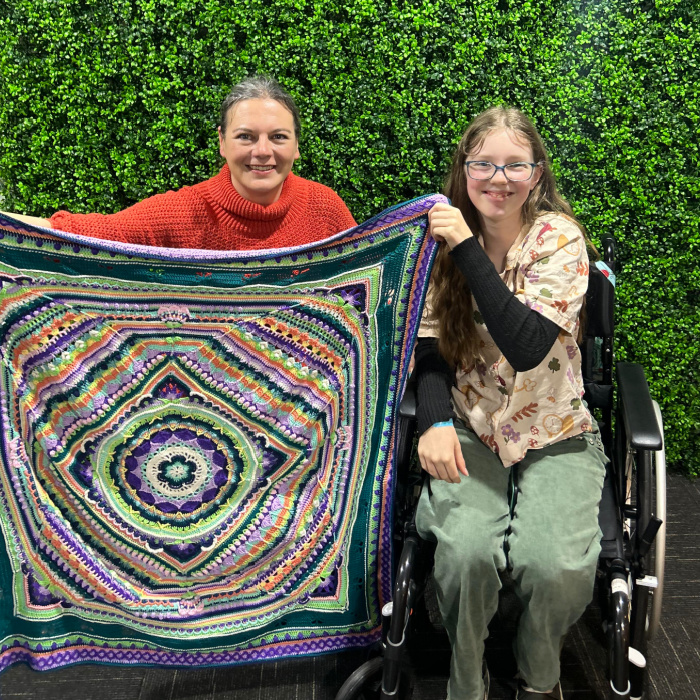 The more I interacted with Maya and her mom, the more my heart said: Here is your name!
That evening, I was hanging out with Shelley Husband from Spincushions and Susannah Kate from Peppergoose Design, showing them the blanket and talking about how much fun I had making it. I mentioned that I wanted to name it after Maya (whom both of them have met) and continued prattling on about the blanket, stroking the little dragonflies surrounding the Large Flower Motifs. My face must have lit up like it always does when I get animated about crochet because Susannah said: "This joy and these colours… they perfectly match the girl I saw today (Maya)".
I was still a bit hesitant to reach out to Maya's mom to ask her if it would be ok, but as Shelley and I explored Sydney the next day, the name Maya kept showing up. I googled 'Maya crochet blanket' to see if loads of people had already used the name, and the first pattern that popped up was Shelley's Mayan crochet blanket (which felt like another sign). I've learned to listen when the world pokes me that hard. I reached out to Maya's mom and asked her if it would be ok to use Maya's name for my Green Thing Flower Blanket and she said: Yes, please, and thank you!
This is not the first time that an encounter at a workshop has moved me to this degree. In 2016, on the Be Inspired Tour in South Africa, I met a young girl who bites her nails. For some reason, talking to her about the fact that I've bitten my nails all my life led to me stopping after 33 years. She may never know just how much our little meeting meant to me, but encounters like that have rippling effects that extend and keep on extending.
So I want this blanket to be a celebration of connection, joy, and gratitude for the people who cross our paths and change their direction simply by shining their light.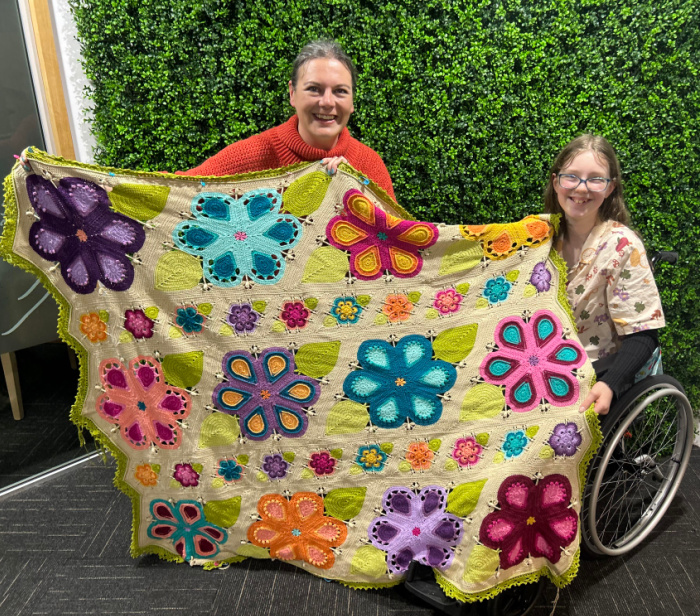 Also, may I just say: Maya the Bee!!!!!
If you have already joined us for a crochet-along, welcome back. If you are new to my designs or crochet-alongs in general, I am so excited for you! I have made great friends through the communities that spring up around a project like this, and I am convinced that you will too! May you enjoy every moment (even the frogging). And may you make many good friends and memories along the way.
Maya's Meadow CAL 2023
This pattern will be presented as an 11-week crochet-along, with tutorial photos by yours truly and charts by Masako Kawahara from Crochet_Hmmm. The CAL will start on the 26th of June 2023, with parts being released weekly on a Monday.
Please Note: This will be a relatively casual affair. Translations may become available as the CAL progresses, and I may do videos if I can manage them with Buddy underfoot. For now, I can only commit to clearly written instructions, charts, and photo tutorials.
Maya's Meadow consists of 12 large motifs and 20 small motifs, which will be joined in strips before adding a simple lace border. If you look closely, you will notice that the Large Flowers are surrounded by little dragonflies, which makes me very happy!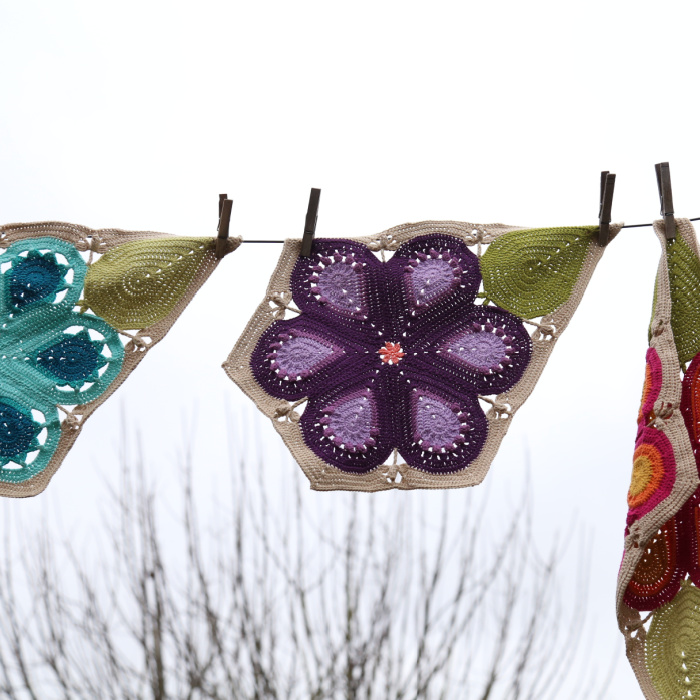 To give you an idea of size, here is a photo of me (I'm good and tall) holding the blanket before the border was added.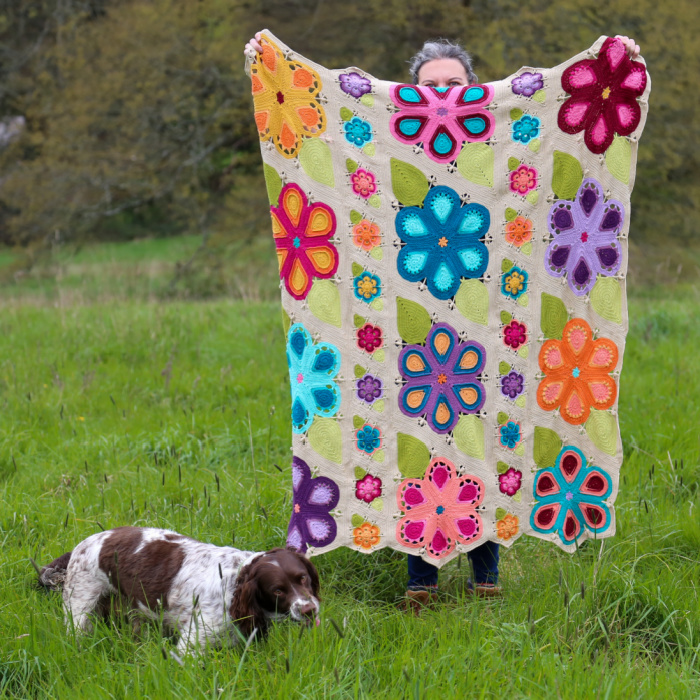 You can see more photos HERE on Instagram.
Please do not copy, reproduce, or distribute this pattern in part or as a whole. This pattern belongs to me and I retain all rights to it. Copyright is protected by Scheepjes. Please see my Terms of Use if you would like to read more.
---
Index
Resources
Pattern: You can find the weekly photo tutorial links under Timeline below (as they are released).
Printing/PDF: You will find a Print-friendly button in the bottom right-hand corner after every post. Please use this print-friendly button to print/save the tutorials. Take a look at THIS TUTORIAL if you don't know how to use the print-friendly button.
Videos: You can find the video tutorial playlists HERE: Right-handed US Terminology and Left-handed US Terminology
Facebook: You can share your journey in our Facebook Group HERE.
Ravelry: Add the CAL to your Ravelry Queue.
Instagram: If you are on Instagram, you can find me as Barbertondaisy. Please add your photos using #MayasMeadowCAL so that we can all Oooh! and Aaah!
Translations
Difficulty
Intermediate.
Gauge
Each Popcorn Raindrop should measure 14cm/5.5″ long and 10.5cm/4.1″ wide (across the widest part). They should weigh approx 7.3g each.

Each Completed Flower should measure 30cm/11.8″.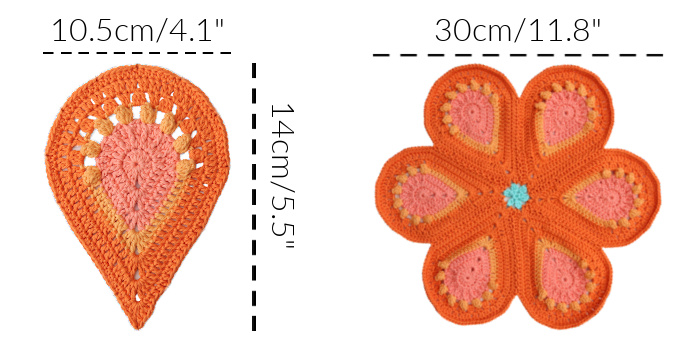 You do not have to meet this gauge, but if you choose to use a yarn pack, you will run out of yarn if your measurements don't match mine. Yarns marked with an asterisk in the materials list are the ones most likely to run out if you are over tension.
Size and Materials
The finished blanket is 126cm/49.6″ wide x 156cm/61.4″ long. I used 1300g of yarn (4400m).
For this crochet-along, I will only share one colourway in Scheepjes Organicon, with equivalent colours in Scheepjes Cotton 8.
You are free to use any yarn/hook combination you fancy, keeping in mind that this blanket is already big, so a thicker yarn will make it massive! For example, using double-knit yarn and a 4mm hook will give you a blanket that is roughly 175cm/68.9″ x 210cm/82.7″.
Organicon
3 mm crochet hook
Scheepjes Organicon (100% cotton, 50g/170m/186yds)

Yarn A – Golden Sun (237) x 1 ball
Yarn B – Sweet Mandarin (223) x 1 ball
Yarn C – Deep Tangerine (224) x 2 balls
Yarn D – Desert Bloom (209) x 2 balls
Yarn E – Apple Blossom (207) x 1 ball*
Yarn F – Swaying Tulip (247) x 2 balls
Yarn G – Cherry Jam (243) x 2 balls
Yarn H – Lavender (205) x 1 ball
Yarn I – Lucky Heather (259) x 1 ball*
Yarn J – Perfect Plum (257) x 1 ball
Yarn K – Bright Ocean (215) x 1 ball
Yarn L – Happy Thoughts (264) x 2 balls
Yarn M – Deep Azure (263) x 2 balls
Yarn N – Sapling (213) x 2 balls
Yarn O – Olive (228) x 4 balls*
Yarn P – Oat Bath (242) x 12 balls
Yarn Packs for this colourway are available from Wool Warehouse HERE.
Cotton 8 Alternative
3 mm crochet hook
Scheepjes Cotton 8 (100% cotton, 50g/170m/186yds)

Yarn A – Ochre (722) x 1 ball
Yarn B – Light Orange (639) x 1 ball
Yarn C – Orange (716) x 2 balls
Yarn D – Orange Pink (650) x 2 balls
Yarn E – Pink (719) x 1 ball*
Yarn F – Fuchsia (720) x 2 balls
Yarn G – Bordeaux (717) x 2 balls
Yarn H – Violet (529) x 1 ball
Yarn I – Moors (726) x 1 ball*
Yarn J – Heath (721) x 1 ball
Yarn K – Light Blue Green (665) x 1 ball
Yarn L – Sea Green (723) x 2 balls
Yarn M – Petrol (724) x 2 balls
Yarn N – Light Green (642) x 2 balls
Yarn O – Olive (669) x 4 balls*
Yarn P – Natural (501) x 12 balls
The Natural Yarn (Yarn P) in Cotton 8 is slightly lighter than the Oat Bath used in the Organicon version.
Yarn Packs for this colourway are available from Wool Warehouse HERE.
Maya's Meadow Timeline
Helpful Templates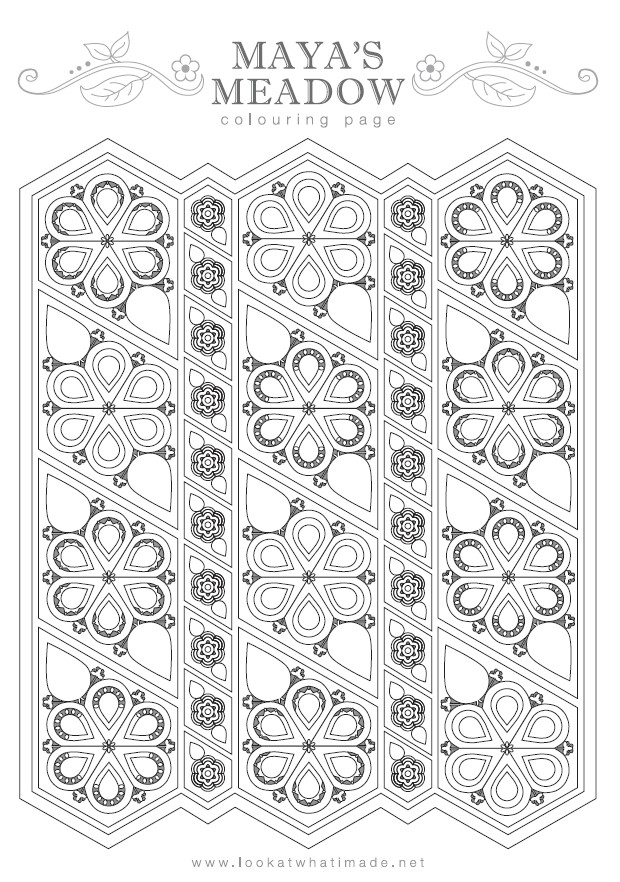 Important Tips and FAQ
Although great care has been taken to supply loads of landmarks and hints throughout the pattern, it is impossible to predict everything that people may find tricky. This space is reserved for answering frequently asked questions and addressing recurring misunderstandings as they reveal themselves to us during the CAL.
1. How Much Yarn Do I Need to Make This Blanket in Three Colours?
Masako Kawahara is testing the pattern using three colours, and we have had a lot of questions about it. From our calculations (based on Scheepjes Organicon in 3 colours, working to my tension), you will need 11 balls of Colour A (Grey in the photo below), 18 balls of colour B (White in the photo below), and 7 balls of Colour C (Olive in the photo below).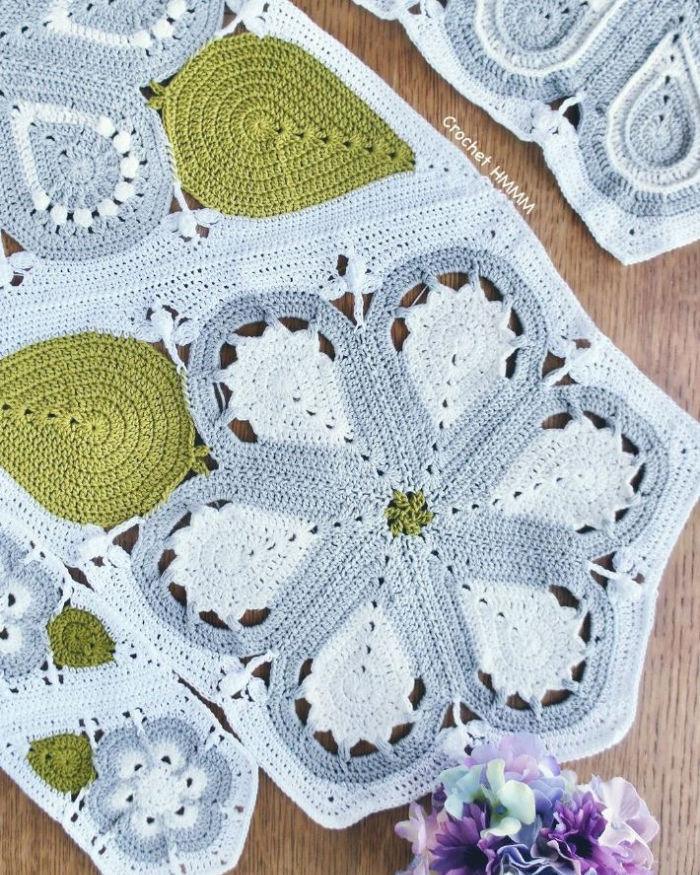 These calculations are based on the following colour distribution:
Popcorn Flowers
Rounds 1 – 3 and 5 – 7: Colour A
Round 4: Colour B
Centre: Colour C
Back Post Flowers
Rounds 1 – 3 and 6 – 7: Colour A
Rounds 4 and 5: Colour B
Centre: Colour C
Petal Flowers
Rounds 1 – 4: Colour B
Rounds 5 – 7: Colour A
Centre: Colour C
Small Flowers
Rounds 1 – 4: Colour B
Rounds 5 and 6: Colour A
Leaves
Hexagons, Joining, Border Rounds 1 and 2
Border Rounds 3 – 7
2. What If I Want to Make This Blanket in Whirl?
Anna Moore is making her blanket in Scheepjes Whirls (of course she is!). It has a completely different vibe and looks amazing! For convenience and to minimise yarn ends, I have supplied Alternative instructions for the three sets of Petals. You will find them at the bottom of the Part 1 – 3 posts.
Large Flowers: 2 Whirls – Fruity O Tutti (763) and Rose Water Cocktail (776)
Leaves: 2 Whirlettes – 1 x Yummy (881) and 1 x Blueberry (854)
Small Flowers and Border: 2 Whirlettes -Banana (858)
Background: 4 Whirlettes – Chewy (865)
You can find more photos on her Ravelry Project Page or on Instagram.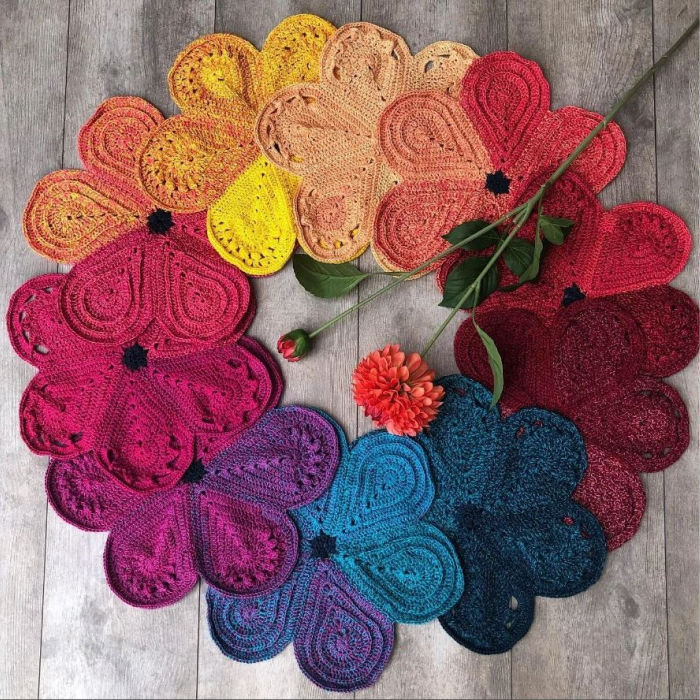 Blocking
This particular blanket needs a very light blocking. I found that a good wash and light stretch before hanging it up to dry was good enough. If you want the lace border to POP, though, you may wish to block.
If you are going to use foam squares to block on, consider buying these Interlocking Foam Exercise Mats. They are similar to these Knitter's Pride Lace Blocking Mats
but cheaper. You will also need some of these Clover Fork Blocking Pins
(although regular non-rust pins will also work).
Testers
I would like to thank the following people for helping me test (and chart) this pattern:

This blog post contains affiliate links. I only link to products I personally use or would use.  All opinions are my own.